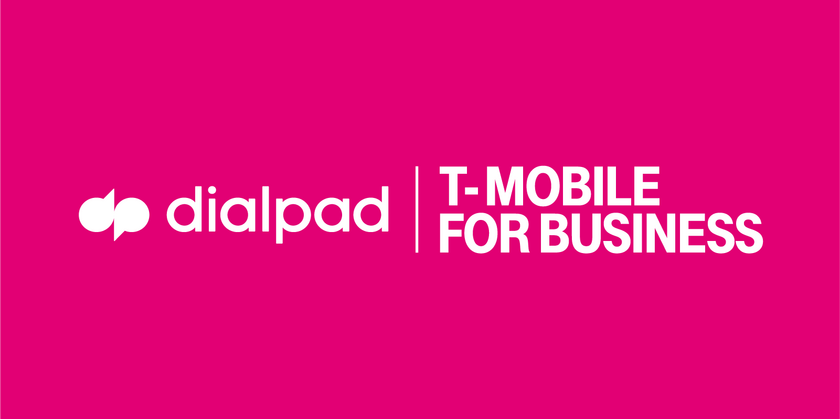 March 04, 2021
At Dialpad, we know the importance of clear and easy business communications. When you need to start a call or join a conference, it's essential to have a fast, powerful, and reliable network. That's why we're proud to announce T-Mobile Collaborate (powered by Dialpad). Our joint endeavor allows for T-Mobile integrations and solidifies one of our largest deals to date with an amazing new customer.
Within the collaboration, the T-Mobile for Business (TFB) offering will now include unified cloud communications powered by Dialpad. At the same time, Dialpad is able to leverage T-Mobile's 5G network to provide all the speed and reliability that 5G enables. It's a win for not only us, but for T-Mobile and Dialpad customers everywhere.

5G Connectivity
With more businesses, students, and families around the country requiring extra bandwidth, now is the perfect time to make the most of all that 5G has to offer. That's why we're excited to start leveraging the nation's largest 5G network to offer customers more robust connectivity. As working from anywhere, online learning, and mobile workstyles continue to grow in both use and necessity, it's more important than ever to have a fast and strong internet connection whether you're working from home or on the go.
We're excited to show the world how clear, quick, and efficient communications, collaboration, and contact centers become through Dialpad and T-Mobile's 5G network, on top of other native telephony benefits from both Dialpad and T-Mobile.
Investing in the Future of Business Communications
Our teamwork goes even further, as T-Mobile has invested in Dialpad's success. We're thrilled to announce T-Mobile as an investor, having participated in our Series E funding round last year, led by OMERS Growth Equity.
We're thrilled to begin our new collaboration and bring Dialpad's calling, conferencing, and contact center features to T-Mobile for Business customers. Discover more about the collaboration.

What Our Collaboration Means
Because of our advanced VoIP/UCaaS products, T-Mobile selected Dialpad to bring cloud communications including calling, conferencing, and contact center to its T-Mobile for Business offering. T-Mobile for Business will also be joining us as one of our largest customers, choosing Dialpad as its UCaaS platform internally for its employees.