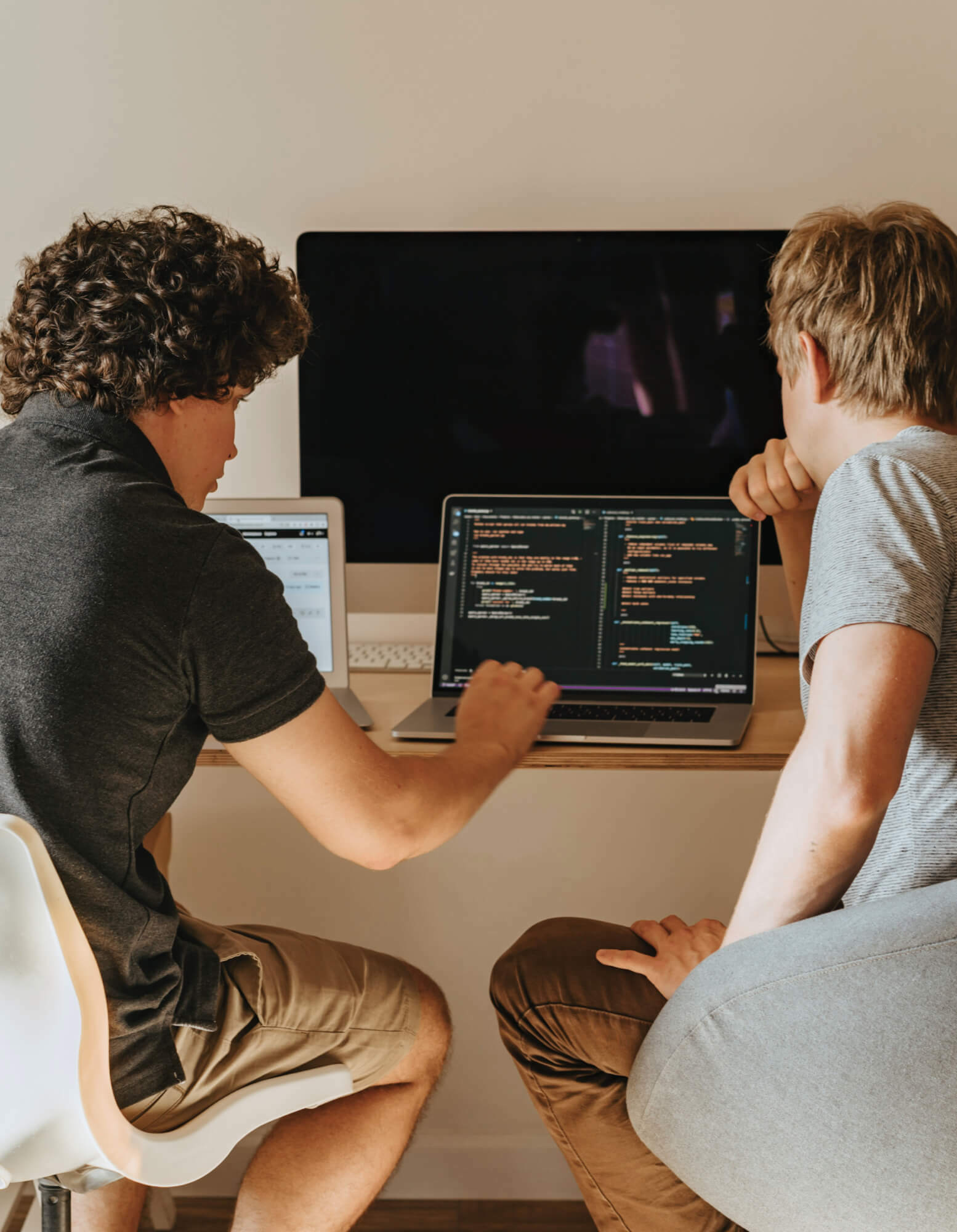 Call from your browser
What is WebRTC?
Want to be able to make phone calls from your web browser? That's what WebRTC lets you do. Learn more about how it works below—and if you're interested in seeing how you can do this with Dialpad's communications platform, book a product tour!
What is WebRTC?
WebRTC, sometimes stylized as Web RTC, stands for Web Real-Time Communication. You'll often hear people talk about it when they talk about iOT (the "Internet of Things"), but it's essentially an HTML5 specification that gives you real-time communications through a web browser—which is very cool because it means you don't need to download apps like Skype anymore.
Today, you can use WebRTC from web browsers (like Google Chrome, Opera, Firefox, Mozilla, Safari, Microsoft Edge) with cross-platform compatibility (which means it'll work on Apple iOS, Android, and other devices).

Here's how it looks in Dialpad, for instance:
👉 Did you know?
Dialpad was one of the earliest WebRTC adopters, launching at Google I/O in 2013—just one week after Google released it!
Why should businesses care?
If you have a remote or hybrid team that needs to be able to make phone calls on the go (meaning not just from a landline or desk phone), then WebRTC is helpful because it gives you an easier way to make phone calls from a web browser on your cell phone—or even laptop—from anywhere, without being stuck at the office.
But beyond that, there are some other cool things about WebRTC. We'll let our CTO and Co-founder, Brian (who helped build Google Voice!) tell you why:

"
It's cool because it's a way to get very high-quality, secure VoIP to your browser (for free), without having to install any extra plug-in… Not only does it give your Dialpad calls HD audio, but it also handles dynamic network conditions by adjusting to the available bandwidth wherever you are.
"
Brian Peterson
CTO and Co-founder, Dialpad
Why is WebRTC ideal for real-time communications?
WebRTC is a free and open-source project
Because it's free and open-source, WebRTC makes real-time communications affordable. It's also adaptable, widely used, and available to businesses of all sizes. Companies have cropped up to assist in WebRTC development and management, opening the market to dozens of outfits looking to utilize its capabilities.
WebRTC gives you better call quality
WebRTC, especially combined with Opus Codec, delivers better call quality and is more adaptive to packet loss, jitter, and latency. WebRTC's adaptive and modern technology enables high quality and reliable voice without requiring a separate dedicated voice pipeline loss. This ultimately means more efficient and intuitive workflows for users.
It's compatible with most web browsers today
Chrome, Firefox, Safari—you name the browser, and it's probably compatible with WebRTC technology (since the source code is free and open to anyone).
This means a variety of companies can take advantage of its offerings. Want to conduct new employee orientations over video? You can do that with WebRTC. Want to take an online cooking class? WebRTC makes that possible too.
WebRTC isn't just for voice and video calls
Yes, WebRTC is ideal for peer-to-peer communication like voice calls and video calls. But there's so much more you can do beyond that—like real-time screen sharing and other functionality.
With Dialpad, for example, you can make video calls, send SMS/MMS messages, and do screen sharing, all from the same app: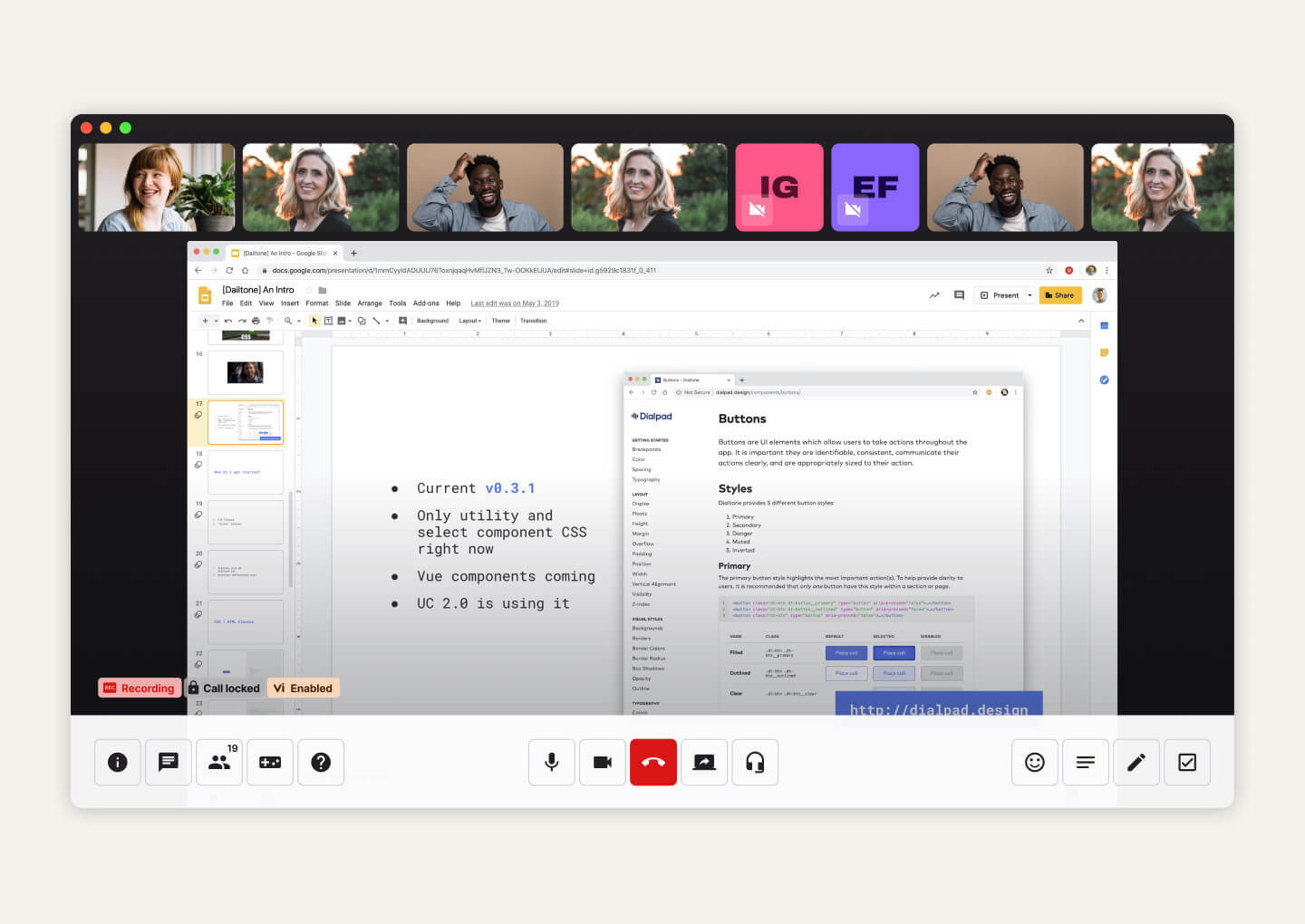 A few examples of use cases for WebRTC
Contact center communications
In a contact center, WebRTC can be used to directly connect agents with customers more easily. For example, with Dialpad Ai Contact Center, agents and supervisors can work from their cell phones or computers, handle calls right from a web browser, and walk their customers through a screen share without them having to download any apps.
Unified communications
Unified communications in general encompass voice and video calls, group conference calls, and one-on-one peer connections, and again, with WebRTC, you can do all this on your web browser.
Important note here: Not all UCaaS (Unified Communications as a Service) solutions have this option—most have a desktop or mobile app that you have to use in order to make those phone calls and send those texts.
That's actually one of the unique things about Dialpad. It's fully browser-based, which means you can do pretty much everything in a web browser that you can do in the app.

Still making your clients download an app to join your video call?
You don't have to do that anymore with Dialpad. See how Dialpad lets you communicate with prospects, customers, teammates, and more—right from a web browser!
Watch party events
Video stream the series finale of your favorite show and watch with friends in real-time, so no one is spoiled. Or connect every Sunday to watch your team with your family halfway across the country.
WebRTC brings people together through large watch party events that would have been unthinkable only a few years ago.
Telehealth, online education, legal proceedings, remote travel, fitness, dancing, tutoring, and coaching
Anything you can do in-person, you can now do through web real-time communication. That includes a real-time tour of the Louvre, a quick check-in with your doctor, iOS tutoring, and that yoga class you've been looking forward to.
WebRTC ensures more than just business continuity—it offers community and connection no matter where you are.
Hybrid and virtual events
Large business meetings, video conferencing, seminars, webinars—WebRTC is perfect for groups of all sizes connecting from different devices in various places.
Low latency broadcasting
Stream a variety of events in low latency, so important events like sports broadcasts or auctions, where every second matters, are delivered in real-time from their respective web pages, ensuring a quality experience.
Metaverse and virtual spaces
By now, we've all heard of the metaverse and virtual reality headsets. But what would these faux-realities be if not for WebRTC? That's right, WebRTC has a hand in defining virtual spaces, and as they become more popular, WebRTC's adaptability will allow for expansion into these new spaces.
👀 Working remotely?
Grab the Hybrid Work Playbook, which includes real-life case studies and breaks down all things hybrid + remote, from building and sustaining a hybrid workforce to equipping your team for success.
Security for WebRTC

Access to media
Most apps ask for various permissions when you first install them, and WebRTC applications are no different. They need your express consent to access media like the camera on your phone or the microphone on your desktop.
Without this consent, WebRTC apps can't gain access, so you don't need to worry about an app listening to your everyday routine or collecting arbitrary data.
Encryption
First, PFS (Perfect Forward Secrecy) brings in a DTLS (Datagram Transport Layer Security) connection to securely exchange critical data. If audio and video are involved, necessary data can then be used to generate AES (Advanced Encryption Standard) keys used by SRTP (Secure Real-time Transport Protocol).
Whew. Not sure what that's all about? No worries. The main takeaway is that WebRTC connections are encrypted and secure, and it's mandatory that they follow specific security measures.
Browser protection
While connecting directly to another party through a web browser might seem less secure, it's actually better than downloading and installing a plug-in that could be hiding malware.
Additionally, automatic browser updates protect WebRTC connections from potential threats by addressing them before they become an issue.
How WebRTC works: A few terms to know
(Hat tip to Mozilla for the info.)
What does that data transfer process behind WebRTC calls look like?
To understand that, there are a few key elements to be familiar with.
API
APIs (Application Programming Interfaces) are like the ingredients of a recipe that come together to make the finished product. WebRTC is an API, and there are lots of other APIs out there, especially for software, that lets you make cool customizations. For example, Dialpad has some very cool custom APIs (which you can check out here).
SDP (Session Description Protocol)
Basically, an SDP is a data format that isn't the actual media content (e.g. your voice data) itself, but the metadata that describes elements of it, like the resolution, codecs, or encryption.
NAT (Network Address Translation)
NAT is what gives your device a public IP address. Any router will have a public IP address, and every device connected to that router will have a private IP address. This means that even though a STUN server can find a public IP address, not anyone can create a connection with it.
STUN (Session Traversal Utilities for NAT)
STUN is the protocol that helps you find your public IP address. A client will send a request to a STUN server on the Internet, which will reply with:
The client's public address and

Whether the client is accessible behind their router's NAT.
Javascript
A programming language primarily used to make web content interactive, Javascript is essential for WebRTC. The parts that make WebRTC usable run on Javascript APIs.
Makes calls more easily with WebRTC + Dialpad
Not every client or prospect wants to download an app to join your video chat or conference call. With Dialpad, you can make it easy for them to join from a web browser thanks to WebRTC.
Unlike legacy video conferencing and VoIP providers, Dialpad has WebRTC built right into its platform. Just log in on a web browser and start making calls from there!

Need an easier way to communicate at work?
Book a product tour to see how Dialpad can make it easier for your team to talk to customers and prospects on a web browser.
How does WebRTC affect video quality?
A quick backstory here: Even after they were approved by the Internet Engineering Task Force (IETF), the two main video codecs, H.264 and VP8, were still slow to be embraced by the major web browsers. This wasn't good, because codecs are essential to clear, stable video communications, and can affect the amount of latency on a video call (lots of latency = terrible video calls).
(By 2018 though, all the major web browsers had embraced H.264 and VP8.)

So with a Dialpad, I can really make phone calls from my web browser without installing plug-ins?
What do "RTCPeerConnection" and "RTCDataChannel" have to do with WebRTC?