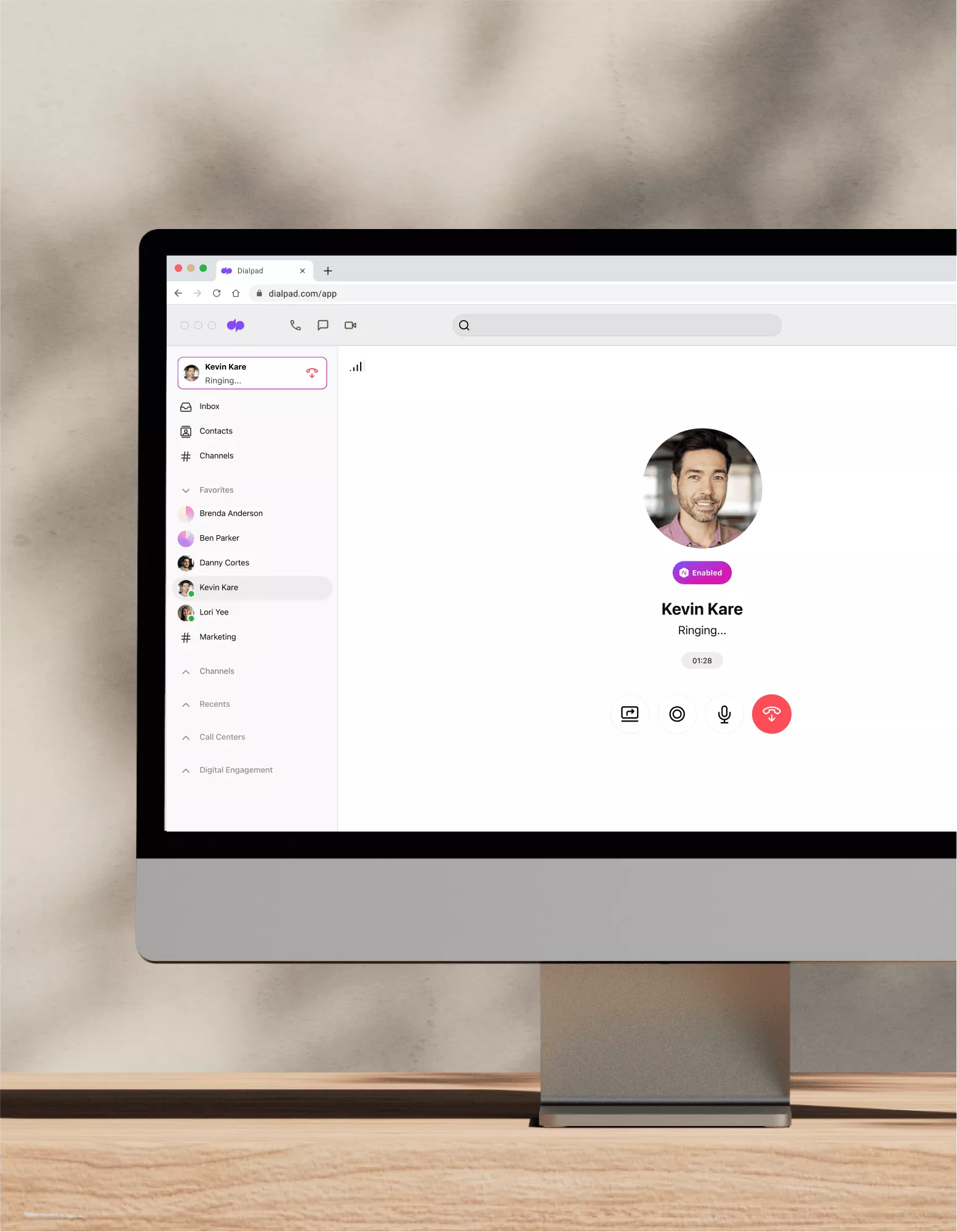 Make phone calls on your web browser
Who says you need a desk phone or cell phone to make a phone call? With Dialpad's AI-powered collaboration platform, you can make a phone call from a web browser. Sign up for a free trial to get a phone number in minutes!
Sign up for a 14-day free trial!
How to make and receive a phone call straight from your web browser

With Dialpad, you don't need to download a calling app to phone someone—you can just click to make VoIP-based browser calls!
All you need to do is make sure you're logged into Dialpad in your web browser. You can use the Chrome plugin or extension, Firefox, or any other browser. From there, you can click-to-call. As the name suggests, you can use this technology to make calls by clicking on a button or phone number within your browser. For example, if you see a call button on a company's web page or someone's phone number in an email in your Chrome browser, you can click or right-click on that phone number to make a call.
Not just a cloud business phone system
Dialpad gives you more than just phone calls. You can also have video meetings and send instant + SMS/MMS messages in addition to making calls from your computer or mobile phone—or just use a web browser, of course!

👀 Thinking of getting a new phone system?
Check out Dialpad Ai Voice. Not only does it come with video conferencing and team + SMS/MMS messaging, it's also a fully integrated contact center platform (if you need it)!

Truly unified communications
Whether you want to make phone calls or send an SMS, or have a video meeting with screen sharing, you can do all that in one place with Dialpad. No need to toggle between windows or tabs, no need to pay for multiple tools.

Plays nice with different devices
From iOS to Android to PC and Mac, Dialpad lets you make calls and communicate via different channels across a range of desktop and mobile devices.

Easy call forwarding
Never miss a call again. With Dialpad, you can set up a maximum of five call forwarding numbers so that calls automatically get sent to a colleague, your cell phone, or even another landline if you can't pick up.

Customizable caller ID
Want to make work calls from your personal mobile phone, but don't want to give away your personal number? Dialpad lets you customize your caller ID so that you can show your business number when you're making calls from the app on your phone.

Do-not-disturb mode
Need to take time to do some deep work? Just turn on DND mode and Dialpad will block your pop-up notifications and send your incoming calls to voicemail.

Integrations with the tools you love
Using Salesforce, Zendesk, Microsoft Outlook, or other tools? Dialpad integrates with a wide range of software to embed a dialer right inside those CRMs so that you can make a new call directly from there without having to switch back and forth between windows.
Start making phone calls from your browser with Dialpad
You can have access to all of the features we've covered (and then some) with Dialpad. And the best part? You can set it up in just a few minutes.
Being able to make phone calls from your browser is incredibly useful when it comes to boosting work productivity. You don't have to switch devices, search for that phone you swear you left on your desk, or try and remember anyone's phone number by heart. All you need to do is log into your Dialpad account in your browser, and you'll be ready to make phone calls from there. Try it out now!
Want to upgrade your business phone system?
Dialpad can give you a whole lot more than phone calls, all in one affordable package. Sign up for a 14-day free trial to try it out! It takes just a few minutes to get started, and you'll be set up with a virtual phone number too. Or, take a self-guided tour to play around with it on your own first!
FAQs about calling from your web browser
What's Dialpad's pricing like?
Dialpad's pricing plans start at $15 per user per month, and comes with unlimited calling in the US and Canada.
Does the Chrome extension cost anything?
Can I block the extension on certain websites?
What if a phone number is accidentally clicked?
Do you have to download and use the extension to make phone calls with Dialpad?
Can the extension be removed once it's been downloaded?
Do I get HD voice and video from browser calls?