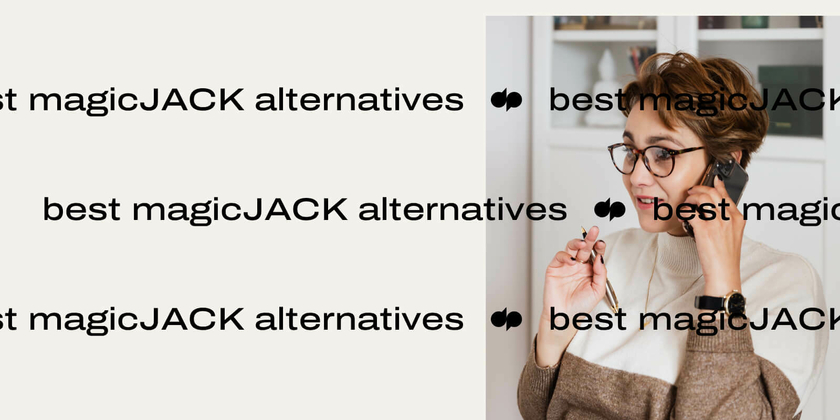 January 18, 2022
If you're looking for a VoIP business phone system alternative to magicJack, then chances are, your business has grown (or is growing) to the point where a bare-bones VoIP provider just isn't enough anymore.

If you need to have video conferences or send instant messages or SMS text messages—or a communications platform that has a proper desktop and mobile app—then you're in the right place.
There are actually lots of really good magicJack alternatives—that are still budget-friendly, and also let you do a lot more than just do VoIP calling over the Internet.
In just a bit, I'll walk you through what magicJack can do, what it can't do, and some of the other best communications platforms and cloud phone systems out there. Skip ahead if you like:
What is magicJack?
magicJack has been around since about 2007, and is essentially a VoIP provider that lets you make phone calls via your residential Internet connection instead of through phone lines. Most people use it as a home phone.
The original magicJack was actually a piece of hardware that you'd plug into your computer's USB port (kind of like an ATA adapter that you might use with a home phone and landline).
Since then, the company has released the more modern magicJack Plus, which comes with an Ethernet connection that can plug into your router instead. Even more recently, the magicApp was released, which lets you use magicJack's functionalities from your cell phone.
Long story short, magicJACK is a very basic low-cost VoIP calling solution. That being said, if you are extremely price-conscious and/or barely use the phone at all, then magicJack is one of the cheapest things you'll find. But if you have high hopes for your business and growth plans…
Why might businesses look for a magicJack alternative?
If your business is using or considering magicJack as your VoIP phone system, then you're likely in a very early stage or startup mode—or you don't need to make phone calls very often. Otherwise, it's very difficult to manage all your communications because magicJack really doesn't give you a whole lot other than unlimited calling and basic phone functionality like call waiting.
Regardless, here are three big reasons why a business might need something more robust than magicJack.
You need other communication channels beyond a phone service
If you and your team have to talk to customers, prospects, and each other in different ways—like conference calls, video calls and instant messaging—then magicJack can't give you a unified communications solution that lets you do all those things from one platform or app: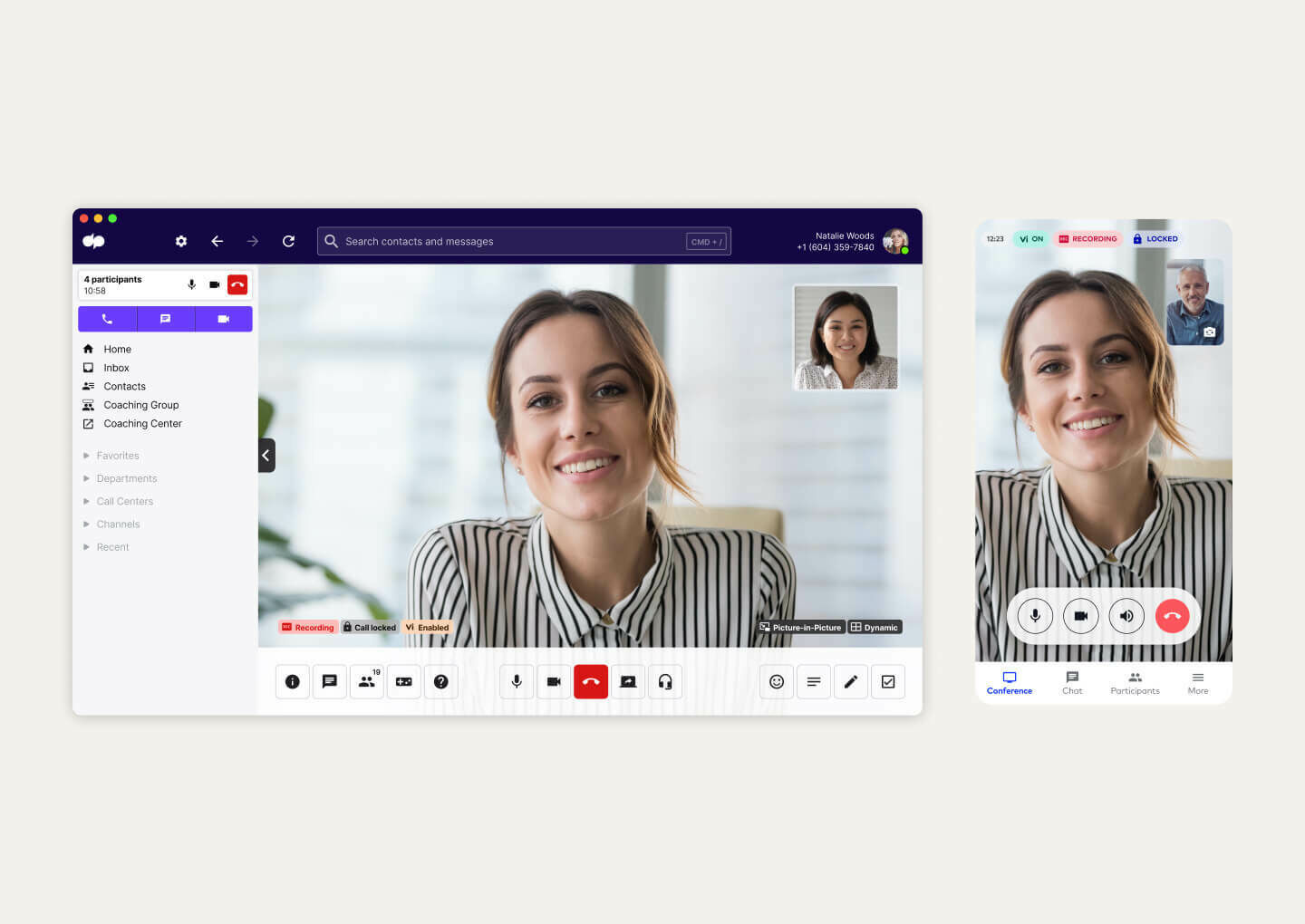 And if you want to integrate your phone system with other tools you're using, like your CRM or even something like Google Workspace or Microsoft 365, magicJack doesn't have those options.
That means if you have a sales or support team that's using something like HubSpot, you won't be able to integrate magicJack with it. The benefit of having these integrations is that it streamlines workflows for your team and you don't have to toggle between windows all the time or do as much data entry.
Here's how Dialpad's HubSpot integration looks, which lets you make phone calls from right inside HubSpot through a CTI dialer, and even automatically logs your calls and activities: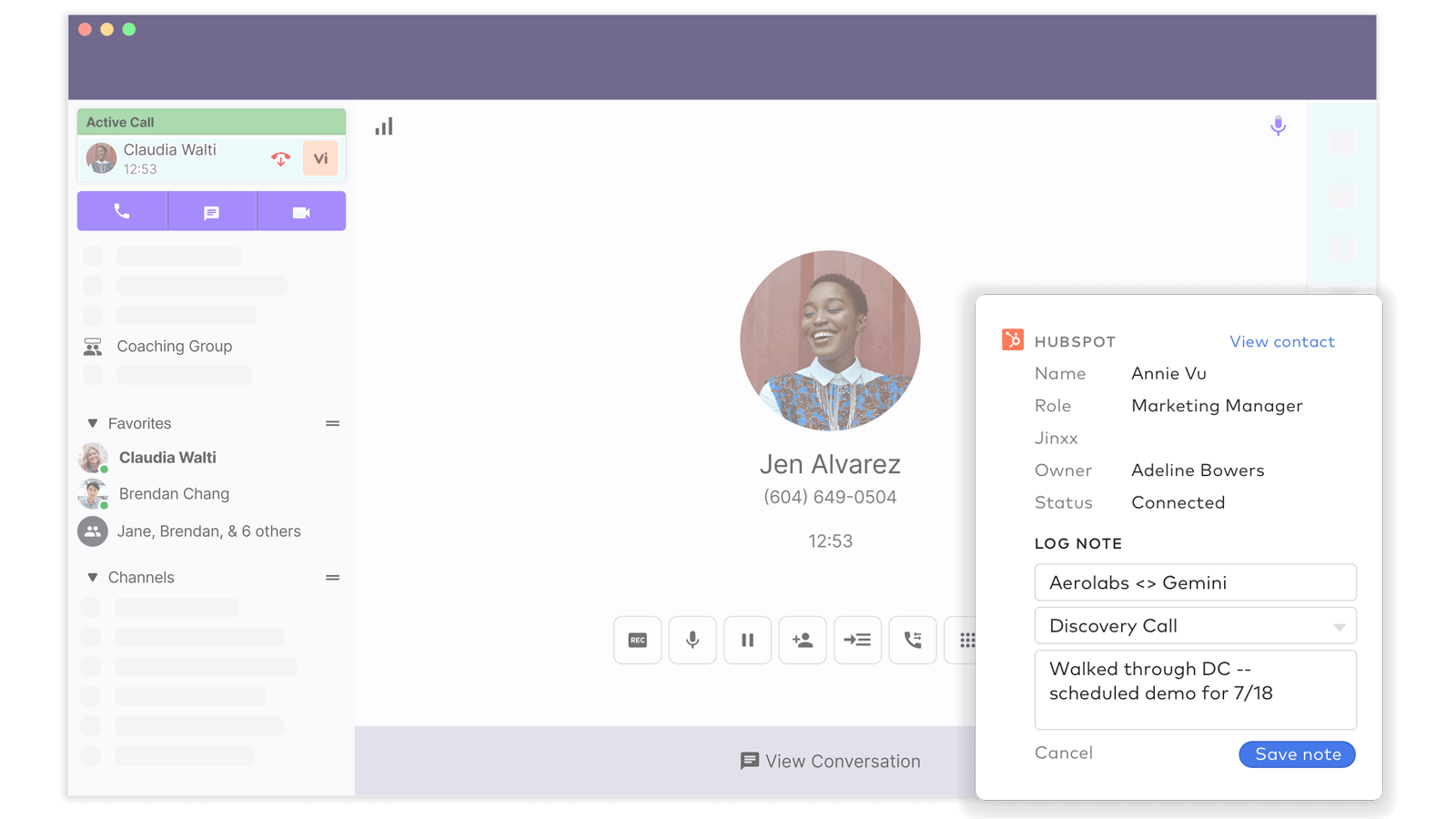 You want a phone service that'll grow with your business
If you're planning to grow your business in the near future and hire in different regions, then yes, leaving your landline behind was a good start—but you still need a business phone system that can grow with you.
Even if you could get by with a basic telephony solution or VoIP service now, that won't work once you have a bigger team that's located in different cities or countries, or when you have more customers that you need to be accessible to.
magicJack does have unlimited calls from the U.S., Canada, and Puerto Rico, but not a whole lot beyond that. That means there aren't any add-ons or advanced features that you can pay a higher price to get.
You want the option of paying month-to-month
Some companies, especially small businesses and startups, prefer to have a flexible pricing model and the option to pay month-to-month. Most cloud business phone systems and SaaS solutions do try to encourage you to go on an annual pricing plan by offering discounts, but there should at least be the option.
magicJack has only annual plans, though they're very cheap VoIP plans and start at $43 for a full year.1
It's cheaper compared to other unified communications platforms and business phone providers (which are usually around $15 to $20 per user per month to start), but as we mentioned earlier, you get what you pay for.
If you're only looking for a business phone service and only plan to make phone calls, then magicJack is probably a fine option, as long as you're aware of the limitations in terms of growing your business.

The top 6 magicJack alternatives, ranked
To make things easier, we broke down the best magicJack alternatives into two categories:
Category A, which are the best unified communications solutions (that include video conferencing, messaging, and even a cloud contact center platform if you need it)

Category B, which are phone-only platforms with very basic business phone functionality like auto attendants and call forwarding
What's interesting to note: The Category A magicJack alternatives are actually very comparable in price to the more basic options in Category B and all include free calling locally—meaning you could get a lot more bang for your buck. Let's look at Category A first.
Category A: The best magicJack alternatives that give you unified communications
1. Dialpad: A unified communications platform with cloud-based solutions
If you're not familiar with Dialpad, it's a unified communications platform that lets you have conference calls, do video conferencing, and send instant messages + SMS/MMS messages—all from a beautiful desktop and mobile app that works across iPhone, iOS, Android, PC, Mac, you name it.
Or, you could just join phone calls or video calls from a web browser, no downloads needed. All you and your guests need is a Wi-Fi connection. (Clients and prospects tend to love this because they don't have to download anything to join your meeting.)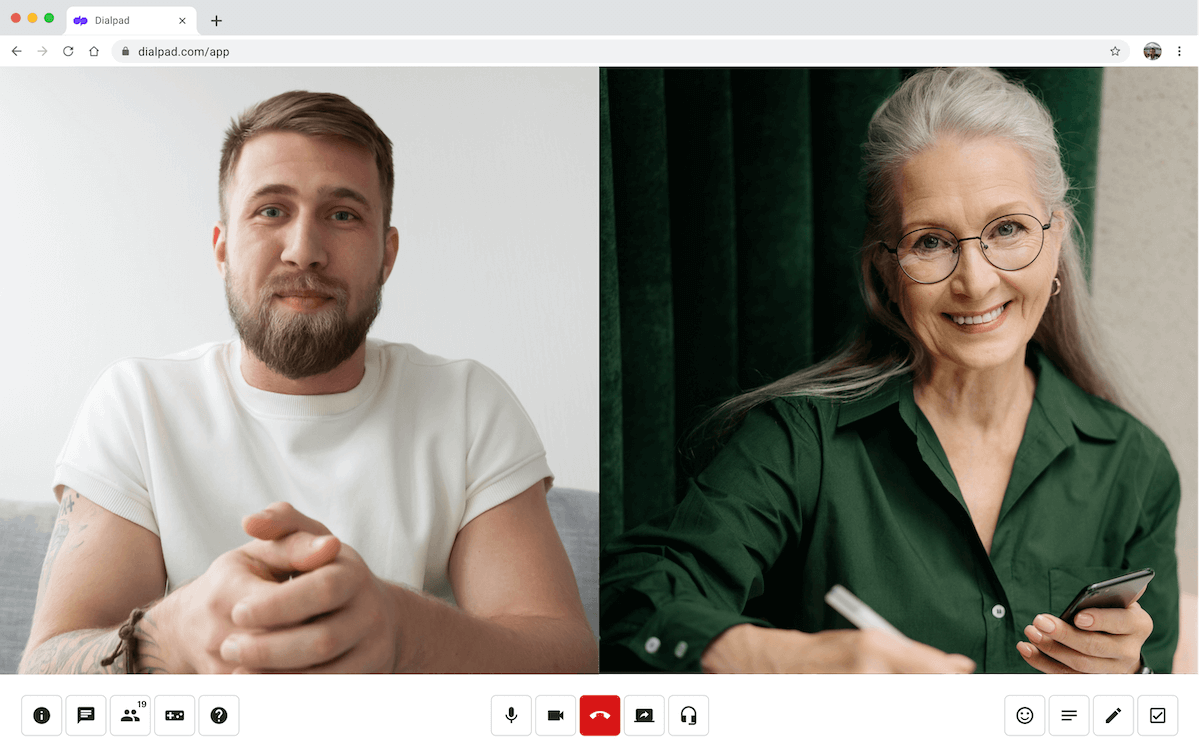 With Dialpad, you get everything that magicJack has, like unlimited calling, call forwarding, call blocking, call waiting, voicemail—but you also get a lot more on top of that.
What you get with Dialpad that you don't get with magicJack:
For starters, we've already mentioned that magicJack doesn't have monthly plans. Dialpad gives you the option to renew your subscription on a monthly basis, meaning you get extra flexibility and aren't tied up for the year unless you want to be.
Dialpad also has excellent call quality around the world, and helps you stay compliant with HIPAA, GDPR, and more. Okay. Now onto the actual features.
Unified communications
Imagine having one single cloud-based tool to give you all the messaging, emailing, and calling features you need. Now imagine being able to use that tool from your computer or mobile phone using the desktop or mobile app, or just a web browser.
That's Dialpad—and that's what you won't get with magicJack's basic VoIP phone service. And you can even send virtual faxes: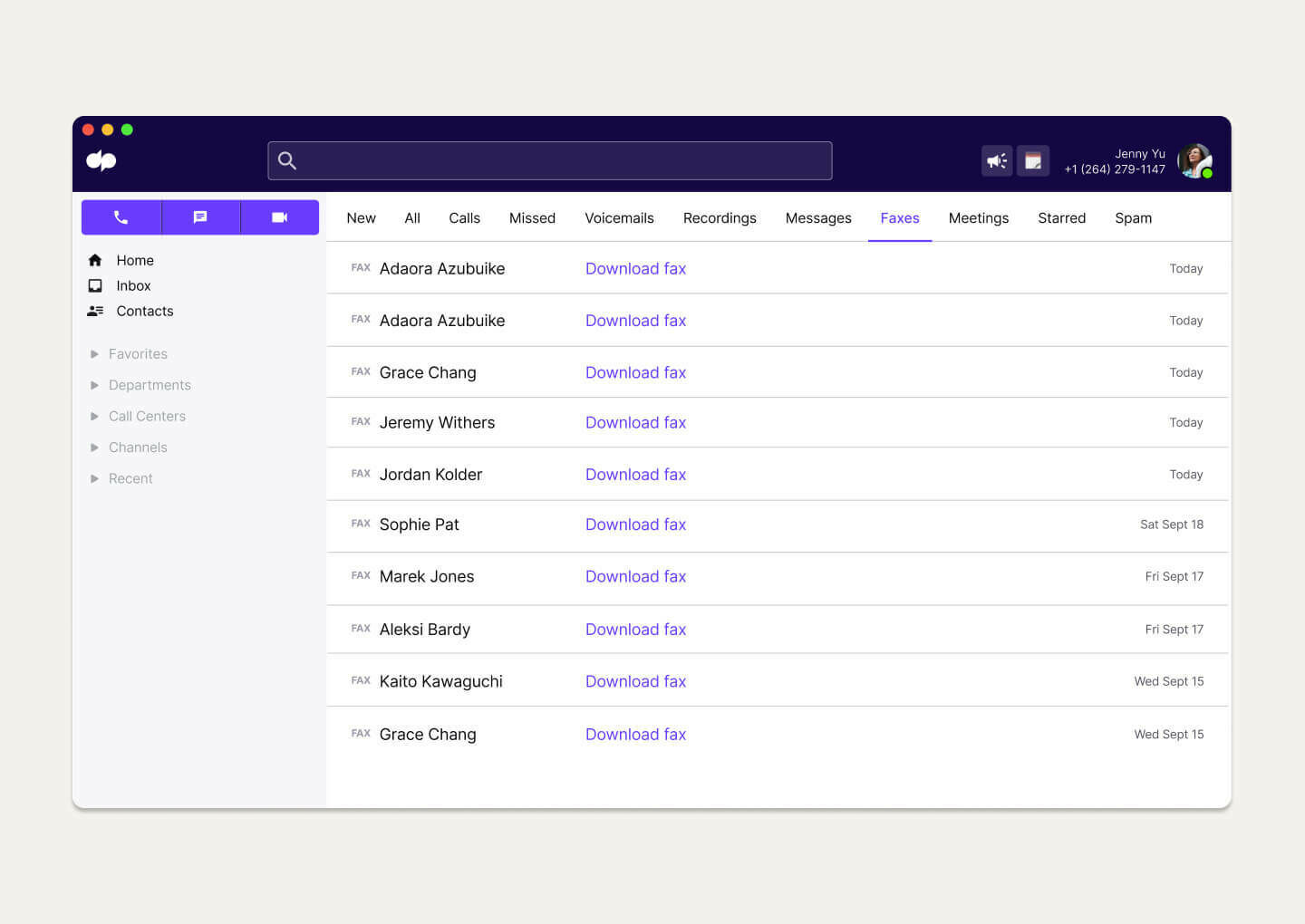 And one of the things our customers love the most is the fact that you can choose which caller ID to display when you're calling or texting from Dialpad. This way, you can make work calls from your personal cell phone while protecting your personal phone number: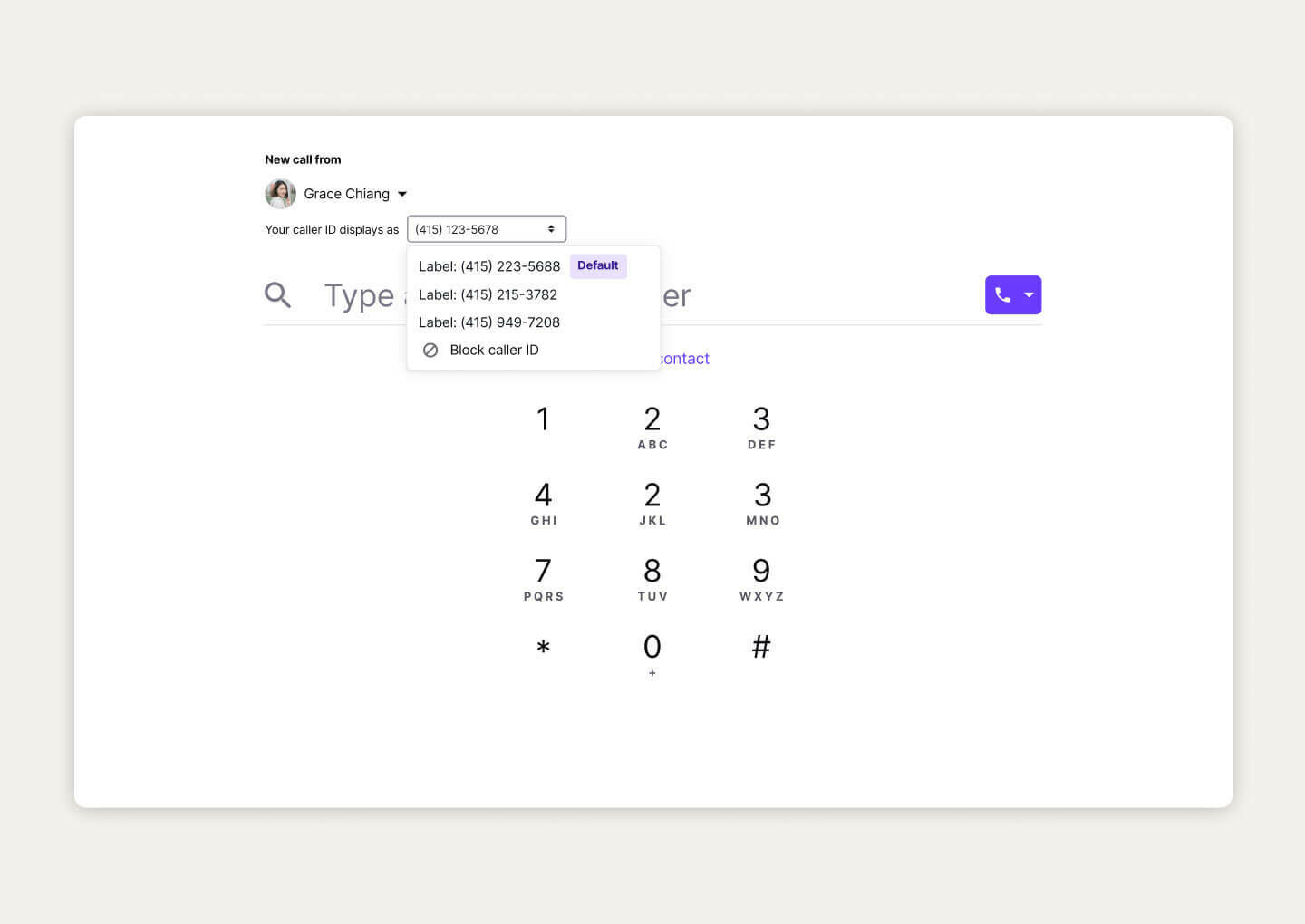 Robust (but still easy-to-use) business phone system features
To be honest, there's certain functionality that should come standard in any communications platform or phone system. Number porting support, for example, in case you want to bring over your existing numbers (which Dialpad has).
In fact, you can submit a port request, add international calling phone numbers, manage users, and more, right from your online dashboard in Dialpad without any IT or customer support help: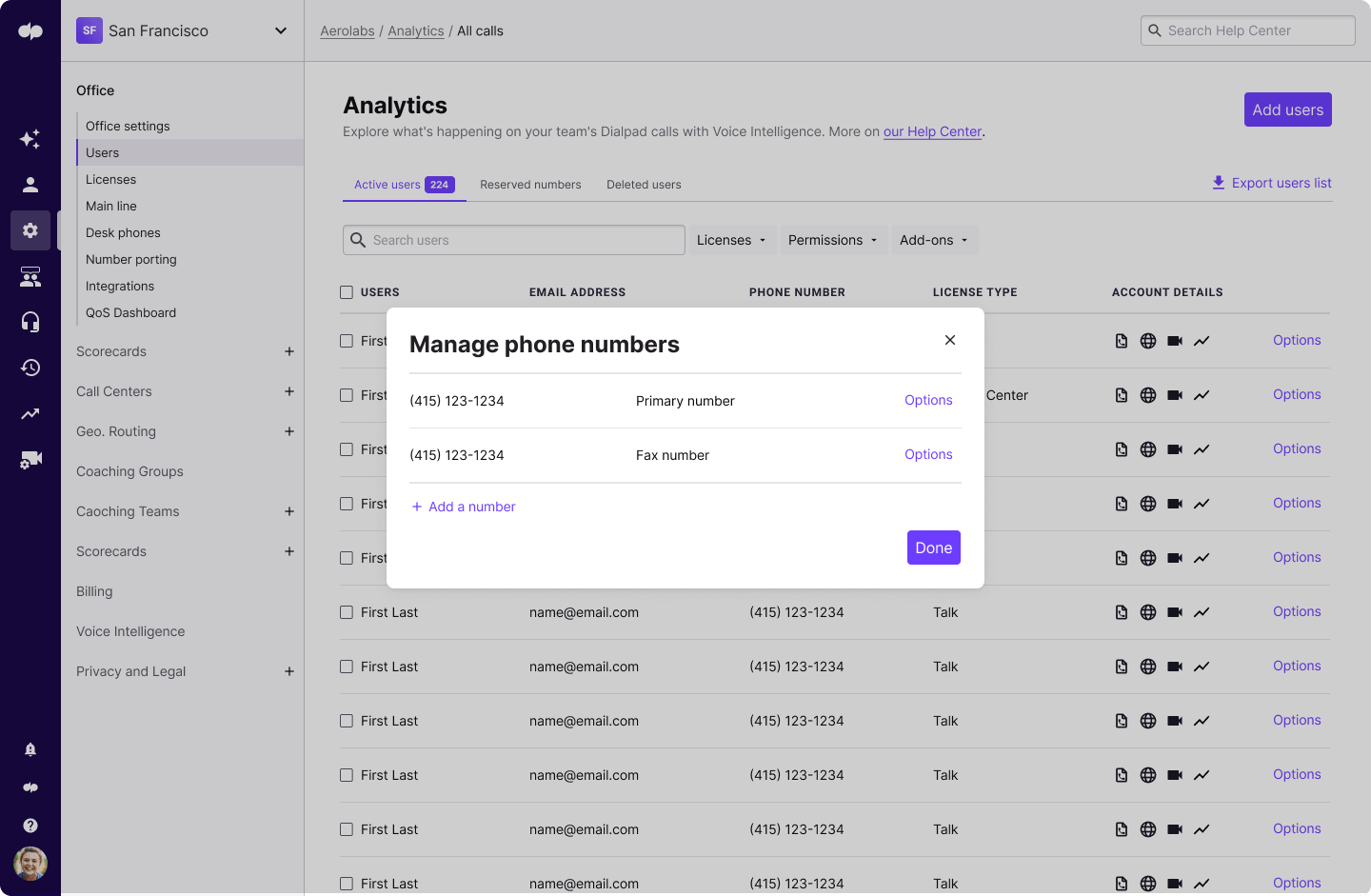 Fully integrated contact center platform (if you need it)
If your business does have a call center—or even just a customer support team or sales team—you probably will need some type of contact center software. If you're a startup or very small business that doesn't get a lot of phone calls or have very high volumes of inquiries, then feel free to skip this section.
But if this is something you'd need, then it's best to look for a communications platform that has that option so that you can easily add on that contact center functionality later when you do need them. (As opposed to having to switch your whole business phone system over, or even "Frankenstein-ing" different tools together—both of which will make life harder for your IT team.)
With Dialpad, both its contact center platform and unified communications platform / phone system are fully integrated. That means you can easily just use the phone system now, then add on the contact center later if you need it: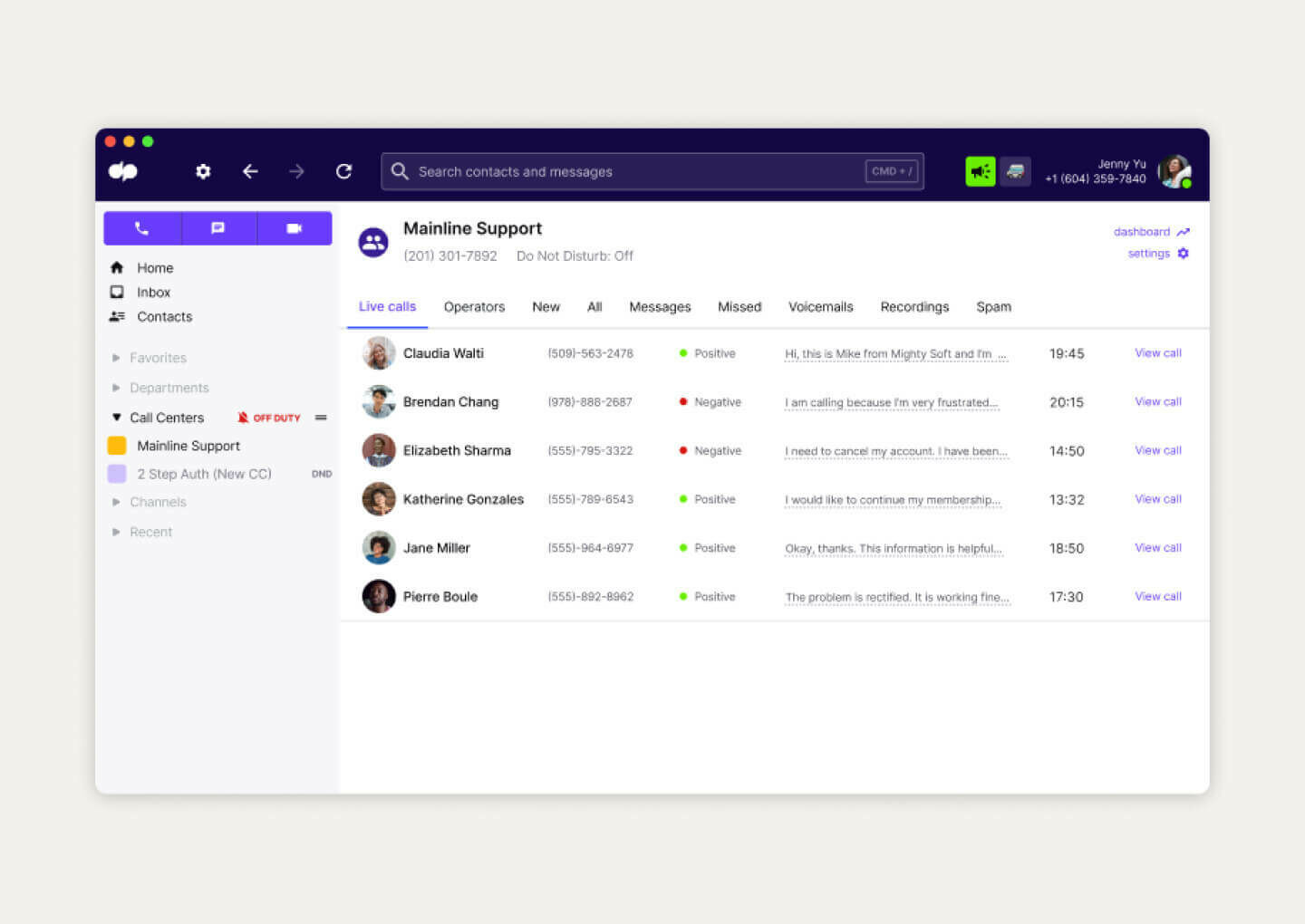 Real-time transcriptions
One of the coolest things about Dialpad is its AI. It's built in-house by our own team, and comes built into all our products, including the phone system and virtual call center platform. It can transcribe your conference calls and video calls—in real time: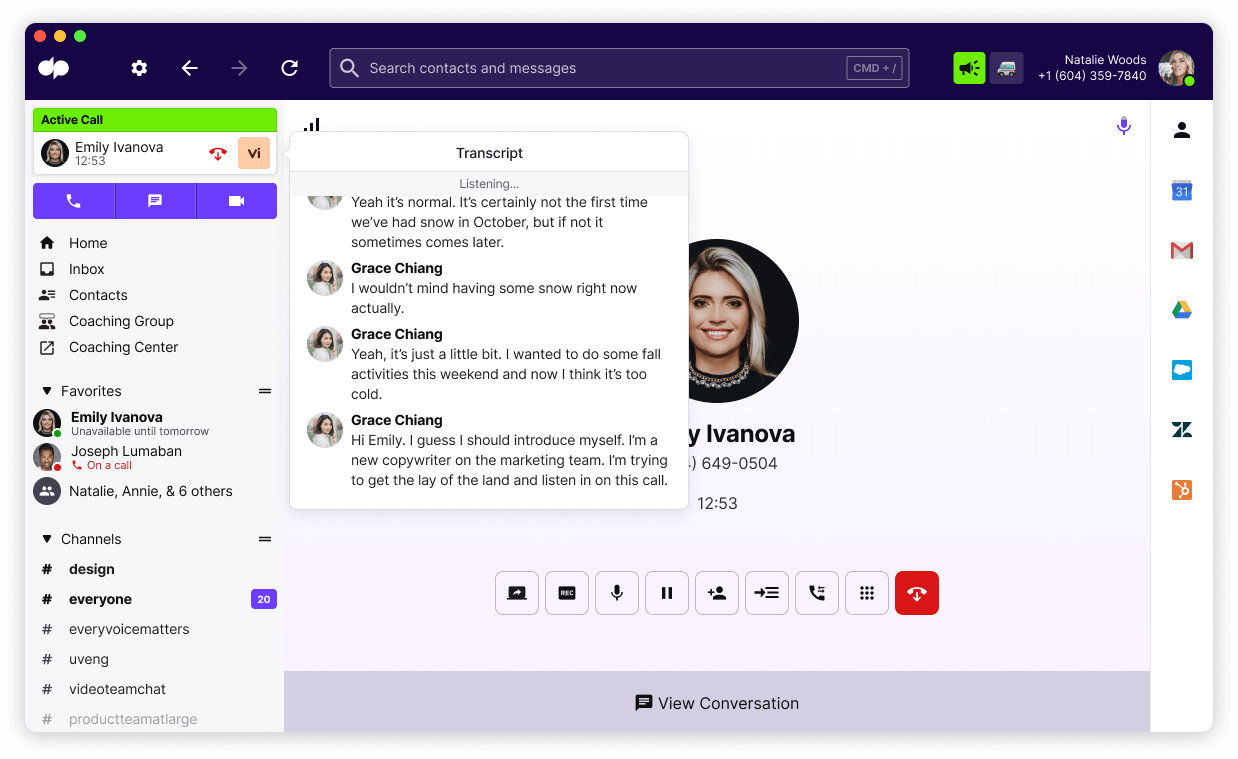 And it even logs action items for you during calls and creates a post-call summary email (with a searchable transcript!) that automatically gets sent out to everyone after the call: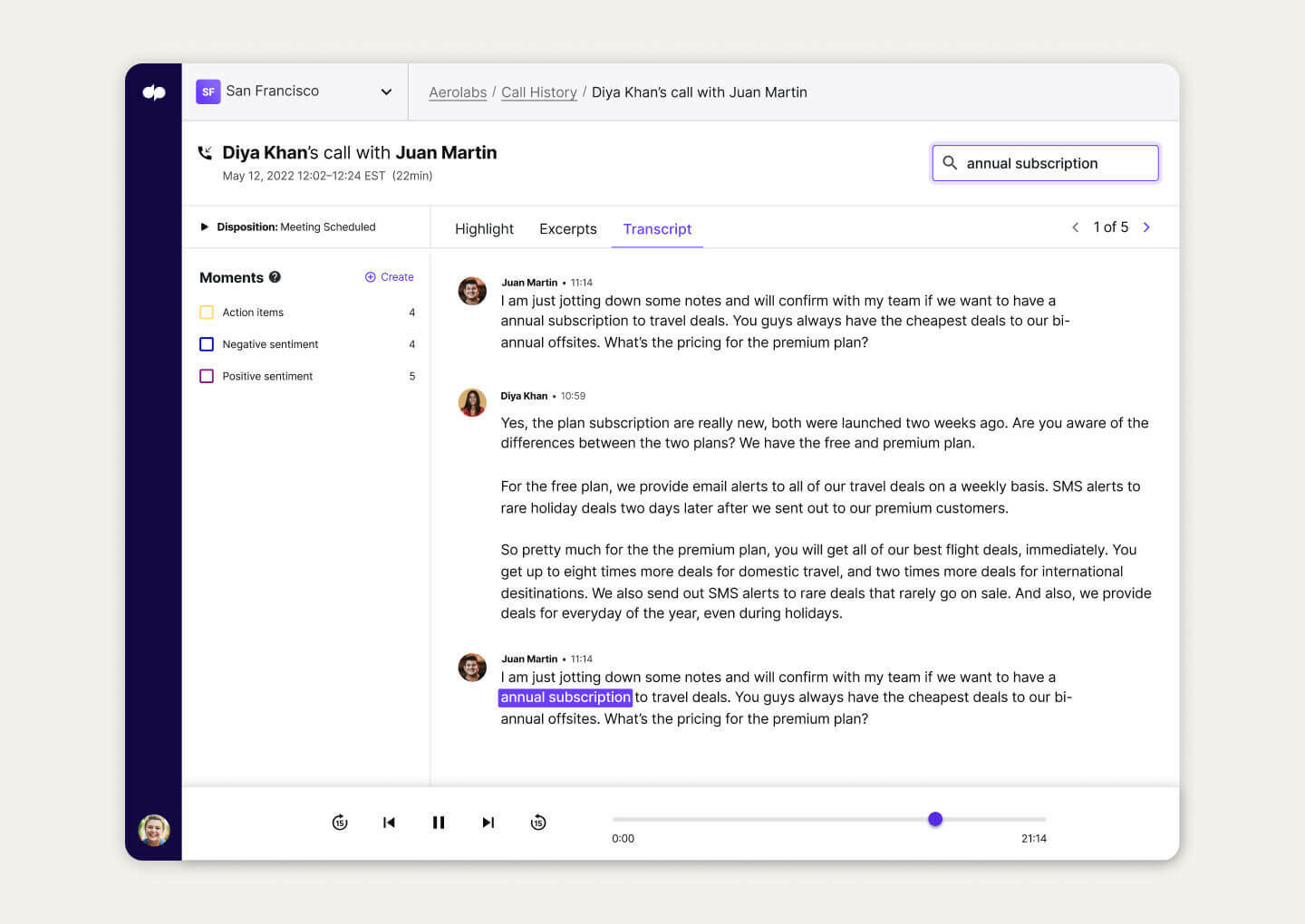 Call recording
Another thing you don't get with magicJack: call recording. Whether it's for training and development, or having a record of conversations with customers or prospects, call recordings can be very useful. You can easily turn call recording on and off manually during a call, or just turn on automatic recordings for your whole team.
From there, you can find all your call recordings from your main inbox screen: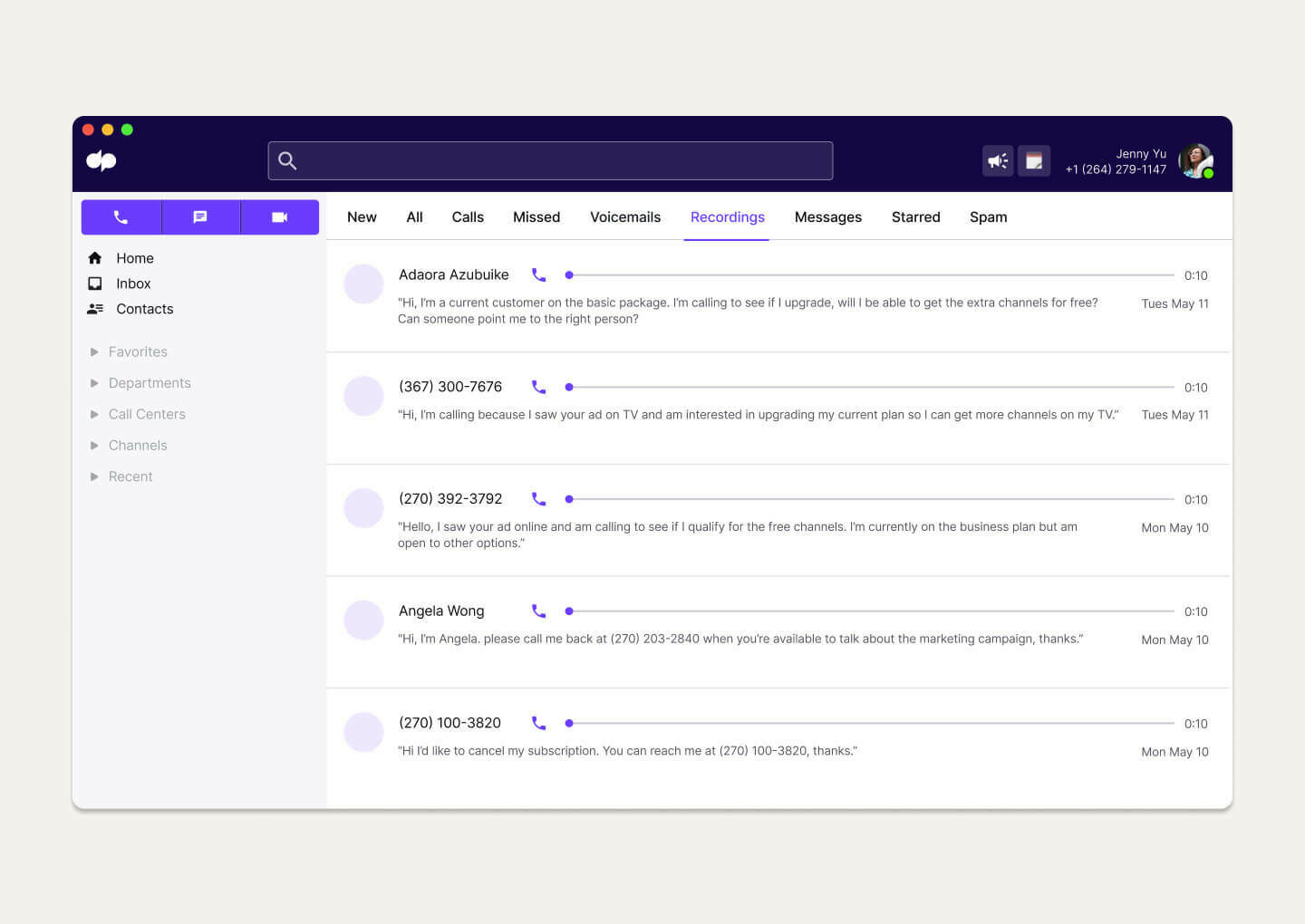 Integrations with the tools you're already using
If you're using a CRM like HubSpot or Zoho CRM, that should integrate with your communications platform or business phone system. As we mentioned earlier, Dialpad integrates with all of those—along with other important day-to-day tools like Google Workspace to automatically populate your meeting invites with the link or URL to join the video call.

Auto attendant
An auto attendant or virtual receptionist is a pretty standard telephony feature that automatically routes your callers to the right department or person. magicJack has call forwarding, but it doesn't have any type of auto attendant feature—Dialpad has a multi-level auto attendant even on the most basic plan.
2. Vonage
Vonage is a VoIP provider that has been around for many years and is pretty well known, in part because it has a big residential side of the business (like magicJack).
For small businesses with more basic needs, it's a decent business phone system that lets you make local and international calls.
What makes Vonage a good magicJack alternative?
Vonage offers some of the unified communications functionalities that magicJack lacks, like team messaging (which you get on the basic plan) and CRM integrations (which you have to go on the more expensive plans for).
Like Dialpad, Vonage says you get free calling included in the basic plan—but unlike Dialpad, it says that "reasonable and acceptable usage applies for unlimited calls and unlimited SMS."2 Not exactly sure what "reasonable and acceptable usage" means.
Pricing
Vonage's least expensive plan starts at $19.99 monthly per user, and really only gives you calling, SMS, and team messaging.2 That's more expensive than Dialpad, and many features that come standard with Dialpad are add-ons that you have to pay extra for, like voicemail transcription and call recordings.
3. RingCentral
RingCentral is another business phone system that's been around for decades since the days of PBX and landlines. Today, it calls itself a VoIP provider and like Nextiva (another phone system solution), has features like messaging and video conferencing.
What makes RingCentral a good alternative to magicJack?
Again, like Dialpad and Nextiva, RingCentral gives you more functionality than magicJack at a comparable price. If you need to be able to talk to customers and prospects in different ways, RingCentral can give you that, though because it's built on legacy infrastructure, that makes it less nimble than true born-in-the-cloud solutions like Dialpad.
What this means is that it's not as flexible—it tends to be harder to scale up (and down) easily and harder to admin. (This is what both TownCenter Partners and PlanGrid have mentioned.)
👉 Side note: We didn't include Nextiva on this list even though it's comparable to RingCentral, because it's actually reselling Broadsoft / Cisco's technology.3
Pricing:
RingCentral starts at $19.99 a month for its most basic plan, and the pricing goes up as you add more features.4
Category B: The best magicJack alternatives that are more basic phone services
1. Google Voice
If you didn't know, yes, Google kind of has a VoIP phone service: Google Voice! It comes with basic features like free calling and even voicemail transcription. (Fun fact: Dialpad was actually started by the team that built Google Voice, which is a big reason why it's so easy to use!)
What makes Google Voice a good alternative to magicJack?
Beyond having more functionality than magicJack, Google Voice is a good fit if you're already using Gmail, Google Calendar, and so on. Yes, it's still pretty basic compared to other UCaaS providers, but Google Voice still gives you more than magicJack.
Pricing
Google Voice starts at $10 per user, per month. One thing to note is that you don't get an auto attendant at this level—you'll have to go up to $20 or $30-per-month pricing for that.5
2. Ooma
Ooma is another VoIP service that's marketed toward small businesses. It's quite similar to Vonage in that Ooma also has a home / residential phone service side to the business (except Ooma's isn't quite as robust as Vonage).
What makes Ooma a good alternative to magicJack?
While it doesn't offer the same number of integrations and functionalities as other unified communications platforms in Category A, Ooma does include some things that magicJack doesn't have, like video conferencing, toll-free number support, and a virtual receptionist.
Pricing
The most basic pricing plan, Ooma Office, runs at $19.95 per user per month.6 That's notably more than Dialpad, which starts at only $15 per user per month, and comes with a much wider set of features.
3. Grasshopper
Finally, there's Grasshopper, another VoIP calling provider that's geared towards small businesses and comes with all the basics like local phone numbers along with basic calling features like call forwarding and Wi-Fi calling.
What makes Grasshopper a good alternative to magicJack?
Like all the other service providers in this list, Grasshopper has monthly pricing plans, which gives you a little more flexibility and freedom, and it does have a few more features than magicJack, though nowhere near any of the Category A alternatives.
Another caveat is that Grasshopper is currently only available to users in the US and Canada.

Pricing
Grasshopper starts at $26 a month per user for one local phone number and three phone line extensions, and goes all the way up to $80 per month for the "Small Business" package. That's a big reason why they're at the bottom of this list. (You can get a lot more for a lower price with every other magicJack alternative on this list.)7
Try the best magicJack alternative now!
When it comes down to it, if you're looking for more than just a basic phone service, there are some great alternatives to magicJack out there that do much, much more while letting you consolidate a bunch of different software and tools into one.
If you're ready to try one of these, why not Dialpad? Its unique split cloud architecture and global voice network are designed to give you excellent call quality around the world, and our team can help you port over your existing numbers too.

Sign up for a 14-day free trial to take Dialpad for a test drive! It takes just a few minutes to get started and you'll be set up with a virtual phone number too!
Get started
---
1store.magicjack.com/account/mjLandingpages.do?page=plans&_ga=2.196337004.1792860245.1645127703-2010027583.1643818257
2vonage.com/unified-communications/pricing/
3talkingpointz.com/nextiva-competing-around-the-customer-experience/
4ringcentral.com/office/plansandpricing.html#office
5workspace.google.com/products/voice/
6support.ooma.com/office/ooma-office-pricing-chart/
7signup.grasshopper.com/plans