Back to Blog
The 9 best VoIP headsets for your contact center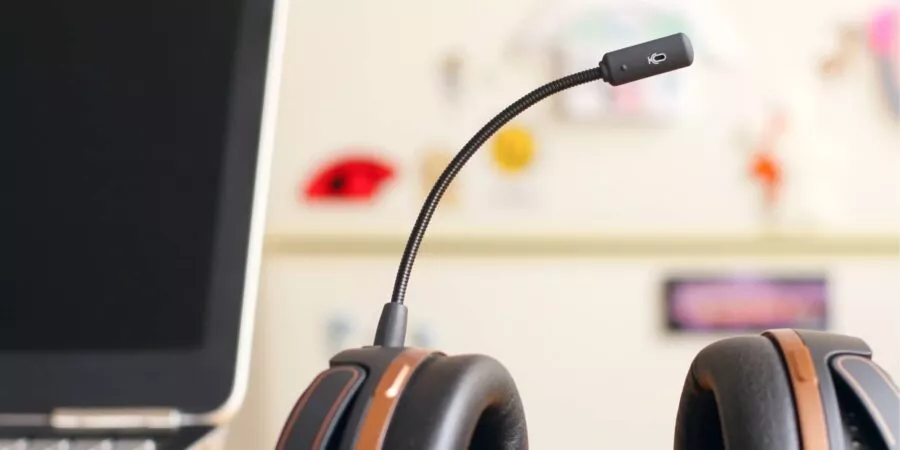 Looking for the best VoIP headset for your contact center team?
Well, you've come to the right place. We've gathered a list of 9 of the best headsets for agents who need to spend all day on calls with customers.
Whether you're managing a busy call center or working from your home office using a VoIP phone system, having a good headset can do wonders for call quality and just your overall call experience.
So, without further ado, let's dive in.
4 features to look for in a VoIP headset
If you're using a UCaaS or VoIP platform—and spend a good few hours each day on calls, then you'll need a good VoIP headset.
If you need to take notes on calls, it's important that you can have your hands free while you talk. There are other things too, of course. Headsets come wired or unwired, they can be worn as headbands or over-ear pieces… The options are pretty much endless.
So, before you go shopping for a new headset, let's take a look at some of the best VoIP headset features that you should look for (or at the very least, consider).
1. Bluetooth capability
Bluetooth functionality is a big one, especially for remote workers.
A wired stereo headset will need to plug directly into your computer or phone via a headphone jack or USB portal, which means you have to be at your desk all the time.
But if you have a Bluetooth-enabled wireless headset, that makes things much more flexible. Not only does Bluetooth give you compatibility across different devices, it also reduces clutter because you don't have as many cables and adapters to deal with.
If you like convenience, wireless headsets definitely win over wired headsets. (Just make sure to also look at talk time, battery life, and connectivity range when choosing a wireless headset.)
2. Noise-cancelling features
Noise-cancelling headsets are big for both busy contact centers and just remote work in general.
Whether you work in a noisy place or not, there will almost always be some degree of background noise.
Noise-canceling headsets capture your voice specifically and filter out any background noise so that the caller on the other end gets clear audio quality (without picking up on your puppy whining in the background).
3. Audio quality
Headsets are becoming more and more advanced. Some stereo headsets even have super high definition audio quality.
This isn't important for everyone, but if you want to maintain a professional phone presence, this is something to consider.
Of course, the conferencing platform you choose will also impact the audio quality of your headset. For example, Dialpad comes with HD voice calling, which means that if you have a decent Internet connection, your voice will come across loud and clear on calls.
4. Long battery life
Last, but not least, always look for a VoIP headset with long battery life (if you're going wireless).
This is essential—especially if you work at a busy contact center and can't recharge your headset all the time. Before investing in a new wireless headset, battery life should be at the top of your wish list.
Top 9 VoIP headsets to check out
Okay. Now that you have a sense of what to look for, here are some of the top VoIP headsets on the market right now.
Bluetooth headsets are generally a great option—the only thing you should do is make sure that your phone headset of choice is actually compatible with your telephony or cloud contact center service provider.
1. Jabra Evolve2 65

The Jabra Evolve2 65 is designed to work with all UC platforms. It's built with noise-canceling cushions that conform to the shape of your ears and uses Jabra's most advanced digital chipset. Plus, it charges quickly, has an amazingly long-lasting battery, and is easy to update through Jabra Direct.
Features include:

Leak-tolerant 40mm speakers

Up to 37 hours of battery life

Bluetooth connectivity

Busylight

Call controls

Voice guidance
2. Jabra Evolve 75

The Jabra Evolve 75 is designed to help block out office noise and improve productivity with active noise-cancelation and an integrated busylight. Its Dual Bluetooth connectivity means you can connect to two devices, and remain connected for up to 100 feet away, and it's designed for comfortable all-day use.
Plus, it's designed to work with over 10,000 desk phones and all softphone and web clients, so odds are it'll work with yours.
Features include:

Passive and active noise cancelation

A listen-in feature so you don't miss any important announcements with your headset on

Built-in volume controls

Up to 18 hours of talk time battery life
3. Poly Voyager 8200

The Poly Voyager series of bluetooth headsets tend to be strong choices all around. The 8200 is built for compatibility with voice platforms, and includes the Poly Lens software and app to help give IT teams new insights while keeping the headset up to date.
Features include:

A four-microphone boom-free design

Up to 24 hour battery life

Bluetooth connectivity and a roaming range of up to 30 meters

Active noise canceling technology

SoundGuard DIGITAL hearing protection
4. Poly Voyager 6200

For those who prefer a neckband headset, the Poly Voyager 6200 is an excellent choice. It's designed for comfort and performance, so it can be worn for hours while bringing both versatility and mobility to your calls. As with the other Poly devices, it can connect to the Poly Lens app for better IT service and support.
Features include:

Omnidirectional microphones with noise canceling

Up to 16 hours of battery life

Roaming range up to 30 meters

Bluetooth connectivity

Active noise canceling

Call and media controls

Enhanced voice alerts and neckband vibration alerts
5. Poly Voyager 5200

Maybe you prefer bluetooth earpieces to full headsets. In that case, you may prefer the Poly Voyager 5200. This earpiece is designed for comfort and call quality, complete with voice commands and six layers of WindSmart technology to make sure only your voice is getting through wherever you are.
Features include:
Four-mic noise canceling

Voice assistant compatibility

Caller ID and voice answering features

Dynamic mute alert

Bluetooth connectivity and a roaming range of up to 30 meters
6. Poly Voyager Focus UC
The Poly Voyager Focus UC is a wireless stereo over-the-head handset. This headset offers the option of both Bluetooth connectivity and USB. You'll benefit from noise-reducing microphone technology, real-time digital signal processing, and customizable settings.
Features include:
A triple mic with enhanced DSP to capture your voice more effectively

Adjustable over-the-head band

Built-in mute button on the headset

150 ft range

Noise-canceling technology
7. Jabra Engage 50

The Jabra Engage 50 brings us to corded headsets, so you won't have bluetooth connectivity with this, but the headset's quality more than makes up for that. It's compatible with most softphone web clients and contact center platforms, with digital sound for incredibly clear calls.
Features include:
A three-microphone system with intelligent noise-cancelation filters and stereo sound

A call control unit accessory

Live microphone guidance for agents

Customization for sidetone, ringtone, audio protection levels, and more

Enhanced hearing protection
8. Jabra Evolve 40

The Jabra Evolve 40 is another wired headset, complete with passive noise cancellation and wideband audio. It's comfortable, connects to any device with a USB or headset jack, and you'll never have to worry about it running out of battery power. Sure, it may not have the widest array of features, but if what you want is a solid, reliable, comfortable headset, the Evolve 40 is a good choice.
Features include:
Wideband audio

Busy light

Passive noise cancellation

3.5mm and USB connectivity
9. Poly Blackwire (UC models)

Closing off this list, we have the Poly Blackwire UC models. These corded headsets keep noise levels down with hybrid active noise canceling, and use a lightweight design to be comfortably worn for hours. They're built to be compatible with most communications and collaboration platforms, and use the Poly Lens software to give users and IT more visibility and control over their calls.
Features include:
Fully adjustable headsets with padded headbands and ear cushions

Four microphones and advanced active noise canceling

Acoustic fence technology to block background noise

Inline controls

USB-A and USB-C connectivity
A quick note: What are the benefits of going with VoIP?
If you're working remotely, a VoIP headset is an important complement to your business phone system. If you're using a VoIP phone system, chances are it's because you want the flexibility to work from anywhere, so make sure you pair it with the best headset to have crystal-clear phone calls.
So why are VoIP phones special (and why are they better than traditional on-premises PBX phone systems)?

It's more cost-efficient
One big reason many businesses go with VoIP is because of the savings.
Compared to on-premises phone systems, VoIP phone systems don't have as exorbitant up-front expenses because you don't have to buy all the hardware and desk phones that you'd need for traditional landline phone systems are wallet-draining.
For large offices and contact center or call centers with multiple phones, the price can quickly sky-rocket.
That's because with PBX, you have to plan ahead for the maximum number of users and phone calls you'd need to support. That means you're making a business decision based on expenditures that may not dovetail correctly with your actual business needs.
With VoIP and UCaaS systems, you have a lot more flexibility.

With Dialpad, for example, you can get set up with VoIP for as little as $15 per user per month. (And you'll be able to scale up instantly, should you need to expand or grow your business.)

It's more accessible
If VoIP phone systems are also super accessible. If you have teammates and customers located around the world, you can use VoIP to make calls to them on any device (and at a much lower cost than making the usual long-distance phone calls.
Depending on your VoIP business phone provider, you should be able to use the softphone app from any device that can get on the Internet like a cell phone, Mac, or even just through a web browser (no app needed).
For example, with Dialpad (a truly browser-based platform), you can both join and host calls from a web browser—no downloads needed:

Most platforms only allow you to join meetings from the browser and the functionality is much more limited.
It's more flexible
As well as allowing you to take your work anywhere, VoIP is also incredibly scalable. Demand spike? No problem.
You won't have to go out and invest in an entire phone system upgrade or purchase more hardware. Just contact your VoIP provider and scale up your service.
Whether you're prepping for a seasonal demand spike or scaling up your office to go international, VoIP will move with you.
One thing to consider is that not all VoIP is made equal. Some are more user-friendly than others, and not all of them will let you do things like add and remove users on your own (without hiring expensive IT help). Here's how it looks in Dialpad's dashboard, for instance:


Take call center communication to the next level with the best VoIP headset
So, there we have it. Nine VoIP telephone headsets to take your business phone to the next level. Whether you're just after the comfiest ear pads, the squishiest earbuds, or you're looking for some serious tech, there's the perfect headset out there waiting for you.
When offices and call centers support their VoIP phones with high-quality headsets, the benefits are massive. Increased professionalism, comfort, and call quality are just a headset away. Just make sure that your chosen headset is compatible with your business phone service provider.
Looking for a unified communications platform to use with your headset?
Dialpad is compatible with a wide range of VoIP headsets and lets you have virtual meetings and phone calls in addition to instant + SMS text messaging, all in one easy-to-use app. Try it free for 14 days! It takes just a few minutes to get started, and you'll be set up with a virtual phone number too.