Back to Blog
The 10 best VoIP headsets for your contact center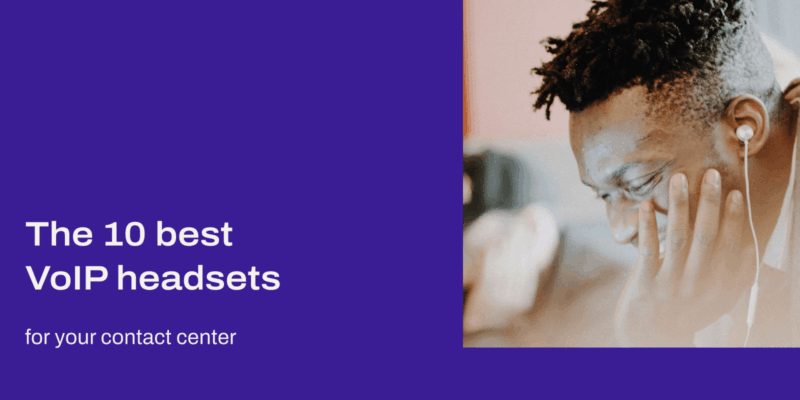 Looking for the best VoIP headset for your contact center team?
Well, you've come to the right place. We've gathered a list of 10 of the best headsets for agents who need to spend all day on calls with customers.
Whether you're managing a busy call center or working from your home office using a VoIP phone system, having a good headset can do wonders for call quality and just your overall call experience.
So, without further ado, let's dive in.
4 features to look for in a VoIP headset
If you're using a UCaaS or VoIP platform—and spend a good few hours each day on calls, then you'll need a good VoIP headset.
If you need to take notes on calls, it's important that you can have your hands free while you talk. There are other things too, of course. Headsets come wired or unwired, they can be worn as headbands or over-ear pieces… The options are pretty much endless.
So, before you go shopping for a new headset, let's take a look at some of the best VoIP headset features that you should look for (or at the very least, consider).
1. Bluetooth capability
Bluetooth functionality is a big one, especially for remote workers.
A wired stereo headset will need to plug directly into your computer or phone via a headphone jack or USB portal, which means you have to be at your desk all the time.
But if you have a Bluetooth-enabled wireless headset, that makes things much more flexible. Not only does Bluetooth give you compatibility across different devices, it also reduces clutter because you don't have as many cables and adapters to deal with.
If you like convenience, wireless headsets definitely win over wired headsets. (Just make sure to also look at talk time, battery life, and connectivity range when choosing a wireless headset.)
2. Noise-cancelling features
Noise-cancelling headsets are big for both busy contact centers and just remote work in general.
Whether you work in a noisy place or not, there will almost always be some degree of background noise.
Noise-canceling headsets capture your voice specifically and filter out any background noise so that the caller on the other end gets clear audio quality (without picking up on your puppy whining in the background).
3. Audio quality
Headsets are becoming more and more advanced. Some stereo headsets even have super high definition audio quality.
This isn't important for everyone, but if you want to maintain a professional phone presence, this is something to consider.
Of course, the conferencing platform you choose will also impact the audio quality of your headset. For example, Dialpad comes with HD audio calling, which means that if you have a decent Internet connection, your voice will come across loud and clear on calls.
4. Long battery life
Last, but not least, always look for a VoIP headset with long battery life (if you're going wireless).
This is essential—especially if you work at a busy contact center and can't recharge your headset all the time. Before investing in a new wireless headset, battery life should be at the top of your wish list.
Top 10 VoIP headsets to check out
Okay. Now that you have a sense of what to look for, here are some of the top VoIP headsets on the market right now.
Bluetooth headsets are generally a great option—the only thing you should do is make sure that your phone headset of choice is actually compatible with your telephony or contact center service provider.
1. Logitech H820e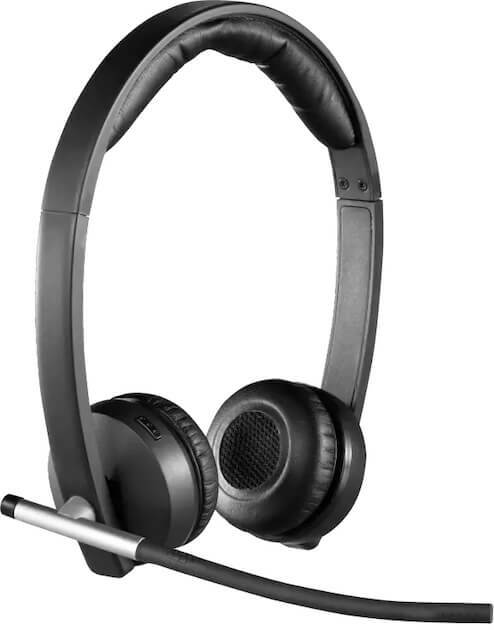 The Logitech H820e is a comfortable wireless office headset with high-quality audio. It also comes with convenient on-ear earphone call controls (including a mute button and a handy indicator light).
Features include:
Designed for unified communications

Digital signal processing for excellent audio quality

On-ear controls

100m range
2. Jabra UC Voice 750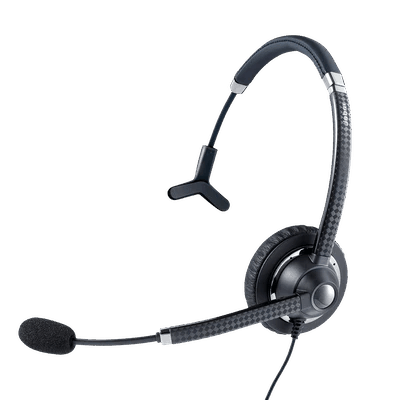 The Jabra Voice 750 is a corded headset designed specifically for unified communications (UC), which means it's ideal for calling or conferencing from your desk and don't prefer to move around much while you're working.
This headset is lightweight, comfortable, and comes with Hi-Fi stereo audio and a noise-canceling microphone to catch all of those ambient noises.
You also have access to call control buttons to answer or end calls from the headset itself (also worth considering is it's slightly more expensive cousin, the Jabra Evolve 40). If you're running a small business or tight on budget though, this might be a better option.
Features include:
Softphone integrations

Call control buttons

Portable headset (even though it's wired)

USB connectivity
3. Plantronics Voyager Stereo 4220 UC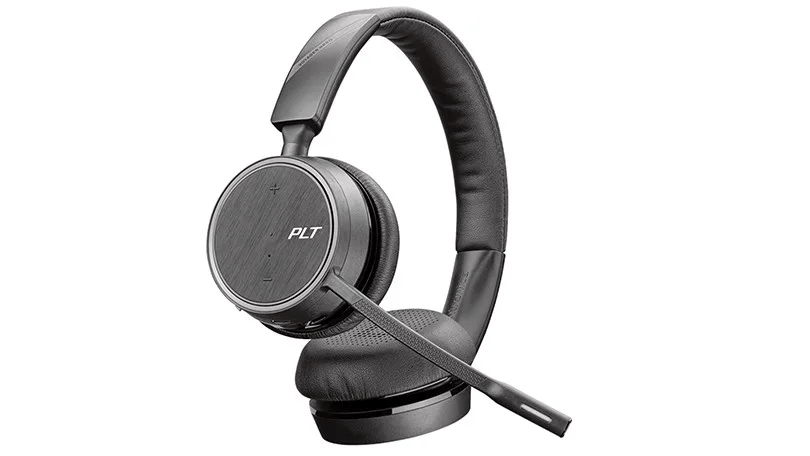 The Plantronics Voyager Stereo 4220 UC is a professional computer headset with exceptional voice clarity and a solid boom mic for improved speaking clarity.
Features include:
Pretty good range of 98 feet

Average talk time of up to 13 hours

Average charging time of approximately 1.5 hours

Excellent sound quality

Noise-isolating microphone
Fun fact: Dialpad integrates with Plantronics to give you the ability to answer and end Dialpad calls straight from the headset command buttons. That means you can use the command buttons on your Plantronics headset to answer and end Dialpad calls in just a few easy steps:
Use a Plantronics USB headset (wireless requires USB dongle)

Install the third-party Plantronics software

Set your Audio Sensing setting to "On" in your Plantronics Hub
4. Sennheiser SC 630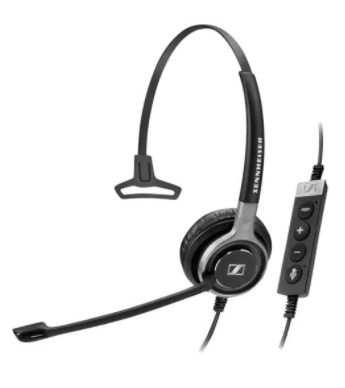 The Sennheiser SC 630 is a single-sided, wired USB headset designed with contact centers and office professionals in mind. This is an over-the-ear headset that offers excellent sound quality and a noise-cancelling microphone. The wide-band sound offers a more natural listening experience and the neodymium speaker gives you HD audio.
It is wired, so if you're worried about misplacing your headset or accidentally wandering out of wireless range and breaking up calls, then this is a good option.
Sennheiser is also a great brand for audiophiles, so if sound quality is important, check this one out.
Features include:
ActiveGuard technology to protect against acoustic shock

Extension headband

Ergonomic call-control unit

Wired range of 9.1 feet

12 hours average talk time

1 hour average charging time
5. Jabra Pro 920 Mono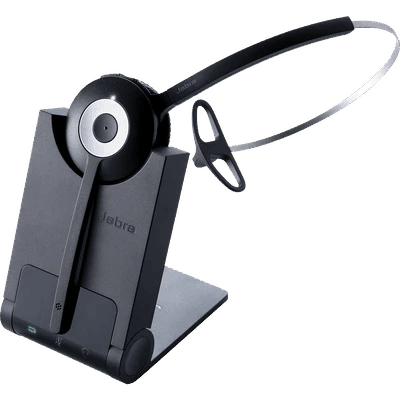 The Jabra Pro 920 Mono is pretty a practical option. Audio quality is clear and the headset offers great noise-canceling features that reduce background noises so that you can focus on the conversation and not what's going on the periphery.
Features include:
120-minute charging time

Fast-charge setting (50% charge in 50 mins, 20% charge in 20 mins)

AC power supply

395 ft / 120m operating range

Up to 8 hours talk time

Up to 33 hours standby time

Uni-directional microphone
6. Plantronics Voyager Focus UC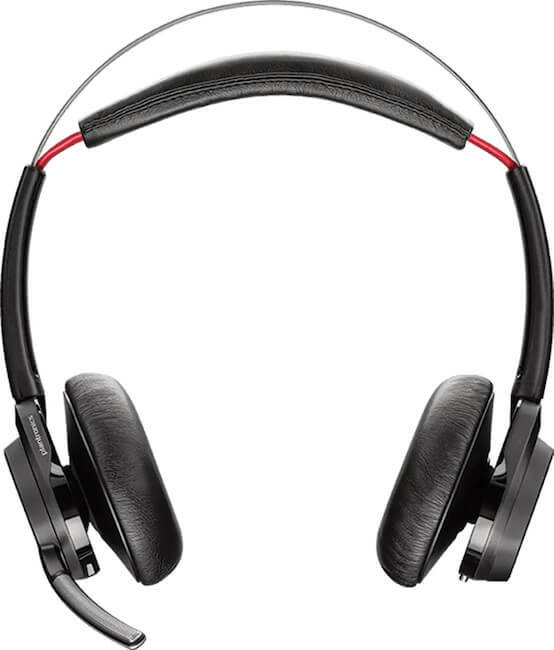 The Plantronics (Poly, formerly known as Polycom) Voyager Focus UC is a wireless stereo over-the-head handset. This headset offers the option of both Bluetooth connectivity and USB. You'll benefit from noise-reducing microphone technology, real-time digital signal processing, and customizable settings.
Features include:
A triple mic with enhanced DSP to capture your voice more effectively

Adjustable over-the-head band

Built-in mute button on the headset

150 ft range

Noise-canceling technology
7. Logitech H390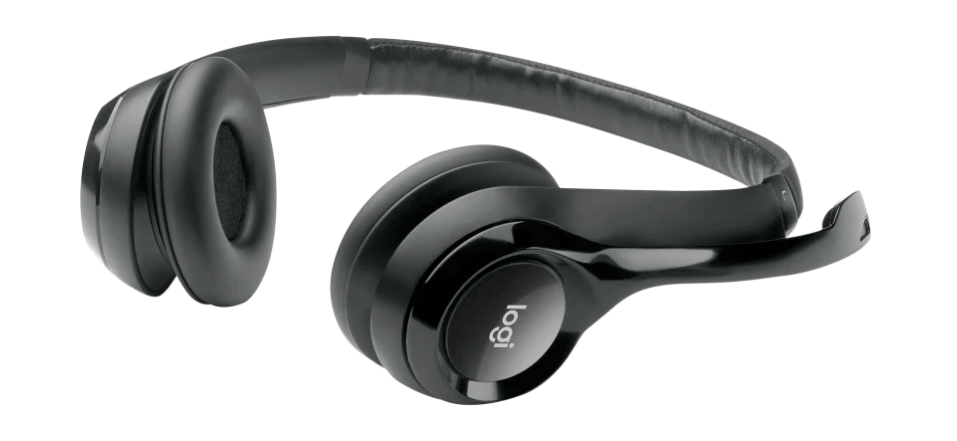 The Logitech H390 headset is a USB headset with pretty good sound capabilities. This headset facilitates clear internet calls with a simple plug-and-play USB-A connector and a noise-canceling microphone.
Like some of the other headsets that are great for business calls and web conferencing on this list, its in-line controls let you control volumes mid-call without any interruptions.
Features include:
Padded headband and ear cups

Up to 5 hours talk time

8 ft. cable length

In-line controls

Noise-canceling microphone
8. Plantronics Blackwire 720
The Plantronics Blackwire 720 offers both a wired USB and Bluetooth option. The device connects to a computer via USB, and also a mobile phone or tablet via Bluetooth. This headset also uses smart-sensor technology to allow you to receive calls as soon as you put on the headset.
Features include:
Dynamic EQ

Noise-canceling microphone

Up to 10 hours talk time

Up to 10 days standby time

Up to 6 hours listening time
9. Microsoft LifeChat LX-6000
This headset by Microsoft is designed with businesses in mind. The headset is designed to eliminate workplace distractions and produce clear, acoustically accurate sounds.
Plus the noise-canceling microphone means that you'll always be heard loud and clear even if you're working in a noisy environment.
Features include:
In-line volume control

Simple plug-and-play

Clear stereo sound

High-speed USB compatible

Up to 8 hours talk time
10. Jabra Biz 2400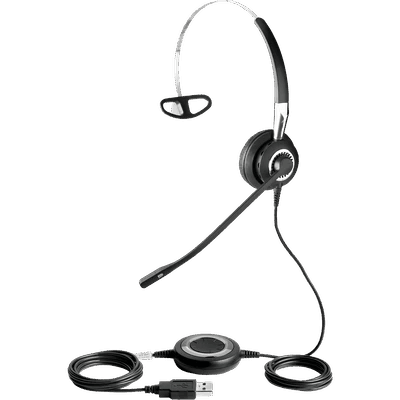 The Jabra Biz 2400 uses PeakStop technology to automatically remove any loud noises and keep sound level. Plus the noise-canceling mic keeps the line clear for your caller at the other end too.
This is a professional headset designed for noise-free conversations, comfort, and reliable connectivity.
Features include:
Three different wearing styles

Adjustable fit

Multiple connection types

Works with a wide range of phone systems

HD voice

Remote call control
A quick note: What are the benefits of going with VoIP?
If you're working remotely, a VoIP headset is an important complement to your business phone system. If you're using a VoIP phone system, chances are it's because you want the flexibility to work from anywhere, so make sure you pair it with the best headset to have crystal-clear phone calls.
So why are VoIP phones special (and why are they better than traditional on-premises PBX phone systems)?

It's more cost-efficient
One big reason many businesses go with VoIP is because of the savings.
Compared to on-premises phone systems, VoIP phone systems don't have as exorbitant up-front expenses because you don't have to buy all the hardware and desk phones that you'd need for traditional landline phone systems are wallet-draining.
For large offices and contact center or call centers with multiple phones, the price can quickly sky-rocket.
That's because with PBX, you have to plan ahead for the maximum number of users and phone calls you'd need to support. That means you're making a business decision based on expenditures that may not dovetail correctly with your actual business needs.
With VoIP and UCaaS systems, you have a lot more flexibility.

With Dialpad, for example, you can get set up with VoIP for as little as $15 per user per month. (And you'll be able to scale up instantly, should you need to expand or grow your business.)

It's more accessible
If VoIP phone systems are also super accessible. If you have teammates and customers located around the world, you can use VoIP to make calls to them on any device (and at a much lower cost than making the usual long-distance phone calls.
Depending on your VoIP business phone provider, you should be able to use the softphone app from any device that can get on the Internet like a cell phone, Mac, or even just through a web browser (no app needed).
For example, with Dialpad (a truly browser-based platform), you can both join and host calls from a web browser—no downloads needed: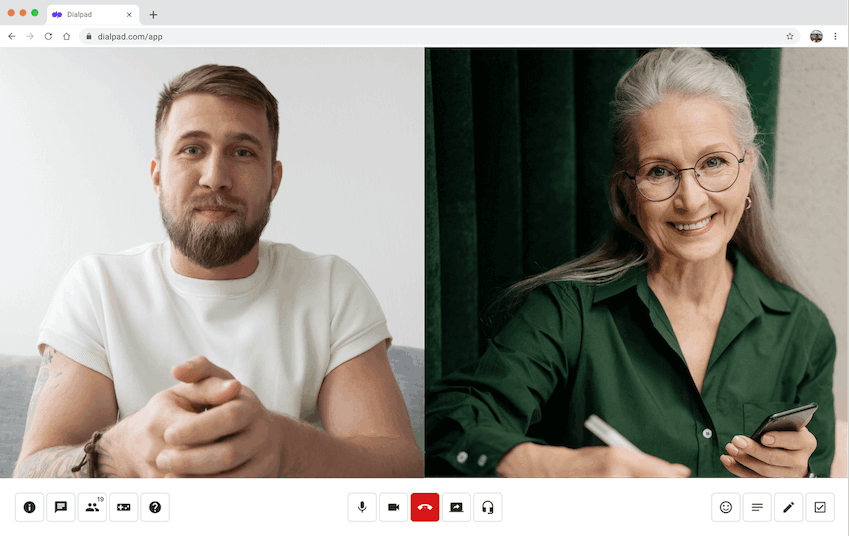 Most platforms only allow you to join meetings from the browser and the functionality is much more limited.
It's more flexible
As well as allowing you to take your work anywhere, VoIP is also incredibly scalable. Demand spike? No problem.
You won't have to go out and invest in an entire phone system upgrade or purchase more hardware. Just contact your VoIP provider and scale up your service.
Whether you're prepping for a seasonal demand spike or scaling up your office to go international, VoIP will move with you.
One thing to consider is that not all VoIP is made equal. Some are more user-friendly than others, and not all of them will let you do things like add and remove users on your own (without hiring expensive IT help). Here's how it looks in Dialpad's dashboard, for instance: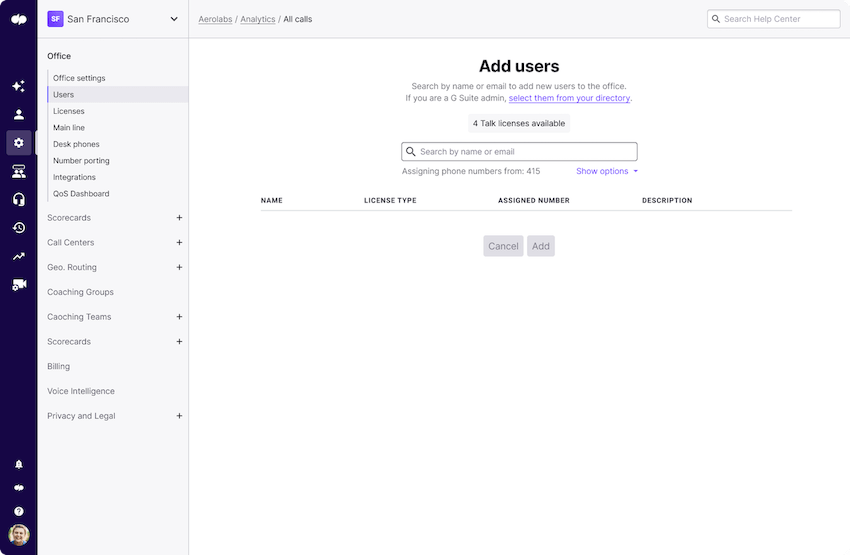 Take call center communication to the next level with the best VoIP headset
So, there we have it. Ten VoIP telephone headsets to take your business phone to the next level. Whether you're just after the comfiest ear pads, the squishiest earbuds, or you're looking for some serious tech, there's the perfect headset out there waiting for you.
When offices and call centers support their VoIP phones with high-quality headsets, the benefits are massive. Increased professionalism, comfort, and call quality are just a headset away. Just make sure that your chosen headset is compatible with your business phone service provider.
Looking for a unified communications platform to use with your headset?
🎧 Dialpad is compatible with a wide range of VoIP headsets and lets you have virtual meetings and phone calls in addition to instant + SMS text messaging, all in one easy-to-use app. Try it free for 14 days! It takes just a few minutes to get started, and you'll be set up with a virtual phone number too.