Back to Blog
The 11 best headsets for conference calls in 2023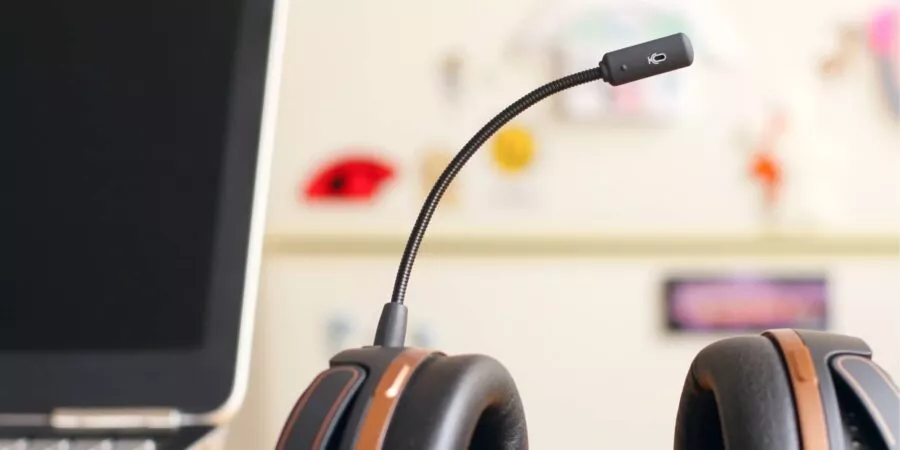 When it comes to remote meetings, poor video conferencing audio quality can have a noticeable impact on the productivity of the group. Issues like background noise and speaker identification get in the way of creating that "almost as good as in-person meetings" experience if you're working remotely.

If you've already tried the whole earbuds thing and found that it's not good enough for video conferencing, then you've come to the right place.
Let's take a look at some of the best headphones out there, and how to choose a good conference call headset.
📚 FURTHER READING: HYBRID WORK THAT'S ACTUALLY SUSTAINABLE
Grab our Hybrid Work Playbook 2.0 which breaks down creating a sustainable, people-first hybrid workplace into five steps.
But wait—what's wrong with using my laptop speakers?
Given where we are in today's world of technology, you would think that laptop manufacturers would do everything within their power to make sure their built-in speakers deliver a good (we're not even talking about excellent here, just good) sound experience.
But most of them don't.
The other thing is if you do a lot of video conferencing, you can't avoid noises in the background. And without any kind of headphones or earbuds, you're getting zero noise reduction there.
Even if you're not using fancy wireless headphones, a basic pair of earbuds will still reduce that background noise more than using your laptop speakers when you're on conference calls.
You can mute and unmute yourself as diligently as you want, but this is still one of the biggest problems with using laptop speakers.
If you're going to be on conference calls, spring for a decent pair of Bluetooth headphones.
5 features to look for in a good headset
Unless you have a boss who's willing to invest in a good headset for you, you'll probably be setting yourself a budget for home office use.
The good news? There are plenty of quality options out there that won't break the bank. Let's look at some features to consider (you won't need all of them) as you're shopping around for the best pair of headphones or earphones, from hands-free options to noise-canceling features and more.
1. Noise cancellation
If you need a good headset specifically for video conferencing and work, then noise cancellation is going to be one of the most important features to look for.
🎧 Fun fact:
Noise-cancelling (or noise-canceling, depending on where you're from) headsets combine air conduction with bone conduction technology to transmit sound. How? Your jawbone actually transmits vibrations too—and sound is a vibration. (That's why when you wear earplugs, you can still hear some of what's going on around you!)
An active noise-cancelling headset has what's called a bi-directional microphone. Its processor works in the same way as hearing aids, and basically filters out any surrounding noise to make your voice clearer and make sure the other person doesn't pick up any background noise.
That's assisted by the earpieces, which seal off your ear from external noises (this can vary in quality depending on the size and type you're using).
Pair your noise-cancelling headphones with a communications platform that has high-quality or HD calling, and your conference calls will sound super clear—as if you're in the same room as the other person.
2. Wireless
If you're moving about constantly when you're on a conference call, or if you just don't like having wires everywhere, then you'll want a wireless headset. (There are even hybrid sets out there that give you both options!)
Pros:
No tangled cables

Can connect to devices without a headphone socket (smartphones, etc.)

No loss of sound quality
Cons:
Wireless headphones need to be recharged regularly

If you're a power user and the battery does end up dying, you'll need to buy a new pair (unless you've got a hybrid model).

Pricier than wired headsets (though that gap is narrowing)
For remote workers, wireless is becoming more and more popular. And if you're going wireless, then you'll need this next thing....
3. Long battery life
The last thing you want is for your wireless headset's battery to run out in the middle of that crucial meeting.
Having a set of Bluetooth headphones with a long battery life is another important factor when you're looking for a pair of earbuds for work. If you don't want to be recharging your headphones between every single meeting, battery life is key (that Bluetooth connection can be a real drain, if you know what we mean).
4. A good mic
While it's important that you're able to hear the other people on your meeting, it's equally important that they can clearly hear you.
If you're using your phone (whether it's Apple, Sony, or Samsung) for your video calls and phone calls on apps, remember that the mic on your phone is less important than the one on your headset.
And more importantly, some of the "best" headphones don't have the best mic quality! (If you're a stickler for good audio, you may want to look into an in-line or a boom microphone, aka. a boom mic.)
🎧 Dialpad tip:
Oh, and one more thing: Bluetooth headphones and sound quality aside, another important factor in high-quality calls is your internet connection. If you don't have a reliable network, even the best headsets won't be able to save your conference calls.
If you want to upgrade, T-Mobile actually has a partnership with Dialpad called T-Mobile Collaborate, which gives you lightning-fast 5G and a unified communications platform with instant messaging, SMS/MMS business texting, phone calls, and video conferencing—perfect for having crystal-clear calls from home:

5. Top-of-the-line sound quality
Let's be real. If you've been browsing for a pair of headphones for a while, you've probably come across the phrase "superior sound" a lot. But what does "superior sound" actually mean—and how good is good enough for work calls?
If you're an audiophile (or just interested in sound), here are some things to look for in a headset that will actually get you better sound:
SANR or SNR (Speech-to-ambient-noise ratio). This refers to the level of noise that comes through your headset in relation to your voice. If you're looking at an active noise cancellation headset, this ratio is something you should look at.

Total harmonic distortion. This is the measurement of any difference between sound input and output. If there's no distortion, then the tone coming to your headset is transmitted to you at the same level.

Frequency response and bandwidth. This tells you whether all voice tones will be reproduced at the best possible quality.
Okay. Now let's get into the headphones.
11 best headsets and earbuds for conference calls
1. Jabra BIZ2400 DUO: Kevlar-clad top overall option

Made of Kevlar (yes, the same material used for bullet-proof vests) and surgical steel, these sleek and sophisticated headsets are both sturdy and powerful for office life.
Its noise-cancelling microphone with HD voice makes sure your meeting attendees can hear you even when you're connecting from a noisy-ish environment, like a coffee shop or open office space.
Jabra also features something unique called PeakStop technology, which actively protects you from sudden loud noises by automatically keeping the sound level in the "safe zone" at all times.
2. Plantronics C325-M: Probably the best budget-conscious option

A high-quality, yet economical option, Plantronics headphones hold three of the rankings in our top five list.
Even though the C325-M is a step down from the C725-M, which is third on this list, we put this one at #2 because it really is a great conference call headset for the price.
Among its many features are a noise-cancelling microphone, Digital Signal Processing (DSP) for a richer audio experience, and SoundGuard technology, which is similar to Jabra's PeakStop in that it protects listeners from audio spikes. Together, these are designed to give you one of the best noise-cancelling experiences.
3. Plantronics C725-M: Good "workhorse" headphones with a little extra padding

As we mentioned earlier, this is technically an upgrade from the C325-M. The Plantronics C725-M features a padded headband for all-day comfort, and folds flat for easy portability between video conferences.
In addition to SoundGuard technology, these headphones feature Active Noise Cancelling (ANC) in both the speakers and microphone, which helps block out distracting sounds in noisy work environments, whether you're talking or listening. Finally, the headphone's dual-ear Hi-Fi stereo gives listeners an authentic immersive audio experience, making it seem like you are in the same room with the people in your video conference.
(This sounds like it'd be nice for watching a movie in addition to conference calls, actually.)
4. Plantronics Voyager Focus

The most luxurious of the Plantronics headphones on this list, the Voyager Focus has memory foam cushions on the ear-pieces and headband. A wireless option that delivers freedom and high-fidelity sound, the Voyager has a range of up to 98 feet, which means you can walk and talk without tripping over your headset cord or getting yanked back to your seat when you stand up.
Boasting all of the aforementioned features of the other Plantronics headphones, the Voyager takes things to the next level by featuring multi-device connectivity (so you can have it connected to your phone and computer at the same time).
There's also its intuitive Smart Sensor technology, which mutes your voice as soon as you remove the headset and resumes sound when you place them back on your head. It also pauses music when a call comes in, and the smart mic adjusts your volume automatically to make sure your voice comes across clearly.
If you can splurge a little and want the bells and whistles, this is a great Bluetooth headphone for conference calls.
🎧 Dialpad tip:
If you see descriptions of "mono" headsets, that just means they have one earpiece instead of two. (You'll see these typically in headsets designed for contact center agents.) We don't have any mono headsets on this list, but that's what that word means if you ever come across it.
The first thing you notice about the Evolve 80 is probably the large around-the-ear cups that envelop you in a world of sound.
You can thank those for the immersive audio experience that you'll get with this headset.
It features both active and passive noise-cancellation technology, making sure you can focus on your call, regardless of the noise level of the environment you work in.
Like its cousin on this list, the BIZ2400 DUO, this Jabra headset includes a noise-cancelling microphone, HD voice, and PeakStop technology.
6. Bose Noise-Cancelling Headphones 700

Bose was an innovator of noise-cancelling headphones, and still is one of the most respected names in sound systems today.
Like their speakers and other products, Bose's 700 is beautifully designed but at the upper end price-wise. It has Bluetooth, of course, along with USB-C charging, a noise cancelling feature that removes all outside noise, and even a touch-sensitive pad that has playback controls. But the biggest advantage of a Bose product is always going to be the sound quality.
The ear pieces are padded and it looks pretty luxurious—but the price reflects it. Is it the best buy for your money on this list? Debatable, but if you value aesthetics and the Bose name, this is an option.
7. Creative Sound Blaster Jam V2
Unlike the previous set of Bose headphones, this one's firmly in the budget category.
Creative does promise great sound quality though, and the Jam V2 over-ear headphones are lightweight, while offering a decently long battery life of 22 hours.
They're also a hybrid headset(!), so you can switch to a wired connection when the battery's low.
Though the sound quality's reportedly pretty good, there are some negative factors that to be fair, aren't surprising, given the price point. This Bluetooth headset, unlike some of the other ones on the list, isn't the most comfortable and there's minimal cushioning on the ear pads (which might not matter to some folks).
But again, this is a budget option and could be a good investment as a backup headset.
8. Jabra Elite 45h

This is a good mid-range budget choice in Jabra's line. It has very long battery life (up to 50 hours on one charge), as well as massive 40mm speakers.
The mic is pretty good, which is expected from a Jabra headset, and even though they look hefty, they're pretty lightweight. If you like going on walks while on conference calls, this might be a good option (unless you want to go with earbuds, which will be much lighter).
For contact center agents, the 45H Bluetooth 5 also offers easily accessible in-line control buttons on the edge of the right-hand ear cup. These let you control playback, volume, mute button, and call interactions. (Another button lets you "talk to" smart assistants like Google Assistant or Amazon Alexa.)
9. Shure AONIC 50

When it comes to sound, Shure is another well known brand that's probably more known for being one of musicians' favorite microphone brands.
Another premium option, the AONIC 50 offers the sort of high quality active noise cancelling you'd expect from the price and Shure.
It manages to stay lightweight, even with luxurious leather headbands and leather-wrapped earpads. All your control buttons are easily accessible via buttons on the right ear cup.
With high quality noise-cancelling and a great mic, your calls should be crystal clear (especially if you're using a communications platform with HD voice like Dialpad).
If you like your apps, a big selling point of this headset is the special ShurePlus Play app (available on Android and iOS for iPhone) that allows you to control features like noise cancelling intensity.
10. Sennheiser Momentum True Wireless 2

If you're looking for earbuds instead of headphones (but don't want to use AirPods), then this is a good option.
As one of the leading makers of headphones, Sennheiser is another very reputable brand when it comes to audio quality. And with a charging case, that means you technically get two charges on the go—when your earbuds run out of juice, just pop them back into your case for an extra charge.
Of course, these being earbuds and not headphones with all that nice padding, the noise cancelling aspect of this model may not live up to those options and if you plan on taking lots of calls in noisy places, this might not be the best one for you.
11. AKG Y400

Sitting somewhere between midrange and premium, the Y400 noise cancelling headphones are a USB headset that offers high-quality sound from a well built and comfortable headset. Each earpiece has a 36mm driver that produces pretty good sound whether you're listening to music or on a call. The controls are accessible and easy to use, and there's also a USB-C charging port that allows you to recharge as you're using it, which is a plus.
🎧 Dialpad tip:
Are you a gamer? If you are, you could just get a nice gaming headset (that isn't too bulky) and use that for your conference calls, since there are some very nice gaming headsets with excellent mics.
What are your favorite wireless headsets for conference calls?
Hopefully, these recommendations helped you narrow down your options.
Depending on where you like to take your virtual meetings and work calls, you may not need a super fancy headset—and in most cases you could even get away with basic earbuds for video conferencing.
Take Dialpad for a spin
Sign up for a 14-day free trial to get phone calls, video meetings, and instant + SMS/MMS messaging in one place. It takes just a few minutes to get started, and you'll be set up with a virtual phone number too!