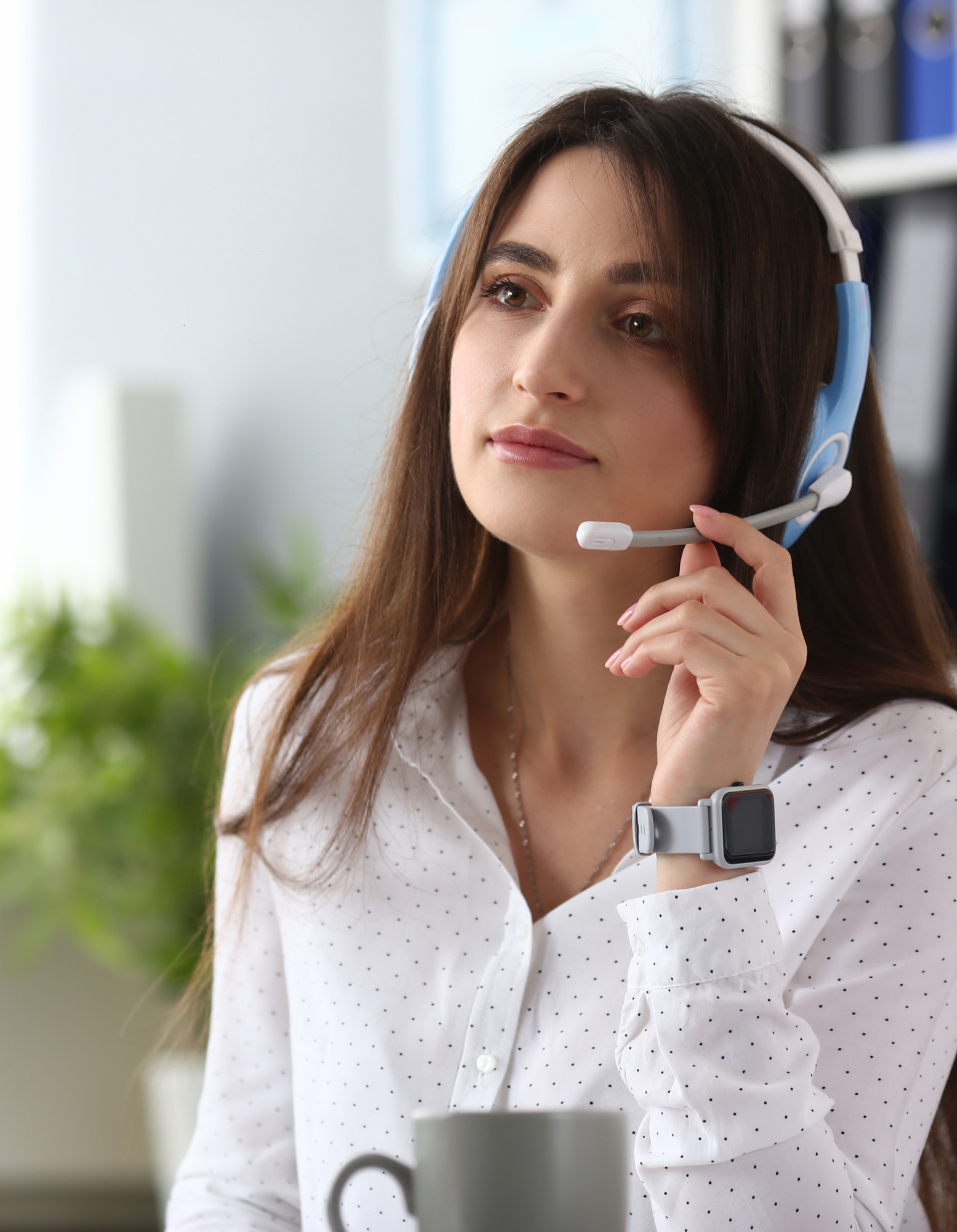 Remote agents
Does your contact center need a better way to manage remote agents? Book a product tour of Dialpad's AI-powered customer engagement platform to see how it empowers supervisors to ramp up, coach, and track performance of remote agents in real time!
For many contact center teams that are looking to hire agents from around the world for full-time or part-time remote work, there are some unique requirements, whether it's hiring or doing ongoing training.
Whether you're overseeing remote real estate sales agents or remote travel agents, there are some best practices to keep in mind.
To make sure you have business continuity in unpredictable times, having a good team of remote agents is a critical first step.
In this guide, we'll walk through what remote contact center agents are, what you should look for when hiring, and best practices for managing your remote agents.

What are remote contact center agents?
Traditionally, call center agents take and make calls from a company office. Remote contact center agents make inbound or outbound calls from home, anywhere in the world.
Contact center agents are often responsible for handling multiple communication channels for customer inquiries like calls, emails, and texts. (Most often, you'll come across customer support or sales agents in contact centers.)
With the right cloud communications or collaboration solution, the transition from traditional call center to cloud contact center can be seamless.

✨ UPLEVEL YOUR CONTACT CENTER
Grab the Contact Center Playbook, which breaks down everything you need to know, from setup to staffing to optimizing—with examples from real contact center teams across different industries.
2 questions to ask if you're thinking of hiring remote agents
1. Can you give them the equipment they need to work from home?
You don't need to worry about the costs of an office building, hardware, utilities, cafeteria, or cleaning expenses. But, there are other considerations, like Internet access, headsets, webcams, and so on.
Do you have a tech support team that agents can reach out to if they're having trouble with their work-at-home setups? And do your remote agents have a good Internet connection at home? If not, they can't handle calls and video meetings with customers and prospects.

2. Do you have a contact center platform that can support work-from-home agents?
Yes, many remote agents love being able to work from home, but they need a way to take those phone calls, live chat messages, and emails from your clients, customers, or prospects.
One must-have is good cloud contact center or customer engagement platform that lets agents handle multiple channels, like video meetings and phone calls, in one place. Dialpad's virtual contact center platform, for example, is designed to do exactly that:

And if you need to spin up new contact center teams quickly or manage agents' phone numbers, you should be able to do that too, relatively quickly on your own with a good contact center platform. Here's an example of how that looks in Dialpad:

Are you managing remote agents?
Book a demo of Dialpad to see how easy it is to spin up new departments, managing phone numbers, and more. Or, take a self-guided interactive tour of the app on your own!
3 qualities to look for when hiring remote agents
Able to multitask between communication channels and tools
Contact centers deal with calls, emails, texts, chats, and more—all in real-time. Agents need to be comfortable with multitasking in order to not be overwhelmed by constant context-switching.
But there are things you can do to make this easier for agents. For example, an agent may be on a technical support call, while they're finishing a note in Salesforce. If your contact center platform integrates with those CRMs and other tools, those integrations will be able to automatically log and sync activities without the agents needing to toggle between apps and windows.
For example, here's how Dialpad's integration with Salesforce looks—agents can take phone calls and see customer information, right inside Salesforce: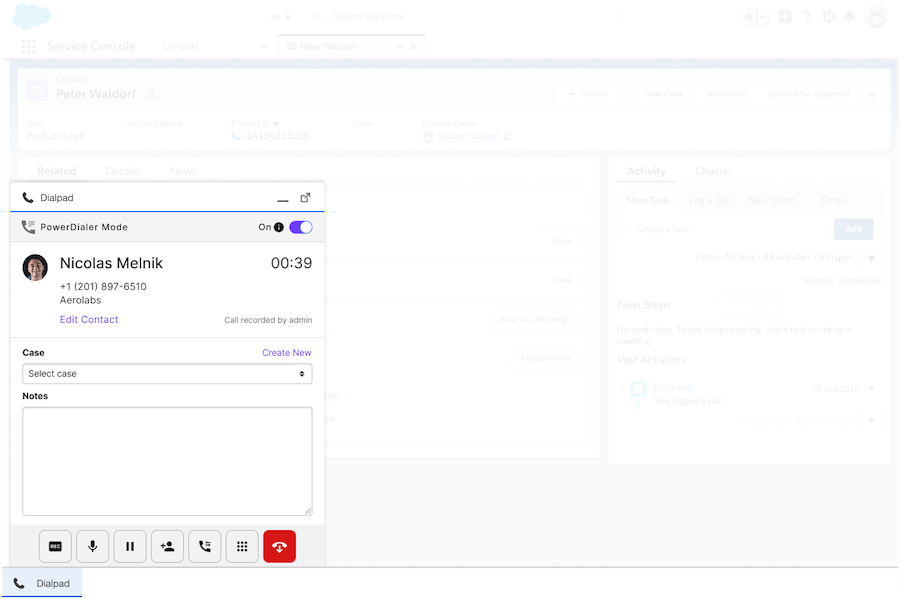 Agile and confident in handling frustrated customers under pressure
Remote customer service agents should be able to think on their feet. If a customer calls in angry about a recent experience, you want a customer support agent who'll be calm and polite.
You can't control when difficult customers call in—but a good contact center solution can make it easier for supervisors to help remote agents. For instance, Dialpad's unique AI technology not only transcribes calls in real time, but also has a sentiment analysis feature that lets supervisors monitor how multiple active calls are going:
If a call has negative sentiment, they can click into the transcript (which gets updated live as the conversation happens) to get more context and decide whether they need to jump into the call to help the agent—and all of this can be done remotely for both the supervisor and agent:

Friendly, engaging, and conversational—even if it's just on screen
Look for friendly and engaging agents with good listening skills. And of course, empathy is one of the most important qualities in contact center agents who are customer service representatives.
It takes a special kind of skill to be able to tactfully talk to an upset customer while being transparent and solving their problem at the same time. If you can hire agents with these qualities, you'll have a team that's able to pick up on how customers feel and build rapport with them—and ultimately, provide exceptional customer service, and a great customer experience overall.
(Side note: Job descriptions in job ads can attract many people, but they won't all be the right fit for remote agent jobs. Make sure you're using a candidate skill assessment to help you determine which candidates will be a good match.)
5 best practices for managing remote contact center agents
1. Have a platform for both internal and external communications
When you've got a team of remote agents, communication is crucial. Internal chat is indispensable when managing a team. Externally, phone calls, live chat, and video meetings… Whatever your customers are using, your agents should be managing those channels. Make sure your agents are equipped with the tools they need.
2. Build a virtual coaching and training plan
Virtual coaching and training opportunities are essential if you need to manage and engage remote agents.
Use a contact center platform with features like agent screen capture recordings so that you can see how remote agents are handling customer conversations.
Call recordings are also extremely important, not only for supervisors to track performance over time and monitor call quality, but also for agents to learn on their own time. With Dialpad, supervisors can create "playlists" of call recordings that are good learning opportunities for agents:

3. Use automations to give agents and supervisors more time to focus on high-value work
From data entry to reporting, there's a wide variety of automations that can help remote contact centers work more efficiently.
Dialpad, for example, has heat maps that show supervisors call volumes and average speed to answer times at a glance, so that they can stay on top of scheduling without needing to do a ton of different calculations:

To go one step further, you can use WEM automations to help with scheduling and forecasting, and make sure that agents are always available when you need them—like with Dialpad's Playvox integration.
4. Clearly document and communicate company policies and procedures
Document vacation, health insurance, and other company policies, and also let remote agents know who to turn to for answers. This will allow them to feel connected to your business and valued as team members.
5. Set regular quality monitoring sessions for performance evaluation
Performance evaluations give you the chance to praise home agents for what they're doing well and coach them on areas that need improvement. Regular quality monitoring is essential in helping you achieve this.
Ready to hire remote agents for your business?
If you want to hire a remote team of agents for your business, make sure you've got a plan for supporting and equipping them to work from home.
With these tips above, you're ready to build out your team and choose a robust communications system with a strong set of integrations.

Ready to equip your remote agents with what they need?
Book a personal walkthrough of Dialpad with our team to see how the AI features can help with coaching, live on-call guidance, and more!