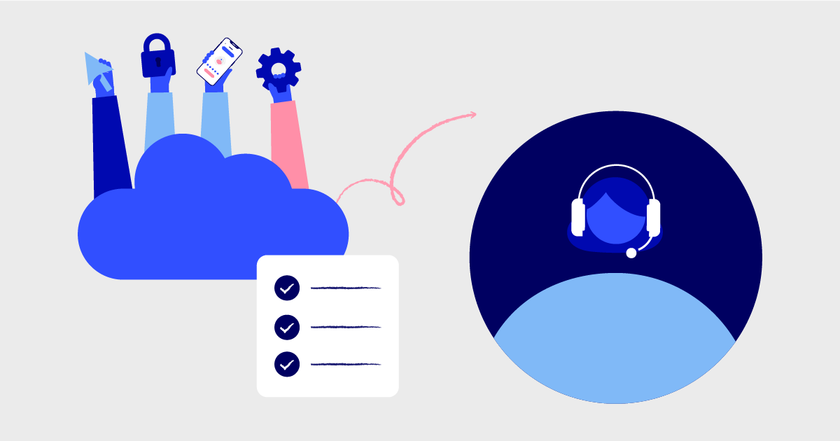 December 18, 2020
For any business, there's no denying that the future is in the cloud. A survey from Deloitte showed that 90% of enterprises have adopted the cloud in some way, and 64% either use cloud services specific to their industry or are planning pto in the next year.
That's no surprise when you consider all the benefits the cloud can bring to companies of all sizes.
Cloud-based services are typically more cost-effective and flexible so that you pay only for what you need at a given time, and you can scale your services when your business scales. (Get more tips on cloud cost management from our CIO.)
Workers can access information and systems from anywhere with an internet connection, increasing accessibility and collaboration.
Call centers are just one common business function that's moving to the cloud, taking advantage of hosted VoIP (Voice over Internet Protocol) instead of depending on traditional phone systems. When you plan for a cloud call center migration, here are some benefits to keep in mind and a checklist to complete before you take the leap.
Why migrate to the cloud?
Cloud-based platforms and services are effective for many reasons. While they can vary for each department or industry, here are some of the most common benefits that apply to call centers:
Greater convenience, since the cloud is accessible from any location or device
More flexibility and scalability, with ease of adding more storage space or features
Cost-effective, as you can customize the service and pay only for what you need
Business continuity, since calls will be hosted and not dependent on a functioning on-site solution
More effective and easier call routing
More opportunities to track team and call metrics
Improved customer experience and satisfaction
These are just a few of the benefits of migrating your call center to the cloud. Next is a look at your checklist for transition planning:

1. Identify your needs and goals
First, you need to know exactly why you're migrating. Ask questions like:
What are our key goals for the transition?
What outcomes do we want the change to bring?
How will the cloud be used in the call center?
What other tools do we need to integrate?
Think about the specific needs of your contact center agents and customers. Analyze data to help you decide which systems you're migrating. For example, you may not yet be ready to transition some contact center elements, and a hybrid system will help you reach your initial goals.
2. Define the challenges you're solving

Part of goal setting will be identifying the problems you're trying to solve with the migration. What isn't working in your current process? What could be significantly better? This may require gathering feedback regularly from both employees and customers. Research what other companies are struggling with or why they decided to migrate to the cloud.
Write down all the challenges your team and audience currently face with your system and make sure the elements of your cloud call center will address each of them.
3. Pinpoint the must-have features for your contact center
Once you know the problems you're solving and your goals, start listing the must-have features for your cloud platform. Will all of your core systems be shifting? What about service applications like your CRM system or databases?
You may want to consider an omnichannel cloud contact center, which uses multiple channels so that the customers' experience is seamless and convenient when they have to switch channels.
4. Ensure minimal service interruption
One major factor when you're planning your cloud migration strategy is how much downtime there will be during the transition. Your call center can't stop running, so it's crucial that you choose the right service provider for a smooth transition and create an effective plan that addresses any gaps or issues that may arise.
Consider implementing the changes in stages so that some agents can continue answering calls while others start to use the new service. Ask VoIP call center providers about potential downtime and how you can avoid it.
You can never afford interruptions to customer service, so focusing on each step of your migration process is a must to ensure cohesiveness and continuous customer service.
5. Know how to train and communicate with the team
Your plan may not be a success unless you clearly communicate goals and strategy to the team. You can outline things like:
What each agent's role will be in the migration
The benefits for agents and the company
What problems will be solved
A list of all applications or platforms that will be migrating
How and where agents can ask questions as they arise
Upcoming and ongoing training opportunities
How to handle any changes in customer communications
Sometimes the cloud service provider you decide to go with can provide training so that the team can integrate the changes and get back to the same level of productivity, avoiding weeks or months of implementation issues. Have a clear plan in place for how team members will learn all the new tools and features.
Once you have this information, communicate regularly to agents about when the migration will happen. Send reminders and multiple alerts so they're never surprised. Always welcome feedback and questions, and listen to their concerns.
Dialpad's Cloud Call Center
When you're ready to start checking priorities off your list, work with the team at Dialpad for a successful migration to the cloud. Our cloud contact center solution helps you scale when you're ready, provides plenty of security features, and deploys easily for your team and customers.
Agents will also have real-time support for extra coaching and guidance, and you can add new channels of customer communication with minimal impact on current systems. Intelligent call routing provides more customization options for customers to increase satisfaction.
Migrating your call center to the cloud gives you less downtime and greater call quality. Sign up for Dialpad to learn more about our services and start your free 14-day trial.