Back to Blog
Contact center cloud migration: A checklist of must-do items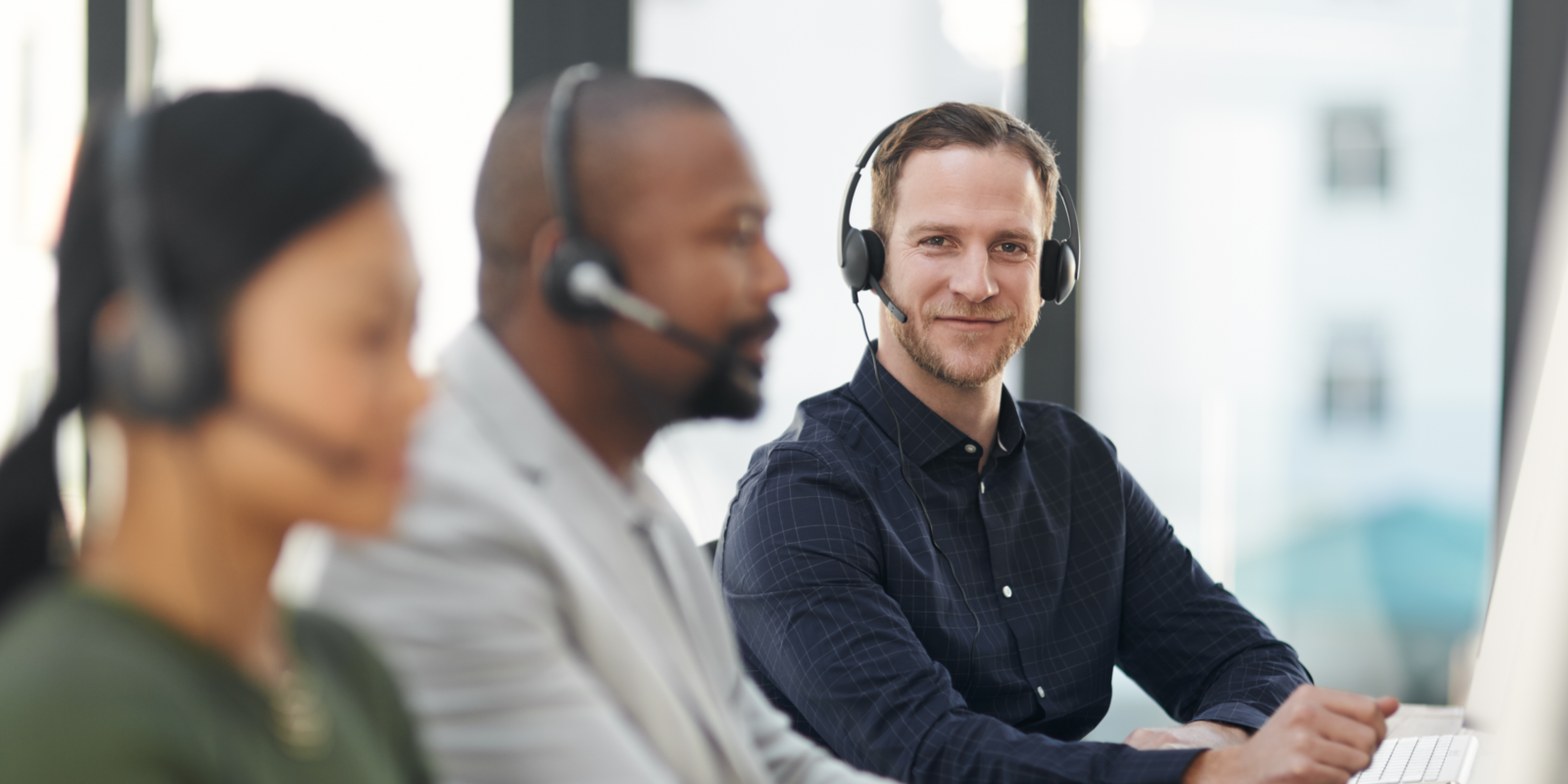 If your business has an on-premises contact center—that is, all your agents and supervisors, equipment, and so on are located in your office space—and you're thinking of moving to the cloud, then you're in the right place.
Whether it's because of a shift in working styles caused by the COVID-19 pandemic or just because it's a more cost-effective way to operate, contact center migrations are a big task. I should know. My day-to-day work is pretty much all about helping our customers upgrade their contact center platforms from on-prem to the cloud.
In fact, I recently had multiple customers who came to us for the same reason(!): Upgrading their current on-prem platform just to meet compliance was going to cost them upwards of $50,000—with no added value. So, they wanted to see how they could move their contact centers to the cloud.
So, what are some of the key things to keep in mind as you're planning a cloud contact center migration—and what common mistakes should you avoid?
I'll walk you through all of that below.
Why contact centers are opting for on-premises-to-cloud migrations
There are a lot of benefits of moving to a new cloud contact center or call center platform. Here are just a few:
1. It's more convenient for your agents and supervisors, since they'll be able to handle customer communications even if they're working from home. All they'd need is a computer and/or cell phone. For example, Dialpad's cloud contact center platform works on both desktop and mobile app: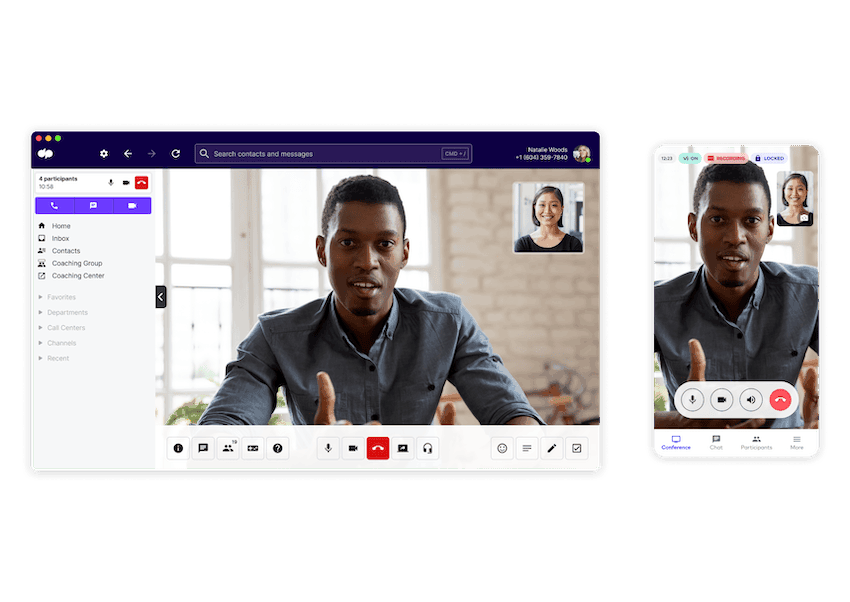 2. It gives you more flexibility and scalability. Want to onboard a hundred new agents to handle the seasonal rush? It's easier to do that in the cloud. Want to remove all those users once high-season is over? It's definitely much easier to do that in the cloud. In Dialpad, we can add and remove users, and manage their phone numbers easily right from the online dashboard: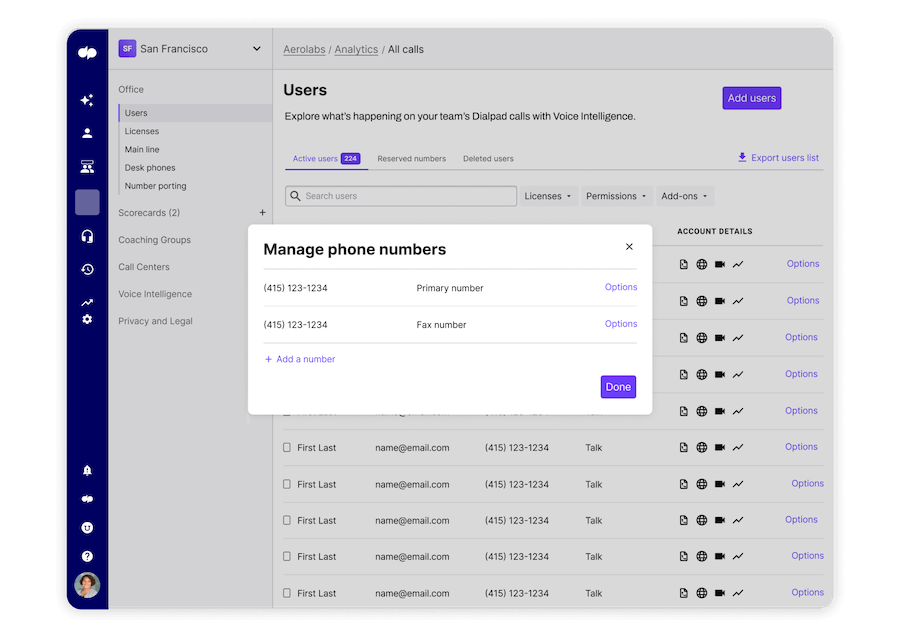 3. It achieves higher cost savings, since you pay only for what you need but can still customize the service based on only what you need. You don't have to overpay for the future like you have to do with on-premises solutions. Not only that, with a cloud deployment, your provider will keep your contact center up to date, always, with no added cost.
On the other hand, an on-prem contact center will cost you for support and maintenance—basically every update that you'll ever need. From my own conversations with customers who manage contact centers, you're typically paying anything from 20 to 25% of your initial CapEx (capital expenditure)—every single year—for this "support and maintenance" when really what you're paying for is just free upgrades! (Which, technically, aren't free since you'll need to get a Statement of Work and pay a Professional Services team to do the actual upgrade work…)
4. It helps with business continuity, since a good cloud provider will have redundancies and backups in place—if one server or data center goes down, they can still route your calls through other backups. With an on-premises solution, if something goes wrong, the whole system is down.

What are common contact center migration issues to be aware of?
When you're migrating your contact center or call center to the cloud, there are a few potential issues to look out for. (The checklist below will help mitigate most of these.)
Scope creep: Have a clear strategy and know your business goals so you can stick to them throughout the process. Otherwise, you risk being upsold on things you might not need, extending timelines—and needlessly stretching your original budget.

Adoption hesitation: You might also face reluctance from employees who are fearful of moving away from a familiar on-premises contact center (even if it's actually making their lives harder). This is why it's important to choose an intuitive, well-designed solution and provide regular training on new features—this will help reassure your team members, speed up deployment, and more importantly, help you meet customer needs efficiently.

Internet connections for remote workers: Although you don't need much equipment to run a cloud contact center, you do need a robust internet connection, and that goes for your remote agents too.
A cloud contact center migration plan checklist template
1. Identify your needs and desired functionality
Before you can set up a contact center or call center migration project plan, you need to know what you're trying to achieve and your non-negotiables. Ask questions like:
How many sites and/or users will you be migrating over? Fenway Health, for example, had a healthcare contact center team of hundreds of agents—that needed to be migrated from an on-premises PBX system to the cloud. See how they did it.

What's your desired timeline?

What use cases or communication channels will your contact center need to manage? (For example, phone calls, SMS or instant messaging, social media channels, etc.) If you need a mix of those channels, you'll likely need an omnichannel contact center to provide a smooth customer experience across live chat, social media, and so on.

How will you track metrics and other call KPIs in real time?

Do you need call deflection or self-service options, like a support chatbot?

What CRM integrations or automations will you need? Are there APIs if you want to build custom integrations?
2. Define your success metrics
Once you've chosen your features and signed with a provider, it's time to look at how you'll measure the success of your contact center or call center migration. Try to quantify the results you're looking for as best you can.
For example, are you struggling with long hold times for callers? If so, you might look at a solution with a good IVR (interactive voice response) or ACD (automatic call distribution) feature, and then set a goal of reducing hold times by 20%.
If you're seeing low customer engagement on digital channels like live chat, but you want to deflect more of your inbound calls to those channels, you might set a goal of increasing call deflections by 15%.
And then of course there are the usual KPIs like using NPS and CSAT scores to measure how you're performing against customer expectations.
With Dialpad's contact center platform, you can track most of your important call metrics right from the call analytics dashboard: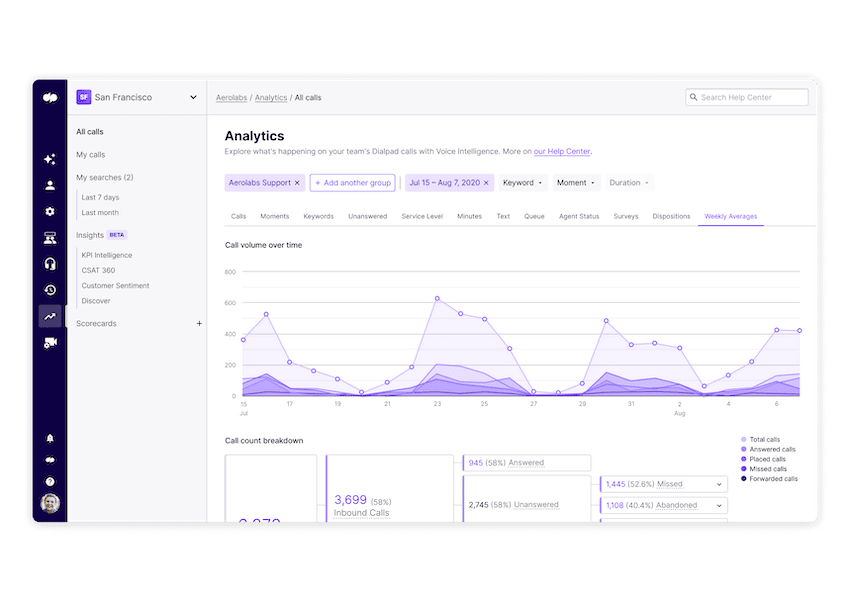 3. Get the logistics set
Now, let's look at the tactical details of moving to a new cloud platform. Will all of your core systems be shifting? Do you have multiple sites, and will you be migrating them all at once, or doing a rolling migration? Will you need Professional Services from your vendor to help you with the migration?
You should know how the transition will happen and what you will do in case any hiccups happen on the day you flip the switch.
One major consideration as you're planning your contact center cloud migration strategy is how much downtime there will be during the actual transition itself. Your call center can't stop running, so it's crucial that you choose a good service provider who can provide a smooth transition and create an effective plan that addresses any gaps or issues that may arise.

We didn't have equipment to send home with folks, but they were able to use smartphones and web browsers to access the call centers, and our call center service levels were unaffected. It was a very easy transition." -
Jon DiBiasio
IT Director at Fenway Health
4. Provide training for your team
Finally, don't neglect this very important step in any contact center cloud migration process: training.
Your actual end-users (your agents and supervisors) need to be trained on the new platform you're migrating to. Your cloud service provider should be able to set up some training sessions or webinars, and help your team feel comfortable about shifting to a new setup.
Ready for your cloud contact center migration?
From giving you more data and insights into your customer journey, to more flexibility for remote agents, moving to a new cloud contact center solution gives you a wide range of benefits.
You can scale more quickly and on your own schedule, deploy new contact centers more easily, adjust your call routing options in minutes, and more. That's the beauty of a CCaaS (Contact Center as a Service) solution that's hosted in the cloud.
If you're thinking of migrating your call center to the cloud, why not check out Dialpad's cloud contact center platform?

Thinking about migrating your contact center to the cloud?
See how easy Dialpad Ai Contact Center is to set up and use, for both agents and supervisors! Let us walk you through how its unique AI transcribes calls in real time, analyzes caller sentiment, tracks keywords, and even provides real-time agent assists.