Back to Blog
What is SIP trunking: What small businesses should know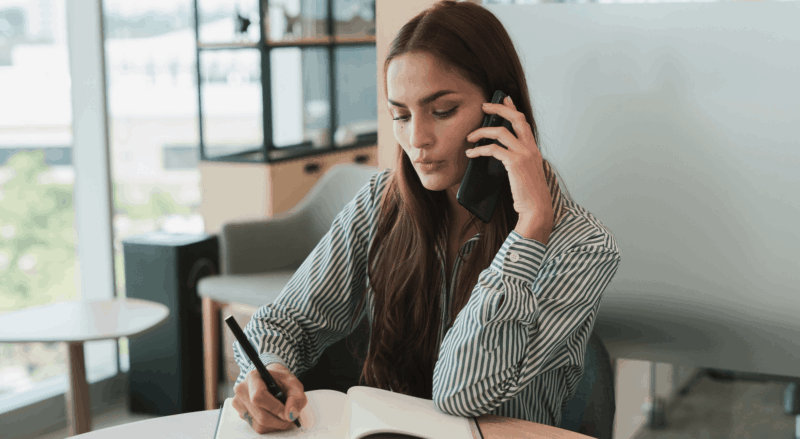 SIP trunking has been a phone system standard for a long time. It was—and still is—the method to transmit voice over "data" circuits. Originally built as a method (or "protocol") for analog desk phones to connect to a PBX (Private Branch Exchange) system, it was simultaneously extended to connect the PBX to your carrier. It allows businesses to make calls over an internet connection instead of relying on PSTN connections which are physically plugged into each other.
But times are changing.
Today's businesses need more advanced features, increased flexibility, and greater scalability in their phone systems. For a modern remote and hybrid working environment, SIP is just the method of how the voice of a call goes from your phone system to your customer, contact, partner or vendor.

👉 SIP vs RTP:
SIP is the "who, where, why, when" of the voice call—the directions and general info about the call. RTP is the "what," or the actual voice of the call.
Let's look at what SIP trunking is and why more and more businesses are moving away from this infrastructure and migrating to the cloud.
What is SIP trunking?
Session Initiation Protocol (SIP) is a signaling protocol that enables you to run a SIP trunk phone system over the internet instead of traditional telephone lines (PSTN). SIP trunks manage Voice over Internet Protocol (VoIP) connections between physical on-premises PBX phone systems and the Public Switched Telephone Network (PSTN), which allows for connectivity between commercial phone networks and the outside world.
Essentially, SIP trunking services allow businesses to use their existing PBX phone systems to transition to VoIP connectivity, which lets you make phone calls over a data connection, aka. "The Internet." SIP trunking is how the voice data moves from one system to another (your phone system to the phone of the person you're calling)... It's not inherently doing more than that.
Today, what most businesses need is a system that sorts all the SIP trunking stuff out, adds on a robust softphone or web apps, integrations to all your other software, and can grow and flex with your needs. Enter cloud communications solutions like Dialpad, which can provide better alternatives for how businesses are working today by combining all the core features of traditional SIP trunking into a complete suite of services: voice, video, digital messaging, AI… The works.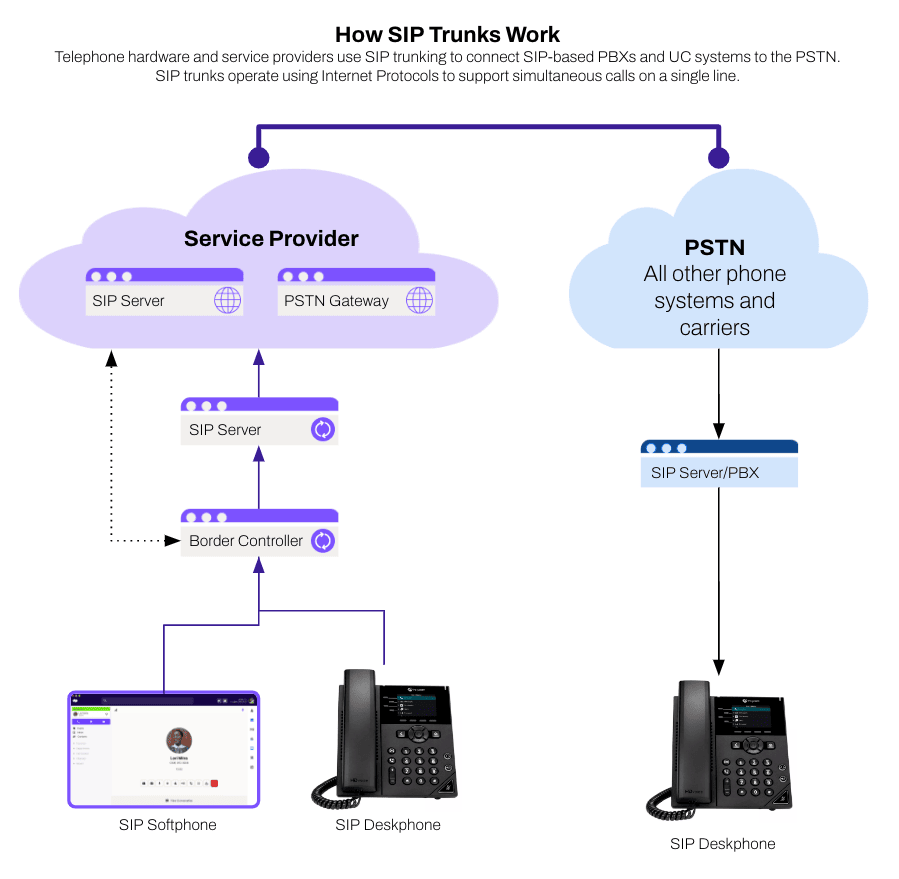 SIP trunking is actually a misnomer—here's why
Even though SIP trunking has become the dominant term for this process, the name is actually somewhat of a misnomer. In telecom, "trunks" refer to collections of phone lines shared between users.
In reality, SIP connections aren't physical circuit networks or "trunks." SIP connections are actually delivered via virtual connections over the internet and delivered by a carrier or telecom.
Why SIP trunking doesn't benefit businesses the way it used to
For many years, the benefits of SIP trunking was that it gave businesses a way to unify multiple methods of communication, including business phone lines and voice conferencing, into a single telephony solution. This leveraged your existing phone system and offered a more flexible method for getting your voice lines.
These days, businesses require increasingly agile and flexible solutions that deliver more than just in-office voice calls. With businesses radically changing the way they work and shifting to hybrid working models, SIP trunking isn't necessarily the best solution anymore.
As a result, more and more organizations are migrating away from SIP trunking and adopting cloud-hosted communications solutions.
Long story short: SIP trunking has had its heyday.
If you're thinking of moving away from SIP trunking, it really boils down to one simple question: Do you want to buy, set up, and maintain your own phone system anymore?
In reality, SIP trunking technology comes with a number of significant limitations for businesses. Here are just a few.
You have to maintain your own PBX
I know, we already mentioned this… But this is how important the question is!
One of the biggest drawbacks with SIP trunking is that you'll maintain your own PBX, either on-site or co-located to a data center. SIP trunking also requires a physical deployment for you. That means you'll need people with the skills and resources necessary to maintain your PBX and the SIP trunking system—or a vendor to do it for you.
It's not the most difficult thing, we've all been managing SIP trunks for decades and carriers have made this easier today than it used to be.
But, all of that backend upkeep and maintenance will still be your responsibility. If something goes wrong, your team will have to fix it (or contact the carrier to fix it). Or maybe it's your PBX, which means you'll have to contact your vendor to fix it. The same goes for any updates, troubleshooting, or general upkeep required for your system. Most businesses choose to outsource this to third-party IT specialists or hire an in-house specialist. While this is an option, it can be extremely expensive—not just in cost but also time, downtime, and impact to your staff and customers.
That's why more and more businesses today are switching to hosted business phone systems like Dialpad. A cloud-hosted phone system gives you telephony connectivity over the internet, which handles the SIP trunking and all the configuration and support as part of its core offering. What's more, you won't need any on-premises infrastructure. (Well, you might want some desk phones, but that'd happen no matter what you go with.)
All the servers and applications that make up your phone system will be based at an off-site data center, managed and maintained by your business phone software vendor. If you run into any difficulties with your system, your vendor is responsible for troubleshooting and rectifying the problem—not you!

Its features are limited
Like I mentioned earlier, SIP trunking offers you a transport for voice… But no real features. Carriers that provide trunks can give you a couple features, but honestly you'd get these with any solution you choose.
SMS
SIP trunks can facilitate real-time communications over voice, video calls, and messaging applications including SMS text messaging. Text over SIP allows employees to send and receive business text messages from business phone numbers. If you're managing your own PBX, you'll need to configure the setup and align to any texting-related federal regulations (like STIR/SHAKEN).
Integrations
SIP trunks don't inherently offer integrations (and any that they do would be really limited). SIP is primarily used for voice connections, which means that more advanced features like voicemail, auto-attendant features, and call queues are not included as part of the SIP protocol. Again, your phone system itself is the tool for this.
Dialpad, on the other hand, being a hosted cloud communications software, offers both advanced feature sets and a whole host of additional third-party integrations—all built in. What that looks like: With Dialpad, you'll have access to a unified communications platform that gives you phone calls, video meetings, and instant + SMS/MMS messaging: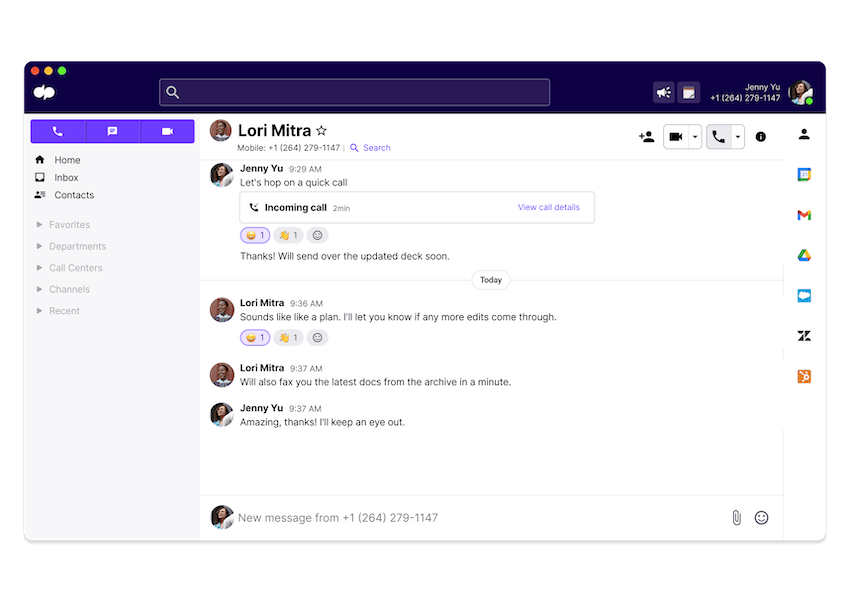 This is in addition to advanced features, like real-time call transcriptions and bringing in other digital channels (like live chat, SMS, and social media platforms).
Plus, you can integrate Dialpad with a wide range of business applications and software, like Salesforce, HubSpot, and more—meaning you can keep using your favorite business tools alongside Dialpad:


Global redundancy
SIP trunking offers basic network redundancy, allowing multiple pathways of data transmissions over your network so that, if one path fails, there will be an alternative. This is imperative if you're going to prevent excessive downtime in the case of a power outage, system failure, or hardware malfunction.
However, the redundancy capabilities offered with SIP trunking are limited. It's only as redundant as your own phone system. The combination of high availability ("HA") and site resiliency is no small effort, only the most savvy business can maintain and afford this (more below)
Instead, UCaaS solutions like Dialpad are able to deliver highly flexible communications over multiple devices—and what's unique about Dialpad is that it offers a 100% uptime SLA (service level agreement) guarantee for Enterprise customers.
In other words, you'd be able to stay 100% connected when you're making calls and having video meetings with Dialpad's CCaaS and UCaaS solutions—which is almost unheard of. This is all thanks to an advanced infrastructure that employs rolling deployments, geo-located redundancy, and a robust multi-tenant architecture.
DIY: Redundancy and failover
HA, site resiliency, and failover are all difficult requirements of modern companies. You need to make sure the communication channels between your staff and customers are operating 100% of the time.
We already know that SIP trunking can be a very do-it-yourself approach, meaning you'll have to account for any potential service issues and factor in contingency plans for business continuity. This will require a bunch of "how can we break it?" sessions where you outline all the potential problems it'll face, and also all the solutions.
For example, you'll need to account for redundancy by having extra components available in the event that a component fails (for HA). You'll also need to factor in failover and develop a functional system for implementing any unforeseen operational plans.
Effective failover plans involve factoring in both real and opportunity costs. You'll have to define the minimum service level required to keep your most critical operations running in case of a problem and make sure that you have the financial means available to fund redundant infrastructure. And that can be very expensive.
Just to put that cost into perspective, if your SLA says 100% uptime, that means you'll need to have at least two of everything: PBX systems, internet circuits, carriers and carrier connections, the works.
By switching to a cloud enterprise phone system or cloud small business phone system, you can avoid all of this extra responsibility and uncertainty. You won't need any backup infrastructure because your vendor will be responsible for maintaining service levels in accordance with their respective SLAs. This can potentially save your business a significant amount of time and money in the long run.
SIP trunking vs. PRI vs. E1
Okay, you've got a robust phone system and plenty of technical resources to manage it… Oh, and SIP isn't the only thing out there.
The main three are SIP, PRI (Primary Rate Interface), and E1. So, let's take a moment to define what each of these different types are:
A SIP trunk uses Session Initiation Protocol to transmit data. SIP trunks generate virtual connections to a PSTN using a packet-switched model, so that voice data can be shared between a VoIP phone system and traditional phone lines.
A PRI circuit delivers the same basic voice services as an E1, but over slightly different methods. For our discussion, they can be considered synonyms. PRIs use a standard to transmit voice channels over a physical connection. PRI trunks typically use a North American T1 connection to transmit up to 23 voice channels over a single copper wire in a circuit-switched system. You can stack these to create more than 23 concurrent phone call paths. PRI trunking generates physical connections to the Public Switched Telephone Network.
An E1 connection is basically the European equivalent of a North American PRI. E1 and PRI lines can be interconnected so that they can be used for international calls. An E1 line needs two wire pairs (one wire pair for transmission and another to receive transmissions).
SIP is actually a lot like PRI/E1
While there are some distinctions between SIP and PRI trunking, they're also similar in many ways. Both SIP and PRI trunks connect to the Public Switched Telephone Network (PSTN). The key differences are how they do this and how much the different options cost to install and upgrade.
PRI trunks provide physical connections to the PSTN, whereas SIP trunks connect to the PSTN virtually. (That difference feeds directly into the SIP trunk vs PRI cost discussion, too.) Since PRI setups require physical hardware and infrastructure, they're often much more expensive to implement initially, and to upgrade or expand in the future.

👉 Dialpad tip:
Because PRI and E1 circuits are physically installed, they require longer contracts and aren't as flexible. If your business is expecting changes (like hiring and expanding) in the near future, you might want to weigh the cost and limitations of this.
Thinking of replacing SIP trunks? Identify your needs first
Many businesses these days are replacing SIP trunking altogether and migrating to entirely cloud-based communication channels that offer increased flexibility, reliability, and overall scalability. If you've been thinking of making the same change in your business—even if you're working with the best SIP trunk provider—then you're not alone.
Replacing the SIP trunk is just one step in a multi-layered process.
Before you start migrating away from SIP trunking and your current PBX system, it's important to put in some groundwork first. Start by identifying your unique business needs and bandwidth requirements. Think about where your PBX/SIP trunk line setup is falling short and what features and functionalities would help improve communications in your business.
For example, maybe your team needs to communicate with customers and each other using phone calls, instant messaging, and video meetings. Or maybe your support team needs to be able to provide omnichannel customer service.
Once you've identified your primary needs, think about which telecommunications systems can give you that functionality.
Remote staff
If you're trying to make the shift towards flexible working, you're going to want your replacement solution to offer features and functions that support remote work and connectivity on-the-go.
With the systems Dialpad offers, you'll have access to unified communications including voice calls, video, SMS, and live chat, all under one roof. Plus, since Dialpad uses VoIP technology, your teams can be freed up to work beautifully from anywhere. All they'll need is a desktop or mobile device and a good internet connection.
Integrations
If you're keen to link up your business phone system and your other business software (like your CRM), then it'll need to have integrations with a wide range of third-party software tools and apps.
For example, Dialpad offers direct access to a whole App Marketplace full of third-party compatible integrations with the most popular business apps and tools including CRMs, productivity apps, collaboration tools, ticketing platforms, and much, much more:

Security
Next up, think about the kind of security provisions you'll need. You'll want to make sure that your replacement system offers secure communications that will protect your conversations and data at every step.
Dialpad has enterprise-grade security built in and adheres to all major industry compliance standards including: SOC2 Type II, HIPAA, GDPR, CSA, and ISO standards. In addition to this, Dialpad has role-based access, custom data retention policies, and single sign-on management.
Redundancy
As we've already touched upon, factoring in for redundancy and disaster recovery is a must for any business looking to implement new business communications services. Before migrating away from SIP trunking in your team or department, think about what contingency measures you'll need in place to ensure that your core business process can keep running in case of any downtime.
The best way to factor in optimum redundancy is to opt for a hosted system with a competitive SLA. Here at Dialpad we offer a 100% uptime SLA for Enterprise customers, meaning our customers are always able to reach their team, customers, or contact center when they need to.
Voice as data
So, what does this mean? Well, Dialpad can take every conversation and turn that into text, with key topics or terms (which we call "Custom Moments" highlighted), sentiment analysis, and even Ai-assisted real-time coaching:


This happens at every level, for every user in our platform. For the first time, you can get all this without the premium pricing it used to have—it's a whole new world of information that you can search across every conversation you're having with customers and prospects.
How to migrate away from SIP trunking in 7 steps
So, you've decided to make the switch and step away from SIP trunking once and for all. Like many other companies embarking upon this process, you're probably wondering what steps you should take to have a smooth migration.
Here's how to ensure a smooth transition to the cloud:
1. Evaluate your existing phone system
First off, evaluate your existing phone system. Ask yourself what works and what doesn't. This is the time to ask: Is this system still serving my business?
(Old) Age of software
Consider the age of the software you're currently using. Your software uses and stores a lot of data. Because of this, using outdated software comes with some level of risk—your business information will be more vulnerable to malware, data breaches, and attacks. If your software is out of date, it's time for a much-needed update.
(Even older) Age of hardware
If you're still using hardware as part of your business phone system, then give that a once-over as well. Even if your hardware is working reasonably well, relying on outdated hardware is risky. Old hardware is more likely to fail for a myriad of reasons, leading to system downtime which can cost time, money, and customers!
2. Check your SIP / carrier contracts
Next, check any existing contracts with your SIP provider. You most likely have a SIP trunking service agreement with your SIP trunk providers. This service agreement lays out the terms of your contract with the company and you'll want to ensure that you're not breaking the terms of your contract by switching services (e.g. if you're in a fixed-term contract). If your contract renews on a rolling basis, make sure that you cancel your contract in time for your migration.
Dialpad tip: Providers like Dialpad are "coterminous," meaning that all the services are bundled together and any growth can be added to your primary contract. This way, you don't have to manage multiple vendors or tools.
3. Collect costs and usage
If you're thinking of switching to a hosted business phone system, then you'll most likely be entering into a subscription-based model with fixed pricing. This means you'll need to pick a service plan that suits your business usage needs and budget.
Before making the switch, it's worth calculating your average costs and understanding your usage requirements. This will help you pick the best and most cost-effective business phone service plan and maximize your overall cost savings. Figure out those other value benefits as well (like ease of use and onboarding)—your basic up-front and recurring costs aren't the only way a good solution can add value!
4. Get your local phone and toll-free numbers mapped out
Consider what kind of telephone numbers you're going to be using. For example, does your business require a local phone presence or toll-free numbers? Once you've mapped out your numbers, make sure that your chosen vendor offers these kinds of numbers as part of their plans. Dialpad users, for example, can add or remove local or toll-free numbers as you need.
5. Draw out your call flows (maybe)
A visual representation can be fantastic to help you and your staff wrap their heads around "what is going on" with your phone system.
For call centers and contact centers, now is the time to draw out your inbound and outbound call flows. Ask yourself if your current setup is working to answer a high volume of concurrent calls in the most efficient and effective way. If not, think about how your new business phone system might improve upon it.
With Dialpad Ai Contact Center, you get advanced contact center management features including real-time coaching, IVR, real-time speech analysis, and call routing:

6. Consolidate your locations (if using multiple vendors)
If your current setup works across multiple vendors then it's worth consolidating your locations as part of your migration away from SIP trunking. With a UCaaS solution like Dialpad, it's easy to consolidate multiple locations under one business phone system. You can even get your very own international business number, which is ideal if your business is expanding internationally and needs to configure new offices or remote presences for long-distance calls.
Consolidation provides an additional benefit: By doing this, you're reducing unused excess capacity by pooling all calls through a single tool and sharing that resource across your locations. Now, you can look at "company" instead of "location" volumes.
7. Think about growth, acquisition and contracts
Last, but not least, think about the scalability of your business. You'll want a software solution that not only meets your needs now, but also scales with your business as you grow. For example, if you're planning to open more offices or work with more clients, you'll want your software to cater to those higher demands. As I mentioned earlier, coterminous agreements make this a lot easier and helps you minimize wasted licenses and capacity.
Moving on from SIP trunking? How Dialpad can help
As more and more businesses start migrating away from SIP trunking towards the cloud, it's important to plan for a successful software migration. Before you migrate away from SIP trunking to a new business communications system, make sure to consider your unique business requirements. Think about the features that'll help you achieve a more flexible and scalable working environment.
Dialpad supports you in the way you work with advanced call center management features like IVR, built-in AI, and more. With Dialpad, you can start mobilizing omnichannel cloud communications in minutes while scaling up and down your service according to call volumes and your business's changing needs. Book a product tour to see how it works!

See how you can work from anywhere with Dialpad's cloud communications platform
Book a product demo to get a personal walkthrough! Or, take a self-guided tour of the app!