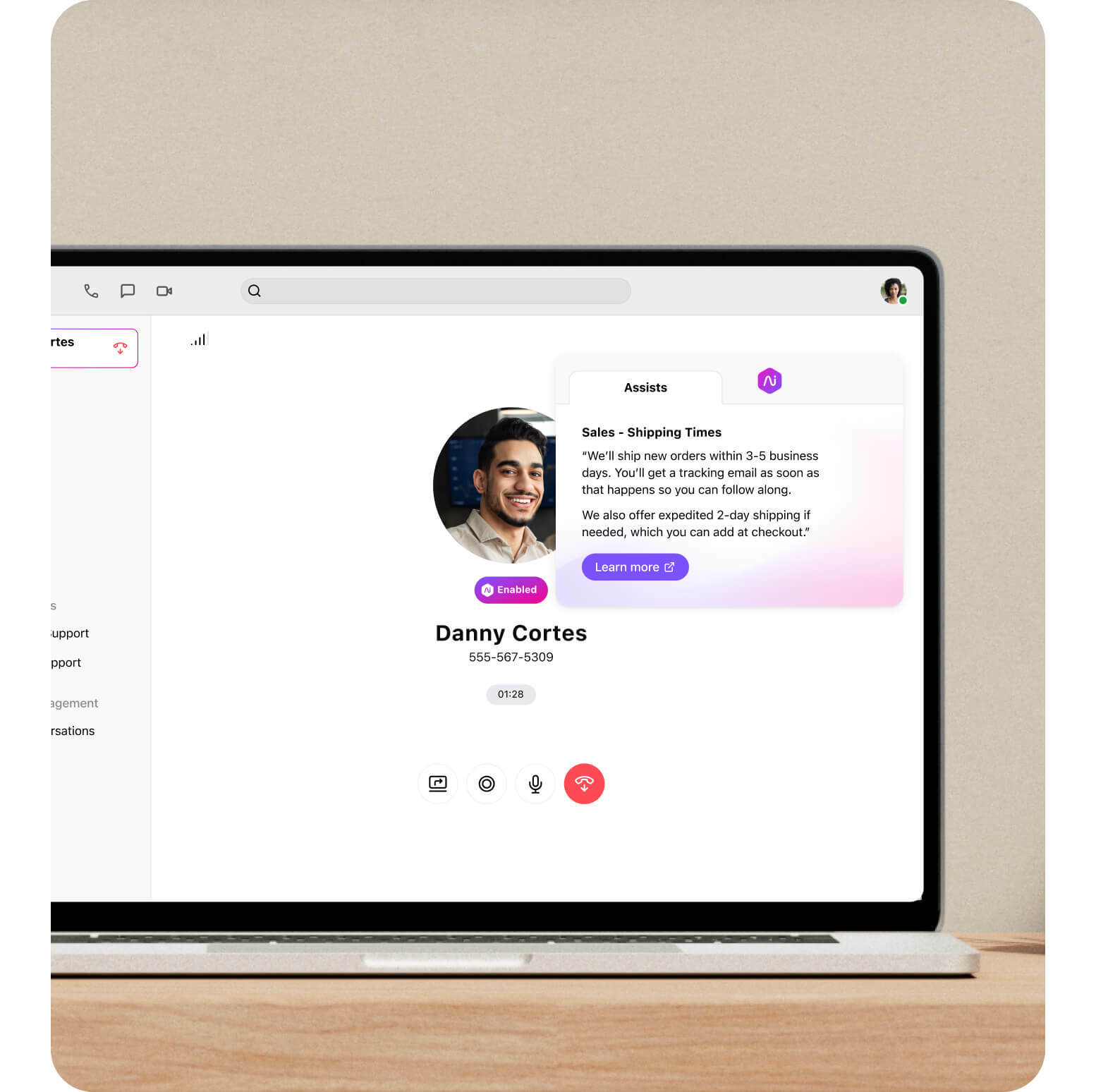 Powered by industry-leading AI
Call pop
Call pops—or, as we refer to them at Dialpad, Real-Time Assist (RTA) cards—are designed to pop up automatically on a contact center agent's screen when they're faced with a question they don't know the answer to. See how it works with a product tour!
What is a call pop-up and how does it work in Dialpad?
When an agent is on a call and a specific keyword or phrase is used during the conversation, an incoming call pop-up or RTA card will appear in real-time.
You can create notifications with tailored notes on everything from pricing plans to your refund policies, and even competitor battle cards (to help your sales team with objection handling). Essentially, they cover anything your business needs them to:

(If a trigger word is mentioned twice on a call, the card will only pop up the first time, so as not to bombard agents with unnecessary information.)

A contact center platform that gives you call pops—and a whole lot more
With Dialpad, you get more than just a phone service or a basic call pop feature. It's a robust, AI-powered collaboration platform that gives you phone calls, video meetings, instant messaging, SMS messaging, omnichannel contact center, and self-service functionality... All in one beautifully designed platform.
Set up easily in minutes
Set up your new account, contact center solution, and phone number in minutes. Pick a new number or keep your current one, download the app on your preferred device (phone, tablet, desktop, iOS, Android, etc.), and start calling, texting, and collaborating.


Advanced call management
With Dialpad, you don't just get a phone system—you get advanced call management functionality that will provide a better customer experience. That includes features like call waiting, call routing, voicemail transcriptions, call forwarding, and more.

All your communications in one place
With Dialpad, your agents and supervisors can manage all your communication channels, including phone calls, video conferencing, messaging, live chat, social media, and even chatbot response flows. No third-party vendors or add-ons needed.

Customizable caller ID
Need to make business calls from your personal cell phone? In the Dialpad app, you can choose the caller ID you want to display on the screen of the person you're calling. It can be your company number, department number, or any other business number that you have with Dialpad. This way, you can protect your personal phone number even when taking calls or texting colleagues on the go.


Versatile call routing
From your online dashboard in Dialpad, you can set up and make changes to your call routing to customize exactly where your inbound calls are going. Route to agents who have been idle the longest or route calls based on skill level, and so on. (You also have the option to route to voicemail or other department!)


Plays nice on any device
Dialpad works across all desktop and mobile devices—including web browsers. No matter if your team is using iOS, Mac, PC, or Android, they'll be able to make VoIP calls, handle contact center messages, and more, while working from anywhere.

Need call pops for your contact center agents?
Book a demo to see Dialpad's unique features and how they're designed to make life easier for agents and supervisors—or, take a self-guided interactive tour of the app
Integrate the call pop screen with these popular tools
Fun fact: Dialpad has a wide range of integrations that streamline workflows for agents and take repetitive, low-value tasks off their plates. Here are a few examples. (And if you want to, you can also build your own custom integrations with more niche tools with Dialpad's API.)
Zendesk
When you connect with a customer over a call, you can launch the Dialpad Everywhere widget, which lets you use the call pop feature inside Zendesk. This means that even when agents are inside their Zendesk tab or window, they have access to the screen pop-ups they need.
With Dialpad's Zendesk integration, all your data from both platforms will update and sync automatically across devices—perfect for closing tickets and managing customer info effieiciently. Agents can also take inbound calls—and make outbound calls—from inside Zendesk through the CTI (Computer Telephony Integration) dialer:


Salesforce
One of the most popular CRMs around, Salesforce has a large library of integrations. One of these is with Dialpad, which lets sales reps sync contact details and log activities like phone calls and texts.
Dialpad's RTA cards, or call pops, will also show up directly in Salesforce while reps are live on sales calls:

Need a call center screen pop feature?
Whether you run a small business or global contact center team, Dialpad gives your agents the call center screen pop feature they need to provide a great customer experience—without supervisors having to personally coach every call.
See how it works now!
See how Dialpad's call pop functionality works!
With Dialpad's AI-powered customer engagement platform, not only can you easily create Real-Time Assist cards (aka. call pops) to help agents talk through any tricky topics, you can also track keywords that pop up frequently, design chatbot response flows, and much, much more. Get a demo to see how it works!
What are common examples of how people use call pop-ups?
Call pops can contain any prompts or information that a customer-facing employee may need to help them communicate with customers more effectively. Call pop cards are incredibly versatile and can be used by contact center teams, sales reps, customer support teams, or any other team that needs to have conversations with customers or prospects on a daily basis.
Call pop-ups are particularly critical to improving customer experience. With new agents, for example, they can help them navigate unfamiliar topics. Equally, for more experienced employees, call pops can help answer tricky or out-of-the-box questions during phone calls.

How do I make a call pop or screen pop?