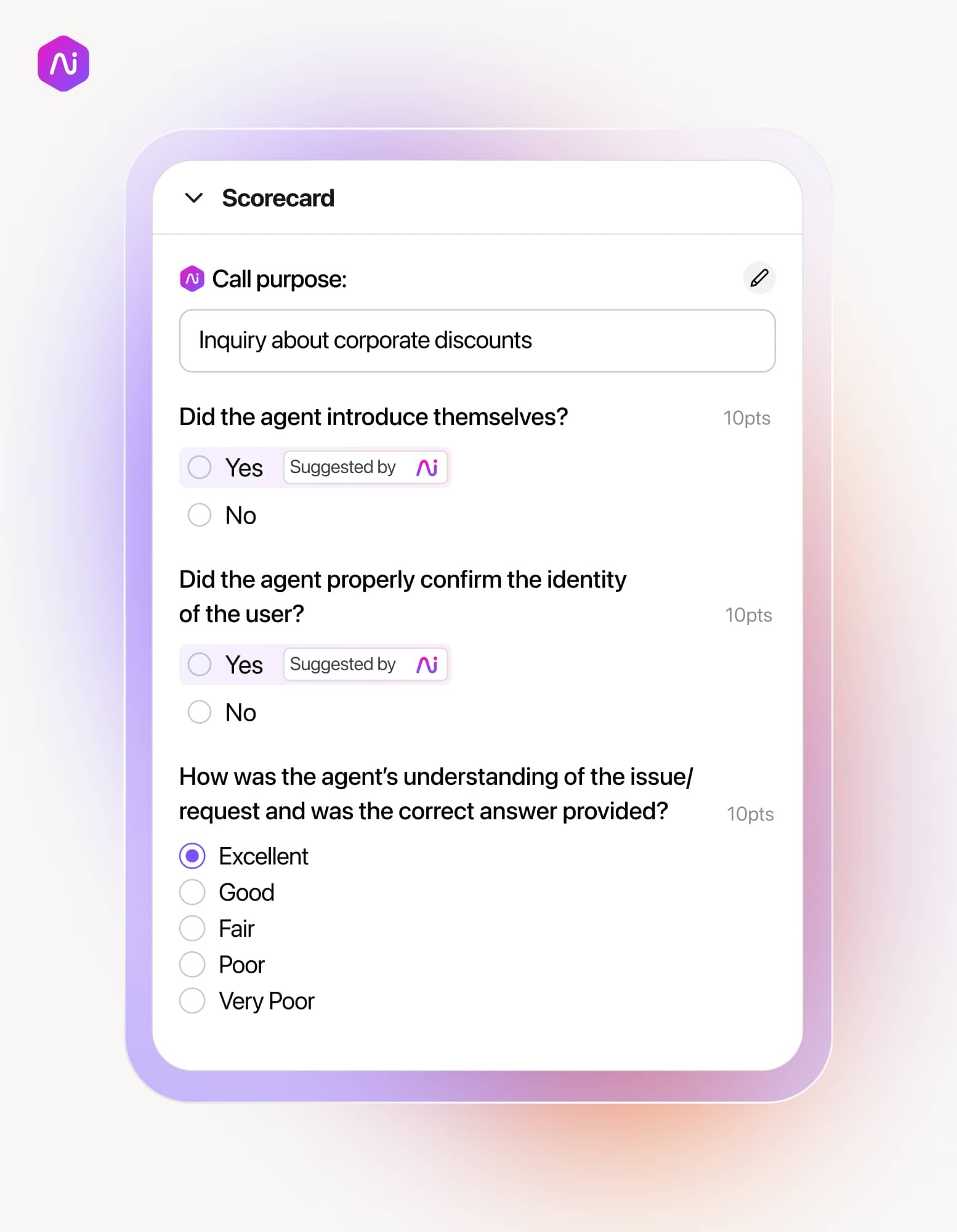 Powered by AI
QA Scorecards
Don't have time to manually QA every agent's call? These QA Scorecards are powered by Dialpad Ai, and can evaluate customer interactions, pinpoint key information, and suggest grades based on your established scorecard criteria, all in real time. See how it works!
What are QA scorecards?
QA scorecards, or quality assurance scorecards, are an essential tool for measuring contact center and sales team performance and efficiency. These scorecards usually form one section of a more comprehensive customer service scorecard, and help contact center managers identify areas for improvement and track the progress of their agents over time. (They're also a great way to ensure compliance with company policies and customer expectations.)
QA scorecards typically evaluate agents and sales reps on the basis of metrics like customer service satisfaction, customer loyalty, product knowledge, and problem-solving skills. The scores from these metrics can be combined into an overall rating that gives managers a better understanding of how each agent is performing at any given time.

Automated quality assurance + agent coaching, powered by industry-leading AI
Here are just a few of the advanced features you get with Dialpad's AI-powered customer engagement platform.
QA scoring for 100% of your calls
Instead of randomly picking calls to review, your supervisors can now provide consistent and holistic feedback and coach agents based on a complete sample of their conversations.
Tailored coaching, at scale
Quickly spot and improve issues unique to each agent and salesperson in areas like quality, behavior, compliance, soft skills, customer experience, and more.

Real-time agent assists
Powered by state-of-the-art AI that's analyzed over 4 billion minutes of business conversation-focused data, Dialpad Ai Contact Center can do everything from generating meeting recaps after every call, to providing agents with real-time guidance as tricky conversations are happening.
Tools for super-supervisors
You can't monitor every customer interaction in real time, but you can still help your agents provide a positive customer experience. Dialpad's unique artificial intelligence, Dialpad Ai, not only transcribes calls (in real time!), it also shows supervisors the sentiment for each active call. They can view all calls, see which ones have negative sentiment, and scan the live transcript to get full context before deciding whether to jump in to help agents.

Truly unified communications
With Dialpad, agents and supervisors can manage external communications and also make phone calls, send instant + SMS/MMS messages, and have video meetings internally, from both the desktop and mobile app. No need to toggle back and forth between windows, and it streamlines all conversations into one convenient place.
Integrations with your favorite tools
Whether you're using Salesforce, Zendesk, Zoho CRM, Google Workspace, or Microsoft 365, Dialpad Ai Contact Center probably has an integration with the tools your team already uses. Want to build your own custom integrations? You can do that too with Dialpad's open API.
See how Dialpad's Ai QA Scorecards work
Book a demo with our team, or take a self-guided interactive tour of the app first!
How to create a QA scorecard in Dialpad
1. To start, supervisors or managers just have to create an Ai Scorecard in Dialpad.
2. During QA reviews, Dialpad Ai will analyze calls and suggest whether or not the scorecard criteria was met, which takes the cognitive load off supervisors and lets them do QA faster—for a larger number of customer conversations:


3. By default, you'll have five prebuilt Ai templated questions to choose from:
Was the caller's account information verified?

Did the agent request the order number?

Did the agent ask if further assistance was needed?

Did the agent ask to put the customer on hold?

Did the agent greet the customer?
You can also customize your own questions or criteria for Dialpad Ai to pick up on. Just keep in mind that questions have to be "Yes/No" and you can assign a point value (in terms of how each criterion is weighted).
To give you a head start, Dialpad Ai will even suggest compatible trigger words for questions!
3 benefits of QA scorecards
Whether you're using customer service QA scorecards or even sales QA scorecards, you'll probably find that your contact center has an easier time measuring and improving performance. And there are three major reasons why.
1. They make it easier to maintain a consistent level of quality assurance
As their name tells you, quality assurance scorecards make it easy to measure and track employee performance in a repeatable way thanks to the set standards.
What percentage of your agents are consistently letting callers know when they're about to be put on hold? Are all of your new hires making sure to greet callers at the beginning, and asking if there's anything else they can help with before hanging up? QA scorecards give contact center supervisors a ready-made checklist to quickly verify that all these things have been done.
2. They can prompt managers and agents to make proactive improvements
QA scorecards also enable contact center managers to stay ahead of trends and proactively implement changes before issues come up. For example, if a particular agent is consistently receiving low scores for their telephone manner, then the manager can take steps to address this issue rather than waiting until it becomes a serious problem that negatively impacts customer satisfaction.
3. They can help with auditing compliance procedures
Finally, having access to comprehensive quality assurance scorecard data makes it easier for contact centers to fulfill their auditing requirements quickly and efficiently.
By tracking compliance tasks as part of the QA process, managers can easily create reports that show compliance with internal policies as well as external regulations such as GDPR or HIPAA guidelines—saving time and money in the process.

Get a hands-on look at Dialpad Ai Contact Center
Book a demo, or take a self-guided interactive tour of the app first!
How is a QA score calculated?
QA scores are calculated based on a variety of factors, such as customer service performance, customer satisfaction, compliance with internal and external regulations, and agent productivity. Each factor is weighted differently, depending on the company's specific goals and objectives. Generally speaking though, customer service performance is the most important factor when determining a QA score. This includes metrics such as average handle time (AHT), first call resolution rate (FCR), quality of interactions, and the overall professionalism of agents.

In addition to these core metrics, you may also want to consider compliance with internal policies and external regulations in your QA score calculation. This ensures that agents have met the required standards and that customers have had an enjoyable experience.
AI-powered solutions can help contact center managers quickly calculate QA scores by automatically collecting data from multiple sources such as CRMs, phone systems, chat platforms and other sources. AI-driven insights can provide more precise results than manual calculations (especially if they're being done by busy managers), which helps leaders better identify areas for improvement or recognition for outstanding work quickly and accurately.

What is QA in a call center?