Back to Blog
The 13 best customer engagement software for sales, support, and more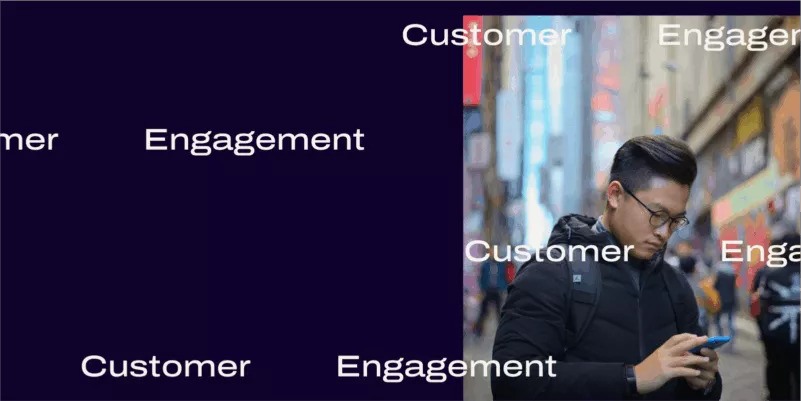 It used to be that the customer journey began with print ads and TV commercials. And then popping to the local store to haggle with the salesperson. The gift of technology has made the customer journey more personalized—but also more complicated.
And today's customers are harder to keep track of than ever.
The thing is, not a lot of customers actually fill out customer surveys. In fact (depending on the industry and specific business of course), we've found that on average only about 5% of customers actually fill out CSAT surveys. And usually only the angriest—and happiest—customers actually bother to respond to these surveys, which means your CSAT scores are likely to be very skewed and not representative of how your customers feel overall.
So, how can your brand create a consistent customer experience throughout the journey—from pre-purchase, to purchase and through to post-purchase (and ultimately, retention and upsell or cross-sell)?
In this post, I'll take you through some customer engagement software that will help you tackle these different stages of the customer journey. Some of these tools focus on certain communication channels like live chat and messaging, while others are AI customer communication tools that are designed to help support and sales teams have better conversations.
But before we dig into the list of customer engagement tools, let's get a quick refresher on what this kind of software is meant to do first.
What is customer engagement software?
Every interaction a customer has with your business contributes to a part of the bigger picture. Whether you're using automation features or getting live agents to respond, each touchpoint, both offline and online, should be a considered and thoughtful step in the customer experience.
According to ecommerce stats, the key to customer engagement is a personalized shopping experience. And this experience is far-reaching—it can include blogs, social media, advertising campaigns, brick-and-mortar shops, ecommerce sites, checkout flows, upsells, customer support, and more.
Each interaction is a stop on the customer journey. And customer engagement software helps your business track, record, and analyze every interaction.
A few areas that customer engagement software can cover in a business
One of the biggest benefits of using customer engagement platforms is that they provide a centralized place for not only communicating with your customers but also measuring those interactions over time.
The more diverse and complex your customer journeys are, the more important a good customer engagement software will be.
Think about it this way: back in the day when we only had telephones, the only part of the customer experience you had to worry about was the phone experience—and maybe the in-person or in-store experience. But that was it. You didn't need "customer engagement software" for that.
Today, you've got many more channels to keep an eye on (and that's not even counting channels that you don't own, like third party review sites), and many more SaaS tools to choose from.
Long story short, from marketing to sales to customer support, "engagement" can apply to pretty much every step of the customer journey. Here are a few areas that you might want to consider when you're looking for software.
Customer relationship management (CRM)
Most people think of CRM systems as sales tools, but it's very useful for marketing and customer support teams too.
If your team is diligently logging all their customer interactions and information into your customer relationship management (CRM), it can be your greatest weapon in improving customer satisfaction and reducing churn.
Not only can a CRM make organizing customer data incredibly easy, it also makes it accessible to different teams and provides an accurate 360-degree view of your customer relationships.
Multichannel support
Consumers are spending more and more time online. Whether it's on their phones or computers, often, they reach out through different channels including phone calls, live chat, and social media.
Your business should be available across those channels!
A good customer engagement platform will integrate with other sales apps and other tools to give you that full access to different communication channels. (And if it doesn't have that integration, it should allow you to build your own custom automations with APIs.)
For example, Dialpad Ai Contact Center is an omnichannel contact center platform, which means it lets agents provide customer support across voice, video, and digital channels—without having to switch between tabs or windows:

A customer engagement solution can also improve and automate customer self-service options. More customers will be able to solve problems without requiring the support team.
So your live agents will be able to concentrate on other calls or chat requests. And customers will be happy that their issue was resolved promptly, which can improve customer loyalty.
Marketing
Just because someone isn't a customer yet doesn't mean you can't start engaging them. If you need a way to communicate with potential and new customers, there's probably a customer engagement software for that.
Specifically, some customer engagement platforms allow marketing teams to analyze all customer behavior across every touchpoint, which can help with things like segmentation, social media strategy, and campaign planning (and is coincidentally also good context for customer success teams).
The 13 best customer engagement software solutions on the market
Whether you're looking for something to communicate with customers or provide better customer self-service options, there's probably a piece of software designed to help you with exactly that.
Here are some of the best customer engagement solutions out there.
1. Dialpad Ai Contact Center
When it comes to customer engagement, if you have customers regularly reaching out to you on the phone, you absolutely need an e-commerce contact center solution that allows you to manage those calls.
And it's not just inbound calls either. Proactive outreach is another key part of customer engagement. For example, if you discover that there's an issue with a new product or service, why wait for customers to call in and complain?
Being strategic about reaching out to customers to nip problems in the bud can help reduce your inbound call flow too—and your business should have the foresight to plan for this.
With Dialpad, you can handle all your incoming calls in an intuitive app, which also includes instant messaging and all the basic call controls you'd need like call parking, call transferring, and more:

Contact center supervisors can follow along with agents' call using the real-time transcripts:
And if they can't coach every call in real time, no problem. They can create custom RTA (Real-Time Assist) cards, which are basically "cheat sheets" and helpful notes that pop up automatically on agents' screens when certain keywords (like "pricing" or a competitor name) are said on a call:
👉 Dialpad tip:
Look for contact center platforms that have built-in features like CSAT surveys and analytics dashboards. This way, you'll have a much easier time tracking your metrics.
2. Salesforce
Salesforce is the world's leading CRM software, and has been for years. Their many products can help businesses of pretty much any size manage both sales and support, while integrating with all aspects of the business.
Specifically, with the Dialpad integration, you can unite your business phone system with your CRM, which means your reps can dial out right from the Salesforce platform with the click to call functionality:

Plus, all your Dialpad call history, including notes and transcriptions, will be synced automatically.
Features:
Build unique and interactive sites that engage your audience

Template system makes experience creation seamless and quick

Group, team, and collaboration functionality

File and record sharing, including video

Unique customer support / self-service options including customer ticket creation portal and knowledge base

Community badges

Preconfigured and customizable "Lightning" dashboards to help measure and analyze metrics

Workflow automation for sharing contacts, leads, and records
🛒 Shopping for a contact center platform?
Grab the Contact Center RFP Checklist, which breaks down the 31 top considerations to be aware of as you're vetting different solutions and providers.
3. Zendesk
For many people, it's hard to step away from the office. Some might even find it difficult to stay productive when not at their desk. Good news for those folks then, because like Dialpad Ai Contact Center, Zendesk was built to help customer support teams work remotely when away from their desks.
Similar to Salesforce, Zendesk has an integration with Dialpad that allows you to make phone calls right from your Zendesk screen.
There's a good reason why Zendesk is one of the most well-known customer engagement solutions out there for support teams, with omnichannel customer support that delivers rich conversational experiences across the web, mobile, and social.
In fact, the only communication channel that's missing in Zendesk, really, is the phone really—but you can easily fill that gap with the Dialpad integration.
Features:
An industry-leading ticketing system that includes emails, Facebook, and Twitter

Custom fields and tags to classify tickets for easier tracking and archiving

Omnichannel customer interactions across web and mobile devices

Email, voice, SMS messaging, and live web chat support

Customizable automation of workflows

Zendesk marketplace supports over 1,000 apps and integrations

Robust APIs
4. Kustomer
Don't let the fun misspelling fool you, Kustomer CRM is all about business—specifically, businesses that sell direct-to-consumer (DTC).
The platform provides a unified customer experience with multichannel support for email, phone, chat, social, and messaging apps. Kustomer gives your support team the platform's unique ticketing alternative referred to as "Unified Customer View."
Kustomer also integrates with contact center platforms like Dialpad to give your agents full omnichannel and chatbot support. This allows your team to handle phone calls from the Kustomer interface, while Dialpad transcribes the call in real time, gives insights, and provides real-time coaching:

Features:
Cloud-based CRM with no download required

Automated messaging with customizable triggers and responses

Enhanced CRM controls for secure permissions and custom conversation attributes

Chatbots that can communicate across multiple channels
5. HubSpot
HubSpot is another well-known CRM and marketing platform that is very versatile—it offers features for marketing, sales, service, content management, and operations.
Beyond the usual CRM functionality, HubSpot Marketing Hubs is an option for businesses that need marketing automation and lead generation tools.
With HubSpot, you can gather all your customer data in one place. Like Salesforce, HubSpot CRM connects with contact center platforms so your agents can spend more time actually having conversations with customers and prospects. Here's what the integration with Dialpad looks like:

👉 Dialpad tip:
Many customer engagement tools offer free basic packages or at least free trials. Use them! These offer a good chance for your IT department to discover compatibility and connectivity issues with existing business tools.
Features:
Landing page builder to quickly launch mobile-optimized pages

Easy and customizable automation of marketing workflows

High email marketing functionality including personalized content and A/B testing

Ad-tracking and management for Facebook, Instagram, LinkedIn, and Google Ads all from one place

Monitor and prioritize conversations

Enhance social media, web page, and blog content with video

Connect with site visitors in real-time with live chat

Full tracking and management of every lead with automatic data gathering and lead scoring
6. Front
Front focuses on empowering your customer-facing team members by allowing them to access a shared email inbox space for the whole team.
If you're looking for an automation that'll help eliminate mundane and repetitive tasks like post-call wrap-up time for contact center agents, the Front + Dialpad integration lets your support team not only work together, but also manage all customer communication, including phone calls, from one place.
With multichannel messaging support and analytics tools, your team members will be able to resolve concerns more quickly—and provide a better digital customer experience.
Features:
Automatic message sorting and prioritization

Customizable message templates to automate the tedious stuff

Email threads, shared drafts, and team inboxes for easy collaboration

Great internal discussion functionality

Organize tasks with team member assignment

Analytics tools for the team, agents, and customer messaging

Integrations with Salesforce, Asana, and 50+ more

API connections to gather customer database centrally

Omnichannel support for social media, live chat, and email
7. ServiceNow
The ServiceNow platform is a ticketing tool that's mainly used for IT service management. Essentially it allows IT teams to process and catalog requests and deal with incidents, changes, and other problems.
Features:
Agent workspace with case management and omnichannel support

"Customer Central" displays all customer touchpoints in the form of information cards

Self-service functionality with knowledge base management, communities, and more

Mobile agent interface for agents to triage, address, and resolve requests on the go

Integrations with third-party applications, including computer telephony integrations or CTI software and telephony platforms
8. Outreach
Outreach is a customer engagement solution for sales-driven organizations that need a better way to manage customer touchpoints and rep performance.
Outreach's strengths are its capabilities in sales automation, outreach sequence design, team performance reporting, and more.
For businesses using a communication or telephony solution like Dialpad, the Outreach integration allows sales reps to initiate a call to any prospect with just a click. They also get real-time call transcriptions with Dialpad so they can review how different sales pitches perform and improve on their outreach strategy:

Features:
Deal acceleration tools help to standardize best practices across all reps

Outreach success plans provide real-time visibility of the customer journey

Buyer sentiment analysis to understand customer reactions with clarity

Nearly 100 integrations including 6sense, G2, Salesforce, Gmail, and Outlook

CRM sync, meeting scheduler, and social activity tracking
9. Wingman
Sales reps could always use a bit of support. And it's even better when that support can go with you wherever you work.
As the ultimate sidekick, Wingman is centered around the creation of sales enablement playbooks, which are meant to be free-flowing scripts that evolve in real time.
Wingman's playbooks allow for adjustment and a bit of improv for your seasoned reps. This enables your sales reps to be real people and use their experience to close more deals.
Wingman integrates with Dialpad to allow you to build a library of the best coachable moments from sales conversations and share these insights with new reps. It also helps you forecast more accurately by helping you identify guaranteed deals in the pipeline.
Features:
Real-time analysis and metrics of every sales call

One-time calendar synchronization and Wingman actively identifies and joins every sales meeting

Integrations with CRMs, CTI dialers, and team messengers like Slack

Customizable dashboards with email, CRM, and notes all in one place
10. Mixmax
With Mixmax, you get a sales engagement platform that's designed for Gmail and is all about getting more meetings set.
It lets you share your calendar with prospects with a link to make it easier to book meetings without all the back and forth. And if calling customers and prospects is an important motion for your sales team, you should check out the Dialpad integration, which again, gives you one-click calling capabilities directly from the Mixmax web app.


Features:
Complete tracking for email marketing campaigns right from your inbox: opens, clicks, downloads, and RSVPs by person and message

CRM and LinkedIn integrations for highly-personalized messages and campaigns

Easy one-click scheduling from an email to eliminate customer friction

Beast Mode tool to maximize sale rep productivity with one-click dialing from Mixmax sidebar or Salesforce

Automation of data entry and task creation

Embed polls and survey in emails

Reporting and analytics in Growth and Enterprise packages
11. Intercom
Intercom is probably one of the most well-known names among customer engagement platforms.
It focuses on chatbot / live-chat, or messenger-based, conversational experiences, and the platform is jam-packed with workflow automation tools to help your customer support, sales, and marketing teams.
From the Intercom app, your agents can start a video or voice call using Dialpad's integration. With just one click they can start a meeting, and with another click, they can share their screen. This enables your sales and support teams to help each customer in the best way possible.
Features:
Robust live chat software with advanced automations for lead nurturing and customer onboarding

Customization and management of push notifications and mobile carousels for your business's app

Send personalized and automated emails

Chatbot greet website visitors with personalized messages

Automation of messaging, routing, and scheduling with chatbots

Workflow management tools

Hundreds of CRM, phone and video, calendar integrations for apps like Jira Cloud and Outlook
12. HappyFox
HappyFox is an all-in-one help desk software for businesses of all sizes and provides omnichannel support for contact centers.
But to have true omnichannel support that includes phone calls, you'll want to combine HappyFox with a cloud contact center solution like Dialpad.
This way, your team members will be able to make and receive phone calls from HappyFox, and all calls from Dialpad will be automatically ticketed and recorded in one place.
Ultimately, this will make it easier for your customer support team to find information and triage tickets effectively.
👉 Dialpad tip:
Chatbots are a fantastic option for deflecting customer inquiries and providing a low-cost self-service option. The important thing to keep in mind is that the chatbot platform you choose will impact how much you get out of this channel—and don't forget to give customers the option to reach a human in case the chatbot can't solve their problem!
Beyond ticketing, HappyFox also has features like live chat, chatbots, AI, and automation of workflows.
Features
Omnichannel ticketing

Seamlessly create self-service support in multiple languages

Workflow automation with customizable smart rules including escalation and ticket reassignment

Measure and analyze customer support metrics in real-time

Customizable reporting for inflow, agent activity, performance, CSAT, and much more

Integrations with Salesforce, Aircall, Wrike, and other team messaging tools

Make and receive calls in Dialpad directly from HappyFox
13. Helpwise
Originally designed as just a shared inbox tool, Helpwise has evolved to now consolidating all customer conversations in one place. From a shared single inbox, team members can handle every different messaging interactions across email, SMS, Whatsapp, social media, and live chat.
For contact centers using Dialpad, and especially those that text their clients or customers, Helpwise can improve support team collaboration by creating a shared SMS inbox in Helpwise that's hooked up to your business number with Dialpad's Helpwise integration.
This allows different team members to collaborate and give support to customers directly from Helpwise.
Features:
Inboxes are shared, but every user has their own password for better security and higher productivity

Tag, assign, or chat with your team members all within the shared inbox

Lots of integrations including Dropbox, Agile CRM, Trello, and Zoho CRM

Connect with business tools for metric tracking and workflow automation
Power up your support and service with customer engagement software
Customer engagement encompasses the entire customer lifecycle, from marketing to sales to customer support and more.
Does your business have the right customer engagement software and tools to level up your customer experience?
With a robust platform, you can not only keep all your communication channels in one place, you can also centralize customer data and call history, use powerful AI to automate mundane and repetitive tasks, and provide contextual real-time insights for your agents.
Need a customer engagement software that helps you connect with customers?
Check out Dialpad Ai Contact Center's pricing plans and book a demo, or take a self-guided interactive tour of the app on your own first!