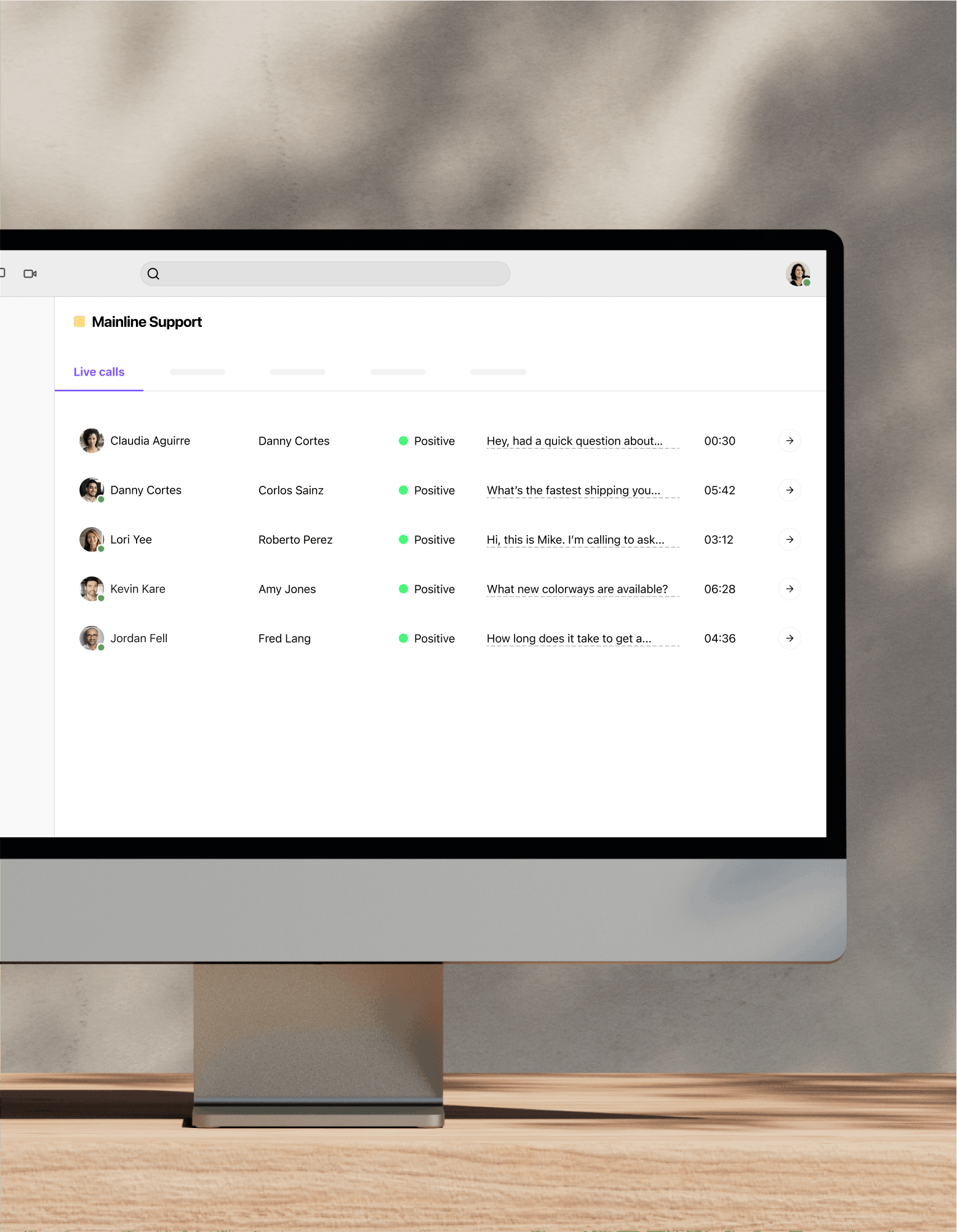 Call barging
How often as a contact center manager do you wish you could take over a call you're monitoring? (Especially when you're listening to mistakes being made and emotions running high?) Call barging is an essential feature to have in your contact center platform. See how it works in Dialpad's AI-powered customer engagement platform by booking a product tour.
What is call barging?
Call barging is when a call center manager or supervisor interrupts an outbound or incoming call that an agent is on to help them or take over the call.
Good contact center or call center software should come with a call barging feature. (More on this in just a bit.)
Barging is different from call whispering, a similar feature that also lets managers help agents—the difference is that instead of taking over or "barging" the call, they're whispering advice to the agents without the customers being able to hear.

How does call barging work in Dialpad?
Dialpad's call monitoring and call management features are built right into the platform, and supervisors can turn those on and off right from the call screen.
All managers have to do is click on 'Barge Call' when the time's right:


All your communications in one place
Dialpad isn't just a phone system. It gives you VoIP calling along with other communication channels like SMS messaging, video meetings, and social media messaging. This lets you take an omnichannel approach and resolve issues wherever your customers are.
Call recording
With Dialpad, you also get unlimited call recording. Whether it's for QA or training and development, you can record agent calls manually or automatically, and even create playlists of recordings (which can be hugely helpful when it comes to training new agents).

HD call quality
Say goodbye to grainy calls. Dialpad's unique telephony architecture and global voice network are designed to give you crystal-clear calls from anywhere—a must-have for call center agents, especially if they work from home.

Easy call transfer
Whether it's for case escalation or to pass an active call to an expert without escalating it, Dialpad's call transfer feature helps you send calls to the right place with just a click.
See how Dialpad Ai Contact Center works
Book a demo to see how Dialpad's contact center platform makes life easier for both agents and supervisors. Or, take a self-guided interactive tour of the app on your own!
Other features designed for contact center teams

Live transcription
Want to figure out what's going on in a live call before you decide whether to barge in? With Dialpad, agents' calls are transcribed in real-time, which lets managers scan the transcripts and get more context before they decide whether they need to use call barging.
Sentiment analysis
Dialpad can also analyze sentiment for customer calls in real time, making sure that supervisors always know when calls are going south and whether they might need to step in and barge a call.
Real-time assists for agents
Dialpad Ai can also pop up RTA (Real-Time Assist) cards with tailored notes to help agents. Say you just released a new product and agents aren't familiar with it yet. You can create an RTA card with notes about that product—and set it to trigger whenever it's mentioned on a call! That way, your agents always get the help they need, even when their managers are busy—and higher first call resolution.
Integrations with your favorite tools
Dialpad offers native integrations with popular business software and CRMs like Salesforce, Zoho CRM, and Zendesk to embed the dialer inside those tools, auto-log activities, and reduce app-switching. Want to go custom? Build your own integrations with the open API.
Built-in call analytics
Dialpad's call analytics help you keep track of contact center metrics like inbound calls, missed calls, average speed to answer, and more. No need to contact Support or IT, no need to wait hours for someone to pull the data for you.

Intuitive call routing options
Need to make changes to your IVR or call routing or set up a priority queue for VIP customers? Want to update your voicemail greeting or call forwarding phone numbers? With Dialpad, you can do all of this with just a few clicks from the online dashboard.
The benefits of a call barging feature for contact center teams
It gives you a "fail-safe" in case agents really need help
When contact center agents write emails or answer live chats, it's easy for them to turn to their manager and quickly ask for help with a tough question. That's not always the case with phone calls and distributed teams—unless you're using call barging.
Knowing that managers can barge calls if things go badly shows agents that there's a "safety net" in place to catch them if they're unable to resolve issues themselves.
It serves as a live QA
It's not always easy to provide an excellent customer experience. Mistakes happen, crisis events pop up, and often, a contact center needs to be able to do live QA or quality assurance.
If your contact center managers can see that a live call is starting to go south (which they can do with the help of a sentiment analysis feature), then they can barge that call before it's beyond help—and steer it back on track.
It reduces the number of escalated calls
No matter how thorough your IVR menu is or how skilled your team members are, you'll sometimes still end up with call escalations, particularly for complex cases.
Used strategically, call barging can help keep this number low, since managers can get ahead of those escalations or issues by barging the call before the customer gets too angry.
This way, the only calls that get escalated further are ones that truly need the input of higher-level supervisors.
Use call barging to provide a better customer experience
Your contact center managers and agents need to be able to work together while on live calls to provide the best possible service to your customers, and with call barging, you can empower them to do just that.
If you need a robust contact center platform that comes with a call barging feature included, why not take a product tour of Dialpad Ai Contact Center?
We can show you how easy it is to set up a contact center in just two minutes, and all the built-in AI features too, like a no-code chatbot, real-time transcriptions, agent coaching, and more!
See how call barging works
Get a personal walkthrough of Dialpad Ai Contact Center, or take a self-guided interactive tour of the app on your own!
When is the right time to barge a call?
There are three common scenarios when contact center managers will want to barge a call.
First, there's new agent training. When managers have new hires starting to answer phones, they'll need to be ready to barge calls in case the agents don't have the skills or experience to answer a question properly.
This gives new agents the chance to start gaining experience—without running the risk of leaving customers dissatisfied with the answers.
Second, call barging is useful when you're releasing new products or services. In these cases, whether you have seasoned agents or new agents, things can get tricky, whether it's because of bugs or issues with the new products, or because agents aren't super familiar with them yet.
In those instances, it's helpful for agents to be able to turn to their managers for help.
Lastly, there will always be those calls that involve angry customers demanding to speak to a supervisor, whether it's warranted or not. Managers can quickly de-escalate the tension in those communications by barging the call straight away, showing that they're ready to resolve the customer's issue quickly.
Can sales teams use call barge features too?