Categories
Customer Service Software
Customer Communication Platform
Products
Ai Voice

Ai Messaging
Overview
Front is a customer communication hub that surrounds every high-stakes conversation with team collaboration capabilities and contextual data to ensure responses are always fast, accurate and deeply personalized. Front's modern interface is inspired by email clients, which team members love because it's familiar and easy to use. Behind the scenes, powerful automation capabilities eliminate manual workflows across systems, and detailed analytics make it easy to improve team performance and the health of customer relationships.
The Front + Dialpad integration brings all your work communication into one place, from emails to live chat to phone calls. With your Dialpad phone accessible in Front, it's easy to call new leads or follow up with customers in one click, right from where you spend most of your work day — your inbox.
Key Features:
Native Calling
Initiate and receive calls directly inside Front and save time from switching between apps
Access call controls like recording, mute, hold and transfer from native CTI
Access recent and frequent contact list
Adjust inbound or outbound caller ID
Call Logging
Automatically log calls placed or received within Front back to the platform
Coach from Anywhere
Pop up real-time assist cards for frequently asked questions that include canned response as well as the option to include a hyperlink

How Dialpad Integrates with this App:
The Front integration is available as a CTI in the Front environment.
How to setup
Enable the Integration
From Front, navigate to Settings > Integrations.
Find Dialpad in the list and select the toggle to enable the in-app Dialer, then select Save
Open the Dialpad plugin through your integrations panel to make or receive calls and send or receive SMS texts through your Dialpad number; you can also view call and text history with a specific Dialpad contact
Like other integrations, you need to be a Front Admin in order to set up the integration.
Note:
If you are on the Pro or Enterprise plan and would like to enable the integration with Call Logging in Front, you will need to be a Company Admin in Dialpad as well to get an API key.
Use the Dialpad CTI in Front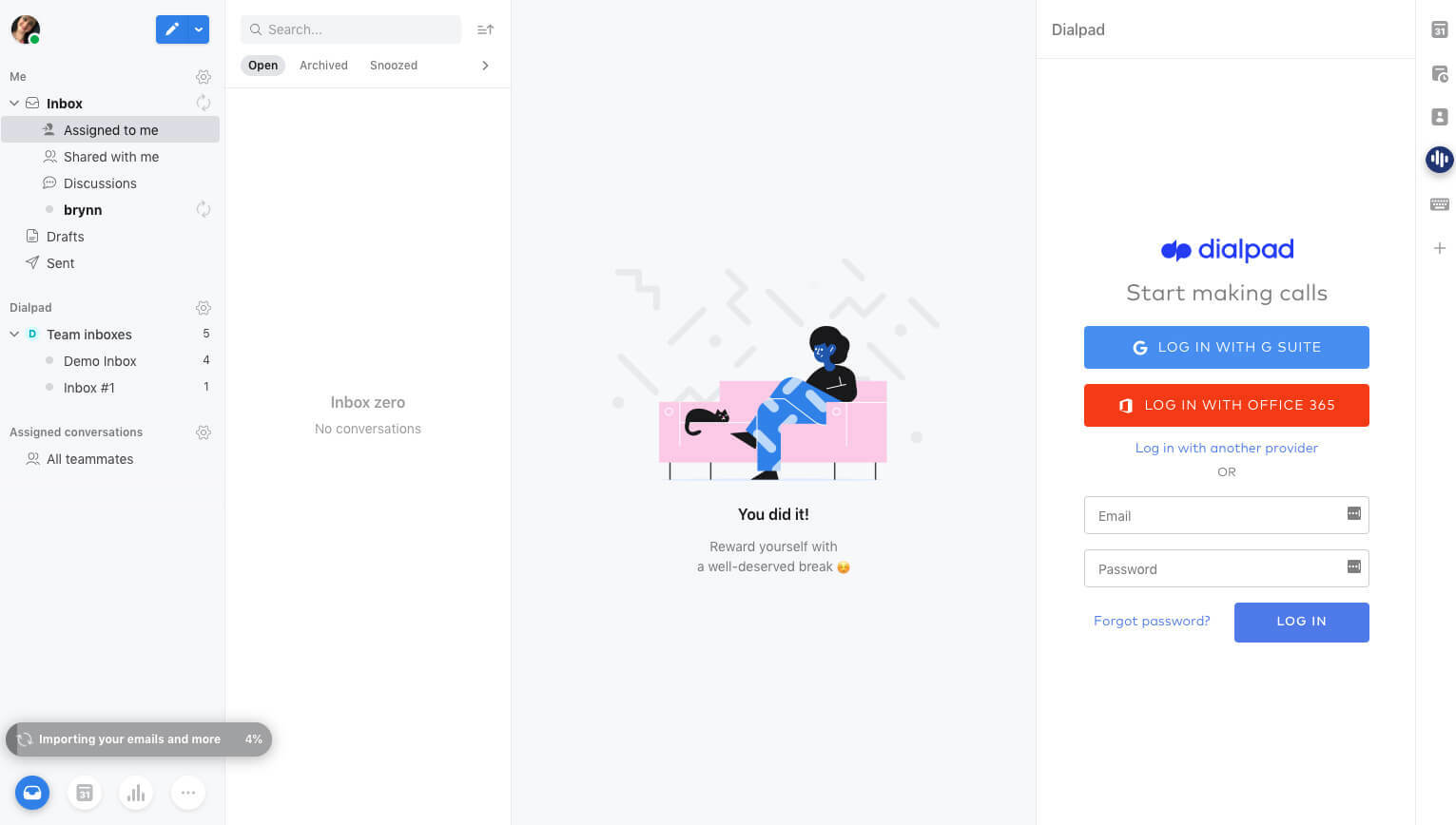 Once your Front Admin has enabled the integration, you should see Dialpad in your integrations panel to the left. Click on the Dialpad logo to login to your account and start making calls directly from Front.
The Dialpad widget also houses general app settings that users will be familiar with using the desktop app. Those include:
Profile settings
Caller ID toggle
DND toggle
If applied, Custom Off Duty Status' for Call Center
Call screen/search
Make a Call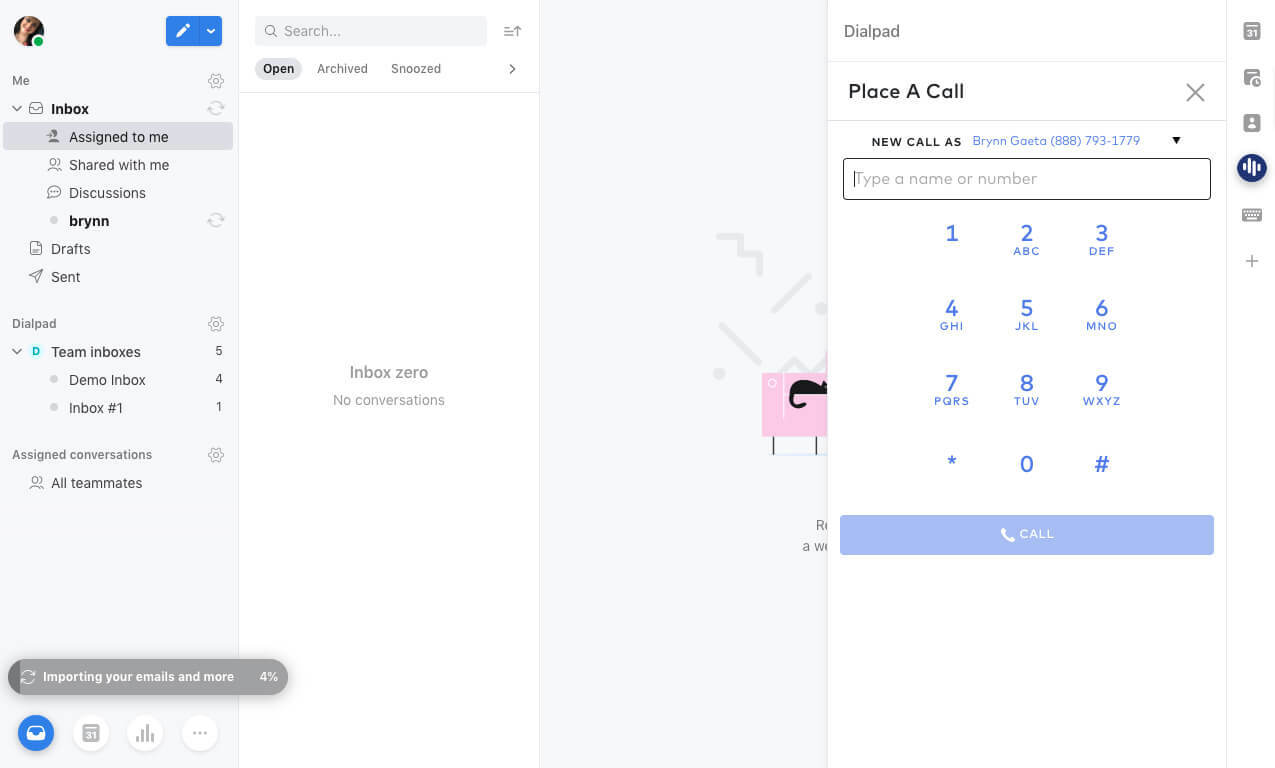 From Front, navigate to Dialpad (integrations panel) > Place A Call and enter a name or number.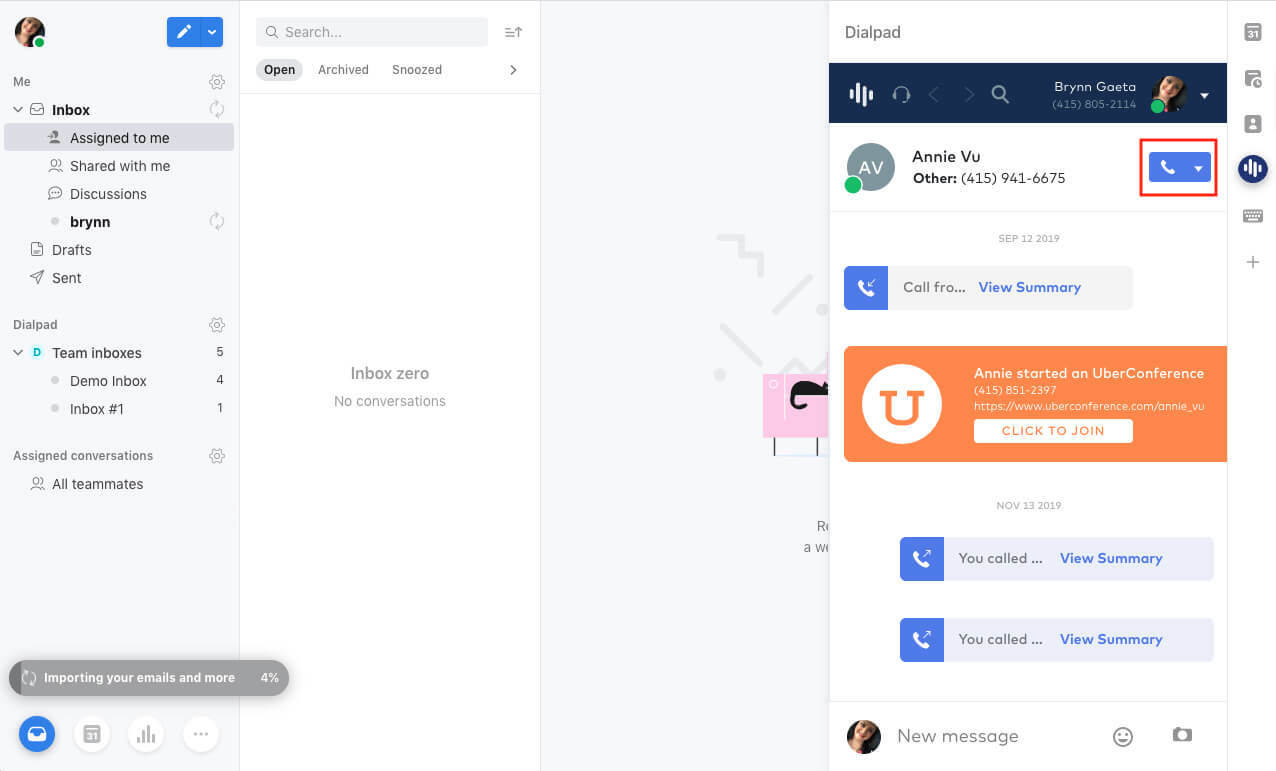 You can also search for a contact first and then select the Phone icon in your conversation thread view.
When you receive a call, you will need to click into the Dialpad CTI to answer.
Send a Message
From Front, navigate to Dialpad (integrations panel) > Search icon to enter a name or number. You'll then select the Phone icon to start dialing.
Set Yourself to Do Not Disturb (DND)
From Front, navigate to Dialpad (integrations panel) > Your Profile > Do Not Disturb. Select Disable to turn off Do Not Disturb.
Additional info
Switching between different applications at work can slow you down, and every minute matters when it comes to resolving a customer issue or following up with a lead. Connecting Dialpad and Front streamlines your communication with your leads and customers and makes it easy for you to respond across all the ways they want to reach out: email, SMS, live chat, or over the phone. With the Dialpad Front integration, you can

Create calls directly from Front and save time from switching between apps
Create a recent and frequent contact list in Front so you can access the information you need quickly
Adjust ID and make changes in Front as the integration will automatically sync between the two platforms
Clear your inbox faster and delight your customers with quick turnaround
Instantly connect with customers, build stronger relationships, and deliver a better customer experience with sales and support over the phone