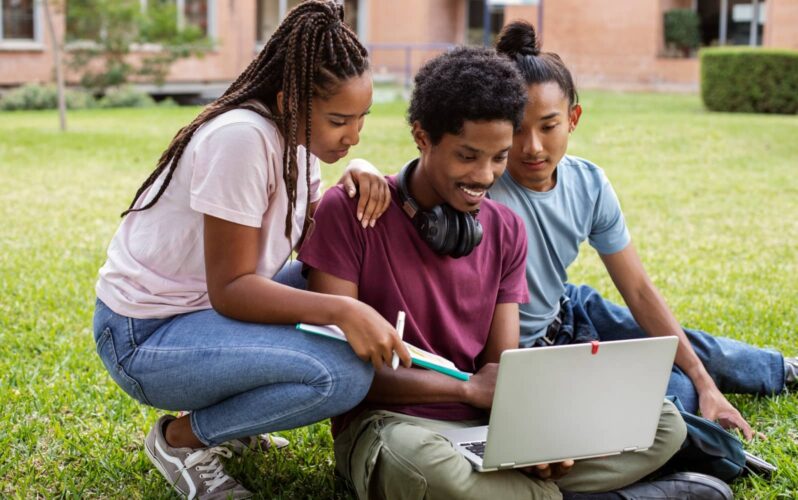 Segment
Industry
Integrations
---
For almost 60 years, EF Education First has helped millions of people experience new places and cultures, and learn new things about the world and themselves. Their mission: open up the world to education through educational travel, study abroad experiences, and academic programs.
As a heavy call center company, EF used to have very few options for working remotely. Most of the employees at EF relied on being in the office because of their physical desk phones.
While EF originally used Dialpad to keep their call center running smoothly from wherever their agents are, they've now seen massive success in other areas of their business.
Mike Monteiro, Senior Manager of People Operations at EF, shares how Dialpad improved outbound call efficiency by 33%, saved their team 10 hours a week, and helped improve their CSAT score—now at an impressive 97%!
"We can manage our call centers on our own, from anywhere"
EF chose Dialpad because it let their team handle all forms of communication in one place, which was a huge time saver. Having calls, voicemail, texting and call recording in one platform instead of four made managing accounts and the end-user experience much easier.
"
With Dialpad, we can set up a new call center in 10 minutes from anywhere. We have the flexibility to manage our call center on our own, and it's easy.
"
Mike Monteiro
Senior Manager of People Operations
And not only does Dialpad make it possible for EF's call center agents to work remotely without losing productivity, but supervisors and admins can now also set up new agents, spin up new teams, and manage phone numbers themselves in just a few clicks:
"
Dialpad gives us the ability to change our call center ourselves—without interruption and within minutes.
"
Mike Monteiro
Senior Manager of People Operations
Improving outbound call efficiency by 33% with Ai Agent Assist
When new hires get onboarded to EF's sales and customer service teams, they may struggle when certain topics come up. For example, some countries have stricter COVID rules, which makes it challenging for a sales rep to push the sale over the line. A customer service agent may not have the latest COVID information either.
EF can customize RTA (Real-Time Assist) cards to guide sales reps and customer service agents through speaking points, workflows, best practices, and more:

"If there's a new strategy or different information we need to give our sales reps or CS agents, we can easily use Real-Time Assist cards to help them," Mike says. "Our team struggles less with calls and can get through conversations faster."
Often, parents of traveling students call EF about issues they're experiencing. These calls can be challenging for EF's team to handle—that's when RTA (Real-Time Assist) cards, live transcripts, and live sentiment analysis come in.
"When a manager wants to look at all the different calls going on within a team, they can click to read the transcript quickly, see if there are any negative sentiments, and jump on the call if they need to," Mike says.
For the sales team, leaving a voice message used to involve sitting on a call for a minute and a half, only to find out no one's picking up. When you're making a lot of outbound calls a day, this time adds up. "With voicemail drop, our team can press a button right away to leave a consistent voicemail message every time," says Mike:

"It's not only Dialpad Ai that helps make calls more efficient for us. Real-Time Assist, Custom Moments, live sentiment analysis, and voicemail drop all help us make more calls," says Mike. "We're now 33% more efficient with calls."
Boosting CSAT from 89% to 97% over the last three months with Dialpad Ai + analytics
For the EF team, contact center analytics are essential for helping them monitor the percentage of answered/missed calls, understand the reasons behind longer customer service calls, and more.
With Dialpad's call analytics, they now know how long inbound calls tend to be at certain times of the year:
For example, during the time of year that they're doing enrollments, the calls tend to be longer. At other times of the year, the calls should only be three to five minutes.
"If the call is going longer when it shouldn't be, we can dig into why it's going longer. We'll look at Custom Moments to see what the call's about, then follow up with the agent to see what's going on," says Mike.
Fun fact: Custom Moments are keywords and topics that Mike and his team can set up so that Dialpad Ai can track how frequently these come up in sales and support calls.
The sales team uses Dialpad to review outbound call analytics too. "For the sales team, we look at the number of outbound calls, number of contacts, and talk time. For example, if a sales rep had 100 outbound calls, but only 30 total minutes of talk time, we dig into why and what was going on," says Mike.
But the biggest benefit of these analytics have probably been for EF's customer service team.
After testing out different methods of collecting CSAT scores, the customer service team realized that once they turned on Ai CSAT in Dialpad, they could get a more holistic, representative view of customer satisfaction.
How Ai CSAT works: One of the biggest challenges with collecting CSAT scores is that not a lot of people actually fill out those surveys.
On a related note, usually only the angriest—and happiest—customers bother responding, which means your CSAT answers are likely skewed and not representative of how your customers feel overall.
Dialpad's industry-first Ai CSAT feature is designed to solve exactly that—it can infer CSAT scores for 100% of your customer calls. The result? A much more representative sample size for CSAT scores, and a more accurate understanding of how satisfied your customers really are:

"Over the last three months with Dialpad, we've been getting over 97% in CSAT, from about 89% previously," says Mike.
And when they need to make sure that new hires are getting ramped up and performing consistently, the EF team can use Dialpad's QA Scorecards to help coach their sales and customer service teams.
"We use QA Scorecards for our new hires when they do introductory calls. We use them to rank whether our new hires are hitting all the points they need to and how they're doing," says Mike. "Then, we show our new hires their scores in the last two weeks to see how they can improve."
"More concrete data than ever before" with Custom Moments
Maintaining a high CSAT score isn't an easy task. For the EF team, figuring out trends in customer service calls used to mean manually going through calls, writing notes down, and sharing Excel sheets. And even though they were still achieving a pretty high 89% score, it required a lot of time-consuming manual work.
Now, with Dialpad Ai, they can instantly see if customers are calling about logins, payments, the traveler app not working—whatever the biggest issues are, they can spot them and solve them, right away.
"Custom Moments give us more concrete data than before, in real time. We get more insight into issues that are happening and we no longer have to share Excel sheets with each other. We're twice as efficient now when improving our services," says Mike:

Beyond helping the customer service team pinpoint common service issues, Custom Moments are also useful for staffing more effectively.
"Every once in a while, there'll be a spike in calls that we're not expecting," says Mike. "Custom Moments help us dig into why we're seeing this spike in calls, and staff our team staff accordingly next time":
Using Dialpad Ai to brand products while speaking their customers' language
Dialpad's Custom Moments also helped EF's customer service, sales, marketing, and research teams come together on a tour branding project. It all started with the research team listening in on calls and using Custom Moments to identify commonly used words from customers.
"We're using Custom Moments to create labels for our tours because it shows us how customers are talking about our different tours. If they're talking about Italy, for example, they tend to call it a hands-on experience. This helps us label and brand our tours using words that customers use," says Mike.
Integrations with the tools they already use
Another tool that helps EF save time? The Dialpad + Salesforce integration, which comes with click-to-call functionality and a power dialer. With this integration, the EF team can have sales and customer support calls right inside Salesforce:

Plus, the power dialer lets EF's managers set up dial lists containing Leads, Contacts, Opportunities, or Accounts and assign them to reps. Reps can then dial through these lists automatically without bringing up each record individually.
"We're making more outbound calls and more connections with people, and wasting less time dialing a number from a sheet of paper or Excel sheet," says Mike.
"We're easily saving 10 hours a week."
That's not the only integration they're using with Dialpad either. They also use Dialpad's omnichannel contact center platform and Azure integration to streamline the agent experience.
One of EF's teams has a "contact us" form on their website. Form responses used to all just end up in the team's general support Outlook inbox. "Questions about payments, travel dates, and flights would all go into Outlook. It gets messy there," says Mike. "Now, our emails come through Dialpad, which the team is already using for their calls and texts. Dialpad's app also automatically gives us insights into the emails we receive, which was previously a very manual process."
With the Azure integration, it's easy for EF to manage their Dialpad accounts via Active Directory. "It starts auto populating accounts found in our system when creating a new Dialpad account, and only lets us create a Dialpad account when an active EF account is entered in the setup phase," says Mike.
"We can disable any Dialpad accounts for employees that no longer work for us, which frees up licenses that we can use for new employees—we don't need to purchase additional licenses this way."
Looking ahead: Dialpad + Chrome WebHID, chatbot, and APIs
Now that EF has had time to reap the benefits of more Dialpad features, they're on a roll! What's next for them? They're looking to leverage Dialpad + Chrome WebHID to easily integrate call controls into any compatible headset without any additional Chrome installation for call controls.
They're also looking to use Dialpad's self-service chatbot to easily provide customers with virtual assistance. "The language group is looking to take advantage of chatbot. They're investigating how to use it," says Mike.
While APIs used to faze the team, they're starting to understand how powerful APIs can be in building custom workflows and contact center capabilities.
With so many exciting features to explore, Mike shares how Dialpad has helped the team: "If we didn't move to Dialpad before the pandemic, I would have been so stressed trying to figure out how to make things work during the pandemic. It would have been miserable! I don't know what we would have done without Dialpad."
Need a better way to keep students, staff, and parents connected?
See how your team can use Dialpad's AI-powered communications platform to uncover real-time conversational insights, manage conversations across voice and digital channels, and much more. Book a demo or take a self-guided interactive tour of the app first!