Domo Integration
Overview
Domo's mission is to be the operating system for business, digitally connecting all your people, your data and your systems, empowering them to collaborate better, make better decisions and be more efficient, right from their phones. Domo works with many of the world's leading and most progressive brands across multiple industries including retail, media and entertainment, manufacturing, finance and more.

Now you can access and analyze your Dialpad data (last 90 days) directly in Domo to get a comprehensive picture of how your company is using Dialpad. With Domo + Dialpad, you can see how usage is trending over time for call volume and messages and gather composition of activity by call direction and department.

Key Features:
Visualize Next Steps

The Dialpad QuickStart app displays your metrics with Domo cards for areas like call quality, average call rating, and call volume
Admins can mix and match their metrics to shape smarter business decisions with datasets from business apps like Salesforce or Zendesk
Instant Insights

Dialpad metrics are automatically imported into Domo, so you have one central place to gain insights
Analytics You Can Act Upon

Better insights right at your fingertip. With the Domo Connector & QuickStart App for Dialpad, actionable insights are just a click away
How to setup
Installation and other instruction can also be found here: https://help.dialpad.com/hc/en-us/articles/360000377446-Export-Dialpad-Data-to-Domo-

Add the Dialpad QuickStart App
To add the QuickStart app, have your Company Admin (in the case of multiple offices) or your Office Admin (in the case of a single office) follow these steps:

Search for the Dialpad QuickStart app in the Domo store
Select Try It
Connect your Dialpad account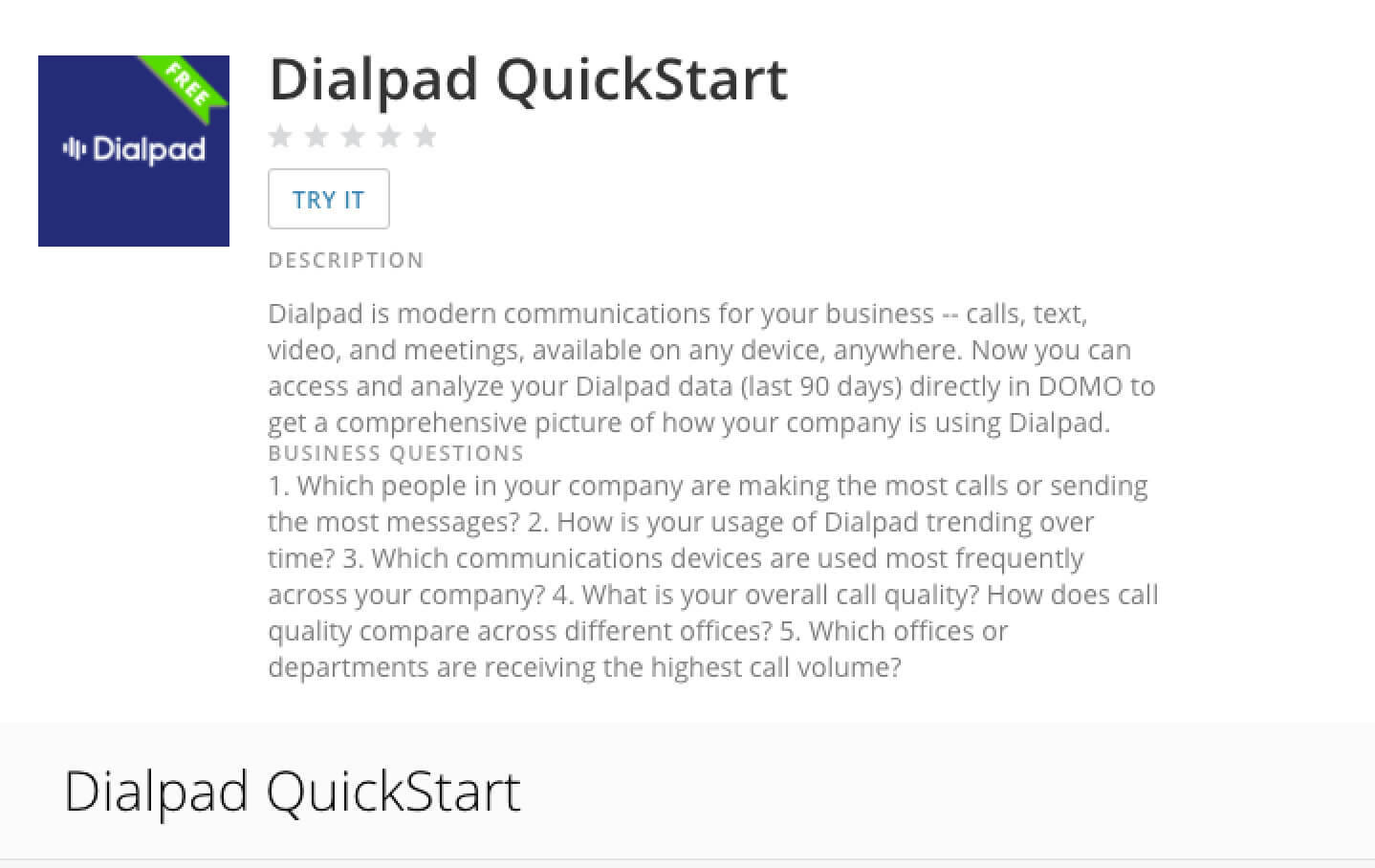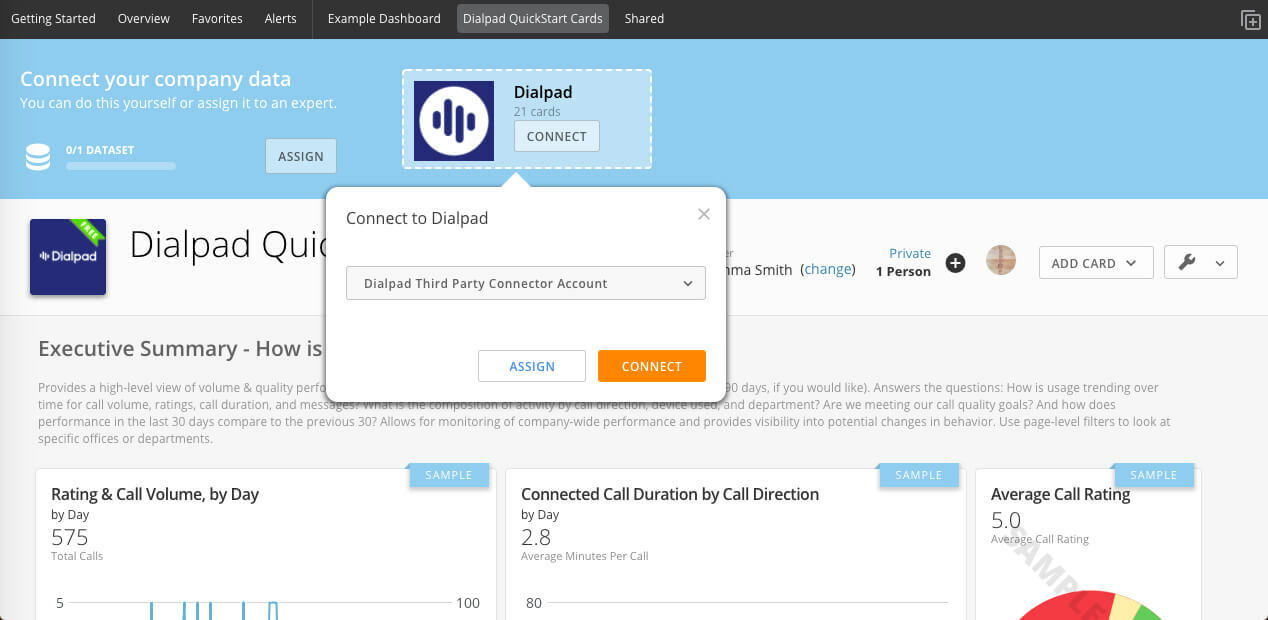 After connecting your Dialpad account, you'll see cards appear for fields like:

Executive Summary
Rating Call Volume, By Day
Connected Call Duration by Call Direction
Avg. Call Rating
Call Quality
Total Calls and % Connected Calls
Top-Rated Devices
Highest Rated Offices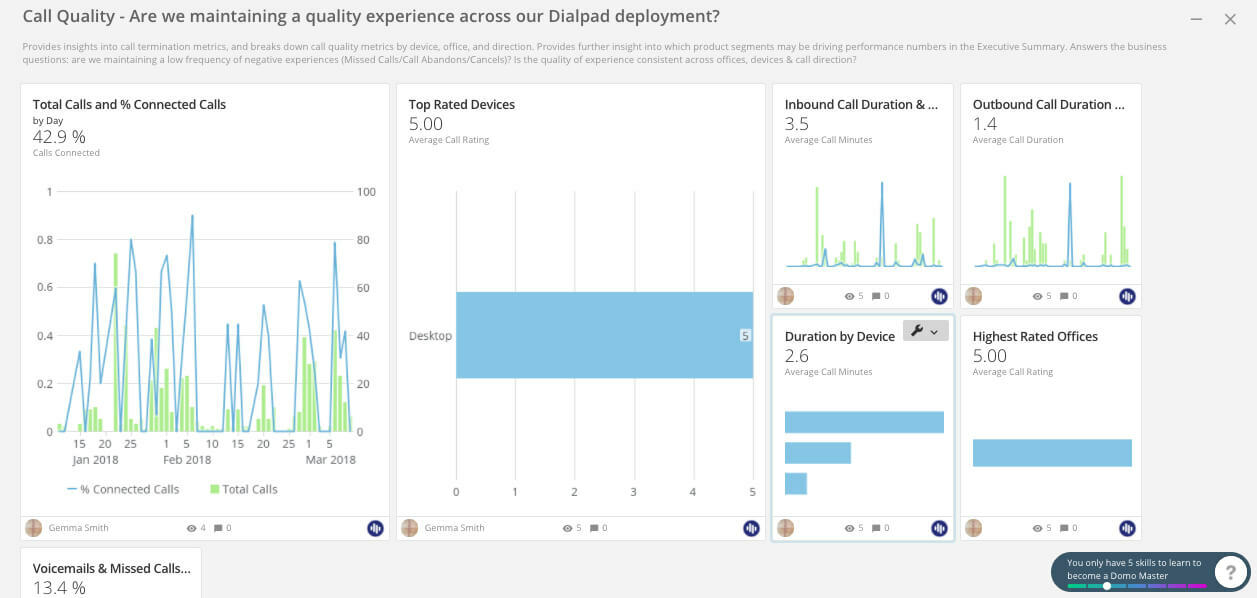 User Leaderboard
Most active users

Calls
Avg. Call Durations
Messages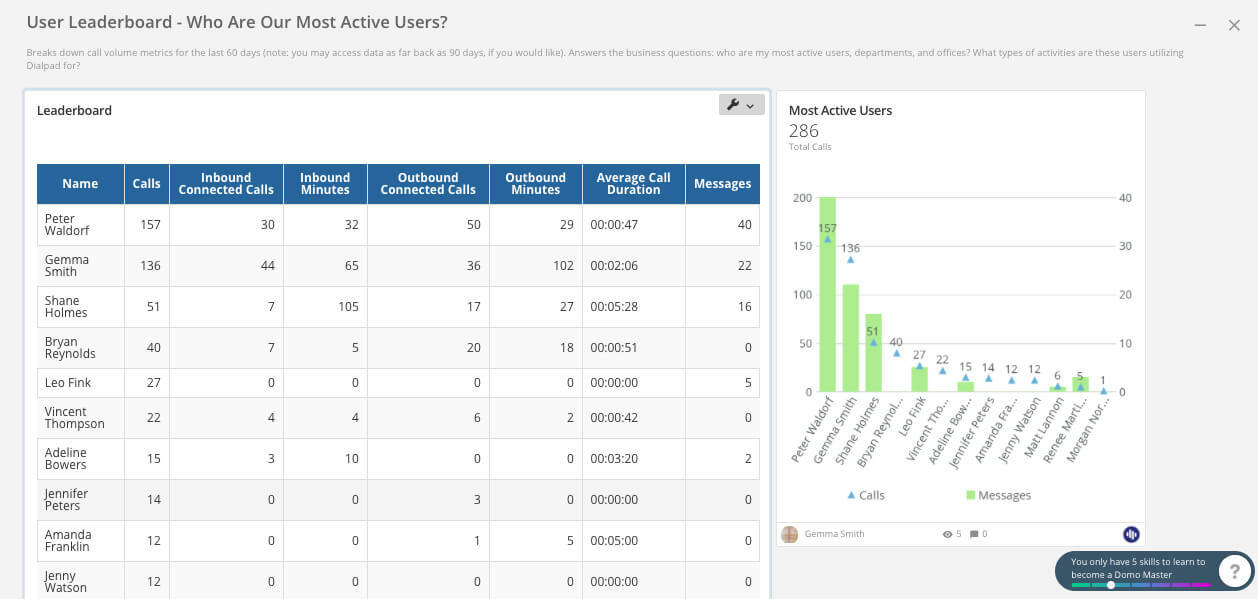 Once your QuickStart has been connected and displays your connected Dialpad data, you'll be able to customize individual cards for future use.
Filter Your Data
Need to filter your data based on Departments, Offices, users, etc.? You can do this right from inside Domo. Here's how:
When viewing your QuickStart app, select the Wrench icon
Turn on Page Level Filters
From here, you'll be able to select the different filter you'd like to see (Departments, Offices, etc.)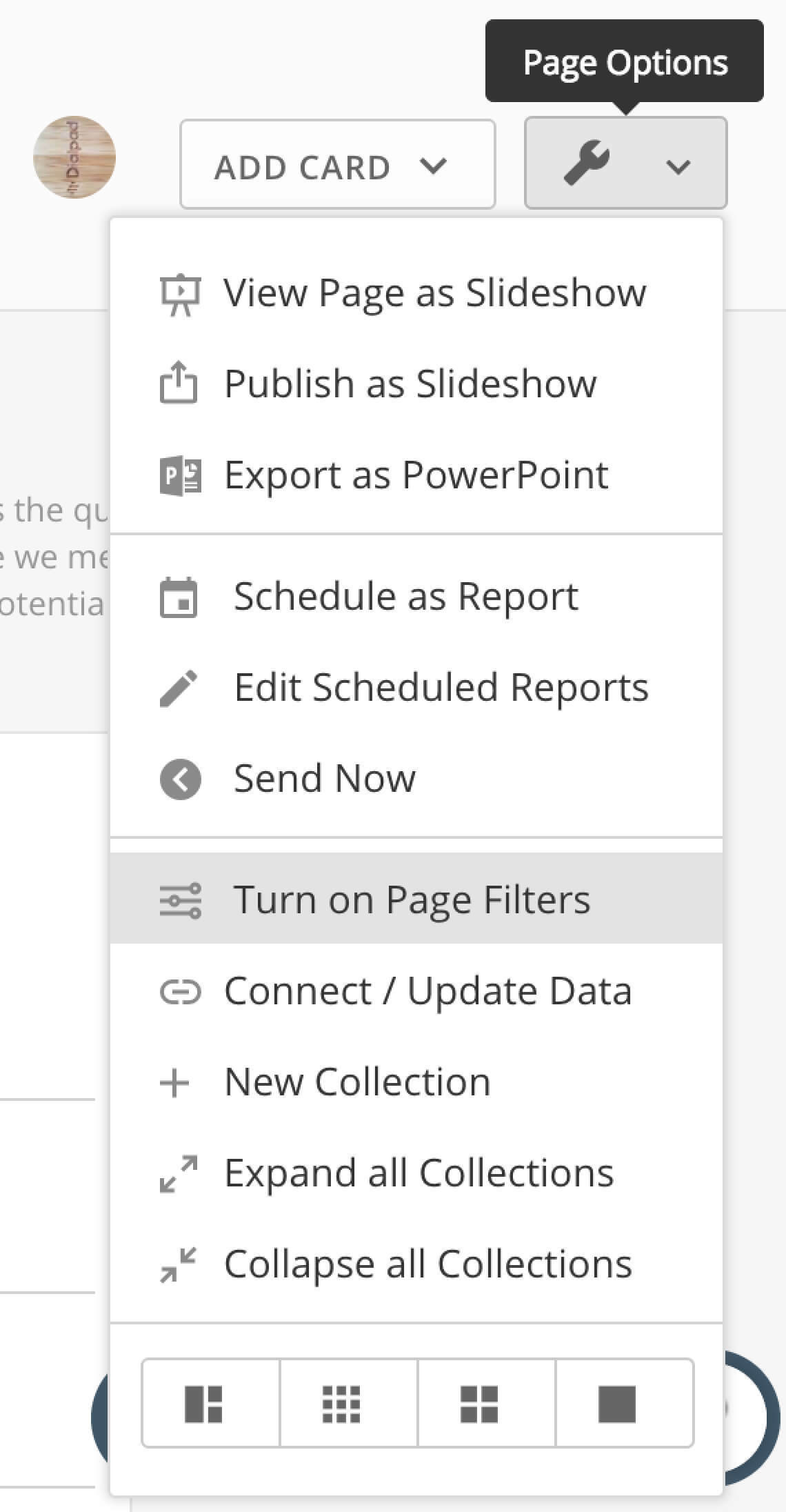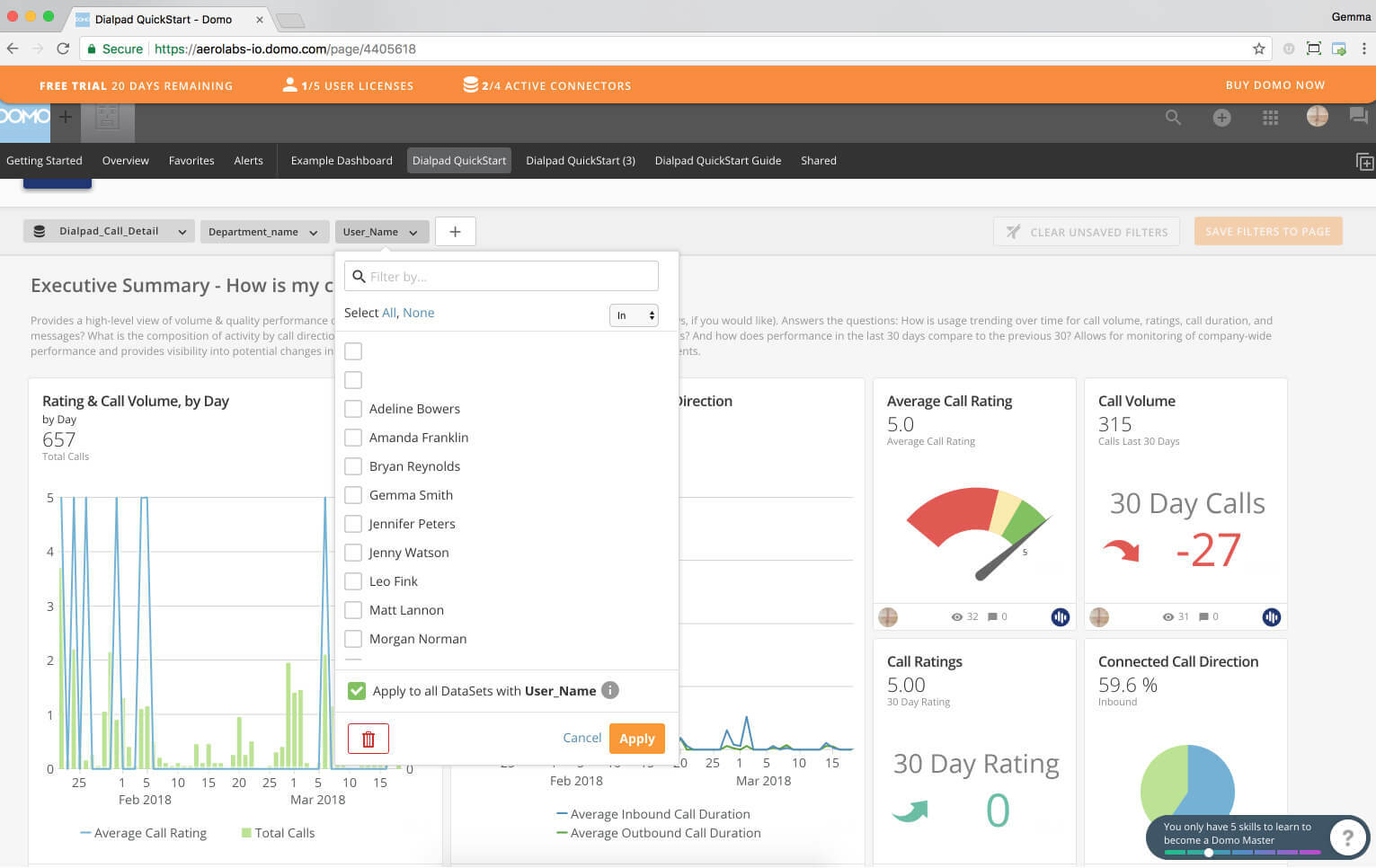 Additional info
After downloading the Dialpad Domo Connector from the app store, your Dialpad Admin will just need to connect your account and select the timeframe to update your data. Once you name and save your dataset, you'll be able to connect the QuickStart app to display, access, and customize your metrics.
More information can be found here: