Microsoft Teams Integration
Overview
When work is something you do, not somewhere you go, enabling your teams to stay connected, collaborative, and productive is essential. With the Dialpad and Microsoft Teams integration, team communication and collaboration gets easier. Dialpad's direct routing integration with Microsoft Teams unifies virtual workplaces into an integrated, flexible, global communication solution for organizations using Microsoft Teams as a collaboration tool.
Dialpad for Microsoft Teams is a cloud-native direct routing integration that seamlessly connects Dialpad's enterprise-grade telephony features into the Microsoft Teams native environment and allows those users to make and receive calls over the public switched telephone network. Whether you are in a chat with one individual or in a group channel, you can create a new Dialpad Meeting link and hop on a video call or screen share using a simple command within Microsoft Teams.
The integration features an accelerated and straightforward onboarding process that automatically configures connections between Microsoft Teams and Dialpad users, relieving IT of managing the process. With centralized administration streamlined and accessible, Dialpad for Microsoft Teams removes complexity, enabling efficient management of all communications across Microsoft Teams and Dialpad users.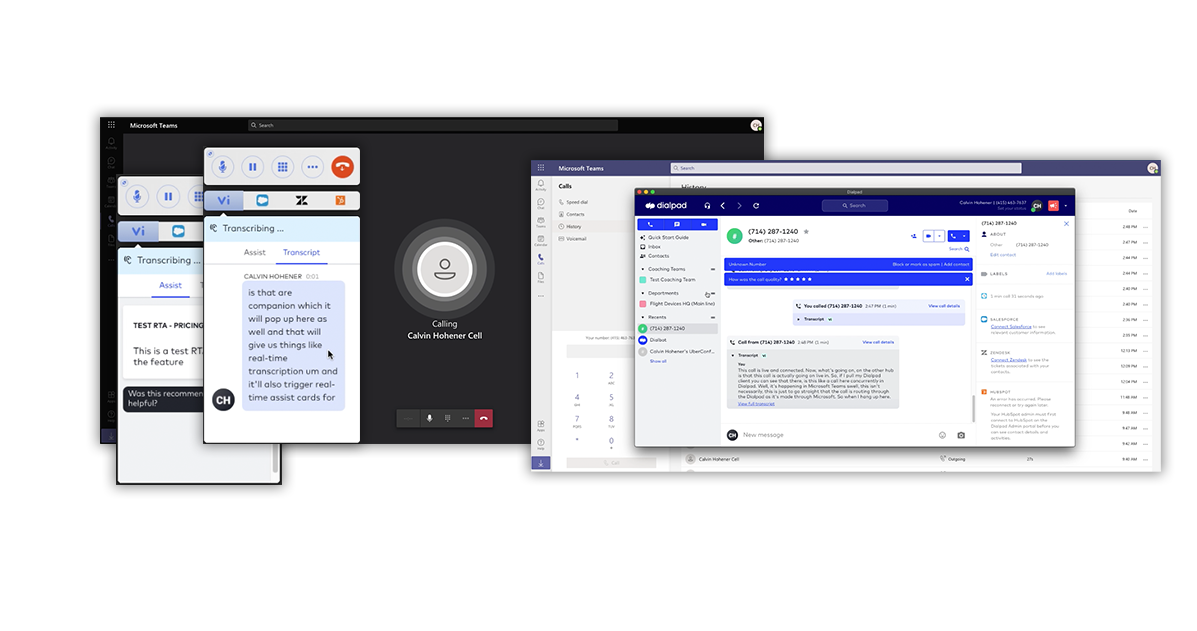 A Better Calling Experience for Teams
Unified Connected Communications

Integrating Dialpad with Microsoft Teams creates a single enterprise-grade UCaaS solution with advanced telephony for the entire organization.

Sophisticated call features for all users include call hold, recording, ring groups, call queues, transfers, and more.

Direct routing enables global calling with PSTN connectivity in 49 countries.
Native Cloud Contact Center
Access to out-of-the-box CCaaS features, including inbound & outbound calling, omnichannel interactions, real-time coaching, and more.
Native Business Integrations

Over 38 native business app integrations and Open APIs to unify and extend virtual workplaces and teams
Ai-Powered Analytics
Real-time metrics and call analytics for all users, giving managers robust AI-driven insights into every call across the Dialpad network, including Microsoft Teams calls.
End-to-End Single Vendor Solution
Dialpad took the extra steps to develop our own native Teams integration, eliminating the hassle of dealing with any additional hardware, software, or 3rd party vendors.
Straightforward Pricing and Deployment
Save on the total cost of ownership with a truly no-cost integration, unlimited calling plans, and zero usage fees for both inbound and outbound agent calls.

Spin up new users, call centers, agents, and phone numbers in minutes.

Make changes on the fly for both Dialpad and Microsoft Teams users and have them reflect in real-time.
Make Smarter Teams Calls
Dialpad Voice Intelligence (Vi™)
The same Voice Intelligence technology within Dialpad applications is part of every Microsoft Teams call across the Dialpad infrastructure.
Dialpad Everywhere Companion Mode

Automatically launch AI-powered real-time transcriptions for all Microsoft Teams calls.

Save on training and get agents ramped up faster with real-time coaching capabilities and customizable recommendations via real-time assist cards.

The quick access bar allows users to access needed applications with one click during a call.
See The Bigger Picture
Get reliable contact center metrics on queue activity with real-time dashboards for all calls.

View historical metrics across both Dialpad and Microsoft Teams calls with week, month, or 90-day reports.

Spot trends over time with keyword analytics.
Integrated with Dialpad Meetings for AI-Powered Productivity
Just an @ Away
When you create a new meeting card using our intuitive bot, it will display details like the conference URL and participants invited and offer everyone the ability to join the meeting right from Microsoft Teams.

Once the meeting participants are inside Dialpad Meetings, they can choose to join via voice or video, and they will also have the ability to share their screens if needed.
Have smarter meetings with Dialpad Voice Intelligence (Vi™)
By transcribing your meetings in real-time, participants will always know what was said and by whom.

When your meeting ends, Dialpad Meetings will automatically update the meeting card with a mini meeting summary, a link to the transcript and meeting notes, a list of participants, and a recording of the meeting.
Option to use Microsoft Teams for team chat and Dialpad Meetings for video conferencing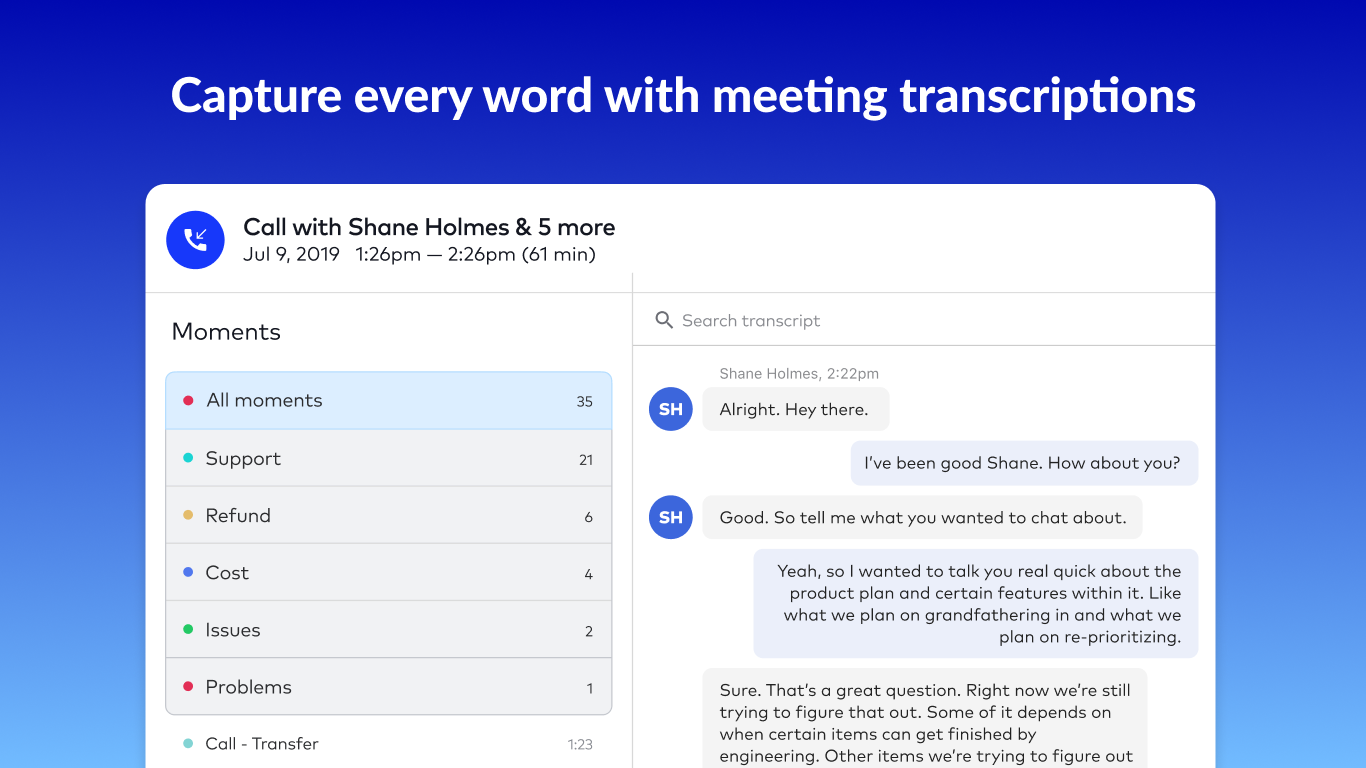 Additional info
The Dialpad for Microsoft Teams integration is included at no additional cost to users with our Pro or Enterprise plans for Dialpad Talk, Contact Center, and Sell.

More information and support can be found here: