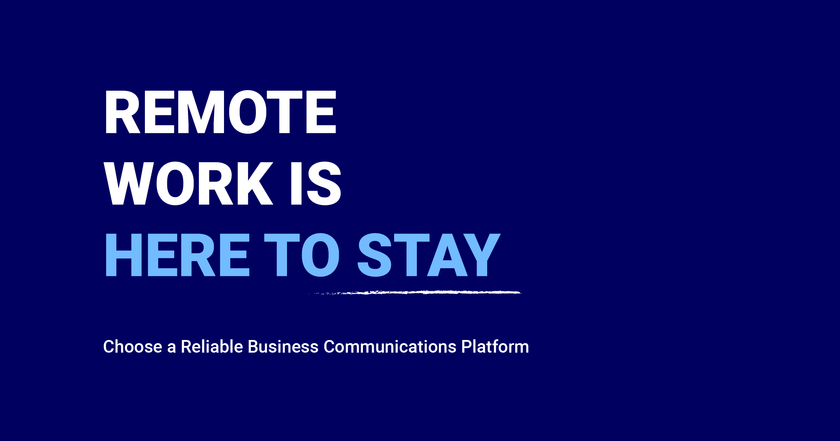 December 17, 2020
COVID-19 is still on the rise, and many businesses are wondering when it will be okay for all employees to return to the office. Yet that may be the wrong question to consider. Businesses should instead ask: "What can we do to empower our teams to work effectively from anywhere?" Fewer employees are returning to the office, so businesses need to focus on offering flexible, cloud-based tools.
Communication is at the center of every workflow. If you can effectively communicate internally and with your clients or customers, you'll remain prepared not only throughout the length of the global pandemic but also as the future of work continues to shift. See, it doesn't look like remote work is going away. Remote work started out as a trend, and now it's here to stay. That's why your business needs to go all-in on a cloud-based business communications platform.
Businesses that already migrated to reliable platforms such as Dialpad find that they operate as efficiently as ever despite many employees working remotely for the first time ever in their careers.
Don't Rush Back to the Office
Around 25% of employees in ten of the largest U.S. cities returned to offices as of November 18, according to the Kastle Systems (Wall Street Journal). But that's a figure that has since dropped due to another wave of COVID-19 cases across the country. Employees concerned for their safety are pushing against a rush to return to the office and the 'business as usual' mindset. Kastle Systems recently estimated that less than 20% of employees in major cities are in-office.
Several healthcare companies are developing a vaccine, but it'll take time to be fully distributed. Even after the first round of vaccinations are out, everyone will need a second 'booster' shot later on. So expect a gap between shots as well as when a person is fully vaccinated. Now you're understanding that a return to the office immediately isn't likely for many businesses.
Create a plan centered around productivity and safety. You shouldn't sacrifice one to obtain the other. If you choose the right tools, your employees will remain productive no matter where they're located.
Make Your Team Feel Empowered
Stay connected, collaborate, and complete tasks easily. Businesses don't want more tools, they just want their existing tools to fit into their workflows. Empower your team and all employees through a simple, intuitive business communications platform that's tailored to unique needs.
In an office environment, think about common activities — calling clients, gathering for meetings, sharing files, or just chatting with colleagues. Each is still necessary after the shift to remote work, but employees are often struggling to manage them due to an outdated, complex business communications platform. Take it all to the cloud, and let your business communications platform exist anywhere.
Why Businesses Choose Dialpad
From enterprises and call centers to startups and sales teams, Dialpad's business communications platform ensures that all types of businesses, their employees, and customers are always in contact.
Voice Intelligence is by your side for every interaction. Discover not just the exact words from a conversation but also the key details worth extra attention to you and your business. It'll drive decision-making during calls and meetings, and afterward through insightful analytics.
Everyone knows how challenging 2020 was, and a full return to the office in early 2021 doesn't seem realistic. Dialpad is ready whether your business is all-remote or only letting a small amount of employees return to the office. Unlock the AI-powered future of work in your business using our business communications platform today.
Remote Workforce Preparedness Report: Enable your workforce to thrive in a modern, mobile environment
Learn More