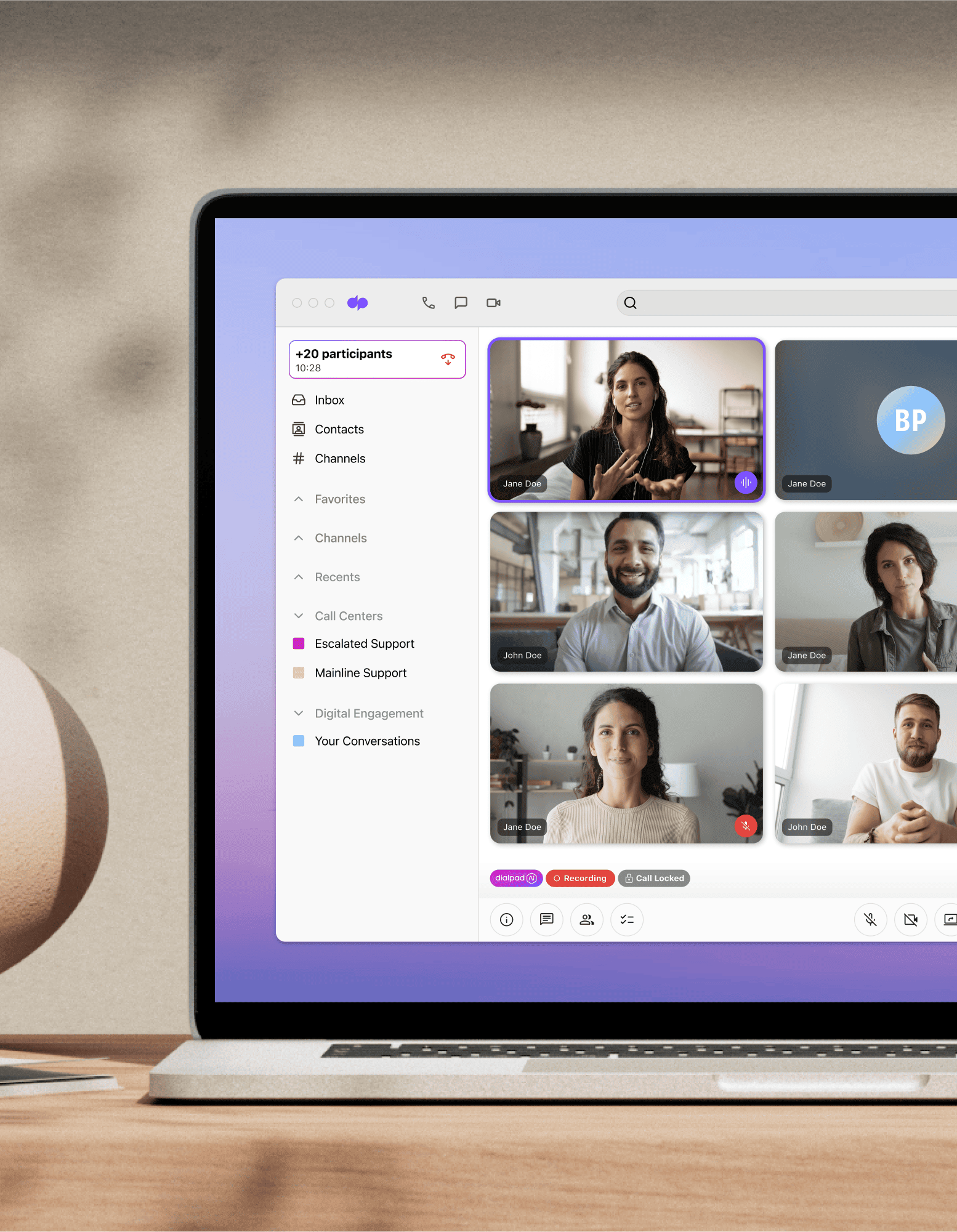 scalable + versatile
Cloud collaboration software
Whether you're running a small business or a global corporation, if you have a remote or hybrid team, then you'll need cloud collaboration software. Dialpad's AI-powered platform gives you phone calls, video conferencing, and SMS/MMS + team messaging, all in one beautiful app.

What is cloud collaboration?
Essentially, cloud collaboration is just teamwork that's done in the cloud—you might share files with a team member, send spreadsheets to a client for review, make voice calls through the cloud... The possibilities are pretty much endless.
Today, with more people working remotely and more companies going hybrid, this form of team collaboration that relies on the cloud is quickly becoming an essential part of work.

What are cloud collaboration solutions?
Similarly, a cloud or online collaboration solution is just an app or piece of software that makes real-time online collaboration possible—and it usually streamlines your workflows and saves you time too.
You're probably already using some great cloud collaboration tools like Google Drive (Google Docs anyone?), Microsoft 365, and Miro (a great digital whiteboard tool).
Hint: If you can access that tool over the Internet on a desktop or mobile app, and it makes it easier to work with your team members around the world, there's a good chance it's a cloud collaboration tool.
The best team collaboration software features out there
Shopping for a cloud-based collaboration platform that's versatile? What functionality should you look for? Here are a few of the essentials.


Truly unified communications
No one wants to toggle back and forth between different apps all the time. (At least, we haven't met this person.) A good collaboration platform should be versatile and let you communicate via different channels—from one app or window. For instance, Dialpad gives you phone calls, video conferencing, screen sharing, and even SMS/MMS + instant messaging... All in one convenient place.
Integrations with your favorite tools
Using Salesforce already? How about Google Calendar? Or HubSpot? Dialpad integrates with a wide range of popular business apps. From auto-populating your video call invites with the online meeting link, to embedding a CTI dialer right inside your Salesforce dashboard, Dialpad can automate a ton of repetitive low-value tasks for you. (There's also an API if you want to build your own integrations.)

Any device, anytime
A good collaboration app should let you take your digital workspace anywhere. And Dialpad works across iOS, Android, Mac, and PC—and is also fully browser-based. That means you (and your clients or prospects) can host and join video calls without downloading anything. Just click a link and the online meeting will open up in a web browser!

Robust security
Beyond functionality, security is important too. After all, you might be exchanging sensitive information while collaborating with teammates or clients. Dialpad can help you stay HIPAA-compliant and SOC2® Type II compliant, and also has robust meeting controls. Remove unwanted guests, mute participants, block screen sharing, and more, right from your video conferencing screen.
Looking for a user-friendly cloud collaboration software?
With Dialpad, your remote or hybrid team can work from anywhere while being accessible to teammates, clients, prospects, and more. Book a product demo or take a self-guided interactive tour of the app on your own!

Set your status
Whether you're on a call or just busy and want to get some deep work done, Dialpad lets you set your status and pause notifications with just a click. This way, teammates can see when they should—and shouldn't—call you for a "quick chat."

Industry-leading AI
One unique thing about Dialpad is our artificial intelligence, Dialpad Ai. It's built by our own team—not whitelabeled—and can transcribe calls in real time (more accurately than almost all leading competitors). Not only that, it can also track how often keywords are spoken and even pop up helpful notes for, say, customer support agents as tricky questions come up on calls. And yes, that's all in real time!
Ai Recaps, for every meeting
Not only that, Dialpad Ai also automatically generates a call summary, powered by ChatGPT, with a short recap in natural language after your meetings—no note-taker needed.

Customizable caller ID
With Dialpad, you don't need to carry around two phones. When you're making a call or sending a text from the Dialpad app on your personal cell phone, you can choose which caller ID you want to display. Because hey, your personal number should be, well, personal.
👉 Fun fact:
Even the most basic Dialpad Ai Voice pricing plan comes with unlimited calling in your country, the US, and Canada.
Why are businesses using cloud-based collaboration tools?
If you're currently working in a remote or hybrid workspace (or you have plans to hire more people around the world), then you already have a great reason to start considering cloud-based collaboration tools. Here are some of the biggest reasons why both enterprises and small companies are using cloud-based collaboration software.

It improves workflows
Instead of multiple people emailing back and forth about a document and tracking changes, team members and project managers can now work together in real-time—with version control! And instead of having to wait days or weeks to set up a new hire with their business phone number, an admin can now do that online in minutes. (No, really, ClassPass is doing that.) With cloud collaboration tools, you can improve and streamline almost any workflow, and get more done in less time.
It provides better accessibility
When data is stored in the cloud, that lets your remote employees access it from anywhere, and on any device. Whether you use an iPhone or an Android mobile device, whether you're using the on-site Intranet or off-site Wi-Fi, you can always access the information you need to do your work—without having to be in the office.

It allows for more flexible working arrangements
With a good collaboration tool, you can work from pretty much anywhere with a good Internet connection. In fact, Coye Law Firm's team can even work across continents and time zones!

It helps promote team-building and company culture
Building team culture is harder when everyone's scattered around the world. Again, a good collaboration platform can help. From setting up a virtual water cooler to online team celebrations, there are a ton of ways to nurture those work relationships and make everyone feel truly like they're part of a team—even when we're all apart.
Does your team have a good cloud-based collaboration tool?
If you're part of a remote or hybrid team, being equipped with the right tools can make a world of difference when it comes to teamwork and productivity.

At Dialpad, our own team is hybrid—we have offices around the world, sure, but we also have team members who work 100% remotely. And that has given us tremendous insights and learnings that have helped us build a versatile platform that empowers our teammates to collaborate, every day.
From video calls, to phone calls, to messaging (to even a fully integrated cloud contact center product), Dialpad is designed to make team collaboration as easy and frictionless as possible. Try it out with a free trial!

A communication platform that's designed to make teamwork work
Need to make phone calls, have online meetings, and send messages? Sign up for a 14-day free trial to take Dialpad for a test drive! It takes just a few minutes (even faster if you sign up with your Google or Microsoft 365 account), and you'll even be set up with a virtual business number. Or, take a self-guided tour of the app on your own!
FAQs about cloud collaboration tools
What are the different types of collaboration tools?
You can think of collaboration tools in terms of a few categories or groupings:
There are communication tools, which are essential because team members need to be able to talk to each other in order to effectively brainstorm, plan, and carry out ideas for projects. Good communication tools should cover the basics in one app to minimize time (and effort) wasted on toggling back and forth: making phone calls, video conferencing, SMS/MMS + instant messaging.

There are also project management tools, which help with things like task delegation, progress tracking, and other task management or workflows that your project managers handle on a daily basis. Asana, Jira, and Wrike are probably three of the most popular names when it comes to project management software. (If you really want to get into the weeds, there are also collaboration tools built around how teams prefer to visualize workflows—you'll often hear of Gantt charts and Kanban board templates in this context.)
On a related note, cloud storage or file management is going to be important for most companies. Whether you use Google Drive, Evernote, Dropbox, or OneDrive, or any other file storage or sharing tool, you will need something to hold all those spreadsheets and documents.

The last big category here is customer relationship management, or CRM tools. Salesforce, HubSpot, and Zoho are the big names here, and these CRMS help customer support, sales, and marketing teams keep track of customer and prospect information. Who wanted a demo from you? What did the customer complain about last week? All of this data gets logged in a CRM.

What's a common mistake people make when it comes to cloud collaboration?
What should an IT team consider when it comes to cloud collaboration?
What free collaboration tools are there?
What are some cloud collaboration examples?
What are examples of collaborative software?