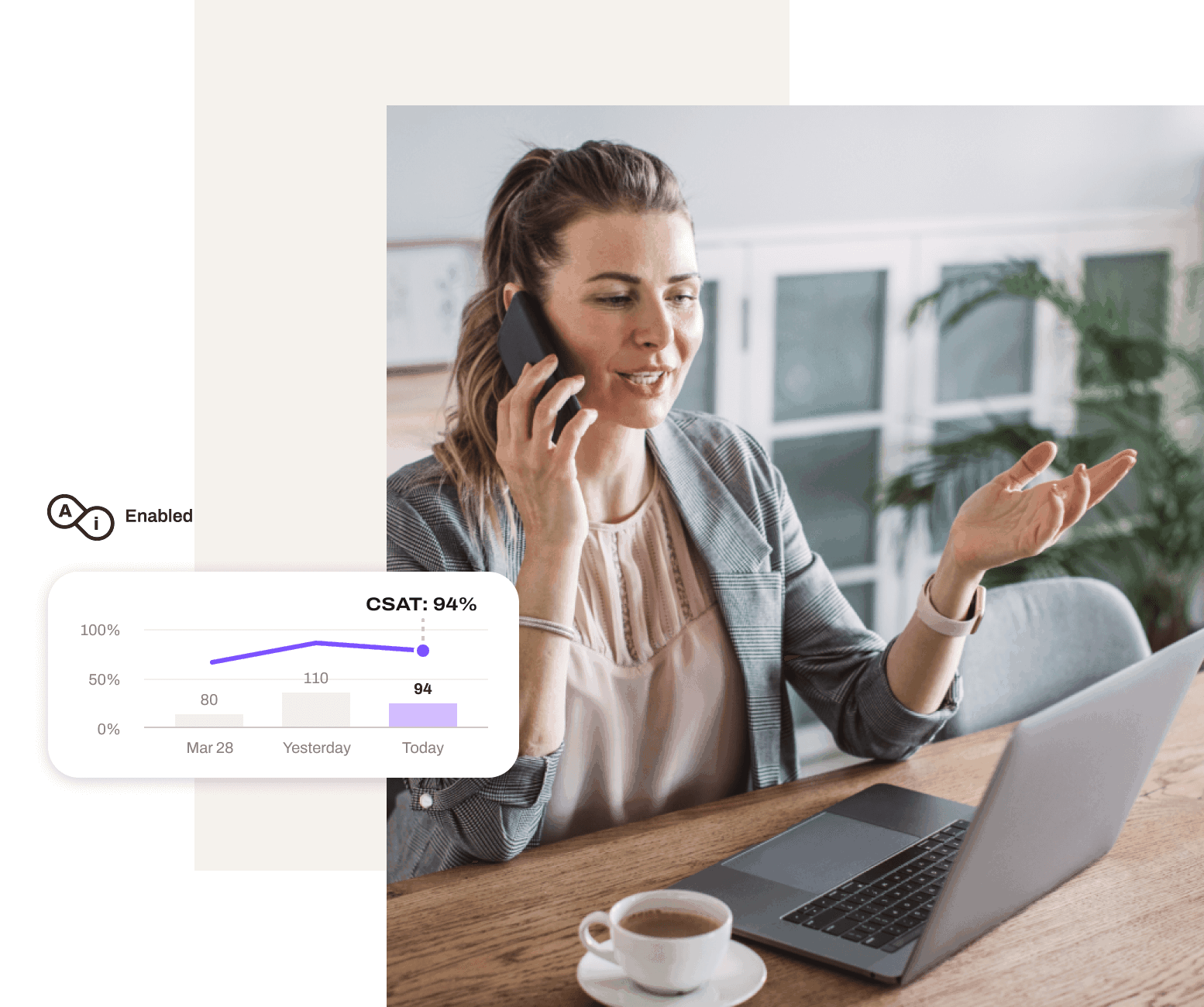 Customer satisfaction (CSAT) survey
Customer satisfaction (CSAT) surveys collect feedback instantly after an interaction. With Dialpad's AI-powered customer engagement platform, you can set up a CSAT survey in minutes—and also use the Ai CSAT feature to accurately predict feedback for customers who don't respond. Get a demo now!
Do you use CSAT surveys for your business?
A customer satisfaction survey is a questionnaire that customers are asked to complete after an interaction, usually after purchasing something or contacting customer support. You may already be using CSAT surveys to gauge respondents' opinions, but if not, here's how you can easily implement them in Dialpad.
The purpose of customer satisfaction surveys
CSAT surveys are useful because they help you gauge and identify customer satisfaction factors within different touchpoints in the buyer's journey. Used well, they can give you key customer insights that help you improve customer experience, boost customer loyalty, and better understand your target demographic.
More than just your typical customer satisfaction survey software
With Dialpad, you get more than a customer satisfaction survey tool. It also comes with product features like:

All your communications in one place
Dialpad isn't just a business phone system. It brings all your communications together in one place, from phone calls and video calls to external customer communications channels like social media and live chat. One user interface, one login, one beautiful experience.

Comprehensive CSAT insights
One of the biggest challenges with feedback surveys is that most customers don't bother filling out the survey. Dialpad's unique Ai CSAT feature can predict customer satisfaction from conversations and provide a predictive CSAT score, even if people don't fill out the survey.

Custom call routing
Dialpad comes with advanced call routing features that are fully customizable. Provide a better customer service experience by making sure your callers are reaching the right person or right department as efficiently as possible.

Live transcription
One of the unique things about Dialpad is its built-in artificial intelligence technology, Dialpad Ai. Not only does it transcribe conference calls and video meetings—in real time—it also does live sentiment analysis, which shows supervisors at a glance whether calls are going south and if they need to jump in to help an agent.

In-queue callback
Nobody likes waiting around in call queues. With Dialpad, you get an in-queue callback service that lets customers get a call back later without losing their place in line. No need to wait on hold for hours.
Real-time agent assists
Besides transcription and sentiment analysis, Dialpad Ai also lets your supervisors set up RTA (Real-Time Assist) cards with tailored notes on different topics that pop up automatically on agents' screens. For example, if agents get lots of questions about the onboarding process, you could create an RTA card with helpful info on it and set it to trigger every time "onboarding" or "getting started" is spoken on a call.
Integrations with your favorite tools
Dialpad integrates with a wide range of CRMs and other SaaS tools like HubSpot, Salesforce, Google Workspace, and more. Want to build your own custom integration? You can do that too with the open API.
Run customer satisfaction surveys with Dialpad
Set up surveys in a few clicks, use the Ai CSAT feature to glean even more customer insights, and a whole lot more. Get a demo to see how it works!
How to set up CSAT surveys in Dialpad
It's easy to set up a CSAT survey in Dialpad:
Go into your Settings dashboard to Office > Office Settings
Click on "Add CSAT Survey"
You'll be prompted to name your new survey. You can also choose whether you want to run a Voice/DTMF or SMS survey.
After that, you'll be able to customize your customer experience survey depending on what questions you want to ask your target audience. Choose your question, add a post-survey thank-you message, and more.
Dialpad also lets you create multiple surveys, which lets you measure more than one kind of user experience or interaction. For example, you might create two separate surveys for existing loyal customers and new customers, asking each group different questions.

Benefits of using Dialpad's platform to run customer satisfaction surveys
Customer satisfaction surveys are your window into your customers' minds—they let you grasp customer needs, understand the customer experience, and learn about where you need to grow. With Dialpad, you can harness that benefit and more besides:
Customer feedback from every call
Leveraging CSAT for call center improvement used to only be possible if you got decent response rates. With Dialpad, you can collect opinions from every call to better understand customer needs, thanks to the Ai CSAT feature, which lets gauge satisfaction even when customers don't complete a survey.
Robust, built-in analytics
Dialpad's contact center analytics dashboard don't just show you your CSAT scores. It also helps you track everything from average call times to missed and abandoned calls, and even average speed to answer.

Incredible ease of use
With Dialpad, you can set up CSAT surveys and collect survey responses in just a few clicks from your online dashboard. No need to reach out to a Customer Support or IT team for help, no need to wait hours or days to get a simple online survey set up.
Quantitative and qualitative data, together
Dialpad Ai lets you track more than just CSAT scores by allowing you to focus on the actual content of your conversations in addition to quantitative metrics. Numbers are useful, but what about the context? Why did a customer give you a great CSAT score? Having this additional context in your customer service analytics gives you a richer, 360-degree understanding of customer feedback and why you're meeting (or not meeting) customer expectations.
How to measure and score customer satisfaction surveys
Most CSAT surveys use multiple choice questions that ask customers to report their satisfaction with a certain interaction they just had with a company, using a rating scale.
If you want to, you can also add an open-ended question to ask customers why they gave you the scores they did. It's a great simple way to understand how your customer experience is performing, and is a key customer satisfaction metric.

To calculate it, use this formula:

Learn more about how to measure CSAT efficiently.

How to optimize your satisfaction survey questions for higher response rates
Make sure they trigger at touchpoints that make sense
A CSAT survey's goal is to help you find out what customers think of specific interactions throughout the customer lifecycle. You can ask respondents how satisfied they are with a variety of touchpoints, from a product purchase to a customer support interaction.
The most important thing is to make sure that you don't wait too long to send the survey. Ideally, a customer will see it right after the interaction you're trying to measure. For example, emailing them the survey right after they bought something on your website.
The longer you wait, the less likely they'll answer the survey—or remember the interaction accurately enough to give you a valuable answer.
Questions should speak the "language" of your customers
One of the best ways to improve your CSAT score is to prove you're listening to your customers, and what better way to do that than to write the surveys themselves in your customers' own language?
Let's consider what this looks like in a practical context.
If your target demographics primarily include tech-literate people, you shouldn't over-explain simple concepts, or you'll risk talking down to them. On the opposite end of things, if you're gearing the survey towards people who don't know much about modern tech, get rid of all the jargon. Keep things as simple as possible so you don't come off as elitist or exclusionary.
When in doubt, it's always best to tend towards simplicity and ease of understanding.
Use AI to get more survey responses
Regardless of how tech-savvy your target audience's demographics are, the fact is that most people don't take the time to fill out CSAT surveys—unless they're extremely upset or very happy with you. This leads to overly skewed responses that aren't quite as helpful because you're not getting the full picture. Maybe the vast majority of your customers are perfectly satisfied with their service experience, and didn't feel like answering the survey. But if you just took the responses from your very upset customers into consideration, you wouldn't know that.
To get a more comprehensive—accurate—understanding of customer satisfaction, use something like Dialpad's Ai CSAT feature!
Give an incentive for answering the survey
This is a huge CSAT best practice: even the quickest surveys take at least a few seconds to complete. That's time the customer could be spending on something else, so you've got to show them why your survey is worth their time. Incentives are a great way to do this.
Maybe you can offer them a discount or a freebie with their next purchase. You could also offer to include them in a raffle or giveaway.
Scale your company with customer satisfaction surveys from Dialpad
If you're looking for a built-in CSAT survey tool that's built into your everyday collaboration or customer engagement platform, Dialpad lets your team handle all their internal and external communications (phone calls, messaging, video meetings, you name it)—and manage a call center team, all from a single, beautifully designed app.
See how it works with a demo!

Get a personal walkthrough of Dialpad
See how Dialpad Ai can empower your agents with Ai CSAT, Real-Time Assist cards, live sentiment analysis, and more!
FAQs about customer satisfaction survey
What are the types of customer satisfaction surveys?
Beyond your typical customer satisfaction survey, there are other types of surveys too that can give you different perspectives on how happy your customers are with the overall experience or a specific product/service.
CSAT surveys, or customer satisfaction surveys, have been the main focus so far. They're used to understand your customer base better so you can improve your offerings and pursue more targeted marketing activities. They help your customers feel heard and understood throughout the customer journey, which can bolster their level of satisfaction and, therefore, customer retention.
Net promoter score (NPS) surveys measure how likely your customers are to recommend your company to their friends and loved ones. A high NPS score indicates a satisfied customer, or promoter, who is happy to sing your praises. On the other hand, a low NPS score represents a detractor, who will warn others away from your company.
Customer effort score surveys, or CES surveys, have the power to show you whether your customers find it effortless to shop with you. Ideally they would, but if anything causes friction for them and requires them to put in more effort, they can tell you via a CES survey.

What is the difference between CSAT and NPS?
What are the best customer satisfaction survey questions?
How do you create a customer satisfaction survey?
How do you conduct a customer satisfaction survey?
How do you analyze customer satisfaction surveys?
When do you send a customer satisfaction survey?