Categories
Customer Service Software
Overview
The Dialpad and Intercom integration brings sales and support teams a seamless experience across voice and messaging in their Intercom environment. This new integration allows Intercom users to easily switch between Dialpad's AI-powered calling and Intercom's business messenger during interactions with customers.
Enabling users to easily switch between messaging and voice by allowing agents to call customers from an Intercom chat, the Dialpad + Intercom integration also automatically logs that interaction in both Intercom and Dialpad. The app uses Intercom's private chat log, visible only to Intercom users, to log Dialpad's artificial intelligence link and recording.
With Dialpad's new app built for Intercom, support teams are able to reduce resolution times and increase customer satisfaction. By launching phone calls from Intercom's messenger, the integration also empowers sales teams to close high-intent deals faster.
The Dialpad for Intercom integration is available on the Intercom app marketplace to users with our Dialpad Talk, Dialpad Contact Center and Dialpad Sell Pro or Enterprise plans.
Key Features:
Seamless Calling:
Instantly initiate a call at any point during an Intercom chat conversation by sending a Call Me card, where customers enter their number and connect with you in seconds. When the call begins, a live transcription with real-time coaching prompts is automatically started in the Dialpad Everywhere widget, giving you a seamless transition between chat and voice.
Call Logging
Details are logged directly in the Intercom chat history, with an active link to the call recording and Dialpad Ai call summary transcript and features.
Coach from Anywhere
Arm agents with the right answers with real-time assist cards that include responses to frequently asked questions as well as a hyperlink to more information.
How Dialpad Integrates with this App:
The Intercom integration is available as a CTI in the Intercom environment.
How to setup
CONNECTING DIALPAD TO INTERCOM
Once installed from the Intercom app store (needs admin access), the Dialpad app is ready for all users in that Intercom instance.
Each user must authenticate with Dialpad in the Intercom inbox.
On any chat window, click the Dialpad icon and log in.
Select 'Allow' to connect Intercom with Dialpad, and click 'Reload' in the Intercom inbox to complete the connection.
Note: users need to be on Dialpad Contact Center or Sell licenses.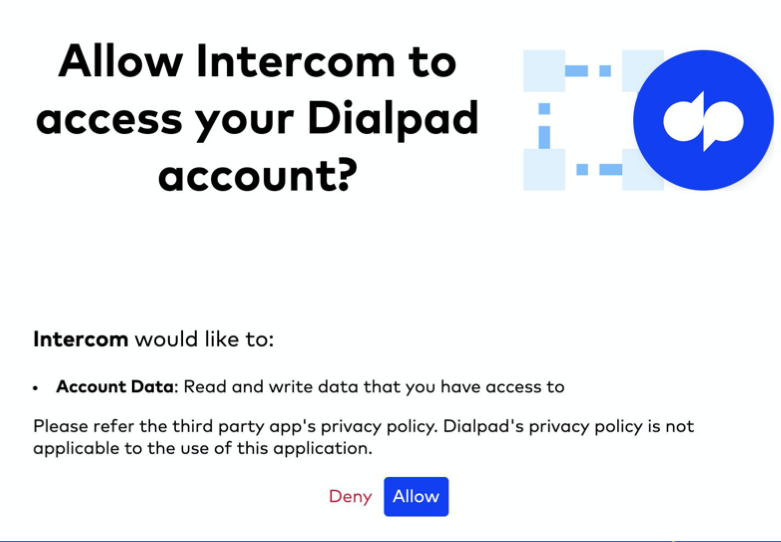 SENDING THE PHONE CARD
In the Intercom agent view, click the Dialpad icon.
If the agent is a member of multiple contact centers or departments, they will be prompted to select a group to dial from.
After selecting the group, a Dialpad phone card will be inserted into the chat.
Hit 'send' to send the card to the customer.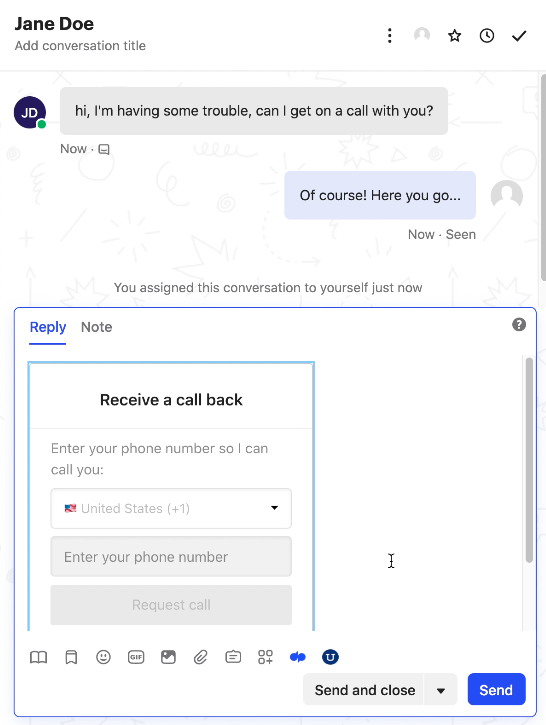 INITIATING THE CALL - CUSTOMER VIEW
The customer sees the call back card in their Intercom chat. After they enter the phone number and request the call, Dialpad will ring out all devices of the agent.
The agent will need to answer the call before an outbound call is made to the customer.
Note that the call-back request expires in 2 minutes.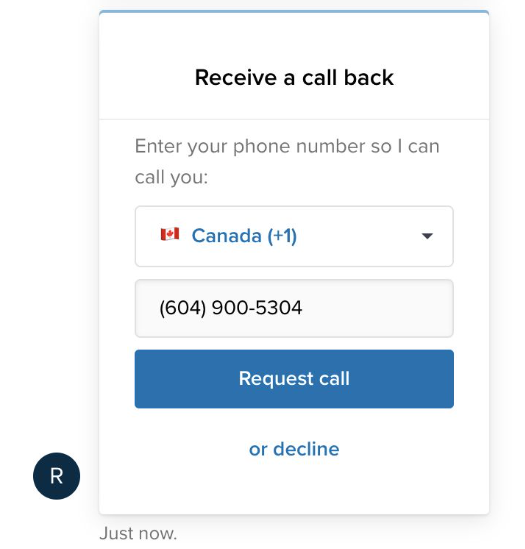 POST CALL VIEW
After the call is completed, Dialpad will log call details such as start time, end time, and duration.
If Voice Intelligence is enabled in Dialpad, a link to the summary would also be logged.