Back to Blog
The 6 best live chat software for contact centers, ranked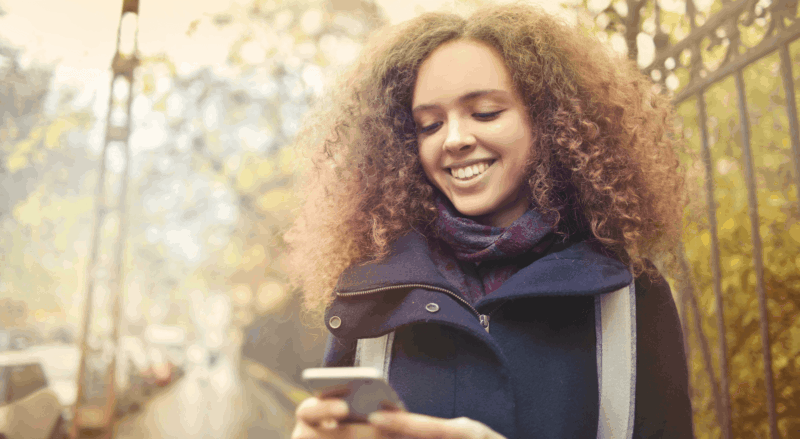 If your business has a website, you might be wondering if you should have live chat software on it.
Whether it's because your competitors are offering this communication channel or your customer support team is getting overwhelmed on the phones, live chat software can be useful for both small businesses and large organizations.
Having spent many years building customer service software, I've seen what makes for a great piece of live chat software—and what mistakes businesses should avoid when they're implementing this software. Keep reading to get a deep dive into everything you need to know when shopping.
Live chat support software explained
Essentially, live chat support software is like text messaging between a customer and a business, but through a widget on the business' website instead of texting between two cell phones.
It's become very popular, mainly because it lets people get immediate access to answers or customer support help, and is often faster than going through the phone or email.
How live chat software on websites work: When customers are on your website and need help, they can click (usually there's a widget on the bottom right of the screen) to open a chat window. The customer then types their question into the chatbox and begins the conversation. At this point, a chatbot or customer service agent will connect and help them in real time.
Depending on the type of software you're using, you could let a chatbot start the conversation and give your customer the option to transfer to a live agent if needed.
Here's what a live chat window typically looks like: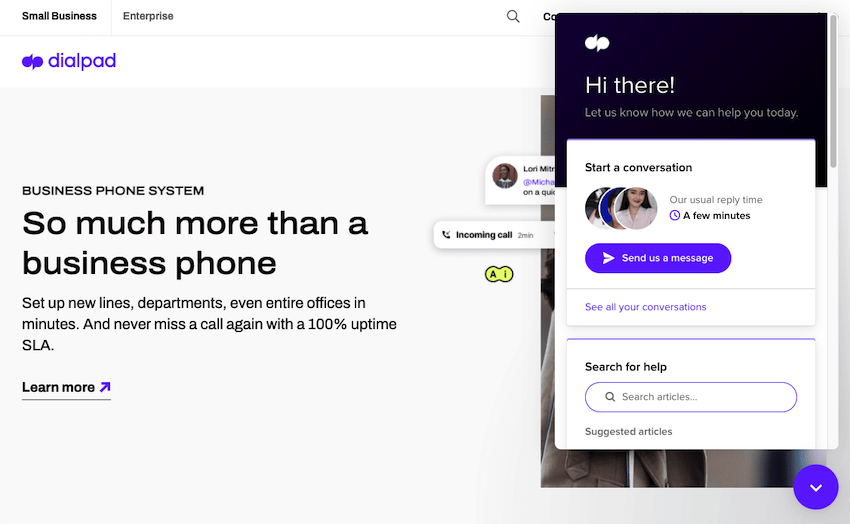 Typically, the chatbox window starts by giving someone the option to go down the self-service route by searching for articles or answers (deflection)—with the option to start a conversation with a live agent as a last resort.
One of the biggest advantages of live chat support is that it lets agents handle multiple customer queries at the same time (can't do that on the phone) and also lets companies provide some form of customer support around the clock, even when live agents are unavailable.
The benefits of having live chat software on your website
1. It reduces friction for customers in search of support
Imagine the following scenarios:
Scenario one: You need to get in touch with customer support. You decide to call the 1-800 number, but once connected, have to select a series of prompts to get to the correct department. You wait a while before finally connecting with an agent. Unfortunately, they can't help you, and you're transferred to another department after a brief hold.
Scenario two: You need to get in touch with customer support. You decide to use the live chat service on the company's website. Once you've inputted a brief description of your problem, you answer a few questions via a chatbot. The chatbot can't resolve your issue, so it connects you with a live agent who solves your problem promptly.
Which scenario would you prefer as a customer? Chances are, you're going to pick scenario two. You can't remove humans completely from your customer support experience, of course—you should always give your customers the option to talk to someone. But at the end of the day, there are many customer questions that can go through a combination of a chatbot and live chat.
The result: Less friction, happier customers, and higher customer satisfaction.
2. It reduces business costs
Another benefit of instituting live chat software into your business is the significant reduction in costs associated with customer service.
If your business uses live chat software, you don't need to hire quite as many agents. Why? Because one agent can handle multiple chats (as opposed to just one phone call at a time).
As a bonus, live chat software can save on some of the costs associated with phone calls, too. For example, toll-free and international number costs can add up over time, but live chat software can help mitigate these expenses.
3. It reduces barriers to entry for support and sales teams
Implementing live chat software doesn't just improve workflows for your customer support team either. It can also streamline the sales process.
While most people tend to think of chatbots and self-service automations as a way to provide support for easy-to-answer customer queries, your sales reps can also use live chat software to initiate conversations with prospects who might be browsing your website.
That means more conversions for your sales team and fewer customer queries for your support team!

4. It reduces drop-offs during the purchase process
If you run an ecommerce shop or any business where customers can purchase from you through your website, one of your top priorities should be to have a smooth checkout process.
So, how do you use live chat software to reduce drop-offs (essentially, customers abandoning their carts) during the purchase process? As customers browse your website, they might have questions, like "Do you offer free shipping?" or "Is there a discount if I purchase multiples of a product?"
If they have to call you to get their question answered, that might be too much effort or seem like more trouble than it's worth. At this stage, reducing friction is the name of the game. This is where live chat software can help—customers ready to check out but with questions can just click on your chatbot or live chat icon and immediately get the answers they need.
Common live chat mistakes to avoid
Here's what you don't want to do as you get started with a live chat solution:
1. Not synchronizing the availability of chat to the availability of agents
This is a step that many people miss, but if you're going to add a live chat solution to your website, make sure to match it up to when you have agents online.
Otherwise, if someone opens up that chat box expecting to talk to a live agent, but just gets a generic chatbot response, that doesn't make for a great digital customer experience.

👉 Dialpad tip:
One easy way to alleviate this is to simply put a note at the top of your chat box with the hours of live agent availability so that people can quickly see when they'll be able to talk to an actual person.
2. Not synchronizing the context of the website with the live chat
In an ideal world, your customers will know off the bat what they can—and can't—do through your website's live chat feature.
For example, if your website's FAQ page or Contact Us page says that your live chat agents are able to help someone apply for a credit card, ask for a credit limit increase, and so on, then your customer service team should be set up to actually do those things smoothly.
This is a huge reason why any live chat tool you're using should be integrated into your contact center software and CRM. This way, all of your customer data and past interactions are in one place, and agents won't have to constantly toggle between different apps and dig through different sources of information to help customers.
For example, Dialpad Ai Contact Center does exactly this. Not only does it let agents handle phone calls, live chat messages, social media messages, and more—from a single platform—it also has integrations with a wide range of CRMs like Salesforce and HubSpot to centralize all information in one easy place: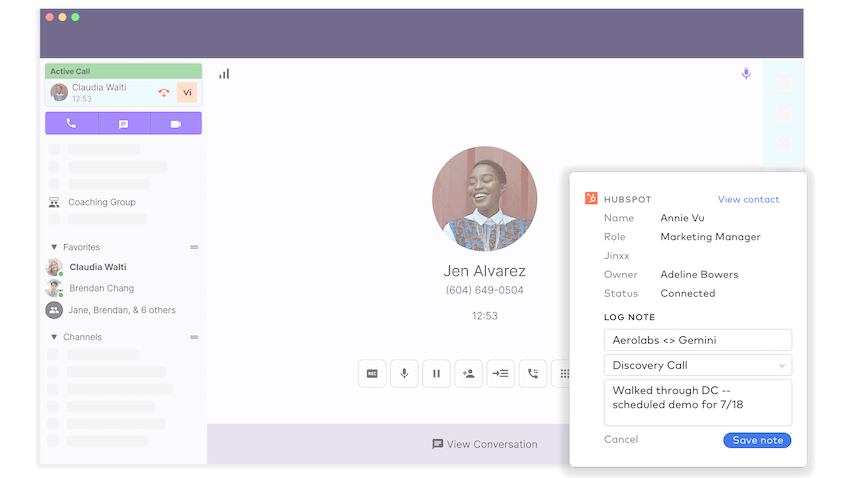 3. Not paying attention to the UI
Don't forget about the user interface (UI) of your live chat tool. Just like your website or mobile app's UI, you want your chat experience to be intuitive and easy to use for customers and prospects.
For example, make sure your live chat feature is easy to find. Don't hide it or bury it at the bottom of your Contact Us page.
Most people are used to seeing the chat box at the lower bottom right of a website. The live chat widget should open up when customers click on it (if it doesn't pop up automatically)—and you might want to feature the chat window more prominently on product pages or cart checkout pages, especially if you find that people are dropping off at those points. Often, this is because they have key questions or concerns before making the purchase.
4. Implementing live chat as an island
In many industries, customers don't reach out only between 9 to 5 on weekdays. Many utilities providers' contact centers and healthcare contact centers have customers and patients reaching out at all hours of the day.
Live chat software alone can't fix this—you still need to hire agents who'll be online 24/7 if you want to provide 24/7 customer support.
But, you could complement your live chat tool with chatbots and self-service options to provide that level of coverage.
Your help desk or customer support team should have a constellation of options—including live chat—that work together seamlessly to deflect simple questions to self-service options, and allow your agents to focus on more complex tasks.
Remember: The ultimate goal here is to be proactive and find ways to let your agents focus on the requests that actually need a human.
4 signs your business might need live chat software
Not every business needs a live chat solution. We're not going to say that every company needs to invest money into this software because that would be disingenuous. But, whether you're managing a small business or a global enterprise, there are a few signs that can indicate that it's time to think about using live chat software if you aren't already.
1. Customers are abandoning calls and/or carts
Customers leave carts when they're unsure of a purchase, just browsing, or can't find the information they need about a product. If you can tackle this, that's low-hanging fruit for improving conversion rates and sales for your business.
A chatbot or live chat software here can help you give prospects answers or nudge them along if they're hesitant to complete their payment for whatever reason.
2. Your contact center team is overwhelmed
If you've noticed your customer service team members struggling with the volume of phone calls, that's a good sign that you have an opportunity to diversify your communication channels by using live chat software.
(Note that these channels include self-service options like chatbot too!)
Not only can this alleviate the burden for agents who are on the phones, it also helps you provide a better customer experience by reducing hold times.
3. Lots of people are opening a "contact us" form but not submitting it
If your only "contact us" options are by phone or email, customers may choose the latter over a lengthy conversation and hold times. But, email isn't always as simple as it seems.
Firstly, customers may look at a complicated form that makes them fill out personal information and say, "No thanks." Many people have also had the bad experience of filling out a form, then waiting days or even weeks for a response—which might deter them from using that communication channel in the future. (The unfair thing is that this often happens even if they experienced this with another company and you haven't done anything wrong.)
If you're tracking your website metrics, take a look at whether people are opening or clicking on your "contact us" form and then abandoning them. If so, it's a sign the experience is causing too much friction and you might want to use live chat software to combat that issue. It's a less intimidating option for customers (or potential customers) who want to reach out, and might even get them answers more quickly too.
4. You, as a business, are experimenting with a digital strategy
Most businesses can't get away anymore with just agents on the phones. Customers and prospects are using a larger variety of communication channels than ever to reach out to brands, from social media channels like WhatsApp, to SMS texting, to other digital channels like Apple Business Chat.
Of course, if you know for a fact that your customers exclusively use the phone to contact you, then you don't really need to pay attention to this (for now anyway). But if your customer base is already experimenting with these channels and you see them messaging you on social media, then it makes sense to be proactive and start looking into live chat software.
What live chat software features should you look for?
When it comes to shopping for live chat software, there are a few things to keep in mind as you're going through pricing and feature lists.
Omnichannel
If you can get a cloud contact center platform that comes with live chat functionality built in, this can really help streamline your tech stack and also make it easier for your agents to handle the chat experience in addition to other channels.
With Dialpad Ai Contact Center, for example, our own agents can provide omnichannel service across live chat, phone calls, Facebook Messenger, and more—all in one place.
All our customer interactions can be found in one place, and any agent can pick up the thread of a conversation, even if they've never spoken to that customer before: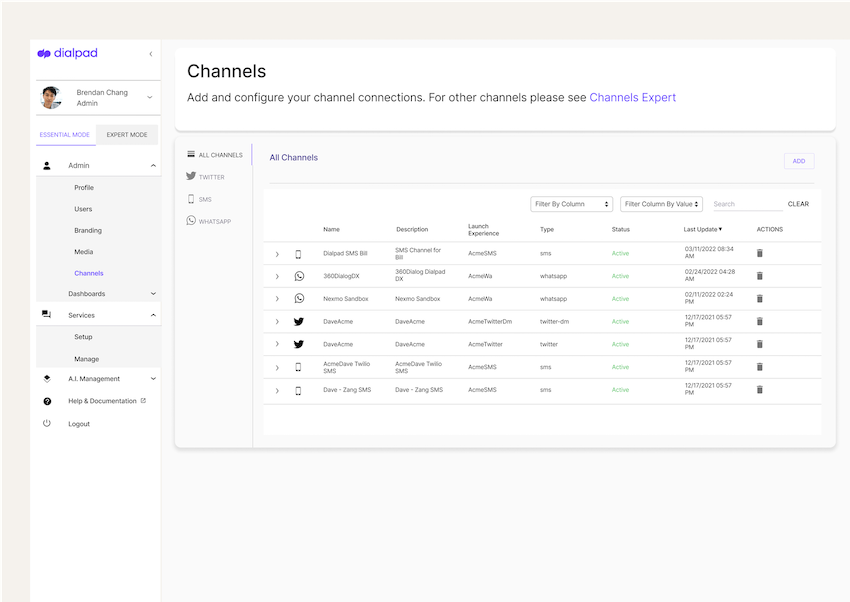 If we were using a separate live chat tool, this wouldn't be possible.
Integrated self-service options
This includes things like IVR menus and chatbots—basically, channels that don't require a live human.
Again, you could technically purchase separate software that'll give you these self-service automations—but it'd be more cost-effective to use a robust contact center platform like Dialpad that has built-in self-service functionality. (And that means your agents don't have to toggle between so many tools.)

💡 Did you know?
What's unique about Dialpad's chatbot AI is that it doesn't just provide pre-set answers to pre-set questions. It can search not only your FAQ knowledge base, but also unstructured sources of data, like PDF documents and even past customer conversations—to find answers to a huge variety of questions!
Escalation to voice or video
Last but definitely not least, your live chat tool should give a customer the option of escalating the chat to a voice or video call.
There are many types of customer support issues that can't be easily solved over a live chat conversation. Whether it's a more technical troubleshooting question that requires co-browsing or screen sharing with an agent, or a seriously frustrated customer who demands to speak to someone, the ability to escalate is crucial if you want to have a good customer experience.
Dialpad Ai Contact Center, for instance, is designed with exactly this in mind. It already has all the communication channels agents would need, like phone calls, video calls, and SMS messaging—and you'd be able to let people on your website easily switch from a live chat conversation to a voice call if they want to. Just use the drag-and-drop builder: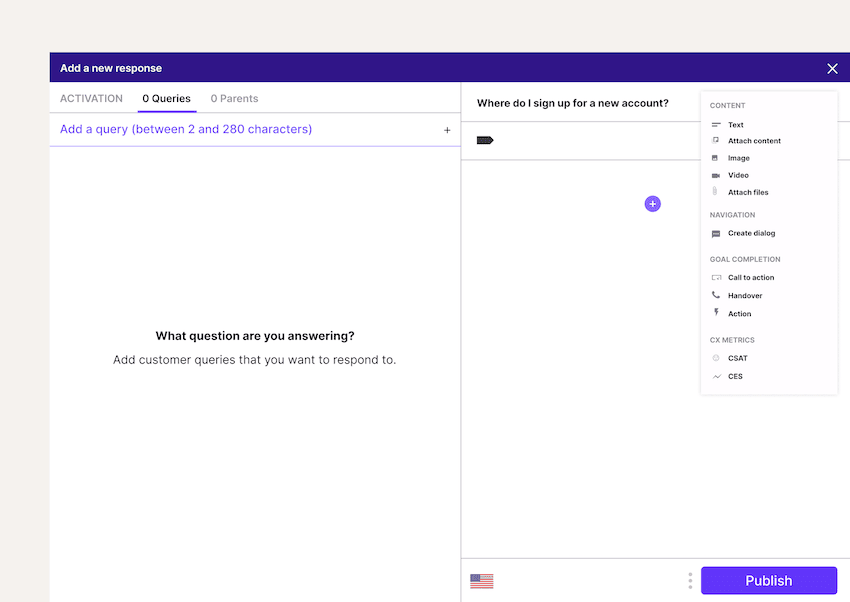 Evaluating the best live chat software: 4 key questions to ask
1. How mature is the infrastructure? Is it reliable/robust?
You don't want help desk software or a ticketing system that's going to quit on your agents in the middle of customer interactions or constantly be down for maintenance. That's why it's critical to choose a reliable tool with robust functionality.
Look at their customer stories and see if there are businesses in your industry that are also using this software. If so, that's a good sign that it meets the security and compliance requirements (since that other company will hopefully have done that due diligence before being a customer).
2. Is there support for different languages?
If you operate in several countries or hope to expand into international markets, make sure the live chat service you choose offers support for multiple languages. Even if you're only operational in one country, your customers may be from anywhere and/or speak various tongues.
Look for a service that will accommodate different languages and route to specific agents based on those languages. You want a messaging platform that can serve all your customers, including those who don't speak English.
3. Can you help us stay compliant?
Depending on your industry—e-commerce, health, education, finance, etc.—you'll need to follow specific compliance rules and regulations, so you must make sure all your software and programs help you do this.
This means ensuring your live chat service provider can help you maintain GDPR and HIPAA compliance, provides custom data retention policies, and so on.
4. Do you have integrations with voice/telephony, CRMs, and other apps?
Your live chat service should connect with your other customer engagement tools. This gives your customer-facing agents a more seamless workflow, and helps them provide a more personalized and faster customer service experience.
For example, if you run an e-commerce business, you should make sure there's a Shopify integration so agents can pull up transaction history and other order information to assist customers.
Think about what programs you use and make sure your live chat service will integrate accordingly. Integrations with your CRM and phone system are pretty much essential, so double-check your chosen option has integrations with them.
Check if other services you use, like Slack, HubSpot, or Salesforce integrate with your live chat service too.
Or, just use something like Dialpad, which has it all built in.
6 easy-to-use, versatile live chat software options
1. Dialpad Ai Contact Center
Yes, we might seem a bit biased, but there are a few reasons we truly believe Dialpad Ai Contact Center is arguably the best live chat software out there:
Easy setup
With Dialpad, you can get started online with just a few clicks. From setting up live agents and phone numbers, to building chatbot response flows, you can automate a wide range of customer interactions with very little—or no—IT help:


Because everything is on the same platform, you don't have to constantly hop between different windows or apps to set up live chat, or sync it with your phone system. Need to set up an integration with your CRM, like HubSpot or Zendesk? You can do that from Dialpad too. It's a much more streamlined workflow.
(And if you want to build your own custom integrations, you can do that with Dialpad's API.)
24/7 customer support worldwide
If you're having trouble setting up your virtual agent, integrating Zoho CRM, or porting an old number, you can reach out to Dialpad's 24/7 tech support team for all the help you need.
Every Dialpad contact center plan comes with 24/7 customer support via phone calls, live chat, and web. The best part? All of this comes at no extra cost. (Watch out for software providers that charge you a fee per support ticket submitted.)
And since we're on the topic of live chat support, Dialpad's website has an easy-to-access chat button on the bottom right corner of every page too. Just click on this, and you'll be able to see potential help topics or chat with one of our support team members.
Or, if you'd prefer to take matters into your own hands, check out our thorough Help Center, where you'll find FAQs, how-to guides, and support resources. Whether you're trying to figure out the ins and outs of video chats or set up a contact center training group, this is the place to visit!
Built-in chatbot functionality
Call it a chatbot or conversational AI, but Dialpad has an easy-to-use, no-code builder that lets you create conversational flows that let people self-serve on your website: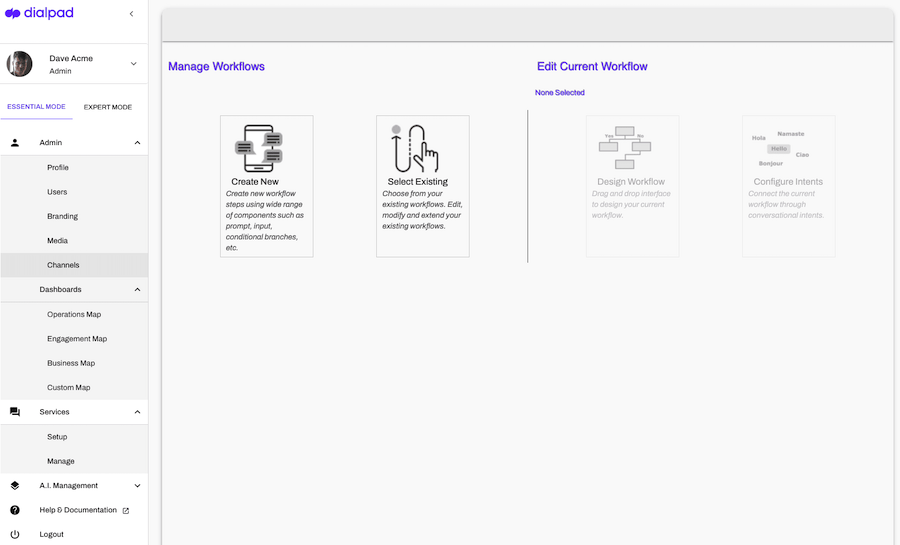 Dialpad Ai can search your website, FAQs, and other unstructured data sources to find the best answer. This makes it an excellent complement to your live chat agents, in case you don't have people staffed 24/7 and need a customer support backup during those off-hours.
Fun fact: You can also use chatbots to help your sales reps by placing them on your website to collect information from potential customers. These leads can then be sent to your sales team for follow-up.
Integrations with other tools
With Dialpad, you can connect your live chat channel to all the other channels your customers use, like Facebook Messenger, Twitter, Instagram, and WhatsApp. And when you start to get feedback that customers are using a new channel? You can easily add it to Dialpad (and delight your customers in the process).
Again, Dialpad's robust (and constantly growing) App Marketplace lets you connect tools like Salesforce, Zendesk, and Zoho CRM to your contact center platform.
For example, if you want to connect Dialpad with Zoho CRM, just go to your admin portal, configure your Zoho integration settings, and that's it.
Once it's enabled, your contacts, accounts, and leads in Zoho CRM will be automatically matched to contact records in Dialpad. Dialpad can then automatically log inbound and outbound calls into the Zoho CRM, adding them to the right records: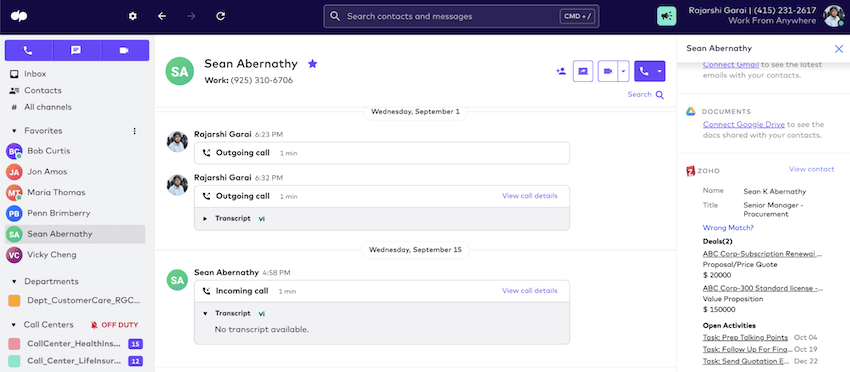 Built-in analytics
From call volumes to heat maps showing your average speed to answer, to notifications when your contact center service levels drop below a certain threshold, Dialpad Ai Contact Center has a ton of built-in analytics and clean dashboards to help you keep an eye on agent performance and customer satisfaction.
2. Intercom
Probably one of the more well-known live chat software options out there, Intercom lets you add a live chat widget to your website.
Unlike Dialpad, it doesn't have built-in telephony or video conferencing functionality, but it does have hundreds of integrations and support for over 45 languages.
Other features Intercom offers include:

Support ticket workflows

Team inboxes

Conversational bot functionality
Intercom has three pricing packages, but you'll need to contact their Sales team to get more pricing info.
3. UserLike
Unlike some of the other software choices on this list, UserLike is strictly a live chat messaging service. You can connect UserLike to other tools you use, like Slack, Zendesk, and Shopify. When you're offline, customers can message you, and you can respond when you're back online.
You can also have messages sent from WhatsApp, Facebook Messenger, SMS, and Telegram straight to your UserLike messaging platform. Some other features included in UserLike:

Operator groups

The ability to forward chat transcripts to coworkers

Routing by customer skills

Proactive chat
Pricing for UserLike works on a flat fee model.1 The lowest-priced Team plan starts at $90 a month if billed annually, $100 if billed monthly, or $80 if billed biennially. UserLike does offer a free plan that provides some core features, unlimited chats, and unlimited contacts—but it doesn't include WhatsApp as a channel.
4. Olark
Olark is another live chat service provider, and what's neat about it is you can customize your website chat box to align with your brand. You can also use custom chat box forms to collect info from someone before they start a live chat, which lets your support agents get a head start on understanding what customers need.
If you're managing agents, you can assign chats to specific people while monitoring chats in progress and overall team performance. Some other features included in Olark:

Live chat analytics

Searchable transcripts

Google Analytics integration
Olark pricing starts at $29 a month per seat.2 If you commit to a two-year purchase, you can save 35% on the price of your plan. If you're looking for an enterprise-level service, there's Olark Pro.
5. Pure Chat
Acquired by Ruby in 2020, Pure Chat lets its customers install its software by code or with one of its plugins, so you have the option of going custom off the bat or getting set up the easy way. It also features an iOS and Android mobile app so that agents can manage live chats from different devices.
Pure Chat lets you try out its services for 30 days so you can get a feel for how its software works for your business. Here are some other features included in Pure Chat:

Unlimited chat conversations

Unlimited chat history transcripts

Real-time analytics
Pure Chat has two pricing plans, Growth and Pro, and both include the same features—except the more expensive option lets you remove Pure Chat's branding from the live chat feature.3
Pricing starts at $39 a month if paid annually and $49 if paid monthly.
6. Tidio
Tidio's live chat widget is pretty customizable, and can automatically adjust the chat box's size to match the device that someone is using to chat with your business.
Like Dialpad Ai Contact Center, Tidio has prebuilt chatbot templates that you can customize as your build your customer conversation flow. Some other features included in Tidio:

A customizable live chat widget

WordPress integration

Visitor tracking
Tidio offers a free plan that includes two seats, chatbots, the mobile app, visitor details, and unlimited live chats.4 Pricing for other plans starts at $39 a month for three seats. You can upgrade or downgrade at any time no matter what plan you're on, making it easy to scale your business as you need.
Provide a better customer experience with the best live chat software
So, now you can see that there is an option for inexpensive live chat software that gives you the extra customer support and coverage you need. And you don't even have to buy a bunch of expensive hardware or hire a huge team of agents.
If you're looking for a robust platform that gives you all the internal communications features your team needs (like conference calls, video meetings, and instant messaging) in addition to external channels like live chat, chatbots, and high volume calling, then why not check out Dialpad Ai Contact Center?

Need live chat software?
Dialpad Ai Contact Center comes with live chat functionality built right in, along with other channels like phone calls, video meetings, social media messaging, and more. Book a demo or take a self-guided interactive tour of the app on your own!
FAQs about live chat software
How do I integrate live chat on my website?
How easy (or hard) it is to integrate a live chat widget depends on your choice of software provider. A good provider, like Dialpad Ai Contact Center, can make setup relatively quick and easy, and let you add agents, establish chat routing, and more without needing heavy IT resources.

Can you use live chat software for lead generation?
What is the best free live chat software?
1userlike.com/en/pricing

2olark.com/plan-pricing
3purechat.com/pricing
4tidio.com/pricing/