Back to Blog
How to build an omnichannel customer journey: An in-depth guide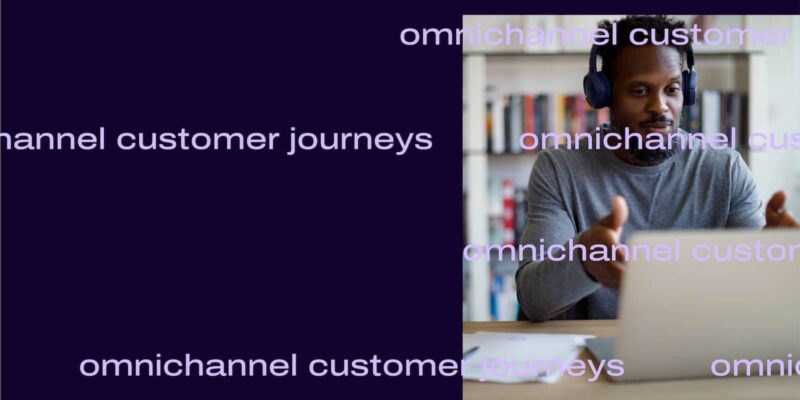 Reaching your customers has never been easier. But it's also never been harder.
What do I mean?
Today, your customers are interacting with your brand in more ways, and through multiple channels, than ever before. And often, they're interacting with you through different channels, simultaneously.
The number of possible customer touchpoints you have to keep your eye on is going up—and with live chat, Facebook Messenger, WhatsApp, email, phone calls, and so on... How can you keep on top of all these channels while still being proactive with customer service, instead of just reactive?
This is one of the biggest challenges of an omnichannel customer journey. And having helped position and market some of the leading products in this space, I've seen firsthand how the most successful businesses and organizations are providing seamless experiences across telephony, social media channels, websites, and their brick-and-mortar stores.
In this guide, I'll share some of these tactics and insights.
Omnichannel customer journeys explained
So, what is an omnichannel customer journey?
An omnichannel customer journey refers to the entire experience a customer has with your business, across all the different channels and possible touchpoints including customer support interactions, sales checkout flows, and physical store experiences.
An example: Say you've got a potential customer browsing Facebook during their lunch break. They spot an ad for a stunning jumpsuit in their feed and click on the ad, which takes them to the retail store's Facebook page.
Here they see product images in more detail and find recent customer reviews saying how fabulous the jumpsuit is. They click through to the store's website to place an order for the jumpsuit, but find that their size is not in stock online. After a quick conversation with an agent through live chat, the issue is resolved—the agent has reserved a jumpsuit, in the size the customer wants, for pick-up in the physical store the following day.
In this example, the customer journey involved quite a few touchpoints with the retail brand: the Facebook ad, Facebook page, website, live chat, and finally, the brick-and-mortar store. In this case, the customer was able to navigate from one touchpoint to the next without any barriers to the final purchase.
This kind of seamlessness is a common trait of omnichannel customer experiences—your customers' data and past interactions are all carried through those different channels, without the customer having to repeat themselves every time they talk to a different agent on a different communication channel.
How do omnichannel and multichannel experiences differ?
As I mentioned earlier, omnichannel carries the context of purchase journeys and customer support across all your available channels—digital and physical. It's all managed in one system.
Multichannel experiences, on the other hand, don't have this ability to carry context. Yes, you can still have your contact center agents managing WhatsApp messages, phone calls, and live chat messages—and that counts as a "multichannel" experience.
But the data is in silos—it's not connected in the same way it is in an omnichannel experience—meaning that in a multichannel experience, a customer who contacts you through a social media message, then a phone call, will likely have to repeat themselves because the agents managing these conversations don't have that 360-degree view and context across the journey involving all the other channels.
(Kind of like a "left hand not knowing what the right hand is doing" situation.)
Building your customer journey map: 4 stages and channels to consider
Customer behaviors and customer expectations vary pretty widely between industries and businesses, and your customer journey map should take these unique scenarios and use cases into consideration. Here are the main stages to keep in mind as you create your own customer journey map.
Depending on your specific business, you may have more lifecycle stages than this, so treat this as a starting point.
1. Awareness
Your omnichannel strategy begins with your brand. Even though many companies think of the "customer experience" as everything that comes after someone makes a purchase from you, the fact is that someone's customer experience with your business starts from the very first time they come across your brand on social media or in an ad.
To truly be customer-centric, you have to consider these pre-purchase stages of your omnichannel customer journey too.
How can you create a consistent brand experience as soon as prospects become aware that your business exists? For example, ads, your website, visiting your physical store, seeing your social media channels, and calling your contact center—all of those cross-channel touchpoints are opportunities to build awareness.
Once prospects are aware of you, then they can move along the funnel toward the acquisition stage.

👉 Dialpad tip:
You may want to add a "nurture" stage between awareness and acquisition, though this isn't always necessary. Software companies and businesses that sell high contract-value products or services, in particular, tend to have long nurture stages during which they focus on educating potential customers in order to nudge them toward a purchase.
2. Acquisition
The next key step is acquisition. How does your potential customer actually make a purchase? With Dialpad, for example, our customers can purchase online through our website—but if you're running, say, a surgical clinic, you may be taking new clients through the phone directly, or through referrals from other clinics or physicians in addition to your website.
If you're an e-commerce brand like Amazon, then your checkout flow's user experience will be crucial to the acquisition stage.
Identify all your acquisition touchpoints. This will make it easier later on to see how you can make those as frictionless as possible for your future customers.
3. Onboarding and engagement
After a customer has purchased from you, the onboarding and engagement stage involves engaging with them and making sure they understand how to use your products or services.
If you're selling something like clothing, of course, then this will be less about education and more about nurturing and maintaining those relationships. This is what many companies' email newsletters are designed to do: keep customers engaged with funny memes, company updates, new products, and so on while providing a (somewhat) personalized experience.
This may not seem like an especially important step to include in an omnichannel customer journey map, but it's important for building goodwill with customers (which will come in handy later if any issues or problems pop up).
(You don't just have to do continued customer engagement through emails either. There's in-app messaging, in-store events, and other creative ways to stay in contact with your customers.)
4. Long-term support and nurturing
This stage is kind of like an extension of the onboarding and engagement, except it takes more of a long-term view.
This includes customer support and future campaigns like social media contests—and like the other stages of the journey, can take place across voice, in-person, or through digital channels. (Most people are thinking of this stage when they talk about "improving the customer experience.")
How to map your omnichannel customer journey
Now that we know the journey stages, let's look at how to create your business's omnichannel customer journey map.
1. Find out on which channels customers (and potential customers) are trying to reach you
To do this, it helps if you understand who your customers are, which channels they like to use to reach you, and other persona or profile information like customer behavior and maybe even lifestyle factors.
(If you've got most of your customer support agents assigned to digital channels, but your key demographic is actually people who are "offline" and would rather call you, then you're on the wrong channels.)

👉 Dialpad tip:
Chances are, your marketing team has an omnichannel marketing strategy too. If you're not sure which channels to consider, chat with them—there's probably a lot of overlap here!
With this information, you can now start optimizing individual touchpoints in your omnichannel customer journey.
Having a good cloud contact center platform like Dialpad Ai Contact Center can help with this. For example, with built-in analytics that show data like call volume patterns and average speed to answer, you can optimize the staffing of your contact center during the busiest times:


If you notice that your phone lines are always jammed, then you might want to revisit your staffing to focus more on your phone channel during the periods of greatest activity.
2. Create your omnichannel customer journey map
Once you've got a list of all the touchpoints and channels your customer experience needs to cover, you can start mapping out your customer journey.
An effective omnichannel customer journey map helps you identify gaps in your customer experience so that you can fill them proactively—before any big issues like insufficient coverage or widespread complaints start to happen. It's a proactive tactic that should not only help create a better experience, but also minimize risk in your operations.
You can create your map as a flowchart, a spreadsheet, or whatever format works for your team. If you want to get super granular, a spreadsheet might be easier to manage and update, or you could have a general graphic as a "guidepost" for your teams to refer to. Here's an example: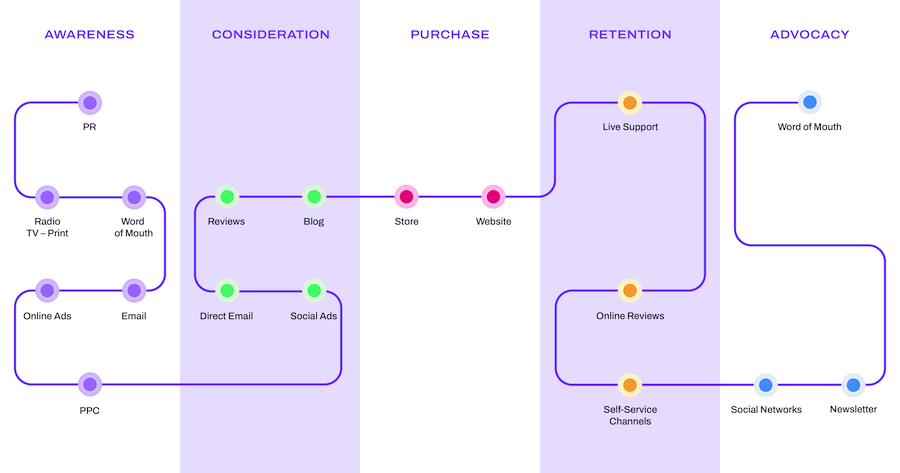 3. Match your communications touchpoints to the steps in your omnichannel journey
In omnichannel experiences, communication is key. You have to be able to not only talk to your customers across those channels, but also (ideally) glean insights from all those cross-channel conversations.
They are, after all, one of your most valuable—and readily available—sources of customer insights and customer intelligence.
Dialpad Ai Contact Center, for example, is designed with precisely this in mind. Not only can customer experience teams conduct phone calls, video meetings, and instant / SMS + MMS messaging with internal team members, they can also manage external customer communications from the same platform.
That includes social media messages (like Facebook Messenger and WhatsApp), live agent web chat, and more: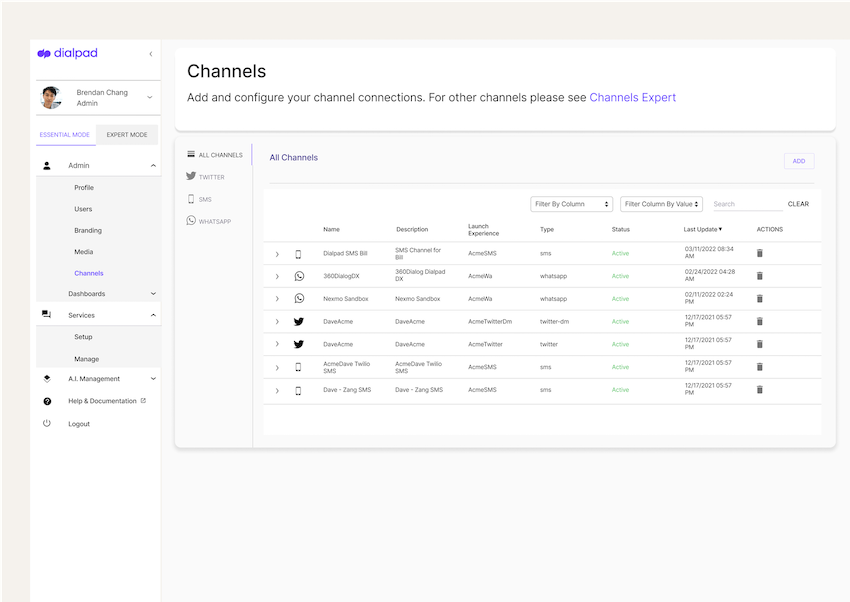 Dialpad also integrates with a variety of CRM platforms including Salesforce, HubSpot, and Zoho CRM to log all the relevant activity in an omnichannel journey, as well as enable agents to see customer history and profile information from the CRM while engaging with customers.
These integrations have a wide range of functionality, including embedding a dialer inside those CRMs so that agents can make or take phone calls without toggling between different apps, while it automatically logs activities and calls to help customer-facing teams provide a more personalized experience: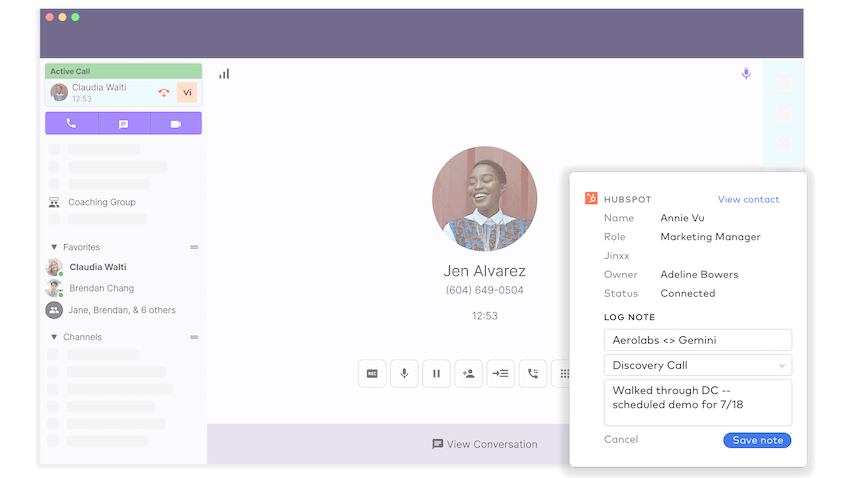 4. Define your customer journey success metrics
Last but not least, map your targets and goals to the steps in your omnichannel customer journey.
What's your ROI (return on investment) on managing your Facebook channel, for example?
What about metrics like customer lifetime value and customer satisfaction measured over time?
You don't need separate software to track those numbers—with Dialpad Ai Contact Center, for example, you can communicate with customers and gather that customer intelligence within the same platform.
For example, you can create CSAT surveys from your online dashboard with just a few clicks:


But there's something unique here that you won't find in other contact center providers.
One of the well-documented challenges with CSAT scores is that not a lot of people actually fill out those surveys. In our experience, on average only about 5% of customers actually fill out CSAT surveys. Of those, usually only the angriest—or happiest—customers actually bother to respond to these surveys, which means your CSAT answers are likely to be very skewed and not representative of how the majority of your customers feel overall.
Dialpad's industry-first Ai CSAT capability is designed to solve exactly that. Not only can our Ai transcribe calls and analyze sentiment in real time, it can also infer CSAT scores for 100% of your customer conversations. The result? A much more representative sample size for CSAT scores, from a majority of your customers—and a more accurate understanding of how satisfied your customers really are: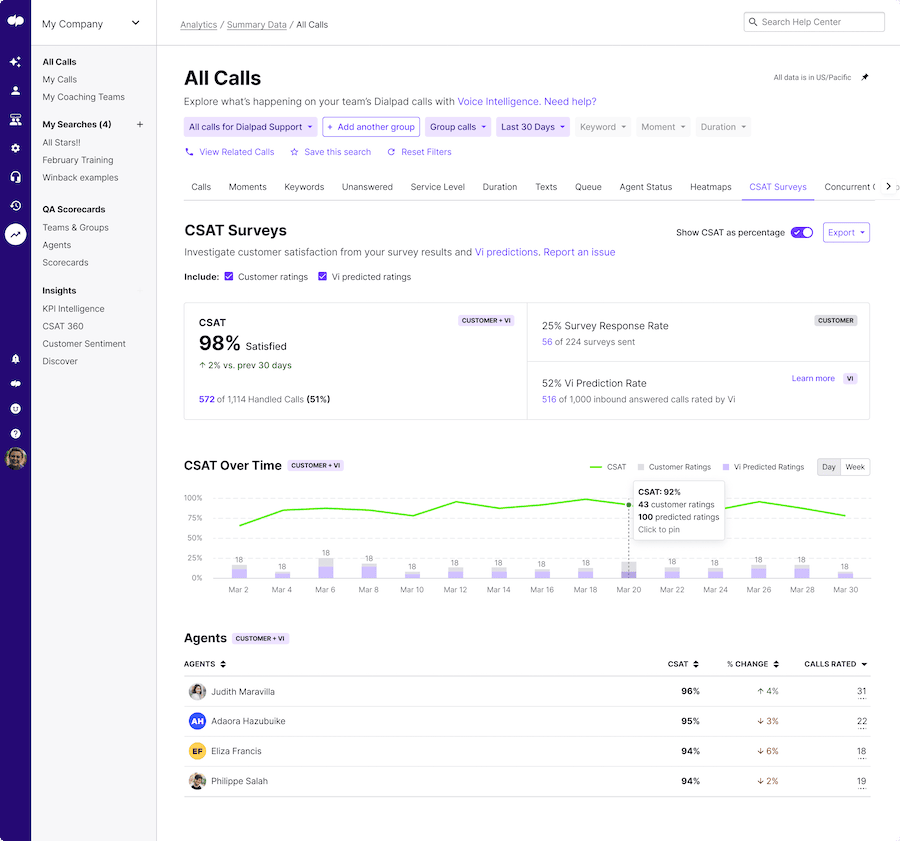 Dialpad vastly increases the possibilities for gathering customer intelligence using a source of data that you already have for free: your everyday customer conversations.
Managers can also track how frequently certain keywords or topics come up on customer calls. For example, say you notice you've been getting a lot of calls recently about refunds. In Dialpad, you can create a "Custom Moment" to track every time "refund" or "money back" is said on a call, and analyze 'why':

And if you notice that there are any atypical patterns in the built-in dashboards, you can open up those call recordings or transcripts to get more context—on everything from repeated mention of competitors, to a high occurrence of reported product or service problems.
Apart from that, Dialpad also has notifications that pop up for supervisors if live customer sentiment or service levels dip below a certain threshold:


Omnichannel customer journey examples from different industries
Public energy utility
Utilities like electricity and hydro also handle high volumes of often complex customer requests. From handling payments (and late payments), to maintenance or service requests, to managing the barrage of questions that come with uncommon events like outages or pandemics, there are many day-to-day communications challenges in this industry.
Having a contact center platform that can cover all these channels is crucial.
Again, with Dialpad Ai Contact Center, you can set up automated SMS payment reminders, route calls automatically, allow customers to escalate self-service chatbot conversations to a live agent, and much, much more.
You can even attach documents or images in chatbot responses to walk someone through a payment process, for example: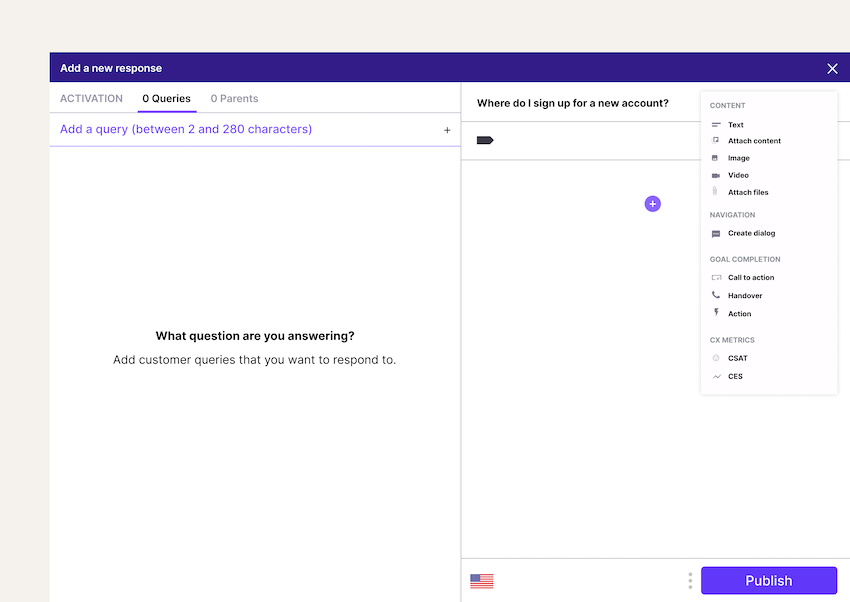 Logistics and transport
Logistics companies often experience high contact center volumes and may struggle to keep up with customer questions about everything from shipping times to delivery inquiries coming in through phone calls, WhatsApp, and other channels.
With a platform like Dialpad Ai Contact Center, agents can create self-service chatbot or digital workflows and manage these voice and digital channels from a single platform.
Self-service features are perfect for global logistics businesses in particular because they tend to receive the same customer questions repeatedly, and are always ready to serve customers 24/7.

Regional airlines
If you've ever messaged an airline to ask for flight information or change your flight, you might have used social media channels to do that because the phone lines so often seem to be jammed and wait times tend to be long.
The airline industry has an especially large opportunity for optimization when it comes to an omnichannel journey, simply because consumers are enthusiastically trying different channels to reach the airline.
With an omnichannel contact center platform, it's much easier to provide a seamless experience. If someone is messaging you on Twitter or live chat to ask about a flight booking, can your agents quickly pull up that information, or do they do what most airline call centers do (make the customer provide flight details and personal info every time they get in touch)?
Educational institution
It's not uncommon for schools and educational institutions to handle vast numbers of calls and emails from students and parents. From an outbound perspective, they also send out important information like reminders and announcements to students and parents. (For universities and colleges, they may also do fundraising campaigns or have enrollment departments that have contact center teams.)
With students as their main audience, this is probably one of the biggest use cases for an omnichannel customer journey, since students are generally tech-savvy and likely more comfortable using chatbots and social media channels to connect.
Real estate
Real estate companies field requests across multiple channels of communication, including emails, phone calls, SMS, and social media. Common requests include online applications, so finding a way to handle this customer journey seamlessly is essential.
AI-enabled virtual agents handle the bulk of the inquiries with Dialpad and enable simple online applications. User experiences are enhanced with self-serve methods and lengthy calls with staff are reduced.
3 essential steps for moving from siloed channels to an omnichannel customer journey
Step 1. Centralize your customer information in one place
First things first, you need to have all your data centralized. Once this information is all stored in one place and easily accessible to everyone on your customer-facing team, then you can move on to all the other steps.
To do this, you need two things: a good contact center platform (that supports an omnichannel customer experience) and also integrations between your customer data tools (like a CRM or CDP).
The first lets you gather and log all your customer communications in one place, and the second will automatically sync data between the different systems your agents are relying on.
Step 2. Make sure your contact center is staffed accordingly by channel
One of the biggest oversights for companies that are implementing an omnichannel strategy for the first time is, surprisingly, staffing.
Make sure you have appropriate staffing measures in place to handle customer interactions across your different channels! It's not enough to pop onto your social media account and check messages intermittently–you should know, for example, which channels get the most messages on a daily basis, which channels tend to get the most complicated types of requests or questions, and so on.
Should you staff more agents who are most knowledgeable about the product on live chat, since you're getting product or troubleshooting questions on chat? Or maybe your agents who are trained in customer retention need to be on the phones more, since you're getting more refunds and cancellation requests through phone calls. That's the level of granularity you need in understanding how best to manage your team.
And on that note…
Dialpad Ai Contact Center has a few real-time reporting features that help with this. For example, it doesn't just transcribe calls in real time, it can also do sentiment analysis—this way, a supervisor who's overseeing 10 or 20 agents on active calls can quickly see if a call is going south:

If they do see a potential problem, they can open up the live transcript (which gets updated as the conversation is happening) to get more context before deciding whether or not they need to jump in to help the agent.
And one of the best things about it is that it works on both desktop and mobile apps, meaning your agents and supervisors can work from anywhere.
Step 3: Equip your team with a contact center platform
I've given quite a few examples above, but most customer-facing teams will need full-featured, cloud-based contact center software. Instead of having your agents toggle constantly between HootSuite, a video conferencing app, telephone, and their CRM, something like Dialpad Ai Contact Center can give them all that contextual information, social media messaging, and chatbot functionality integrated in one place.
If you want to make life easier for not only your agents but also your supervisors, this is one piece of your tech stack that you shouldn't overlook.
Do you have an omnichannel customer journey?
Let's face it. Being able to provide superior digital customer experience is no longer a nice-to-have—in many industries, it's a competitive necessity. If a customer needs an answer quickly on Facebook, Twitter, Instagram, live chat, or a phone call, can you provide it to them?
From your digital marketing strategy to your onboarding process, every stage of the journey is an opportunity to be more customer-centric and give your customers a seamless experience no matter what channels they use to contact you.
If you need a communications platform that empowers your agents to provide the best omnichannel customer journey possible, why not take a product tour of Dialpad?

Want to provide an omnichannel customer journey?
Book a demo of Dialpad Ai Contact Center to see how it can let your agents manage communications across voice, video, and digital channels. Or, take a self-guided interactive tour of the app on your own first!