Back to Blog
Top 25 sales apps for closing deals more efficiently in 2023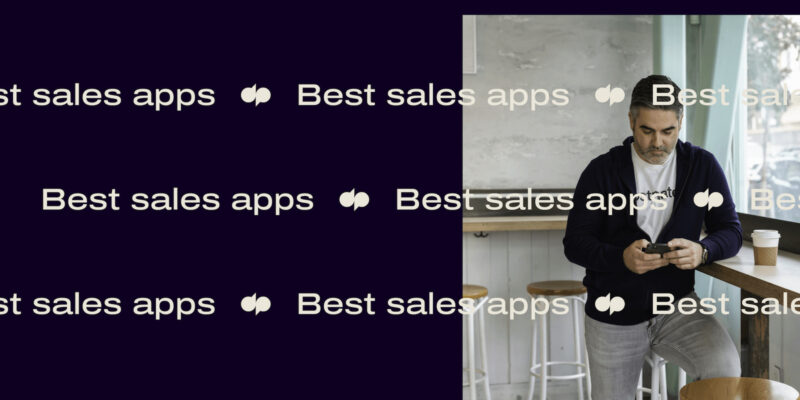 Whether you run an outbound-heavy sales team or have more inbound-focused sales reps, equipping them with the right tools is probably one of the biggest ways you can empower them to close more deals and hit their numbers.
Having worked as both an AE and now leading a sales team myself, I've seen the difference that having a good desktop or mobile sales app can make.
So, here are some of the best sales apps for sales orgs in 2021. I've categorized them into different groups and use cases for sales to help you sift through the list more easily.
But first...
Why use a sales app? What are the benefits?
With sales teams always on the go, it really helps to have tools that come with a desktop and mobile app.
If salespeople are traveling, or even if they just want to be able to work from home, those mobile apps will let them take calls, log notes, and more.
Not everyone wants to be stuck at their desk all day, and this helps them get their work done from anywhere. Almost all mobile apps have desktop app counterparts and work across different platforms—which means you can close deals from anywhere, whether you're on iOS, Android, Mac, or PC.
👉 Dialpad tip:
If you're looking to streamline workflows and reach more prospects, Dialpad's desktop and mobile sales app has a voicemail drop feature that helps reps save time and reach more potential clients. Instead of reciting a message every time they hit a prospect's inbox, they can just drop in a pre-recorded voicemail message if prospects don't pick up.
They help you spend less time on data entry
One of the biggest time-sucks for sales reps is manual data entry. Often, they have to log everything from when calls happened, to what was discussed on calls, to next steps, and more. It's a lot.
If you could take this one thing—data entry—off their plates, then your reps can spend their time on much more valuable tasks. (Like closing deals.)
There are different types of software here that can help, from business phone apps that not only allow your reps to make phone calls but also log them automatically, to other tools that give you real-time metrics about your sales activities and calls.
They give you more ways to communicate with prospects and clients
Building customer relationships is one of the most important parts of the job, and to build those relationships, you need to be able to communicate with them.
It used to be that sales reps would have to take calls from the office or at their desks, but now, mobile apps have changed all that.
For example, Dialpad has a unified communications platform that isn't technically a sales tool, but is essential for talking to clients and prospects on the phone, video, and SMS and instant messaging. (It helps with sales management on the go too since you can text your reps and stay in touch with them more easily.)
Not only does this centralize all your communications in one app, it also boosts your chances of converting prospects since you have a range of channels to reach them through. We've noticed that more and more prospects are starting to prefer texting, and are more responsive that way—so it's great that we can send texts externally from the Dialpad app (which we also use for video meetings and phone calls):

They can boost productivity and revenue
Ultimately, of course, it's all about the bottom line. The whole reason for speeding up everyday tasks and finding efficiencies with apps is so sales managers can empower their teams to do the work that brings in the dollars.
That's why sales automation software is so valuable. If you can automate all those manual tasks, then sales reps can focus on reaching out to more prospects—and close deals.
And since there are mobile sales apps that let you do admin tasks (like signing contracts and proposals) from anywhere, you can now speed up basic sales processes that used to take hours or days of waiting around for paperwork to be generated and documents to be sent back and forth.
The 21 best sales apps for reps in 2023
Ready to find your next best sales app? Check out our list below for 21 of the best sales apps for reps in 2023:
The essentials
These apps are your go-to, the all rounders, the tried and tested—whether you're a small business or large, we're pretty sure most of these apps will tick the boxes:
1. Dialpad
Dialpad is an AI-powered sales engagement platform with features ranging from cloud contact center and UCaaS (unified communications as a service) functionality to sales-specific AI features. If your sales team makes a ton of phone calls and follow-ups on a daily basis, Dialpad is a must-have.
Easily accessible from any mobile device (including PC, Mac, Android and iOS devices like iPhone and iPad), Dialpad equips your team with the tools needed to answer tough questions right in the moment they're asked.
And for salespeople especially, it's often important to have a local phone number for making outbound calls. With Dialpad's local presence functionality, reps can easily choose which phone number or caller ID they want to display when making a call: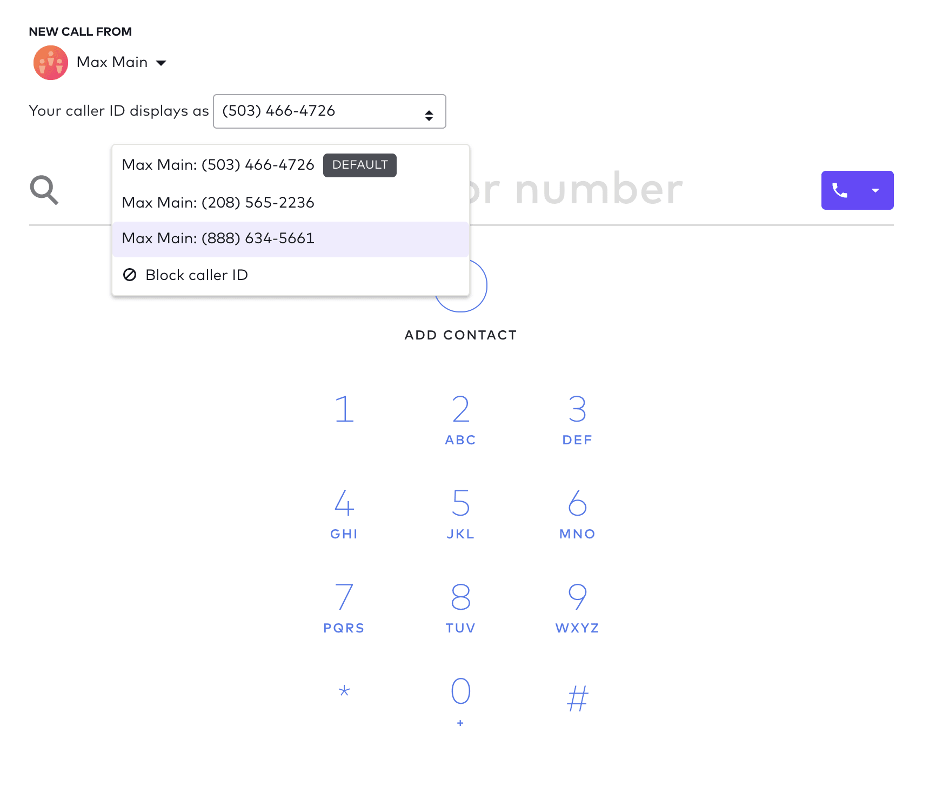 Plus, if your reps do a high volume of outbound calls, they're probably spending (way too much) time on leaving voicemails. As I mentioned earlier, our team loves Dialpad's voicemail drop feature because you can just record a voicemail message and drop it into a call when you need to—it can really accelerate seller activity:
And finally, if you're like most sales orgs, you're probably using Salesforce. Dialpad makes sure your team's sales activities are logged, and allows reps to dial prospects right from Salesforce:
Now that I'm working in sales enablement, I find Dialpad even more essential for coaching because it surfaces insights to help specifically with coaching and training. For example, you can keep an eye on your reps' calls with the real-time transcripts:
The Ai Playbooks feature also helps coaches and supervisors track rep adherence to sales methodologies like BANT, SPIN, and SPICED more easily. Dialpad Ai can automatically suggest questions and phrases that they need to say during a call (for example, asking about budget or purchase timelines), understand whether the behavior was met, and check the task off the list (or notify managers if this isn't being done):

This is helpful for sales leaders, because they don't have to painstakingly review every single call, and can quickly tell which reps need additional coaching or if any parts of the methodology can be improved upon—all thanks to this unique sales AI feature.
If you notice that reps need help, you can message them on the side (right in the same app) or create RTA (Real-time Assist) cards with tips on how to speak to tough topics like pricing and competitors. You can fully customize each RTA card and set them to pop up automatically when certain keywords are spoken on a call:
Dialpad also integrates with a number of popular sales apps and tools including:
Need a sales engagement platform?
See why sales orgs love Dialpad! Book a demo to check out sales-specific functionality like RTA cards and voicemail drops. Or, take a self-guided interactive tour of the app on your own first!
2. Spotio
What sets Spotio apart from its counterparts is its focus on field sales—with this app you'll be able to increase activity and drive revenue by giving your reps all the tools they need to sell successfully.
With the Activity Feed feature, managers can have access to their rep's calls and visits in real-time, making tracking your team easier and giving you insight into what can be improved.
Integratable with a number of popular apps and systems including:
Salesforce

Microsoft Dynamics

SAP
3. Mixmax
Mixmax is a sales enablement platform designed for teams that are on Gmail. You can easily share your calendar with prospects, schedule sequences to go out, and track how they're performing.
(Right now, Mixmax doesn't have a mobile app and works on desktop only.)
And yes, Mixmax has an integration with Dialpad that lets you make phone calls right from your Mixmax dashboard.
4. Sales Rabbit
Just like Spotio, Sales Rabbit is an app designed for field and outdoor sales, equipping users with the tools needed to efficiently manage teams and their leads. With functionality like Sales Territory Mapping and Sales Rep Tracking, managers will be able to easily assign tasks and keep track of sales activities and their reps while out in the field, so you won't be offline when it matters.
Sales Rabbit makes managing leads simple, with features like Lead Stacking and Lead Tracking so users can create lists of leads within their chosen area to target, as well as tracking the status of leads by dropping pins at specific residences to collect information.
It's integratable with a number of popular apps and field sales systems including:
GorillaDesk

Top Builder

Tier32

Google Tasks
Sales apps for lead management
Designed with leadership in mind, these apps will help you better manage team members so you can maximize their efforts and hit your goals:
5. Salesforce
A relationship management system, Salesforce is popular among many businesses for its ability to bring customers and companies together. Break down silos and bring your team together, regardless of department, to get a shared overview of each customer so your team can start making smarter and more informed sales decisions.
6. Outreach
If your team does a lot of email outreach, or even a mix of email and phone outreach, then Outreach (great name, right) is a useful tool to have.
It helps you organize all your different outreach sequences, keep track of open and click-through rates, and in general is great for streamlining workflows.
Plus, it integrates with Dialpad, which lets you dial prospects just by clicking on their phone numbers—right inside Outreach.
7. Zoho CRM
A CRM system that's popular with businesses that don't use Salesforce, Zoho helps bring different departments together to streamline processes and provide the best customer support possible. It lets you easily automate manual sales processes with the sales force automation feature and create pipelines so your sales team can easily see where they need to be working towards at all times.
8. Apptivo
Apptivo brings together critical aspects of your business (CRM, project management, and invoicing) all into one, single platform—think of it as a cloud-based management suite—so you can work on each process without having to toggle between applications.
If you want to help your sales team collaborate more effectively with timesheet management software and track your entire sales process, this might be an option to look into.

Sales tracking apps
Whether you do sales out on the field or virtually, keep track of your sales activities, customer interactions, and expenses with these handy sales tracking apps.

9. HubSpot Sales
A popular CRM software for many businesses, HubSpot Sales can help bring your team together and enable sales orgs to better manage their pipelines, customer interactions, and sales—it's a good way to track emails, documents, and calls to get a rounded picture of your business operations and where everything is heading.
10. Zendesk Sales
Zendesk tends to be a more popular name with Customer Support teams, but Zendesk Sales is a CRM platform that's designed for sales folks. It helps you better track and manage your sales operations with its increased pipeline visibility for teams and gives you easy access to data and sales information so you can analyze it and share findings with your team where needed.
11. Salesflare
A CRM and email outreach platform, Salesflare helps sales teams focus on what's most important (reaching prospects and selling) by automating processes such as manual data input and enabling managers to oversee customer interactions as a whole—so you can easily address problems as they arise.
Apps for closing sales
The make-it-or-break-it moment in sales, closing a deal is always nerve-racking. Luckily, these apps are designed to help ease the process and help you land the deal you've always wanted.
12. Pandadoc
The PandaDoc platform is an affordable all-in-one document and contract management software. It helps you oversee the entire lifecycle of your contracts using its intuitive software. This feature-rich software stands out from the competition, making it the best overall choice for companies of any size.
Use PandaDoc's web-based program or download the mobile app for Android and iOS to get started. They also offer integrations with 30-plus customer relationship management (CRM) like HubSpot, Pipedrive, and Microsoft Dynamics.
13. DocuSign
Designed to make electronic signing simple and easy for clients, DocuSign gives businesses a way to easily upload and send off electronic signatures and documents, so the sign-off goes as smoothly as possible with clients. No more printing off sheets and sheets of contracts and stapling everything together—just send them an email and they can sign right from their phone or computer.
13. HelloSign
HelloSign is another option for businesses that don't use DocuSign. It does pretty much the same thing: providing businesses with legally binding electronic signatures and documents. For the most part, which one you choose is really up to your personal preference—HelloSign also helps make the signing-off process really straightforward and increases your chances of closing a deal. You can just add signatures to online documents and track each application throughout its entire course.
14. Proposify
Proposify is another direct competitor of DocuSign's, and does pretty much the same thing with e-signatures and contracts. It lets your brand your documents, which is nice, and is a bit more on the creative end of the spectrum with more emphasis on content management compared to other e-contract tools.
15. Invoice2Go
A mobile tracking and reporting tool, Invoice2Go makes sign-offs and credit card payments easy with its simple invoice process and expense tracking software—enabling the invoicing and payment process to go off without a hitch.
15. Yooz
An accounts payable automation platform that streamlines and simplifies the invoice approval and payment process. It offers advanced features for invoice capture, approval workflows, and integrates seamlessly with accounting software. Yooz helps businesses save time and reduce errors in financial transactions, making it an essential tool for closing deals efficiently.
Other handy sales apps
If you're looking for other ways to improve your team's productivity, here are some apps that sales teams might find helpful in their day-to-day work.
16. Dropbox
If you need to store files, contracts, or other documents, then you probably need a cloud storage service. Dropbox lets us save files and sync them to different devices online—it's been pretty helpful with streamlining our workflows, and in general, having some kind of file storage software can really help a sales team become better organized.
You can easily edit and create content on Google Docs and Microsoft Office without having to toggle between applications, and bring all your team's folders and activities together to break down silos.
17. Expensify
Expensify is essentially an expense management system that helps your business stay on top of its finances and works pretty well alongside other accounting and financial software. You can easily generate invoices, collect payments, and track your expenses all within a single platform, so sales teams can stay on top of their financial interactions with clients (which may or may not include drinks and meals) and close deals quickly.
18. TripIt—for travelling
A handy travel planning app, Tripit can be used to help make your future business trips and field sales trips run all that more smoothly—check travel details, make plans, and track your trip all within one application so you can ensure your journey goes to plan.
19. LinkedIn Sales Navigator—for prospecting
This may not apply to sales orgs in all industries, but LinkedIn Sales Navigator can be a super useful sales tool for enablement, prospecting, and insights (especially for those of us who work in SaaS). It can really help increase efficiency within your sales department with its lead tracking and lead recommendations—and enable your team to target the right prospects with the best chance of closing a deal. Business cards? Who needs them anymore?
20. Google Maps—for route planning
This one's more for field sales reps, but it's one of the most popular apps on our list, just because it's useful outside of work too. Google Maps is a free, handy application that can be used to help plan field sales routes to make sure your reps can get to prospects on time—and deliver.
21. Evernote—for note taking
An app designed for effective note-taking and task management, busy sales teams might find Evernote useful for taking down notes about key information on customers—especially useful if they're out on the field—or when on call with prospects. Of course, if you're using a tool like Dialpad, which can record and transcribe your calls, you don't really need this.
What sales app should your team be using?
If you have a relatively new sales team or are starting from scratch with your software, then take a look at the "Essentials" section first—that should cover most of your best use cases.
Otherwise, you can look into specific areas where a mobile sales app might come in handy, like prospecting or e-contracts.
As a rule of thumb, remember to look for versatile apps that can do multiple things well. Otherwise, you'll be stuck paying for many one-trick ponies every month (and spending more time on maintenance and managing these tools too).
Looking for a sales app that lets you communicate with prospects more effectively?
Book a product tour of Dialpad to see how it can get your reps more at-bats, more quickly!