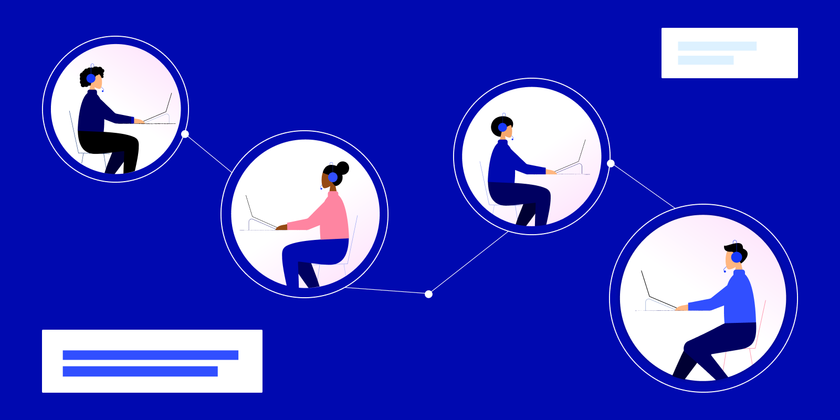 April 29, 2021
Remote work is fundamentally different from in-office work. While colleagues can sit just a few steps away in the office—distributed teams often work in various cities, states, and time zones. Without the right business apps, remote employees can struggle to deliver the same efficiency and productivity as their in-office counterparts.‌

Fortunately, many business apps are available to set remote employees up for success and drive better business outcomes. From communication apps to project management platforms, every organization should provide their remote employees with several vital tools.‌
Better Organization with Google Workspace
A clean, organized workspace is essential for productivity—and this includes remote workspaces. In the age of remote working, employees need three things more than anything else:

The ability to collaborate with co-workers on deliverables over the internet.
The ability to develop deliverables in a non-physical space.
The ability to store documents and deliverables in the cloud.
Google Workspace—formerly known as GSuite—refers to the Google family of apps and is effectively a catch-all for these tasks and more. The Google apps that will give you the most bang for your buck are:

Gmail: It's hard to go wrong with a Gmail account, as Google retains its standing as a reliable player in the email space.
Google Calendar: Another reliable standby. Google Calendar is an easy-to-use, cross-platform solution for all your calendar needs.
Google Drive: This is a cloud storage platform that allows you to store files in a centralized, secure location. Within Google Drive, you have the option to create Google Docs, Google Sheets (spreadsheets), and Google Slides (slideshow presentations). Files can be synced across devices so that team members can collaborate anywhere, anytime.‌
Google Workspace's Business and Enterprise editions provide customers with high storage capacities. There's also a variety of security, management, and privacy controls depending on the plan you select.
‌Collaboration and Project Management with Asana
Before the rise of collaboration tools, there was a time when most project management was haphazardly carried out via emails. Thankfully, you have several project management systems at your disposal now.

Asana, one of the most widely used project management platforms, offers many benefits to help remote teams plan, organize, and stay on top of tasks and project updates. Asana is especially helpful if you're trying to manage multiple projects simultaneously. You can assign tasks for different projects to different teams, monitor progress, and message colleagues all in one centralized place.

Asana also offers unlimited storage capacity. You can add up to 100MB of files to your tasks. Tasks and projects can be displayed in four different ways: the Kanban-style view, calendar view, list view, and file view. To top it off, there are numerous third-party integrations—JIRA, Dropbox, and Monday.com are a few examples—that can enable you to manage various aspects of the job in a single, convenient tool.‌
Internal Messaging with Dialpad or Slack
There is an abundance of messaging tools out on the market. It can be hard to differentiate between them to determine which one is right for you and your business.
‌Take into consideration your company size, as some messaging tools serve small businesses better and others are better suited for huge corporations. For small- and medium-sized companies, Slack and Dialpad Messaging are ideal.
‌Slack offers two primary messaging features:

Channels: Channels are a way to organize conversations by project, topic, or group of people. There are also private channels, just like channels but with restricted access, and they're typically used to have more confidential discussions.
Direct Messages: This works just like any other chat message. Pick someone to contact and shoot them an instant message.
Dialpad Messaging also offers a similar set of features, the most important ones being:

Business Text Messages: These are like Direct Messages in Slack and can be used to message back-and-forth with a co-worker instantly.
Group Messaging: These are group chats that can include both external and internal contacts.
MMS: Dialpad messaging features MMS capabilities, allowing users to send images, sounds, and videos across all connected devices.
Other features to look out for in a great messaging tool are:

A way to archive chats
The ability to search past conversations
Third-party integrations
Video Conferencing with Dialpad Meetings
It's no secret that remote operations typically involve a drastic reduction in face-to-face contact. Thankfully, video conferencing tools can step in and fill in the gap.

Dialpad Meetings comes with several features that can enhance your video meetings and virtual collaboration—including screen share, custom hold music, and more—but by far, the defining characteristic is the baked-in Voice Intelligence.‌
Dialpad Voice Intelligence allows you to:‌
Capture important moments for you to revisit later
Review Post-Call Summaries
Store detailed records and transcripts of your calls
Take notes by voice command
Transcribe meetings in real-time
With Dialpad Meetings, you can focus 100% on your meetings and let the business app do the rest.
Business Phone Calls with Dialpad
There are many tools out there that facilitate business phone calls, but again, we've got to step in and vouch for Dialpad in this category.

Dialpad's business phone system comes with an easy-to-use desktop interface and works across all connected devices — no special equipment necessary. Dialpad lets you use your smartphone, tablet, laptop, or even a traditional desk phone.‌
Other convenient features include:‌
Of course, the same Voice Intelligence capabilities you might enjoy in Meetings are available in Dialpad's business phone system as well, enabling you to enjoy:

Automated Note-taking with Voice Commands
Live Transcription
Post-Call Summaries
Voice Recognition
‌Signing and Contract Approval with Docusign
In the era of remote workspaces, there is no more meeting up in person to sign documents. But business apps have got you covered there, too.

DocuSign provides electronic agreement forms that work as a physical signature would. Whether you're making offers to remote employees and interns or working virtually with lawyers and compliance, DocuSign lets you sign documents and receive signatures that carry as much legal and operational weight as a traditional signature.

The platform offers a rich feature set to enable secure signatures, including:

Archiving and Document Retention: DocuSign's storage system maintains signed documents and audit trails.
Compliance: Enjoy legally binding electronic signatures that are widely accepted for most business transactions around the world, as well as robust transaction data logging to help protect your contracts and documents from repudiation.
Document Creation: Create and deliver documents that are compatible with and accessible on a wide variety of devices and operating systems.
Extensive Forms Functionality: Prepopulate forms, reduce errors, automate business logic, and make it easy for signers to input data.
Reporting: Take advantage of DocuSign's scheduled reports and easy-to-access business statistics.
Signer Authentication: Implement multiple levels of authentication to ensure the identity of signers before giving them access to documents.
If you're looking for a more affordable alternative to DocuSign, you can check out Signaturely, which can even be used for free.
Learn How Dialpad Can Help Your Remote Team
The work landscape is shifting rapidly, and remote operations will continue to grow and expand over the coming years.

The proper selection of tools can make or break a remote employee's experience and ability to contribute their very best. Set your workplaces and teams up for success with the best-in-class business apps so that they can enjoy many of the same benefits that the on-site workplace offers. To recap, the main categories you should be focusing your tools on are:‌
Organization
Collaboration and project management
Internal messaging
Contract signing and document management
Platforms like Dialpad can offer more than one of these capabilities—helping to reduce information overload, improve productivity, and enable employees to access their favorite tools in a single, centralized, and easy-to-use tool. Interesting in taking your business communications game to the next level? Learn more about Dialpad here.