Back to Blog
How to create the optimal conference room setup for productivity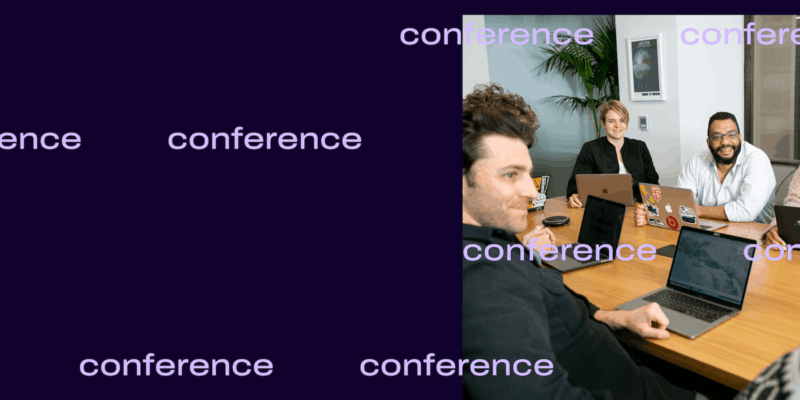 For most of us, meetings have a reputation for being, well, awful.
And while your real-life meetings may not always be terrible, meeting rooms can be dull and technology can be hard to use. All of that adds up to wasted productivity—and wasted time.
But your meetings don't have to be like that. With a good setup, the right equipment, and the best software, you can get your meetings in fighting shape.
Why is it critical for meeting rooms to have the right setup?
A proper conferencing setup is critical for businesses to succeed. Imagine walking into a busy store with only one register open for checking out. That store wouldn't last long due, probably due to long lines and angry customers.
You don't want your meeting room to be bogged down with limited functionality. A smart, well thought-out setup will ensure functional interactions for the people who are actually using the space. Here are the two big reasons why you need a good meeting room setup if your company has an office space.
It makes it easier for remote participants to connect
A whopping 73% of employees want flexible remote work options to stay, while only 66% of leaders are considering redesigning office space for remote work.
As flexible work options continue to grow in popularity, connecting your remote and in-office workers is critical. (Not to mention any other key participants that may need to interact remotely with your company.)
Having a video conferencing-friendly meeting room setup will let your team connect with anyone, no matter where they're working.
It makes your remote meetings more productive

Meetings take a large chunk of most people's days—which means that when your meeting rooms are set up poorly, it directly impacts a big productivity driver for employees.
From outdated technology, to poorly placed seating, to bad sound quality, there are many aspects of a meeting room setup that can all waste attendees' time (unfortunately). Gathering everyone for a meeting should be easy, but too often, setting up a call takes longer than it should. Ideally, all participants should be able to walk into the meeting (or join remotely), see and hear the display with no issues, and have access to share presentations or documents.
That's why we use Dialpad's meetings platform every day. It's designed exactly for this! Discussing a project idea on a message thread but want a more in-depth discussion? Instantly turn your chat into a call with one click. Share your screen, whiteboard ideas, and collaborate from your preferred device wherever you're working: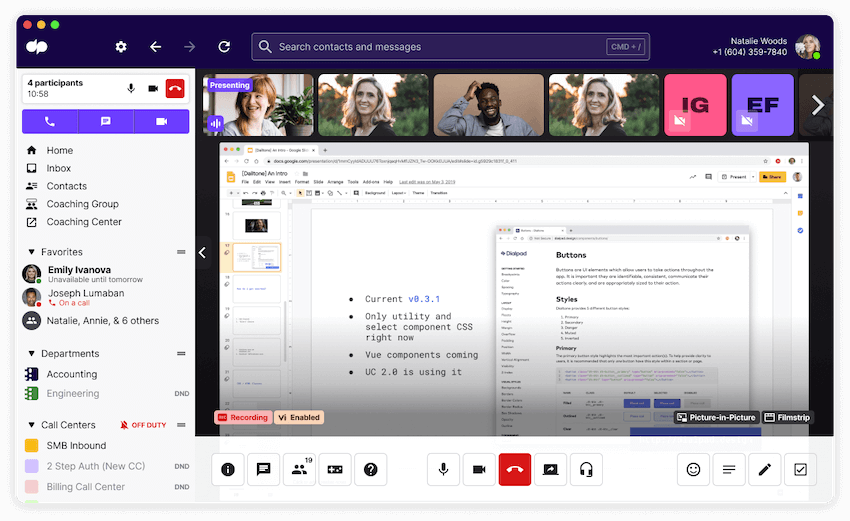 The layout of a conference room setup matters: A few considerations
Putting some chairs, a table, and a video and audio display in a space, and calling it a conference room isn't the best way to create conference room solution. The layout of a conference room does matter—and more than you might think.
What types of meetings will you have?
Of course, you need to consider all the different ways your conference rooms could be used, in order to come up with the best setup. Will it be used mainly for classroom style presentations? Connecting with colleagues via video conference? Hosting in-person workshops or remote webinars?
Conference rooms can cater to a variety of meeting types but your specific setup will depend on the size of your company and the nature of your business. If your team has a lot of short daily meetings, you might be better off with a few well-placed huddle rooms. If you frequently present sales demos to clients or have large group discussions, larger meeting spaces would be appropriate.
What layout will optimize the given space?
Once you know what kinds of meetings you'll be having, you can analyze your office to find the space that will best serve your meetings. Large conference rooms will have a larger footprint than huddle rooms and may require a dedicated building plan and room design. You can opt to have several meeting rooms near each other or space them out to accommodate different teams.
If you have a small team or just need a huddle room, you can carve out a small nook in your office with a few couches or a small table and chairs. Try to create an area with natural light to create a warm, inviting room experience or use glass walls to allow light in from other areas.
2 typical layouts
If you've ever walked into a meeting at any point in your life, in any setting, you'll most likely have come across a traditional boardroom layout or a "U" shaped seating arrangement. They're the most popular for good reason. They allow a variety of meetings to take place within a single layout, and they're easy to implement.
Traditional boardroom layout
Generally, a traditional boardroom layout includes a large or long central conference table surrounded by chairs or some kind of seating. It could also be configured as tables grouped together, which can be separated for breakout meetings: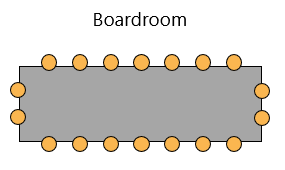 A traditional boardroom layout is best suited for large group meetings, important client meetings, and meetings with remote participation.
"U" layout
In a U-shape layout, tables are placed against each other to form a "U" shape. This layout creates an open space perfect for a screen, display, or whiteboard: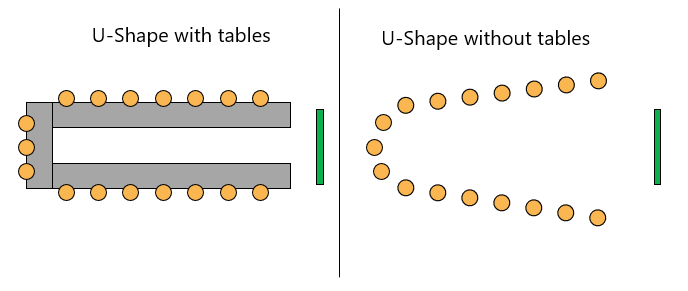 "U" shaped layouts are perfect for meetings that focus heavily on presentations or involve remote team members in a mostly virtual meeting experience. This type of layout is also great if you frequently run workshops or training in a specific meeting room, as it lets a facilitator interact easily with participants.
Factors to consider when you're building your setup
So now you might have an idea of where your meeting room (or rooms) will be located, its shape and size, and its interior layout. So, what's next?
As you check off items on your meeting room setup list, the next set of factors to consider are some of the most critical to your meeting room's success.
Accessibility of the room
Making sure everyone can access the meeting room and use its features should be your first priority. Use clear signage so people can find the right conference room easily and make sure the signs include Braille.
Doorways and any routes to seating, exits, or tech should be wide enough for wheelchairs and clear of any obstacles.
Doors, furniture, and anything participants may handle should be a reasonable weight—fancy doors may look nice, but if people can't open them quickly, it defeats their purpose.
Finally, be aware of where equipment is placed in your meeting rooms. Everyone will have different abilities when it comes to using the tools in the room. Make sure screens, whiteboards, etc., are visible and accessible by adjusting heights and including adaptable tools.
Acoustics
Background noise can be highly disruptive in a meeting, so nailing down your meeting room acoustics is critical.
Invest in quality audio endpoints so participants can hear everything, whether they're working remotely or sitting in the conference room. In addition to quality audio, consider absorbent surfaces like sound panels or white noise machines that can help reduce reverberation time (the time it takes for sound to fade in a closed space.)
Furniture
Furniture in your meeting room can serve several different functions beyond seating. Furniture can be used to differentiate between different meeting rooms to avoid confusion. Changing the lights, colors, and plants can also help distinguish one room from another.
Chairs and any other type of seating should be ergonomic and comfortable (and there should be enough for all participants!) Keep in mind that comfort promotes productivity, and subtle design choices can make a big difference in mood and the overall meeting experience.
Outlet placement and availability
To ensure the best meeting experience and minimize setup headaches, make sure there are enough ports and outlets in the room to cover any technical needs that arise. Video conferencing equipment should have its own dedicated outlets close to where they're being used.
If you're able, have outlets put in along the conference table or throughout the room to ensure full access for all participants.
Here's an example of what that looks like in a conference room: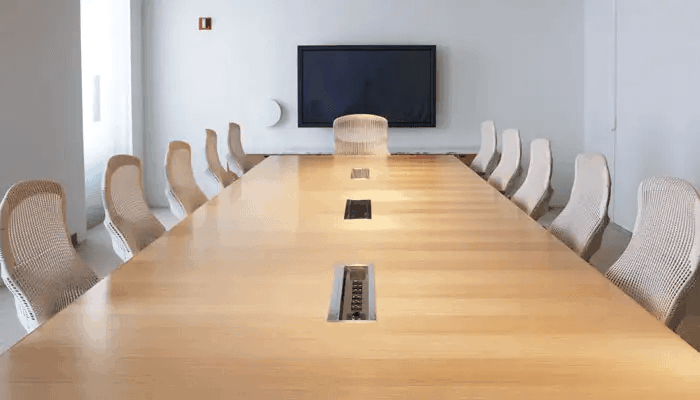 Lighting
Good lighting can make the difference between a good call or meeting and a bad one. Here are some basic tips to achieve good lighting:
Avoid having a light on only one side of the room—it will result in one side of the face being shaded.

Make sure there is no backlight to avoid getting washed out.

Avoid sitting with your back to a window. Put any windows or light sources in front of you for optimal lighting.
Internet connectivity
Your conference room will need a fair share of network bandwidth. Keeping your audio-visual equipment wired directly to your network can free up bandwidth for wireless-dependent devices.
If you'd rather keep everything wireless for a streamlined look, set up a separate SSID to avoid network congestion. Utilize dual-band routers by reserving either your 2.4 GHz channel or 5 GHz channel for video conferencing and streaming only.
While employees in the office might have no problem connecting, people working from home or on the go might not have the same connectivity. Dialpad's collaboration with T-Mobile gives remote workers a unified communications platform on super-fast 5G. With little to no set up, it gives you reliable HD call quality, video meetings, phone calls, and messaging.
Conference room equipment and technologies to think about
Probably the aspect of your conference room setup you've thought about the most, choosing which equipment and technologies to include can be mind-boggling. In the next section, we're going to break everything down for you, so you know exactly what you need.
Cameras
Obviously, you're going to need a camera for any virtual meetings you have in your conference room. The camera will typically be placed in the front of the room, either below or above the video display.
Choose a wide-angle camera to capture a majority of the participants, or better yet, choose a video conferencing solution that includes a wide-angle camera as part of its all-in-one setup.
Microphones
Mics are another essential piece of equipment you'll need in your conference room—you won't be able to have meetings without one (or two.) Microphones can be on-table or in-ceiling, or they may be built directly into an all-in-one video bar.
Deciding on your microphone setup will depend on the size of your conference room and the number of participants the room can hold. Keep in mind you want to focus on quality, not necessarily volume. The right microphone configuration should reduce echo, feedback, and other noises, to enhance the video meetings.
Speakers
The number of speakers you decide on for your conference room, like microphones, will largely depend on the size of the room and the number of participants it can accommodate. Choose the highest quality speakers you can within your budget and make sure they easily sync with the rest of the tech in the room. (The Yamaha YVC - 1000 speaker is a solid option.)
To keep things simple, look for a video conferencing system with an all-in-one setup that includes speakers. This will give you peace of mind knowing your speakers, microphones, and video will all sync without any issues.
Check out the Poly Studio all-in-one video bars: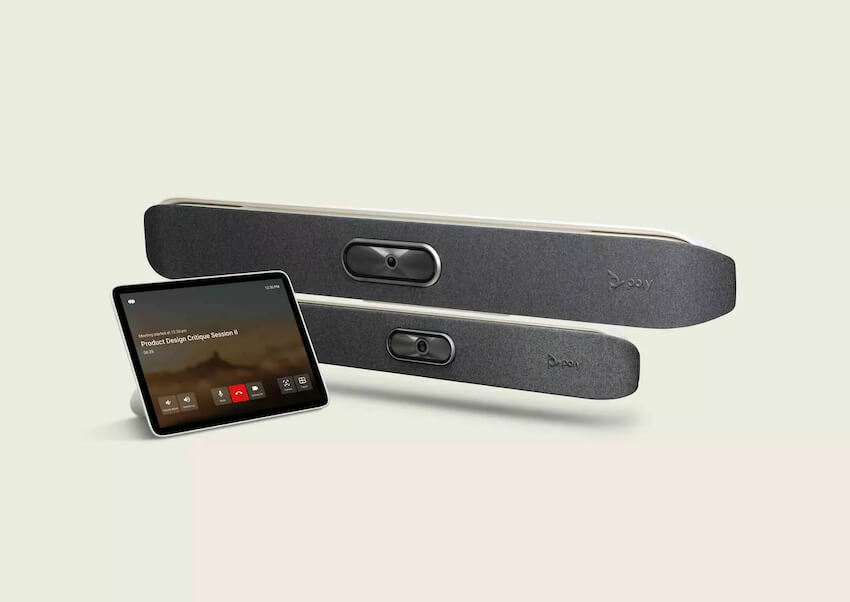 Video monitors and displays
Video monitors and displays allow everyone in a meeting to be on the same page through shared documents and communication. They give your meeting room video conferencing capabilities, the ability to screen wireless presentations, and even accommodate collaborative whiteboards.
They're clearer than traditional projectors, and you can keep the lights on when you use them. When choosing a video monitor, consider the display size best suited for the room size, the best mounting height for the display, and the type of display.
Additionally, you can use a display outside the conference room to show the meeting room's schedule for the day or to display if the meeting room is occupied or not.
Dialpad actually has a feature that lets you move your video meeting from your cell phone to your conference room TV with just a tap: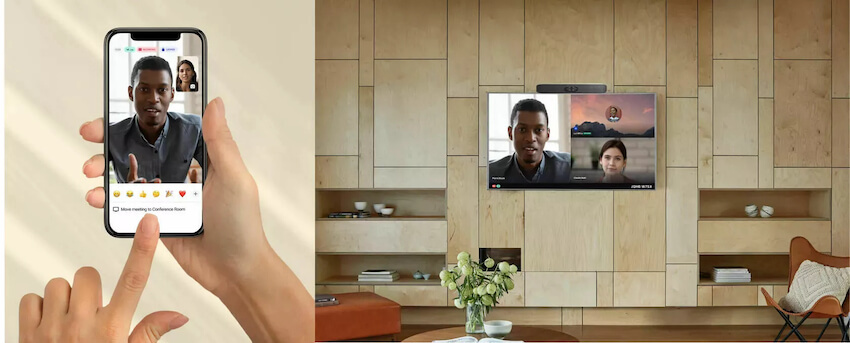 Room phone
While you might be tempted to skip a dedicated room phone for your video conferencing room, it's a good idea to include one in your plans. A conference room phone will round out any meeting needs that may pop up, so you don't have to scramble at the last minute during a meeting to find a solution.
With Dialpad, setting up a conference room phone is easy. Once you've connected a Dialpad-compatible phone, you just need to log into the admin portal and select the appropriate phone, assign a name to the phone, establish your e911 location, and select your number.
7 ways to upgrade your conference room setup
Now that you have the basics and essentials for your conference room, we're going to go over the upgrades that will completely optimize your conference room setup.
1. Have a dedicated tabletop controller with advanced features and easy integration
With a tabletop controller like the Poly TC8, you don't need a laptop or a mobile device to connect and worry about before a meeting. It's as simple as adding the meeting room to your calendar invite, walking into a room and conveniently tapping on the controller to immediately join the meeting.
A tabletop controller that's tightly integrated with your meeting software can make video meetings even more convenient for the host. They'll be able to use these controllers to easily control the room and do things like mute the room, turn on video, enable speaker tracking and auto framing, and switch display layouts.
2. Consider smart technology
Smart technology is a great way to impress participants and attract top talent to your company. Let's dig into some of the smart options you can look into, like smartboards, voice assistants, and smart lights.
Smartboards
Smartboards allow you to utilize touchscreen drawing, automatic saving to a computer, and plenty more. Whiteboards are a classic brainstorming tool, but smartboards take it to the next level.
Voice assistants
Voice assistants, like the Amazon Echo or Google Nest that you use to turn the lights on and off at home, can also be used in the conference room, albeit in different ways. Using natural language processing, voice assistants can transcribe notes, dictate messages, assign tasks, and set appointments.
Smart lights
Smart lighting can control the ambient light in your conference room, ensuring you always have the ideal meeting room environment. When you need to dim the lights for a presentation or turn them back up again, you can do so easily.
3. Use a 360 degree camera
A camera in your conference room is essential, but a 360 degree camera will make remote participants feel like they're right there in the room with everyone else. Look for a 360 degree camera that can focus and zoom in on whoever is speaking.
Most 360 degree cameras sit in the center of a conference room table, automatically panning to whoever is speaking. Many include echo reduction and useful noise cancellation features.
4. Go with wireless presentation equipment and software
It can take time setting up wired equipment in your conference room every time there's a meeting in the room. That's time wasted before every meeting, which can really add up.
Wireless presentation equipment and software save time and facilitate an easy flow of information that allows people to share content from any device.
Dedicated meeting software offers users a comforting level of security. For example, Dialpad Meetings provides locking features for your browser and mobile device while also ensuring that all call participants are documented and approved to be there.

👉 Dialpad tip:
If you need to kick out a meeting participant who's connected via audio or even just viewing the screen, hover over the person's participant card and just click "Remove."
5. Use meeting room booking software
With meeting booking software, you can avoid double or triple booking conference rooms. Anyone using the conference room can book exactly the right size room for their meeting with exactly the right tech and software they need.
6. Have spares of your most essential equipment available
Having spares for all your essential equipment means time saved when things go wrong or break down in the middle of a video call. Have on-hand spare audio and video connectors, and any adapters participants might need.
Having spare equipment on hand also has the added benefit of providing a backup if participants forget anything they need to make use of the BYOD policy you've implemented, and connect their personal devices.
7. Make sure your tools come with good IT support
When your Internet connection goes down or your interactive whiteboard won't work, it's a good idea to have IT support on speed dial. This will make sure that any problems don't result in too much lost time or re-scheduled meetings that clog the booking system.
If you're a smaller business with a limited budget that doesn't include a full-scale IT department, look for a video conferencing solution with strong customer service support and plenty of self-service resources.
Ready to start planning your optimal conference room setup?
Collaboration is at the heart of every conference room setup. And to have an easier time creating an environment that makes collaboration easy and enjoyable, crowdsource ideas and suggestions from your team to make sure you have an inclusive place for everyone to share.
It may take time, but by investing in the layout, equipment, and technology in your conference rooms, you can make them enjoyable spaces to work in for all of your in-office and remote team members.
Need a communications platform that plays nice with conference rooms?
Book yourself a product tour to see how Dialpad is designed to be an intuitive, easy-to-set-up part of your conference rooms!