Back to Blog
Free video calls: The 6 best apps, ranked for small businesses and enterprises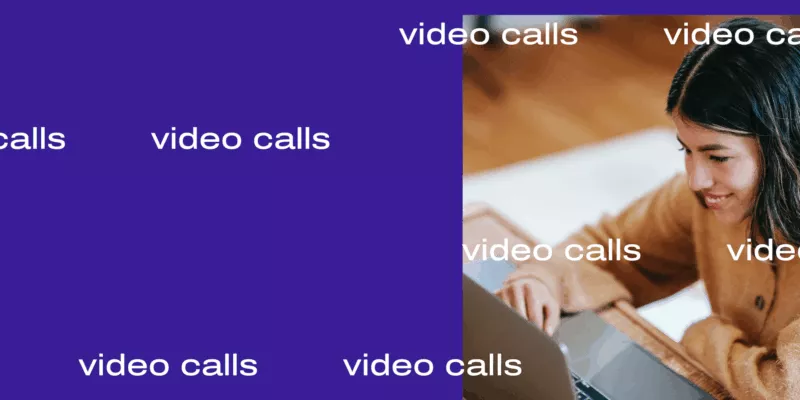 Video calls have transformed the way we communicate at work. Specifically, you don't have to be in a meeting room at the office anymore. You can have face-to-face conversations with teammates, clients, and prospects on your computer or phone—from anywhere.
And when it comes to video meeting software, there's no shortage of choices. Sure, there are paid options, but what if you're at a small business with a tight budget, or just not ready to make that investment yet? Good news is, there are lots of free video call apps—that are actually designed for business use (which is why you won't see Skype on the list below).
But there are some things to know about besides meeting time limits and the number of participants you're allowed. In this guide, we'll break down what to look for in free video calling apps, where the big differences tend to lie, and some of the best free options out there.
👀 Thinking of going hybrid?
Grab our Hybrid Work Playbook 2.0 which breaks down creating a sustainable, people-first hybrid workplace into five steps.
Things to look for in free video calling tools
If you're looking for a video conference platform for your business, there are some basic video calling features you'll need, beyond just whether or not they have a free account or plan.
Usability of the free account
Almost all video call providers offer both paid and free versions. Usually, the free versions of this software will come with more limited features. It makes sense—they want you to become a paid customer.
There's typically a time limit length for video calls and a maximum number of participants. That's pretty normal. What you need to decide is whether that will significantly impact your ability to use that tool. For example, if you have lots of meetings that run over an hour, then you'll likely have to shell out for a paid plan because almost all free apps will limit meeting lengths to under an hour.
A user-friendly experience
The nice thing about free video call plans is the user experience shouldn't be worse than the paid plan. You'll be using the same app as paid customers (with the exception that you'll have limited meeting times and meeting sizes, of course), which means you should definitely consider the user experience.
How many video meetings have you had in the last year where someone couldn't figure out how to share their screen, unmute themselves, or even enter the meeting itself? Your free app should make starting and joining a video meeting easy—especially if you're planning to have meetings with people outside your company, like prospects or clients.
Access on web browsers and a desktop / mobile app
On a related note, your video conference call app should work across different platforms and devices.
If your team is working on Macs, PCs, Android, and iPhones, then your free video app should work across all of them! And again, if you're going to have video meetings with clients and prospects, this is important to have because you can't control what devices they're using.
For example, Dialpad's free video call app not only works on desktop and mobile app, it works on web browsers too:

That means your attendees don't have to download anything—they can just click your meeting link to join from their web browser. (on either a desktop or mobile device).
Potential to add other communication channels.
One thing that some people may not think about ahead of time is whether their video meeting app can let them do other things like make voice calls and send instant or SMS messages too.
And even though yes, most free video calling apps out there won't include these options (for free anyway), you should consider a tool that gives you that option if those are channels that you use.
For example, would you rather use one app for video conferencing, another for messaging, another app for phone calls, and so on? Or would you rather have all of those in one platform? That option does exist, and we'll highlight a few of these in the list below.
That being said, most free video chat tools will have an in-meeting text chat so that attendees can ask questions and stay engaged without interrupting the speaker. Here's how it looks in Dialpad, for instance:

HD video quality
This isn't a dealbreaker for everyone, but if you do have video meetings with clients and prospects, then you probably will care about the video quality because it just doesn't look professional if your video meetings always have poor audio or pixelated video. And yes, this is something that comes included with free versions of some of the video calling apps below.
📚 Further reading:
See which video conferencing tool made Service Today had video quality that was so clear that they stopped using Zoom and Google Meet.
Of course, even if you do have HD video software, you still won't get HD quality video calls if you have a bad Internet connection or Wi-Fi. Fun fact: Dialpad has partnered with T-Mobile for a package that gives you access to a lightning-fast 5G network and Dialpad's unified communications platform.
Robust security (locking the conference, booting out unwanted guests)
When it comes to video conference security, you've probably heard of Zoombombing, which is when unwanted guests "crash" online video meetings and generally, cause havoc for fun. But not only is this annoying, it also poses a real security threat, especially if you're talking about confidential issues on the call.
Many people think that they shouldn't expect any security features in free video chat apps because they're, well, free—but that's actually not true.
There are providers out there that have a reputation for top-notch, enterprise-level security and encryption. And not only that, there should also be in-meeting features and controls that let you have secure calls.
For example, Dialpad's free video meetings platform gives meeting hosts the power to lock your meeting room, start and stop recording, mute participants, and remove unwanted guests from the call:


What you should know when choosing a free video calling app
Of course, there are some trade-offs if you want to not spend any money. Here are a few of them.
You're giving up larger attendee sizes
One of the most common limitations is a cap on the number of attendees for your meetings. If you have a relatively small business or team, this limitation may not end up mattering.
There will be limited (or zero) integrations
Another common trade-off is that free video call apps usually don't give you any integrations unless you upgrade to a paid plan. While this may not be a deal-breaker for everyone, there are certain integrations that can make you more productive.
For example, if you use Google Calendar or Microsoft Outlook, it really helps if your video calling app integrates with it, because it'll automatically populate the invite with the meeting URL or link. Here's how it looks in Dialpad, for example:

Dialpad Ai Meetings' free version actually comes with quite a few integrations, including the ones we mentioned above and also Evernote, HubSpot, LinkedIn, Twitter, and more.
Time limits / shorter meeting durations
Another common feature of free video chat apps is the limits on meeting durations. With most platforms, you can expect some limit on call durations. A common limit is 40 minutes for the free version of the software, like with Zoom.
Support, privacy, and security measures are much leaner
Some video chat platforms have no support at all, nor do they have privacy and security measures if you're on a free account. Usually, you'll need to pay for that.
The better ones will offer some degree of customer support even on the free plans. For example, Dialpad Ai Meetings has web and chat support Monday to Friday, 8am to 5pm EST—yes, even on the free plan.
The 6 top free video calling apps for businesses
1. Dialpad Ai Meetings: A robust free plan that lets you easily upgrade if you want all-around work communications

Okay, we may be a bit biased, but if you're looking for a free video calling app with everything you need, you should at the very least give Dialpad Ai Meetings a try.
You can host and join meetings from a web browser using the meeting link, which makes for a better user experience for the host and attendees if people don't want to download the app.
The free plan takes just a few seconds to create an account for, and if you do end up wanting to make phone calls, you can upgrade easily online.
What you get for free with Dialpad Ai Meetings
Unlimited video meetings: 10 participants max, with sessions up to 45 minutes

Screen sharing: Share screens and work on documents in real-time.

Integrations: You don't need a premium plan to integrate with apps like Google Calendar, Outlook Calendar, and Salesforce.

Call recording: Dialpad's free version offers unlimited call recording. This allows you to go back and review meetings. If you want real-time transcriptions, you can get that too with the paid plan.

In-meeting chat: Communicate without interrupting the speaker.

Desktop and mobile app: It doesn't matter if you are using an iOS, Android, Mac, or Microsoft PC—Dialpad works on all of them.

Browser-based features: While we love our app, you don't need to download it to use our software. You can join and host meetings directly from the browser without the need for additional software.
How to set up a free video call on Dialpad
Making calls with Dialpad is really straightforward. First step: Sign up for free, which takes just a few seconds (even faster if you sign up with your Google or Microsoft 365 account), and that's it!
You can download the app to start having video conferences, or if you want to use your web browser, just log into your account and go to Start Meeting to either invite people or send out a meeting link.

Start using Dialpad Ai Meetings for free
With Dialpad's free plan, you get unlimited video meetings, virtual backgrounds, unlimited audio recordings, and more. Get a hands-on look by signing up, or take a self-guided interactive tour of the app first!
2. Google Meet
Google Meet, previously called Google Hangouts, is a simple solution that's commonly used by smaller teams, consumers, and organizations that don't have a ton of business needs. You can't record your meetings with Google Meet, for example.
This product is more geared toward professional use than its sister product, Google Duo—but you have to have and be signed into a Google account.
(It's kind of like how you can't use Facetime without an Apple device like a Mac, iPad, or iPhone.)
These solutions may work well for people who have those devices or accounts, and many people do have Google accounts, but this is still inaccessible for the people who don't. Especially if you meet with people outside your business; you need to make sure they won't have a problem joining your video conference
Features that come free with Google Meet:
Maximum participants: 100

One-on-one video calls: 24-hour limit

Group meetings: 60-minute limit

Screen sharing: It allows hosts and participants to share their screens.

Joining: The software allows you to insert your Google Meet link in your Gmail app / Google Calendar
3. Join.me
Join.me has recently been absorbed into their parent company, GoTo. If you already have a Join.me account, you can still use it to make and join video calls. That's not an issue. The only hiccup this might cause is a bit of confusion for attendees when they are expecting to join one platform but land on another.
GoToMeeting has pretty limited features, and only has a maximum of three attendees, so it's really only useful if you know you'll always have small meetings. Learn more about the best GoToMeeting alternatives.
Features that come free with Join.me:
Maximum participants: Only up to three

Time limit: 40 minutes max

Screen sharing: Allows hosts and attendees to share their screen

Group chat: Allows for live in-meeting chat

Mobile and browser-based capabilities: Has a mobile app but can be joined from within a browser
4. Zoom
Zoom meetings became a staple in people's lives during the pandemic and was used widely by consumers.
Because of this popularity, it got picked up by businesses and organizations as well, and the product itself is good, but one downside of this is that Zoom has also become a popular target for hackers and has encountered its share of security issues.
Most notably, it's also been banned by Google, NASA, Taiwan, and the Australian Defence Force.
Features that come free with Zoom:
Maximum participants: 100

Group meetings: 40 minutes max

File sharing: Yes

Record meetings: Yes
5. Jitsi
Jitsi isn't a video meeting app that many people have heard of, but is a good free option if you want something that's open-source. It's relatively user-friendly and because it's open-source, it's also customizable.
The problem with open-source applications is the lack of support. Because they're available openly and freely online, you'll need your IT team to be consistently monitoring the system for security concerns and functionality. This may work if you have an IT team with the time to do that, but it may be easier to stick with a solution they don't have to worry so much about.
Features that come free with Jitsi:
Maximum participants: 100

Time limit: No time limit on group or one-on-one meetings

Screen sharing: Yes

Record meetings: Yes
6. Telegram
Telegram is software that started out as a messaging app and now has started offering video group chats. It functions a bit like WhatsApp, but allows for easy management of large groups.
This app may be the jack of all trades, and it really is the master of none. While it may be good for teams that don't use video meetings very often, it doesn't offer more advanced features like meeting or call center recording.
Features that come free with Telegram
Maximum participants: 30

Time limit: No time limit on group or one-on-one meetings

Screen sharing: Yes

Record meetings: No
Best practices when setting up a business video call
Prepare devices and equipment beforehand
If you know you have a video meeting that day, get your devices and equipment prepared beforehand. You want your equipment to be operational and ready to go well before your meeting. Make sure you:
Check the cameras and microphones to make sure they're on and functional.

Have proper and adequate lighting.

Check the Wi-Fi for a strong signal.

Do a test call to a friend or team member.
Tidy up your background and area
You don't have to have a professionally designed backdrop for video calls, but it should at the very least be tidy and organized. A plan background is okay too.
Your goal here is simple: minimize distractions for meeting attendees.
If you don't get a chance to clean up, Dialpad lets you blur your background or choose a custom image:

Be on time and prepared
There are few things that are worse for meeting attendees than someone who's late and unprepared for a meeting. Give yourself time in case you run into Internet connectivity and unexpected hiccups while joining the meeting.
Eliminate background noise
This can be a difficult one to accomplish if you're working from home. If you have kids and pets in the house, it's pretty much impossible to eliminate all background noise. However, there are a few ways to decrease it.
You can:
Make sure you mute yourself when you aren't speaking.

Tell the people in your house that you are about to have a meeting.

Set your computer and phone to their Do Not Disturb settings to avoid notification sounds and the phone ringing.
Focus and avoid multitasking
We lead busy lives, and without the social pressure to focus during in-person meetings, it can be tempting to get other things done during your virtual meetings. Check out this graph:

Many of us are guilty of checking emails, texting, browsing, or even snacking during our virtual meetings.
Especially in group video calls, it's easy to slip into the background with your camera off and do whatever you want. However, that's a terrible way to collaborate and communicate while remote working.
Find ways to make yourself present and accountable during your virtual meetings. This may include:
Putting your phone in another room.

Closing out all the extra open tabs on your computer.

Keeping food in the kitchen.

Putting what you're currently working on out of arm's reach.

Writing yourself a note that tells you to focus.
Some multitasking may feel unavoidable in a video call or meeting. Note-taking, for example, is something that we all need to do so that we don't forget the crucial points of the call, right? Not any more.
The AI baked right into Dialpad's products makes scribbling along with calls and meetings a thing of the past.
By combining natural language processing (NLP), voice recognition, and machine learning, Ai allows Dialpad to provide full and accurate transcription of any call. That gives you your record of who said what and when, so during the call you can concentrate on actually engaging and taking part in the conversation.
Don't interrupt the speaker
Just like in an in-person meeting, you want to be courteous towards the speaker. This means not interrupting them. However, in a virtual meeting, it can be difficult to feel out who is going to speak and when.
There are a few simple strategies you can use to avoid interrupting a speaker while still having a productive conversation.
You can have your team:
Mute themselves unless they want to speak.

Use hand-raise functions and then wait to be called on.

Use the group chat function to send questions or comments while a speaker is talking.

Have a system in place to determine for how long one person can speak.
Get started with free Dialpad video calling
Gone are the days that you need face-to-face meetings to communicate and engage with your team. The best news is that you don't even need expensive software to do it. There are a lot of free options available.
Dialpad Ai Meetings is an excellent tool for small businesses that need a way to have video meetings with teammates, prospects, and clients. The free version comes with everything you need, including a wide range of integrations, and makes it easy to get started in just a few minutes!

Want to make free video calls?
Try Dialpad Ai Meetings' free plan to get unlimited video meetings! Signup takes just a few minutes.