Back to Blog
Hybrid work: A step-by-step guide to make your transition a success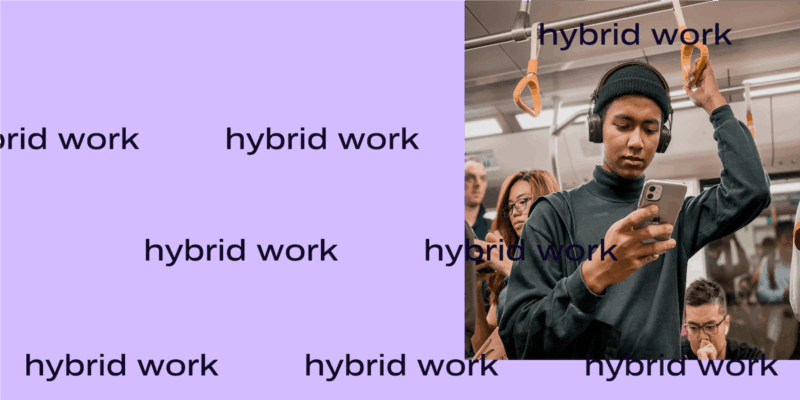 So, you want to move your business towards a hybrid work environment?
Maybe you've seen all the studies touting it as the future of work. Or perhaps you never really thought about it before, but you're starting to entertain the idea.
But you're not really sure what that means, what you need to do, or where to start your transition.
In this guide, we'll go over everything you need to know, including seven steps to take to make a successful move to a hybrid work model.
What is hybrid work?
Hybrid work comes in all kinds of shapes and sizes. In some businesses, employees can work full-time remotely, while in others, they have to go into the office two or three times a week. An organization can also have some employees work full-time in an office space and others work full-time remotely.
Essentially, it involves some combination of onsite office work and remote work. Whichever working model you choose—and it might take some trial and error to find the right hybrid approach—is also heavily influenced by your industry and business.
Take Google, for example. CEO Sundar Pichai recently told TIME:
"I see the future as definitely being more flexible. We firmly believe that in-person, being together, having a sense of community is super important for whenever you have to solve hard problems, you have to create something new...we don't think the future is just 100% remote or something."
Hybrid meetings: What they are and why they're an essential element of hybrid work What hybrid meetings shouldn't look like
So, let's say you have a hybrid team. Some folks are in the office, while others are working remotely full-time. How can you make sure that this arrangement doesn't affect teamwork and communication?
The answer: good hybrid meetings. Compared to having everyone in the office and also having a fully remote team, the hybrid work model is a bit more complicated. You can't fully get rid of your office space or meeting rooms, but you also have to account for people joining meetings virtually.
This is where a concept called "collaboration equity" comes into play.
Collaboration equity and hybrid working
"Collaboration equity" is a relatively new concept, and it refers to the ability for everyone on a team, regardless of where they're located and whether they're in-office workers, to access the same resources and work together effectively to do their jobs.
If everyone can do that in an equally effective (relatively) way, then you've got collaboration equity. But if it's much harder for someone who's working from home to, say, brainstorm with their teammates who are all in a huddle room in the office because the company isn't using video conferencing software, then you don't have collaboration equity.
This term is important because employees are increasingly demanding that hybrid work be accessible.
After all, if companies are saving money on leases and office equipment because they're allowing employees to work from anywhere, then they should also invest in the right tools and software to create a good hybrid work environment.
👉 Dialpad tip:
To really achieve collaboration equity, you need dedicated, purpose-built rooms that are equipped with software designed for hybrid work. The other benefit of this is it makes it easy to set up and troubleshoot your tools when something goes wrong. If the system goes down, you can call your provider and get help right away—that's much harder to do if you buy different devices for a conference room haphazardly and try to force everything to work together.
The advantages of a hybrid work model
Here are some of the biggest ones:
Employees have a better work-life balance because they have the flexibility to control where and when they work. From arranging childcare to just doing everyday errands, hybrid work can give employees more work-life balance.

Both employees and employers can save expenses because with fewer employees in the office and some working a majority of their time from home, organizations can save money on office costs and re-invest those savings into other hybrid workplace expenditures.

Employers can scout talent globally - With remote work, you can hire talent from New York, London, Tokyo—anywhere in the world. This will also open your business up to new markets and give you 24/7 productivity with employees in different time zones.
What kind of hardware do you need at your offices for hybrid work?
Large monitors or TV
A large monitor or TV will let employees see coworkers face to face and share presentations more easily in meeting rooms. Make sure the size of the monitor is right for the space! Don't put a 70" TV in a tiny huddle room or a 30" TV in a large conference room. One neat thing that Dialpad lets you do is move a video meeting from your cell phone to your huddle room or conference room TV with just a tap: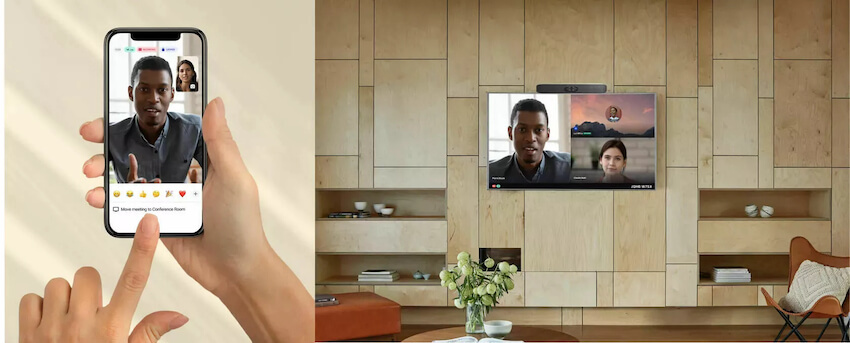 HD camera
A good HD camera lets everyone see each other and makes it feel like they're in the same room. Look for something that supports responsive screen resolutions and features a wide field of view.
Audio system
A quality audio system makes sure that employees can listen to others and also be heard. Conference room microphones should have a 360-degree range of pickup to catch voices from every angle.
Controllers
Controllers aren't a must-have for hybrid work, but they can make life easier for meeting attendees who are in a conference room.
Dialpad has a partnership with Poly that gives you the option to include a tabletop controller (the Poly TC8) with your conference room setup. In most meeting rooms, you'll see a tablet being used as the touchscreen controller that lets people join and control meetings. With Dialpad + Poly, you'll have a web and mobile controller to manage conference room meetings and settings, which gives you much more flexibility.
Video bars: Bundling up everything you need in one device
Or, instead of buying all those pieces of hardware separately, you could get a video bar, which includes your HD camera, audio system, and controller all in one piece of hardware.
Poly actually offers a range of video bars that only need two cables—one to connect to power and an HDMI cable to connect to the TV. They're easy to set up, and the bars can go above or below your TV.
Poly has teamed up with Dialpad to provide two video bars, the Poly Studio X30 and the Poly Studio X50, specifically designed for remote working employees in hybrid work environments.
The main difference between the two is that they're best used in conference rooms of different sizes but other than that, they come with many of the same features, like boardroom quality audio, a super wide 120-degree frame of view, and automatic framing that zooms in on the speaker—even if they're moving around on screen: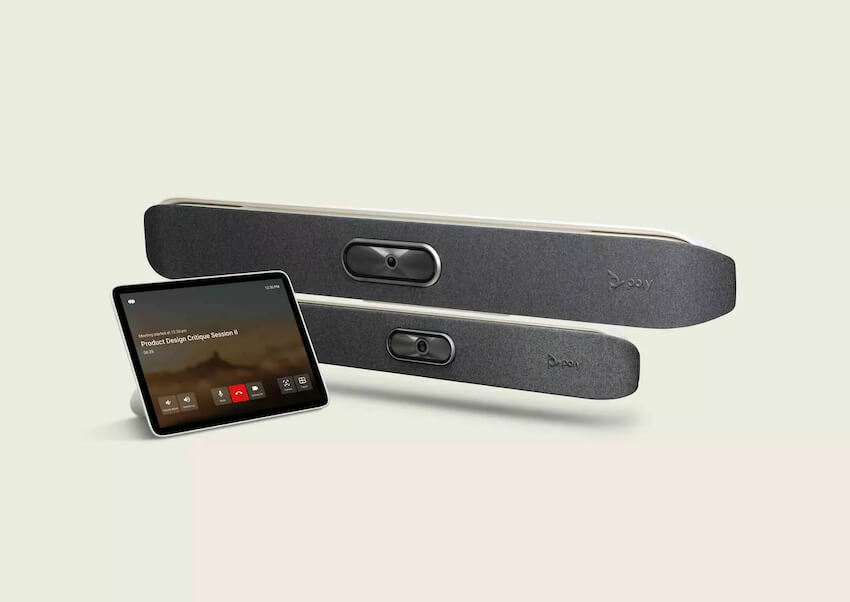 👉 Fun fact:
According to a recent survey on hybrid work environments, that's exactly what office workers around the world want. "For us, the most telling result was the number of respondents that said they want to drive the conference call in the meeting room from their own laptop. We believe this is caused by the familiarity most have with various platforms right from their own device."
And because Dialpad is fully browser-based, you don't need to download any apps to start or join video meetings. You can get full functionality and do things like share your screen in a conference room, right from your web browser: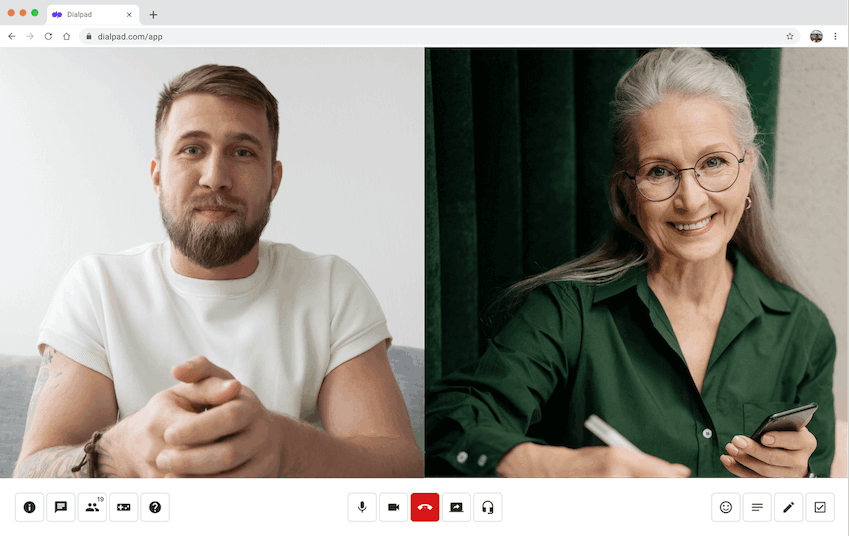 7 steps for succeeding in your hybrid work model transition
1. Define what gets done in and out of the office
One of the first things to do when developing a hybrid work model is to decide what work will be done in and out of the office.
Like meetings—will you have them in or out of the office? With the right video conferencing setup, you can easily incorporate a hybrid model that works for all of your employees' work arrangements.
And what about group project meetings? Do teams need to physically gather in the same space to complete a project? If they only need to meet sometimes, define how often that is, and tailor it to each department.
If you're in an industry where you need to review visual projects, like advertising or architecture, make sure you have software that allows you to do screen sharing. For example, Dialpad not only has built-in video conferencing and screen sharing, but also integrates with Miro, a whiteboarding app that makes it feel like you're literally in a room with your teammates: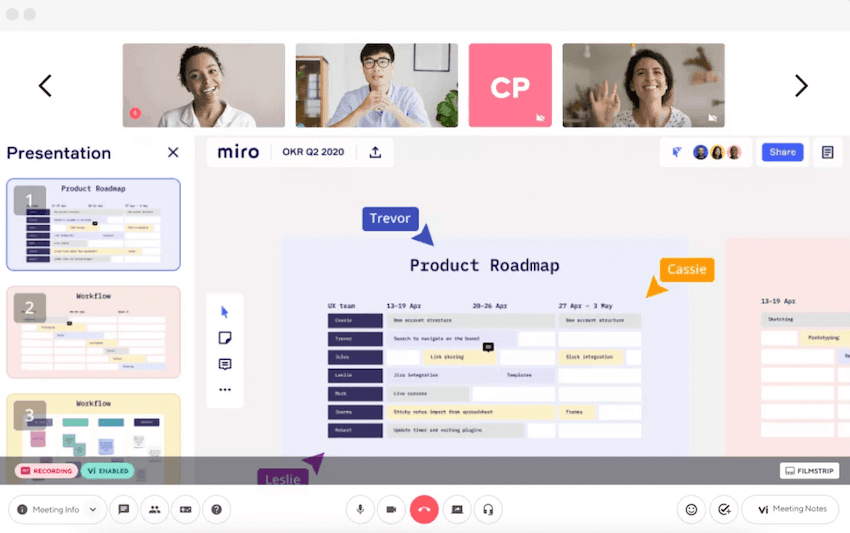 Defining what gets done in the office and outside will give your employees easy guidelines to follow for the new hybrid work model. This will streamline the transition and allow employees to make the best choices for themselves.
2. Determine your budget for the hybrid work transition
Determining the budget for new expenses that crop up from the hybrid work transition is critical. While transitioning to hybrid work can save you money in the long run, you don't want those dollars to go to waste.
Allocate funds to support remote workers as they set up their home offices. Ergonomic work environments are essential to health and increased productivity. Consider re-investing the money you save in transitioning to remote work back into workspaces for your remote employees.
For those working in the office full-time, invest in huddle rooms and conference rooms equipped with video conferencing software to maintain communication and strengthen employee engagement.
Look at your capital available and your budget, and determine what you have to spend. Would looking into Device as a Service (DaaS) as a financing method help you make money go further? Or does it make more sense to rent the hardware needed, such as with an OpEx subscription-based service?

👀 Thinking of moving to hybrid work?
Grab the Hybrid Work Playbook, which includes real-life case studies and breaks down all things hybrid + remote, from building and sustaining a hybrid workforce to equipping your team for success.
3. Understand what tools your employees need to be successful
For example, if your team is already using Google Workspace or Microsoft 365, your video chat and messaging tools should integrate with them.
This way, when you create a Google Calendar invite to check in with a team member, it'll automatically populate the invite with a meeting link: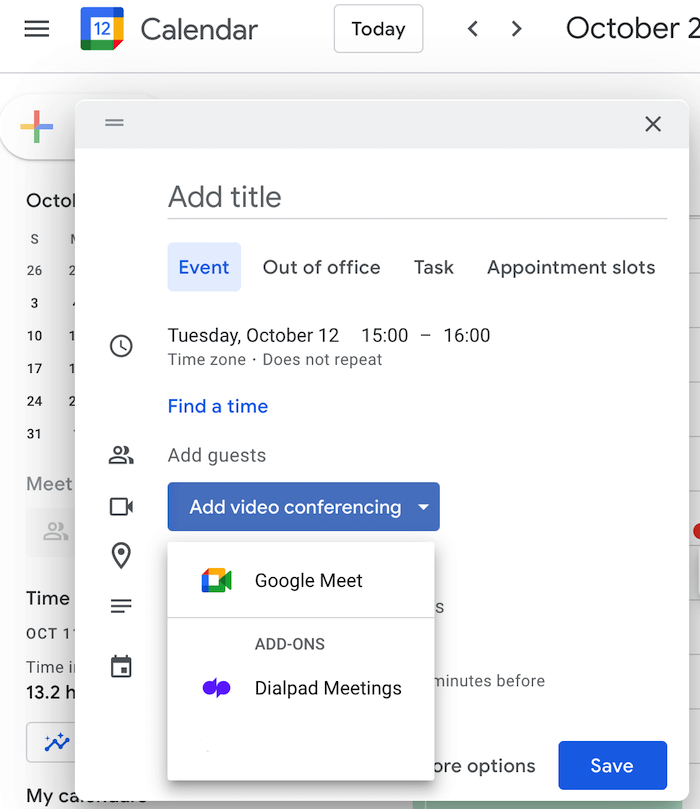 Look around your office. Are there any existing tools you can leverage in your transition to hybrid work? Determine what tools your team as a whole needs to be successful and make sure they have them.
At the same time, make a note of what's not working. That's how WeWork made the transition from a difficult-to-manage legacy phone system to Dialpad. Chad Pierce, Head of Building Technology, realized the onsite legacy phone system wasn't meeting their needs.
As WeWork moved away from legacy desk phones to cloud-based softphones, it was a straightforward transition. The team could continue working productively and quickly, making the switch without missing a beat.
Flesh out your collaboration personas
Develop personas for different types of employees and their different collaboration needs.
For example, you might create a persona for a hybrid worker who works from home four days a week and comes into the office once a week for team meetings. What does this type of worker need?
Creating personas can help you provide a stable, productive work environment that's functional for any employee whether they're at home, in the office, or on the go.
4. Adopt the right infrastructure, systems, and software
Implementing the right infrastructure will provide a solid foundation for any systems and software you set up for your team.
This includes communication best practices for your team, office timetables for workers going in and out of the office, and guidelines for all employees on work expectations to avoid burnout.
The systems you implement will support your team through their workday. For example, Fenway Health has offices, but it also has contact center agents who work from home.
And because they chose a good communications platform, they can give their team members that flexibility. "We didn't have equipment to send home with folks, but they were able to use smartphones and web browsers to access the call centers, and our call center service levels were unaffected. It was a very easy transition," says Jon, Fenway Health's I.T. Director.
👉 Dialpad tip:
Hybrid work demands software that is efficient, well designed, and provides multiple features and functions. Look for video conferencing software that lets you hold video conferences, send messages, and screen and document share, all while letting you work from any device.
5. Foster company culture that doesn't require everyone to be in the same room
To create a company culture that engages every employee and fosters connections across time zones and continents, here are a few concepts you may want to consider promoting:
The office is a co-working space that employees can use or not use depending on their work preferences and needs.

Leadership also works remotely, consistently showing that remote work is available and encouraged at all company levels (even the C-Suite).

Team members get recognized for doing a good job, no matter where they work, to build trust and inspire other employees.

People have different options for communications, so if they don't feel comfortable on video, they still can use audio conferencing and instant or SMS/MMS messaging: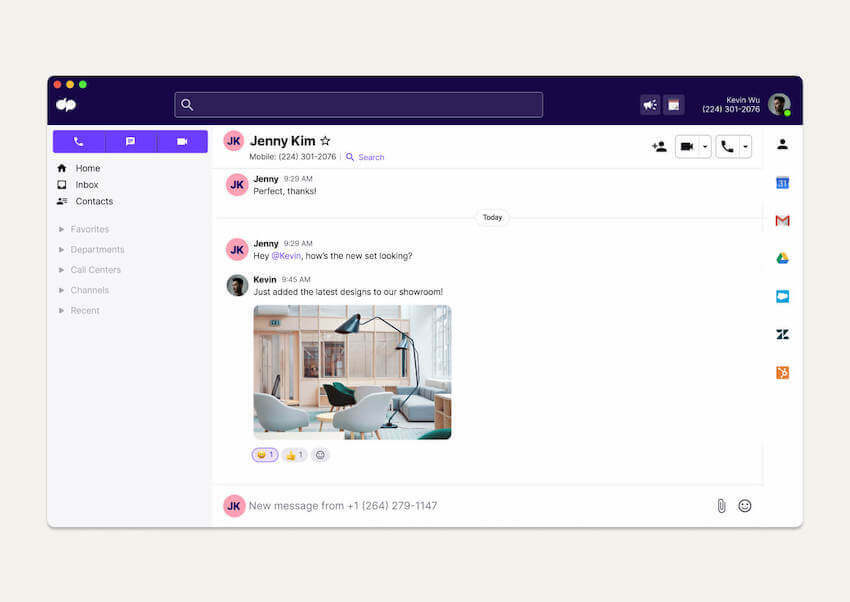 6. Get a regular feedback system in place and improve as needed
To find the best hybrid working plan for your organization, you need to continuously receive feedback from your team about what's working and what's not.
Regular chats, one-on-one sessions, listening tours, face time, and ask-me-anything sessions can bolster employee and leadership relationships.
Consider sending out regular employee feedback surveys to gauge how hybrid work is progressing. Alternatively, you can use a specific channel for employee feedback on a service like Dialpad or Slack.
7. Make adjustments for hybrid employee career development
Employees working from home may feel like they have fewer opportunities for raises and promotions compared to office workers who see the boss every day. (This is called proximity bias, and like collaboration equity, is a relatively new concept connected to remote and hybrid work.)
There are different ways to help make sure your remote employees receive the same recognition and career opportunities as your in-office employees.
For example, you may want to audit who gets promoted or recognized and why. As you progress through the audit, you'll be able to see the recognition patterns in your company, and you can then determine if they align with collaboration equity.
Next, see what's working and where you've fallen short. Set up training sessions for your managers to identify biases.
For example, if a manager gets lunch with their in-office employees once a week, then the manager should schedule a weekly lunch virtually with remote employees.
Ready to scale and adopt hybrid working?
Whatever your reason for adopting hybrid work, whether it's to reduce commuting stress on your employees or part of a strategic plan post-pandemic, there are a lot of moving parts to consider.
Communication is an essential part of making hybrid work, well, work! Make sure you have the right tools—they can make that process easier for you and help you create a cohesive digital workspace for your remote and hybrid team members.
Interested in hybrid work?
See how Dialpad's unified communications platform can help your business successfully move to hybrid work! Book a product tour to check it out!