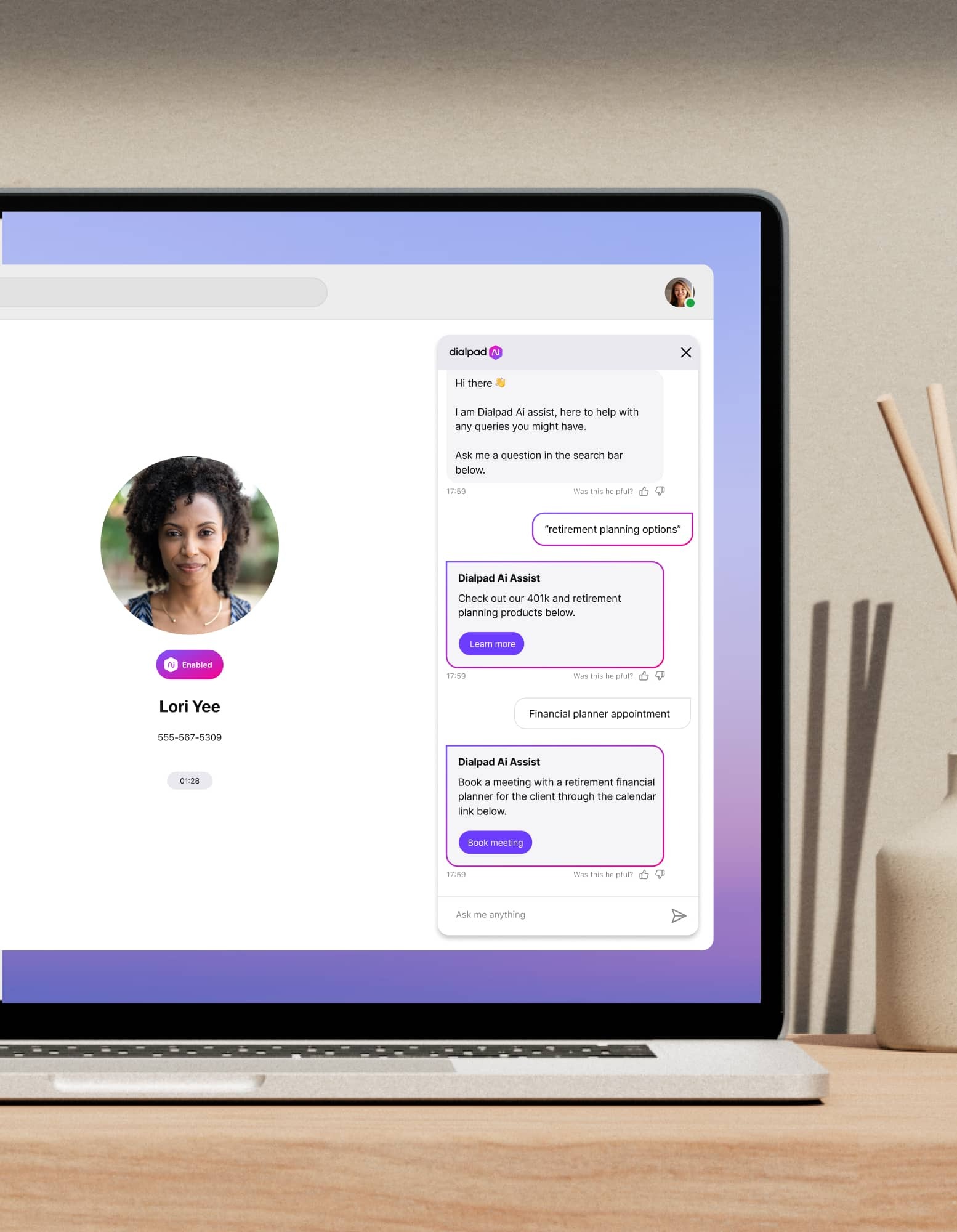 The financial services customer service guide
How can you provide a good omnichannel experience to clients who have higher expectations than ever? How can AI help your client-facing teams? Learn more in the detailed guide below. Or, if you're interested in how an AI-powered customer intelligence solution can help financial services firms improve customer satisfaction, book a demo of Dialpad Ai Contact Center!
From wealth management firms, to credit unions, to mortgage brokers, financial services companies have a unique set of customer service needs.
Clients expect a high level of service across more channels than ever before, and customer loyalty is often hard won—and easily lost to competitors who undercut on fees and rates.
But still, outside of a firm's products or services, customer service is one of the biggest competitive advantages that you can have. The bar is not particularly high, as we'll see later on, and it's not particularly difficult to clear this bar either.
In this guide, we'll walk through how financial services companies can provide clients with a better customer service experience, how some of today's biggest banks and firms are already using AI and other new technologies to do this, and more.
But first, let's look at why the role of customer service is so important when it comes to the financial services industry.
The role of customer service in financial services
Customer service is an essential part of any successful financial services company. It's what makes customers feel valued, appreciated, and respected—and it's also a key driver of customer loyalty and trust.
Out of all the industries, financial services is one of the few that leans extremely heavily on trust. With insurance providers, for example, customers often reach out during times of need or even crisis, and unsurprisingly, they expect timely and personal service.
But insurance customers have the lowest trust in their providers! According to a study by Forrester, insurance ranked lowest out of all types of financial services when it came to customer trust—ranking lower than credit card issuers and investment firms.
There are many factors that are outside the control of a financial services company, like the macro-economic environment, interest rates set by central banks, supply chain disruptions, and so on.
But customer service? This is one thing that every financial services company—regardless of size, location, and maturity—can manage and improve.
Common customer service challenges for financial services
According to Forrester, when it comes to customer obsession, "financial services companies are thoroughly mediocre."
In fact, only four percent (four!) of the financial services executives they surveyed are leading companies that qualify as "customer-obsessed."
There are more than a few reasons for this, but one thing is clear: if you work at a financial services company, your customer experience can make a huge positive impact on how you compete against other firms in your industry.
To get there, here are a few of the biggest customer service challenges that you'll have to overcome.
No omnichannel support
Today, consumers expect to be able to access help from their financial institution on any platform and channel they choose—whether that's a mobile app, website, or phone call.
And this trend is growing worldwide, not just in North America. In a McKinsey survey on private banking in Europe, 71% of clients surveyed preferred multichannel interactions.
A good omnichannel customer experience isn't just a niche request anymore. Over half of wealth managers and HNWIs (high-net-worth individuals) surveyed in CapGemini Research Institute's World Wealth Report wanted the option to choose a convenient channel to communicate with their wealth manager or clients.
Lack of personalization
As technology advances, so too do consumer expectations when it comes to personalization from their financial institutions.
Customers want personalized advice and tailored recommendations based on their individual needs—but not all banks are equipped (or willing) to provide this level of sophisticated service yet.
When a customer calls their bank, is that agent able to see their relationship history, and preempt possible questions? Or would the customer be required to repeat themselves and their questions every time they get transferred to a different agent? This is the difference that personalized service makes.
Limited customer support hours
Lastly, many traditional financial services providers only offer customer service during regular business hours, which means clients aren't able to get help outside of those times if they experience an issue or have an urgent question. Which, of course, can lead to further frustration and dissatisfaction with your level of service.
This is one of the biggest conversational AI and chatbot use cases for financial services companies, because they provide a way to have 24/7 support available and give clients answers even when agents aren't online.

6 tips to improve customer service in financial services
1. Invest in self-service options
For many financial services companies, providing top-notch customer service can be difficult due to the complexity of their services and regulatory requirements, which aren't the easiest to automate.
But that doesn't mean it's impossible—only that it requires a bit more planning and strategy.
Based on the sheer volume of requests that financial institutions receive on a daily basis, this is where having an online Help Center or knowledge base, and other AI self-service options can be helpful.
Not only can support chatbots instantly respond to customer inquiries and provide proactive customer service around the clock, they also help deflect calls, which reduces hold times and helps busy live agents feel less overwhelmed.
For example, Dialpad's Ai Virtual Assistant is easy to set up in a few clicks using the drag-and-drop builder—no coding needed:


Depending on clients' communications preferences, conversational AI can be placed on a financial service firm's website and even digital channels like WhatsApp.
2. Have omnichannel communications available
On a related note, financial services providers should strive for omnichannel customer service solutions that allow customers to access help on the platform of their choice, whether that's voice, email, live chat, or video call.
As opposed to multichannel contact center solutions, omnichannel contact centers provide a centralized view of all those channels. That means an agent who takes a call from a client is able to see their interaction history across other channels (like email and live chat) as well, instead of having to dig through disparate tools and apps.
With Dialpad Ai Contact Center, for instance, an agent has this view, right from their dashboard:

This way, you can empower agents to meet clients on the channels they're using to reach out to your firm.
3. Provide continuous training for client-facing teams
To achieve a high level of customer service, agents have to be skilled and well-trained.
But training doesn't end after a new hire has been onboarded—it should be an ongoing process that takes into account the latest regulatory updates, new product releases or services, and so on.
For most financial services companies with client-facing teams, it's important to consider agent training, both live and after the call. Otherwise, if you focus only on post-call training, you're missing out on an opportunity to really impact the customer service in real time.
Some cloud contact center platforms have agent coaching features like call pops, which provide information to agents as they're talking to customers. Some have to be created by supervisors, while others use AI to automatically search connected sources for answers and suggest those to agents.
Dialpad's Ai Agent Assist, for example, does exactly this. Agents can get the help they need in real time, and supervisors don't have to personally sit in on every call:


Dialpad Ai can also track keywords and topics that come up in customer conversations. Say a wealth management firm wants to understand which of its products clients are most interested in. The advisors can create a "Custom Moment" in Dialpad to track, say, every time "401k" or "retirement" is spoken to track how often clients ask about retirement-related products:

If they do notice a high level of interest, they can open up the transcripts or recordings from those conversations to get more context. Based on this information, the firm can then provide updated training to client-facing teams, and even tailor their retirement products more specifically to what clients are looking for.
4. Know what the data says
And speaking of data, being able to easily access call analytics and conversational intelligence is crucial to not only operational efficiency, but also improving the customer experience.
You can't provide better service if you don't know what your clients are happy or unhappy with. As we mentioned in the last tip, there are some AI customer service tools that can track how frequently certain questions and topics come up with clients.
But AI can support customer service in other ways too. For example, one of the most critical ways to measure customer satisfaction (CSAT) is by surveying customers. But one of the biggest challenges with CSAT surveys is that not a lot of people actually fill them out.
In fact (depending on the industry and specific business of course), it's not uncommon for only two to five percent of customers to actually fill out CSAT surveys. On a related note, usually only the angriest—and happiest—customers actually bother to respond to these surveys, which means your CSAT answers are likely to be very skewed and not representative of how your customers feel overall.
Dialpad's industry-first Ai CSAT feature is designed to solve exactly that. Not only can Dialpad Ai transcribe calls and analyze sentiment in real time, it can also infer CSAT scores for 100% of your customer calls thanks to its hyper-accurate transcription feature. The result? A much more representative sample size for CSAT scores, and a more accurate understanding of how satisfied your customers really are:


With AI, financial services companies can better understand their clients' pain points, uncover more customer insights, and even handle sales objections more effectively.
5. Keep compliance in mind
While we've focused on convenience and a frictionless experience quite a bit already, compliance and security are other important considerations for consumers, especially when they're doing business with financial institutions.
Not only is staying compliant important to keep your firm in good regulatory standing, it also gives your clients peace of mind to know that your firm takes their data and privacy seriously.
For example, insurance companies need to adhere to Medicare call recording regulations when selling products to customers and prospects.
Again, this is something that AI can help with. To take the example above with insurance sales agents, an Ai Agent Assist feature can remind agents as they have to disclose to the beneficiary that their contact information will be provided to a licensed agent for further contact (to reduce complaints of unsolicited calls).
Similarly, Dialpad's contact center platform also helps supervisors do quality assurance with its Ai QA Scorecards feature. Instead of supervisors having to listen to every agent's calls from beginning to end in order to grade them, Dialpad Ai can detect whether agents did all the tasks required in their QA checklists. Here, AI helps mitigate risk and maintain a high level of compliance, without overburdening managers:


6. Personalize the customer's journey
Today, consumers' high expectations when it comes to the digital customer experience isn't just something that e-commerce companies have to worry about. This trend is quickly extending into other service-based industries too, like legal and financial services.
From timely recommendations of financial products or funds, to showing the customer a personalized dashboard of their account, balances, and dashboards, there are more and more ways for even financial institutions to tailor the digital customer journey in an automated way.
Mogo, a Canadian fintech disruptor brand, for example, has a personalized dashboard that shows its customers ("MogoMembers") their loans, payment histories, and products they're eligible for, in one centralized place:

3 examples of real life financial services companies with excellent customer service
Now, let's look at a few examples of real-world financial services companies that are providing unique personalized customer experiences or just a consistently high level of service.
Camino Financial
Camino Financial is a financial services company that provides funding to micro-businesses and companies of all shapes and sizes (from restaurants to beauty salons, food trucks to party companies).
Their proprietary credit assessment and data aggregation AI determines the best loan for their clients. With offices located in LA, Mexico and Colombia, they need to be able to provide excellent customer service, from anywhere.
Their resolution time was around 48 hours, which wasn't bad, but could be improved, and they wanted to see if they could improve their (already excellent) 94% rating in customer satisfaction.
So, they chose an AI-powered customer service solution that not only provided real-time coaching to agents, but also let the team easily access real-time contact center analytics (and staff more efficiently):


The result?
"Prior to Dialpad, the resolution time was about forty-eight hours," says Tania Cardenas, Senior Sales and Operations Manager at Camino Financial. "Our goal was to lower that by 24 hours. But with Dialpad's integration and analytics, we got it down to six hours or less."
And on top of that, they improved their CSAT even more, from 94% to an incredible 97%, all because "agents have the information they need right in real time," says Tania.
Wintrust Community Bank
According to the J.D. Power 2022 U.S. Retail Banking Satisfaction StudySM, the regional bank with the highest customer-satisfaction rankings is Wintrust Community Bank in Illinois, which scored 733, beating out banks like Chase, US Bank, and Frost.
Even though it's a family of locally run banks, it's still invested in an easy-to-access online portal that customers can log into, along with different ways to get in touch via Facebook, Twitter, and LinkedIn—along with their Contact Us page, of course.
They even have a mobile app:


Hometap Equity
Hometap Equity is a company that makes homeownership less stressful and more accessible for homeowners in 15 states across the US. The company is growing fast, and needed a communications platform that could scale with it, and can integrate with its CRM to keep business moving smoothly.
Their communications platform, Dialpad, was key, as its built-in analytics helped Tom Griffiths, their Sales Operations Manager, quickly understand how productive the team was on both a company and individual level.
If an Investment Manager is really going above and beyond with their calls and talk time, for example, Hometap has the metrics to identify it and can recognize the achievement.
"What has the biggest impact for us is the ability to track all the metrics, including calls made, calls connected, and call duration," says Tom. "
We look at calls made per day, but also what constitutes a quality call (which for us is three minutes or greater), total talk time for the week, and we use these metrics to build a productivity score for our Investment Managers."
The analytics go even further than that, with the ability to identify emerging trends among homeowners. Are there recurring questions about certain properties or how home equity works? How frequently are they bringing up other financing options or other home equity investors? The Hometap team can gain insight into those recurring comments and use it to train Investment Managers accordingly.
All they have to do is create a "Custom Moment" for the topic they're interested in tracking—like a competitor name—along with the relevant trigger words. When these words or phrases are spoken on a call, this moment gets tracked in their analytics so they can see how frequently this topic is coming up over time.
Looking to improve your financial institution's customer service?
There are a plethora of ways to improve your customer service, even in a technologically slower-moving industry like financial services.
From providing more avenues for customer support, to using AI to personalize the customer journey, there are different options that range in complexity and cost, but are all worth exploring—especially as competition becomes more fierce in an industry that's ripe for disruption.
If you're interested in seeing how you can get more out of the customer conversations your financial services firm is already having every day, see how you can do that with Dialpad Ai Contact Center!

Get a hands-on look at Dialpad Ai
See how it gives financial services firms like Hometap Equity and Camino Financial real-time insights and real-time coaching for client-facing teams. Book a demo, or take a self-guided interactive tour of the app on your own first!
Financial services customer service FAQs
Is there dedicated customer service software for financial services?
Yes, there are a number of dedicated customer service software solutions designed specifically to meet the needs of financial services companies. These solutions offer powerful features such as AI-powered insights, automated responses, voice recognition technology, multi-channel support, and more.
One example is Dialpad Ai Contact Center, which gives businesses all the tools they need to provide exceptional customer service through AI-driven insights and automations. With Dialpad, wealth management firms, credit unions, mortgage brokers, and other financial institutions can have phone calls, video meetings, and messaging conversations with clients—and more importantly, get real-time AI insights to help business leaders identify trends in customer conversations, automate repetitive tasks, and offer self-service options like conversational AI.
What is a typical financial services consumer?