Back to Blog
New Medicare regulations to require recording of all sales calls: What to know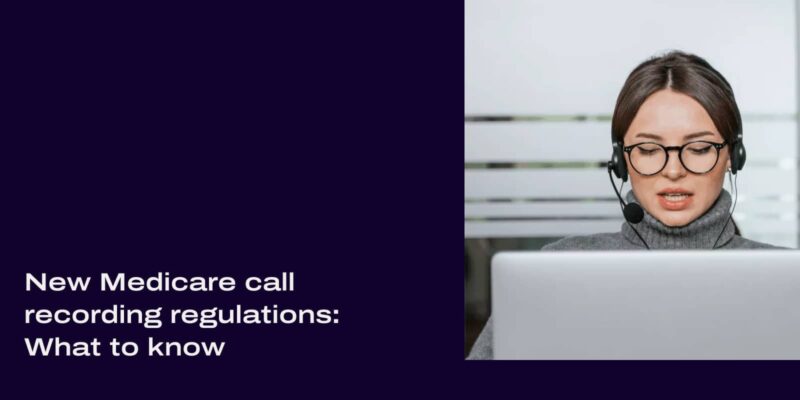 The Centers for Medicare and Medicaid Services (CMS) published a new rule, which will go into effect on 10/1/22, that includes additional regulations and requirements for Medicare Advantage (MA) sales agents.
Learn more about what is changing and how insurance call centers need to adjust to maintain compliance below.
Why this Medicare regulation change?
After a 60% increase in complaints about the marketing practices of agents selling Medicare plans from 2020 to 2021, CMS decided to take action to protect beneficiaries by providing a framework for how sales agents and organizations may market to people and expand the oversight into the agents' marketing practices.
One of the most significant changes is they are now requiring sales calls to:
Be recorded and

Have the agent make a standardized disclaimer regarding the availability of services at the beginning of each call.
Who does this affect?
This new Medicare rule will apply to organizations and individuals, including independent agents and brokers, who are compensated to perform lead generation, marketing, sales, and enrollment related functions as a part of the chain of enrollment for:
A: Medicare Advantage (MA) and

B: Prescription drug benefits (Part D)
MA has over 29 million people currently enrolled and Part D has 23 million people currently enrolled (not including those who also have MA).
As it currently operates, MA and Part D plans purchase marketing services from First-tier, Downstream, or Related entities (FDRs), which include over 100,000 independent agents and brokers selling the plans.
FDRs typically purchase their leads from third-party marketing organizations (TPMOs), but the current Medicare call center compliance guidelines prohibit the plans from working with TPMOs directly. Using FDRs allows independent agents to freely represent the plans, but it also takes away the plans' visibility into the sales agents' marketing practices. Recurring complaints about the current framework include the telemarketer failing to send the Explanation of Benefits in a timely manner and explain them correctly, cost/benefit errors on required beneficiary communication documents, and instances of unsolicited marketing.

🔏 Download the AI Compliance Guide
Want to use AI—while staying compliant with regulations? Learn more about what to pay attention to in this guide.
What's changed?
The new rule will allow the plans to work directly with TPMOs as well as FDRs, and will implement specific requirements in their contracts with these agents and organizations to regulate their marketing practices and improve beneficiaries' experience of purchasing Medicare.
More transparency for beneficiaries
All sales calls with beneficiaries or potential beneficiaries will now be recorded in their entirety, and within the first minute of each call, the agent has to make a disclaimer, stating "We do not offer every plan available in your area. Any information we provide is limited to those plans we do offer in your area. Please contact Medicare.gov or 1-800-MEDICARE to get information on all of your options."
When applicable, the agent must also disclose to the beneficiary that his or her contact information will be provided to a licensed agent for further contact to reduce complaints of unsolicited calls.
More oversight for Medicare
TPMOs and FDRs will also be required to disclose to the plan any subcontracted relationships they use for marketing, lead generation, and enrollment, and they will report back to the plans monthly about any staff disciplinary actions or violations of any requirements that apply to the MA plan associated with beneficiary interaction to the plan.
How insurance contact centers can stay compliant
The new rules provide a unique opportunity for insurance companies' contact center teams to help the TPMOs and FDRs ensure that the agents selling the plans are staying compliant with these new requirements.
Dialpad Ai Sales Center can help agents and organizations stay compliant in a number of ways:
1. Agents and contact centers can use Dialpad to ensure that all sales calls are being automatically recorded and transcribed. There is an option to automatically record all conversations, or to allow agents to manually turn on and off call recording (which can be turned off by admins if needed). Dialpad also has an API that automatically pauses recording when it detects that sensitive information like payment information is being shared:
2. Dialpad's artificial intelligence also powers the QA Scorecards, which automatically compares what is required to be said during the call against what is actually said—without the organizations and plans having to listen to the recordings of the calls to ensure that agents are being compliant:
3. Finally, agents have the option of verbally stating the standardized disclaimer and notification that the call is being recorded instead of using the pre-recorded message, which allows them to be more personable with the beneficiaries.

Are you running an insurance contact center?
If you need to maintain contact center compliance and need the flexibility for agents to work from anywhere, Dialpad Ai Sales Center is a communications platform that's designed to help you do exactly that.
From AI-powered agent empowerment features to real-time transcriptions and recordings, there are many ways in which it's helping insurance companies run more productively while staying compliant. See how it works with a demo!
See how insurance contact centers are using Dialpad's communications platform
Get a personal walkthrough of the product and see how insurance companies are using Dialpad to provide a better customer experience while maintaining compliance. Or, take a self-guided interactive tour of the app first!