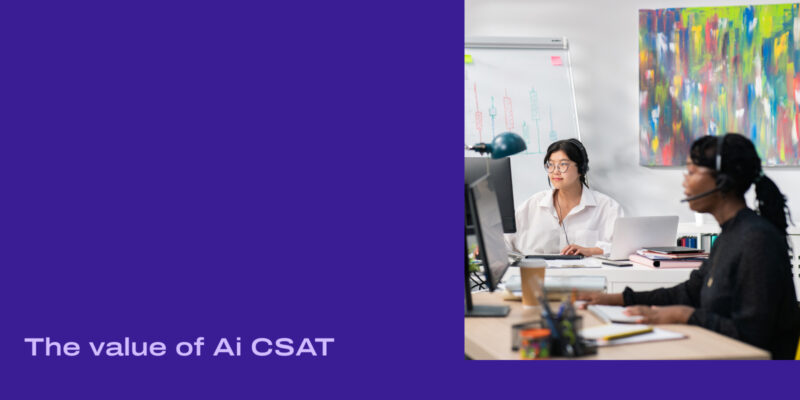 Have you noticed that artificial intelligence (AI) in self-service is becoming more and more noticeable when you interact with businesses? If so, you're not alone.
From checking on when my package is arriving on FedEx's website, to getting a refund for a faulty product with Home Depot by reaching out on social media, many businesses' contact centers are really starting to get into using AI-powered self-service options.
(Fun fact: I gave those examples because I did both of those things recently. One turned out well, the other didn't. I'll tell you more about the one that turned out well in just a bit.)
And who can blame them? More automation equals less time and effort spent by their agents (who tend to be very valuable resources), more efficient problem-solving, and—if done right—happier customers. Of course, there's a big caveat on "if done right."
So, how can a business use AI and self-service technology effectively in order to not just meet—but exceed—customer expectations?

AI in self-service: What is it exactly?
In general, AI in customer service is becoming more commonplace. But specifically, businesses and contact center teams are using AI to provide self-service options for customers.
What this is: Essentially, there are certain types of features, powered by artificial intelligence, that can help customers (or potential customers) resolve issues or find answers on their own. One of the most common examples? Customer service chatbots. Just as self-checkout lines have given grocery stores a "self-service" option that doesn't require as many cashiers, self-serve AI does something very similar—just on online service channels.

🥡 Food for thought:
It's important to note that just like how grocery stores still need cashiers (those self-checkout lines don't mean you can get rid of cashiers altogether), these AI-powered virtual assistants aren't meant to be a substitute for live agents. At Dialpad, even though we're building one of the most powerful AI self-service features you can find in any contact center software, we still believe that these are best used to complement human agents.
The benefits of AI in self-service (for both small businesses and large enterprises)
Now, let's take a closer look at why businesses are using self-service AI. At Dialpad, we're already seeing a ton of interest across industries in our omnichannel contact center platform's self-service / conversational AI functionality, and here are some of the benefits that we're hearing about most frequently from customers.
It significantly reduces inbound contact center volumes by resolving customer issues before they get to an agent
It's not uncommon for a decent-size business to get hundreds or even thousands of inbound calls and messages from customers on a daily basis.
Does that mean you have to go on a hiring spree? Probably not—if you have AI technology on your side.
For example, your AI chatbot can provide answers to FAQs (frequently asked questions) so that people who are calling or messaging your agents won't always have to speak to a human agent.
One unique thing about Dialpad's chatbot functionality is that it goes way beyond just providing preset answers to preset questions. It can also search unstructured sources of data, like PDF documents and even past customer conversations, for answers to a variety of questions. And best of all, deployment is super easy. You don't need IT help to build chatbot response flows—it just takes a few clicks in Dialpad's contact center platform: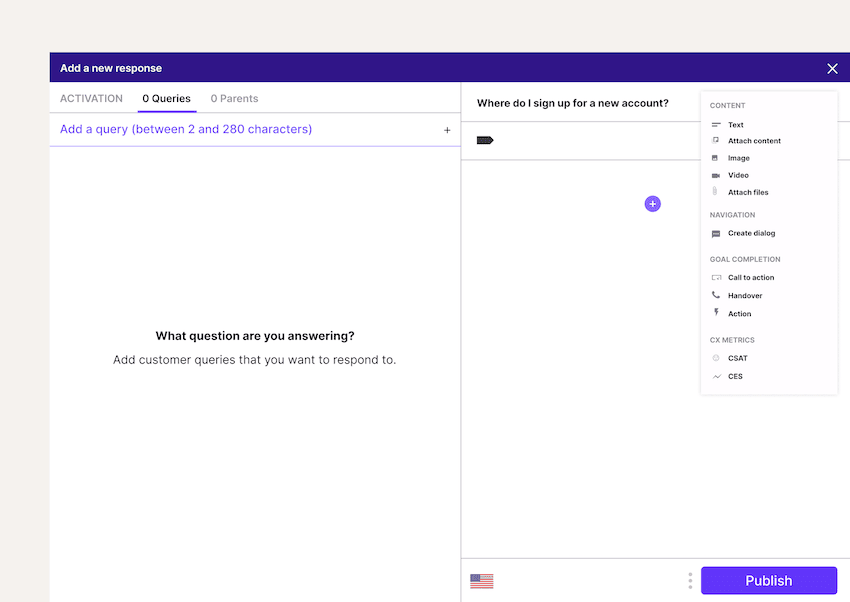 It's much more cost-effective
Self-service AI tools can help multiple customers with their problems—at once. That means that when call volumes go up, you don't necessarily need to frantically hire more agents to keep up with that demand. Nor would you need to invest in extra self-service AI add-ons or hours, since, well, the AI isn't a person and its attention span and processing ability is for all intents and purposes, infinite. It's like having a hundred virtual agents tackling customer questions, all at once—and you're only paying for one self-service solution!
What sets Dialpad Ai Contact Center apart from all the other cloud contact center software out there is our proprietary artificial intelligence. The AI technology is fully integrated into our platform, and we have an in-house AI team that's built the natural language processing (NLP) and machine learning engine from the ground up. We're not dependent on a third-party vendor or whitelabeling someone else's solution—the amazing hyper-accuracy and unique things that it can do are fully unique to Dialpad, and also why the pricing is so reasonable when you look at cloud contact center software comparisons.

❓ What's "machine learning?"
Machine learning is basically what lets Dialpad's platform continuously learn and improve over time, all on its own. For example, it's analyzed over three billion minutes of voice conversations so far—which is a huge reason why its transcriptions are so much more accurate than almost all our competitors!
It increases customer satisfaction
Okay, story time. I've been online shopping a lot during the pandemic. Recently, I bought something online that was being shipped through FedEx. It was supposed to arrive on a Monday, but by Thursday, it still hadn't arrived. FedEx's online tracking said it was being held at one of their facilities in a town 40 minutes away. I was getting antsy because I was leaving Friday on a road trip. Just to make things interesting.
I opened up my confirmation email with the tracking number, and went on FedEx's website to chat with the bot. The issue was, I realized that I put in the wrong address by accident, so the bot told me my options were to:
A: Contact the shipper (the store I bought from) and get them to change the shipping address — I did not want to do this, since there was no way I'd get the package before I left Friday.
B: Get the item shipped to a FedEx facility in my town and held there for pickup.
Because I didn't have time, I wanted option B—but would it arrive in time before I left for my trip? I needed to know, so I wanted to talk to an agent. Surprise surprise, out of all the multiple choice options the chatbot gave me, none gave me a phone number to call or let me escalate the chat to talk to a human agent.
In desperation, I just typed in, "I need to talk to someone."
That got the chatbot to give me a phone number. Which I then called—and then got connected to a person within 30 seconds. I was expecting a long hold time, so this was great.
Long story short, I got the package shipped to my town (it got there within the day) just in time for my road trip.
I'd give that a solid A in customer satisfaction—it was a very efficient blend of a customer self-service experience and an agent interaction. Would've given an A+ if it let me talk to someone directly from the chatbot window.

❓ Did you know?
Dialpad Ai Contact Center lets you create a chatbot that escalates conversations directly to a voice or video call, so that your customers can easily reach a human agent if they want to.

It gives your contact center round-the-clock coverage
Not every company has the money for a 24/7 contact center or call center team. So, how can you provide customer support outside regular business hours?
With AI's help, customers can get most of their questions answered in real time, even when you don't have any agents online. It makes for a better customer experience, improved operational efficiency, and even helps lighten the load on your agents. I'd call that a win-win-win. (Learn more about AI in customer service.)

3 key metrics for measuring self-service
Now, let's look at a few ways you can measure the extent to which your conversational AI or chatbot software is really contributing to customer success and, well, doing what it's supposed to do.
CSAT
CSAT, or customer satisfaction, scores are a very common metric that almost all companies track. Companies usually send one or two-question CSAT surveys asking a customer what they thought about an interaction (could be a customer support call, for instance), and the answers are usually on a scale of 1 to 5.
Dialpad Ai Contact Center actually comes with a built-in CSAT survey feature that lets you automatically trigger the survey after a customer call:


You can customize it if you like and add a follow-up question to ask why someone gave the score they did. But it goes one step further. One of the biggest challenges by far with CSAT scores is that not a lot of people actually fill out those surveys. I've probably filled out maybe two or three in my whole life—and only when I was really, really disappointed after an interaction with a company.
In fact (depending on the industry and specific business of course), we've found that on average only about 5% of customers actually fill out CSAT surveys. On a related note, usually only the angriest—and happiest—customers actually bother to respond to these surveys, which means your CSAT answers are likely to be very skewed and not representative of how your customers feel overall.
Dialpad's industry-first Ai CSAT feature is designed to solve exactly that. Not only can our Ai transcribe calls and analyze sentiment in real time, it can also infer CSAT scores for 100% of your customer calls thanks to its hyper-accurate transcription feature. The result? A much more representative sample size for CSAT scores, and a more accurate understanding of how satisfied your customers really are: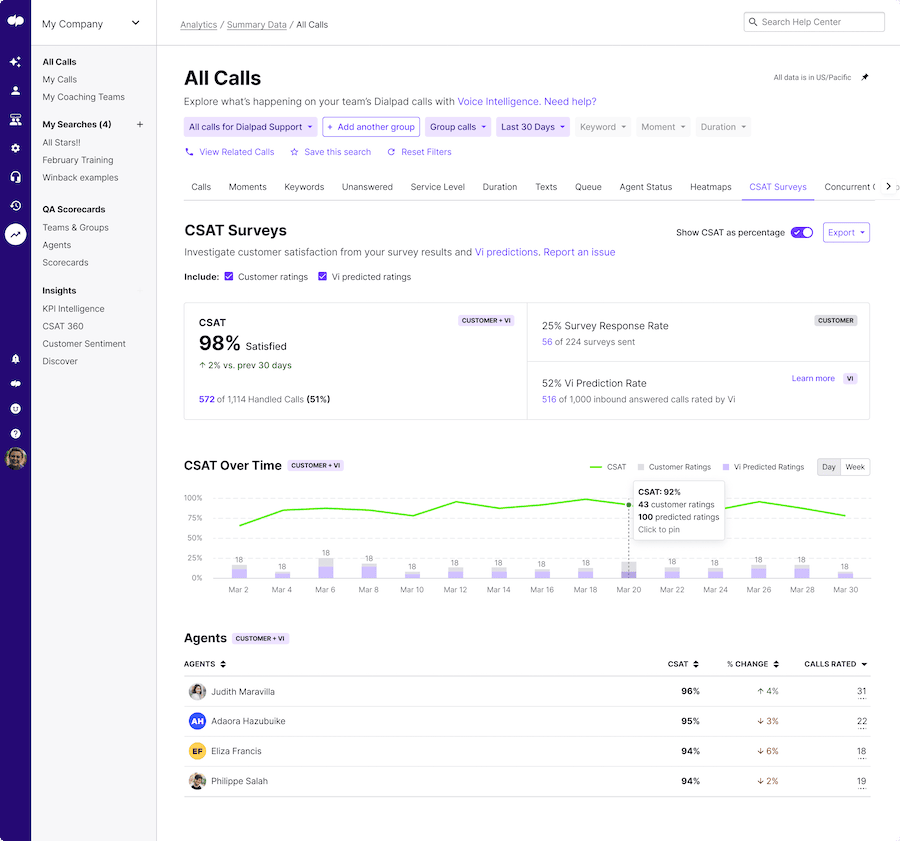 Call deflection rate
The term "call deflection" essentially describes the process of reducing the number of calls and messages that get through to the agents in your call center or contact center. An AI that's very good at its job should have a high call deflection rate, since it's able to empower most people who reach out to you to self-serve instead.
Self-service success rate
This metric ties into your deflection rate, and measures how easily your customers can resolve their queries via your self-service options.
If your customers aren't able to get whatever they wanted to accomplish done through your chatbot or IVR or whatever self-service options you have... Then it's time to go back and see if you can improve those user experiences.
3 best practices for building an AI self-service strategy
1. Identify your key use cases
Where are your customers getting tripped up most frequently? What types of customer issues are taking your contact center agents the longest to solve? Have you done any research or case studies on the most common questions that you get on the phones versus on, say, live chat?
These questions are a good starting point for building an AI-driven self-service strategy.
If you're looking for customer insights, your CRM (Customer Relationship Management) platform is a great place to look, since it should contain information and purchase history for all your customers. Alternatively, another really overlooked source of customer intelligence is something that every company already has: transcripts or call recordings of your customer conversations!
A cool thing Dialpad Ai Contact Center can do: Transcribe calls—in real time. This means that not only can managers quickly see if agents need help while they're on live calls:


They can also track how often certain keywords or topics come up through "Custom Moments," which helps them decide which types of questions and conversational flows to build into the chatbot:

Are we getting lots of questions about how to port over phone numbers or how to sign up for Dialpad? They could easily add those to our website's chatbot in minutes!
That means fewer repetitive questions for our agents—and a better customer experience.
2. Expand your knowledge base
When it comes to self-service options, having an online Help Center or FAQ page is one of the best (and simplest) things you can do to help your call center agents.
It may not be the "self-service solution" that most people think of, but if you have a detailed, well-written knowledge base, it'll let your customers find answers to most questions without having to bug your team.
(And yes, Dialpad Ai Contact Center's chatbot feature can search your knowledge base to find answers that a customer asks on your website.)
3. Seamless escalation: Always have an option to chat with a live human via voice or video
Don't get me wrong. AI has come a long way and Dialpad Ai specifically is blowing my mind every day with how much it can do.
But just like with my FedEx example above, sometimes people just need to talk to a human agent. Whether it's because their question is particularly tricky or it's too urgent to fiddle around with a chatbot to try to get the answers you want out of it, sometimes you just need to talk to a person.
And that's okay. But you have to give your customers that option! Some companies go to the extreme and take their phone numbers off their websites and cut off every avenue that someone can take to talk to their customer service team.
Sure, it sounds efficient ("Yay we're reducing expenses") but your customer experience is going to suffer heavily for it. As a consumer and customer, I don't think I've ever come across a company or industry where it made sense to fully get rid of the human touch—and I work in tech!
Ready to provide a better customer experience with AI self-service?
If you're interested in adding AI technology to your contact center, why not check out Dialpad Ai Contact Center?
We talked a lot about its chatbot functionality, but what I didn't really mention was that it's a fully omnichannel contact center platform. That means that you can use Dialpad to handle customer interactions over phone calls, video calls, live chat messages, and even other social media / digital channels like WhatsApp.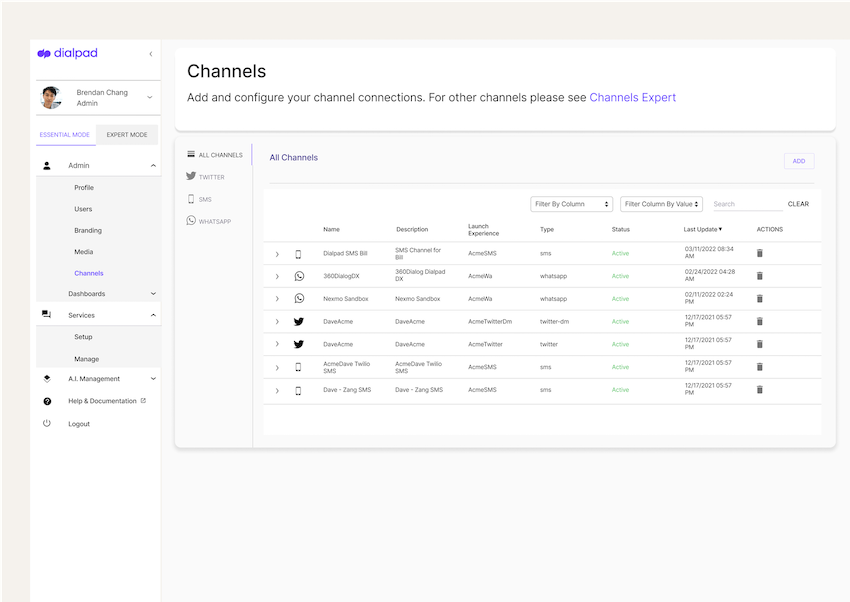 Agents can use it on their computers or cell phones with the desktop or mobile app—oh, and it works on web browsers too, no downloads needed.
And if I'm being honest, there are very few—if not no other—providers that can do this. But hey, don't take my word for it.
See how Dialpad Ai can help your customers self-service
Book a walkthrough of the product to see how you can quickly spin up AI-powered self-service options for your contact center in no time. Or, take a self-guided interactive tour of the app on your own!