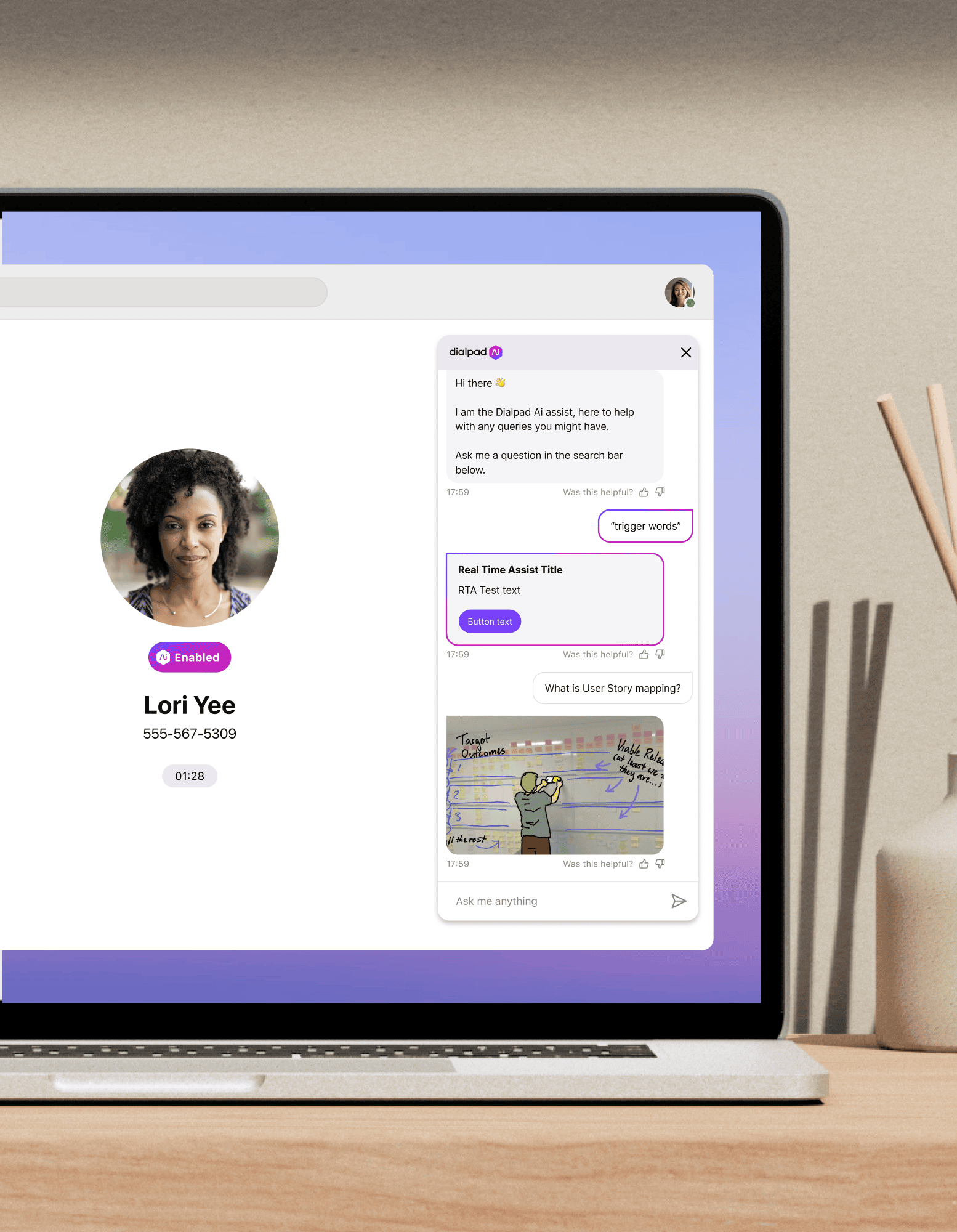 A Guide
The digital customer journey
What is a digital customer journey, and how can businesses provide a good omnichannel experience? What role does AI play? Keep reading to learn more. Or, book a product tour of Dialpad's AI-powered customer engagement platform to see how it's helping businesses worldwide communicate with customers through both offline and online channels!
As customers increasingly use digital channels like social media and live chat to interact with businesses, it's more important than ever for businesses to have a clear and effective digital customer journey.
But what exactly is a digital customer journey, and how can you build one that both gives your customers a good experience, and also empowers your support and sales teams to do their jobs well? That's what we'll cover below.
What is the digital customer journey?
A digital customer journey is simply the path that your customers take through online channels (like live chat, email, and social media) as they become aware of your business, pay for your products or services, and become (hopefully) long-term customers.
This is very similar to the traditional customer journey—the only difference is the types of contact channels they're using. Before, customer journeys typically took place over the phone and in-person. Today, customers can make purchases, sign up for services, contact customer support, and more, all online through their mobile devices.
For many businesses, the modern customer journey often involves multiple touchpoints, both online and offline.
Why is it important to optimize your digital customer journey?
With the rise of an increasing number of digital channels, customers now have more ways to reach out to businesses—and more expectations than ever when it comes to the quality of these interactions. This has put pressure on businesses to provide a better, more cohesive customer experience, both online and offline.
So, what does it mean to optimize a digital customer journey?
Essentially, optimizing your digital customer journeys simply means creating a seamless, efficient, and effective experience for your customers, with an emphasis on digital customer engagement.
You can achieve this through a variety of ways, like automating tasks, using data to personalize customer interactions, and offering convenient self-service options. Here's why this is important.
3 key benefits of having optimized digital customer journeys
A better customer experience
Firstly, optimizing your digital customer journey improves your customer experience. Imagine how a long-time customer feels when they call your contact center and hears this from the agent:
"Hey Mary-Anne, I see you asked about your most recent order on Instagram yesterday—did the package end up arriving this morning as scheduled?" Without the customer having to prompt the agent or repeat themselves, the agent can already see all the contextual information and relationship history in their contact center platform. That's the magic of having an optimized digital customer experience. Not only does it give your customers a more personalized and pleasant experience, it also tends to increase customer satisfaction—and your chances of earning repeat customers.
More productive agents
Another benefit of having an optimized digital customer journey is that it helps your agents be better at their jobs.
Before, agents had to have different apps open to respond to customer emails, live chat messages, phone calls—every channel was in a different window or tab.
Today, with omnichannel contact center and customer engagement platforms like Dialpad, contact center agents can manage all their digital, voice, and video channels in one place:


Not only that, but many contact center solutions today also have CRM integrations with Salesforce, HubSpot, Zoho CRM, and so on. This can automate manual data entry work and log activities like calls for agents, which takes more repetitive tasks off their plates.
For example, here's what Dialpad's Salesforce integration looks like. It embeds Dialpad's dialer right inside Salesforce, and even pulls AI functionality like real-time agent assists right into the CRM:

But beyond just automating tasks for agents, Dialpad Ai can also empower them to be more successful during conversations with customers—in real time.
The Ai Agent Assist feature, for instance, can automatically search all connected knowledge sources (like your Help Center, PDFs, and even past customer conversations) to find answers for agents live as they're talking to customers:


Increased operational efficiency
Finally, optimizing your digital customer journey can also help you improve operational efficiency and increase your bottom line.
By automating tasks and streamlining workflows for your agents, you're ultimately freeing up time and resources that can be better spent elsewhere. On top of this, if you go about this strategically and use AI as part of your digital customer experience tech stack, it can also help you better understand your customers and their needs.
For example, Dialpad not only lets your agents manage the whole customer journey, its AI can also track keywords and topics that come up in customer conversations.
Which competitors are being mentioned on sales calls? Which products or features are customers most interested in? You can create "Custom Moments" in Dialpad to capture all of these insights:


5(-ish) stages of the digital customer journey
Depending on who you ask and what industry they work in, you may hear about anywhere from four to seven or eight stages in the digital customer journey, from the initial pre-awareness stage all the way through to post-purchase follow-up.
Some smaller businesses with shorter sales cycles may consider fewer stages in their customer journeys, while large enterprises with complex products and years-long sales cycles may have many more stages.
Each stage presents its own challenges and opportunities, and understanding the digital customer journey holistically is essential for businesses that want to provide a truly seamless experience for their customers.
For simplicity's sake here, we'll look at five key stages in a digital customer journey.
1. Pre-awareness
In this stage, your potential customers don't know about your business yet. They haven't heard of your name or what products and services you offer, and at this stage, your focus should be on generating awareness through marketing and advertising efforts online (like paid ads on Google or an organic social media strategy).
Some businesses may break this down even further into "problem awareness" and "solution awareness"—are your prospects even aware that they have a problem that needs solving? This stage will come before awareness of your company. (See how you can get to seven or eight stages pretty quickly here!)
2. Awareness
The awareness stage is when the customer is aware of their problem—or your company, depending on how you break down "awareness—and begins to search for solutions.
In this stage, it's important to provide helpful and relevant information that will help your soon-to-be customer solve their problem.
3. Consideration
The consideration stage is when the customer has considered their options and is almost ready to make a purchase. They've likely narrowed down their short list to a few options, and at this stage, you may have a sales team that will reach out to see if they can guide the prospect to a purchase decision.
If you have a good digital customer journey set up, you may have mechanisms on your website or on your social media channels that will notify your sales team to reach out to prospects who are interested (or something more automated if, say, you run an ecommerce contact center).
4. Purchase
The purchase stage is when the customer is ready to make a purchase. At this stage, it's important to provide a smooth and easy purchase experience.
Is your online checkout flow streamlined? Or does it have way too many fields that might discourage a potential customer from filling out their credit card information?
This may also be a good opportunity to use AI to increase conversions. If you know that customers abandon their carts at this stage because they have questions or concerns about shipping, for instance, you could have conversational AI set up on your website at this checkout point to answer those questions preemptively.
With Dialpad's customer engagement platform, for example, you can easily build a conversational AI dialog flow with the Ai Virtual Assistant. It's just a drag-and-drop builder—no coding needed: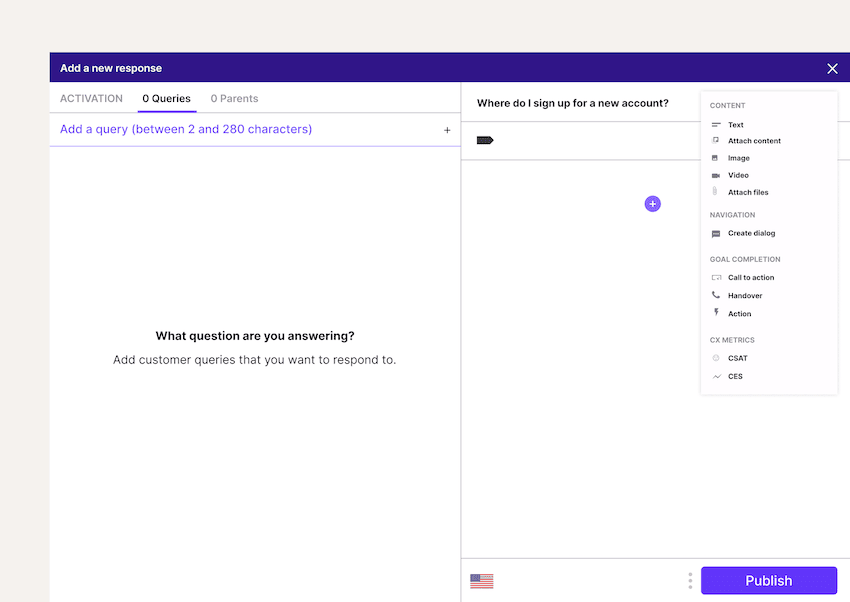 (The benefit of Dialpad is that it's a truly comprehensive digital customer journey solution—instead of needing to buy a separate piece of chatbot software, Dialpad Ai comes included right in the contact center platform.)
5. Retention / Growth
Finally, the post-purchase stage is when your prospect has become a paying customer. But your job isn't done yet—at this stage, it's important to follow up with the customer to ensure they're satisfied with their purchase and ultimately, to maintain that relationship so you can grow the customer lifetime value.
Typically, Customer Success teams own this stage of the journey, and there's a lot that they do, from upselling and cross-selling to encouraging these customers to write positive reviews. Marketing teams may also get in on the action here by running referral programs!
What a digital customer journey map looks like: 3 examples
Digital customer journey maps will look different depending on the types of products and services you sell, and the industry that you're in.
What does stay consistent, though, is that it should always be a way to visualize the steps your customers take as they interact with your business online. It's all really up to what your specific organization needs.
Here are a few examples of digital customer journey maps from very different businesses, in very different formats.
Spotify: A music lover's digital customer journey

Rail Europe: An online + offline digital customer journey map
Dapper Apps: A digital customer journey map for a mobile app development company
Create a cohesive digital customer journey with Dialpad
If you have an omnichannel customer journey that spans both online and offline channels, like phone calls, social media, live chat, and self-service, then you'll need a good omnichannel solution.
Not only will it make it easier for your sales and support agents to manage all those conversations in one centralized place, it also makes it possible for supervisors and leaders in your company to uncover insights from your everyday customer conversations.
Dialpad Ai Contact Center is designed to help you do both—let us show you how it works!

Provide a smoother, more seamless digital customer journey
Empower agents to manage both voice and digital customer conversations in one place, uncover more customer intelligence from those conversations, and uplevel your CX. Book a demo to see how you can do it all with Dialpad, or take a self-guided interactive tour of the app on your own!
FAQs about digital customer journeys
What are some examples of a typical digital customer journey?
A typical digital customer journey for, say, an ecommerce or D2C business might start with Instagram ads to make prospects aware of the brand, then show more targeted ads across other channels like Facebook, YouTube, and Google depending on if the prospect clicks on the initial ad. From there, the prospect may click around the website, check out a few products, and subscribe to an email newsletter. If they do purchase something, they may receive email follow-ups, more ads for other related products, and so on.
This general flow, from general to more targeted advertising, to social media engagement and website interactions, to purchases, is pretty typical for other industries as well, like travel and software.

What are the top strategies used for optimizing the digital customer journey?
How does the digital customer journey work in B2B?