Back to Blog
Call deflection: What many contact centers get wrong, and how to do it right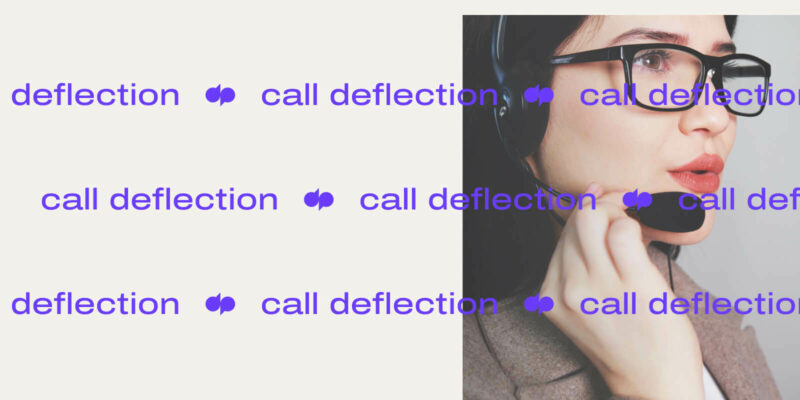 If you operate a busy contact center that receives a large number of low-impact calls every day, it's time to consider call deflection. Why? Well, 80% of American consumers agree that a positive customer experience depends on speed, convenience, knowledgeable help, and friendly service.
Call deflection is one strategy you can implement to ensure customers get the convenient experience they crave.
What is call deflection?
Call deflection is a technique that aims to temporarily reduce inbound call volume to a contact center, call center, or help desk by routing callers to alternative digital or self-service channels. Typically, you'd do this by diverting inbound calls to lower-cost digital channels, freeing up customer service agents, and delivering a more hands-off customer experience.
👉 Dialpad tip:
Alternative service channels include an online knowledge base, FAQs, email, live chat, chatbots, and even social media platforms like Facebook Messenger and WhatsApp.
Many customers prefer to find solutions on their own or more efficiently than calling and speaking to a live agent. It also gives them more control, since they have the option of switching to another channel or proceeding with a phone call.
Ultimately, call deflection strategies should prioritize the customer. It's about giving them the answers they need as efficiently as possible without completely dehumanizing the customer interaction. Think about it as a way of supporting your customers by positioning your customer support agents to handle issues more strategically and reducing customer effort.
During the holidays or seasonal events (say, the beginning of the school year if you work at a higher ed institution), this becomes especially important.
What are the biggest reasons why call deflection doesn't work?
Calling back tends to fall on the backburner
One common way that contact center teams try to do call deflection and tackle long wait times is to give callers the option to leave a message and offer them a callback. Sure, that drops the person out of your hold queue, but it doesn't deflect the work because now you've got to have an agent call that person back.
Here's the biggest problem with that: A lot of people are like, "Oh! Let's give them the option to leave a voicemail." That's fine—but who's going to call them back? Your contact center forecasting and scheduling are based on incoming calls, not the ability to carve them out of your total population callback, which means calling back often isn't prioritized.
If you have a digital team that specifically handles email and messaging channels, this can be an option. However, deflecting to voicemail specifically introduces a new set of issues unless you've got a population of agents carved out specifically for callbacks. Until you do this allocation for the first time and measure work and interactions, you won't be able to accurately forecast. Once you do though, you will have an indication of selection from customers and be better equipped to use this going forward.
📚 Further reading:
Check out Dialpad's State of AI in Customer Service Report 2022 for the latest insights about AI's impact on businesses and contact centers, based on a survey of over 1,000 CX professionals.
You're just rearranging work, not reducing it
Ultimately, your goal is to reduce the number of calls to your contact center, not to simply rearrange them. If you've got more work coming in than your team is equipped to accommodate, then call deflection probably isn't the answer.
Often, businesses aren't prepared for call deflection and don't have an action plan for the next steps involved. Where does the workload go? What happens to that caller when their call is deflected? For call deflection to work, there must be some strategic thought put into it to truly reduce your incoming workload.
How to do call deflection the right way: A few options
Call deflection helps at various stages of the customer call journey:
Before

While they're on hold, or

During
There are different ways to do call deflection, and which strategies are best for your business depends on your customer habits and call volumes. Here are just a few options:
1. Redirect them to the website
One way to effectively deflect incoming calls is to direct them to your website. Consider including a message in your IVR system that says something along the lines of, "If you're looking for this information, you can find answers on our website."
Your website should feature an in-depth knowledge base where customers can easily navigate to find answers to common questions, detailed guides and white papers, or webinars.
You can also offer a live chat pop-up window, chatbot, or virtual assistant to provide quick support as soon as customers reach your site.
2. Embed your IVR with relevant information
Embed information right in your Interactive Voice Response (IVR). Have the key information in a recorded message, like your address or business hours, this way, when someone calls with a simple query they don't need to be routed to a live agent.
A good business phone system should let you customize your IVR to route calls and provide callers with quick answers about where they can find support. Dialpad, for example, also shows you data about which IVR options are most popular (or not used at all) by your callers:

An IVR can reduce customer wait times and improve customer satisfaction (which is exactly what St. Charles Automotive did). Automation takes a lot of manual and repetitive work off your agents' hands, and customers can access support 24/7, even when live agents aren't available to take calls.
3. Find out why callers are calling
Analyze caller intent to better understand why callers are calling your business. If you experience a large volume of inbound calls that just require a simple answer (like your business hours, for example) then consider deflecting callers to your website or an article that'll give them the answers they're looking for.
One way to accurately gather customer data to find out why they're calling is with speech analytics.
In Dialpad Ai Contact Center, you can access detailed speech analytics for live and recorded calls. Not only that, it also transcribes calls in real-time thanks to its proprietary AI: Dialpad Ai—which also picks up on phrases and keywords and analyzes caller sentiment.
Armed with insights from the Dialpad speech analytics dashboard, you can refine your contact center operations and reduce repeat calls by understanding which friction points can be handled with call deflection:


Learn more about the different use cases for AI in customer service.
4. Point the caller to the right place
Always know where you're going to send a call. Work, questions, and inquiries won't stop, so it's essential that you point callers in the right direction to make sure things don't get lost in translation.
You can even preempt customer calls by alerting them to alternative service channels before they even pick up the phone. For instance, you could use automated emails, SMS messaging, or website notifications to inform them of self-service options that'll help them get answers quicker.
5. Communicate the status of the call
When issues do come up, it's vital that your agents are prepared to communicate the status of the call, along with any progress being made to fix things over every channel you use.
This improves customer satisfaction scores (CSAT) by making customers feel like they're in the loop. Their calls aren't just being deflected—you're showing them that there are other options to make their lives easier.
How to maintain a good customer experience with strategic call deflection
1. Configure intelligent IVR to serve callers
Set up your IVR to serve callers before they reach a live agent.
Dialpad's IVR helps businesses decrease wait times and increase customer satisfaction by reducing the amount of work they have to manually do. Set up custom routing rules and set the IVR menu to deflect callers to common areas of interest.
This way, you don't waste valuable resources, and your agents can spend more time on customer calls that require in-depth knowledge.
You could also direct them to other digital channels like live chat, text messaging, or messaging channels like Facebook Messenger, WhatsApp Business Chat, or Apple Business Chat. Once callers have been deflected to another channel, your agents can match the phone number to their identity on the new channel to continue providing support. It's critical to empower the agents to solve issues and/or provide solutions. To increase CSAT, your agents have to be able to provide outcomes.
A good contact center platform can empower your agents to effectively transfer calls to other digital channels and carry on the interaction seamlessly. AI is the key to smart interactions because unlike humans, it ensures no data loss, and no customer has to repeat themselves during this transition. This is why it's important to make sure your contact center platform has CRM integrations with tools like Salesforce and HubSpot (or whatever tool you're using)—this will make sure your customer interaction history is stored and automatically updated to provide a more personalized customer experience both on the phone and online.
Dialpad's integration with these tools also embeds a CTI dialer so you can make calls from there without switching tabs:

👉 Further reading:
Tecovas was able to integrate their contact center with Kustomer CRM. See how they gave their agents access to a unified view of customer interactions and break down silos for better customer engagement.
Again, with Dialpad, it's also easy to optimize your IVR menu since it has built-in dashboards that show you which menu options are actually being used by callers. And its IVR also lets you record greetings and menus in different languages, making customer support more accessible to international audiences.
Have an IVR configuration for your best day and one for your worst day—for the day that, say, an unpredicted natural disaster strikes. Being proactive like this will help you be prepared for crisis situations and take tasks off your plate ahead of time.
2. Keep an eye on call volumes and ASA times
By keeping a close eye on call volumes and average speed of answer (ASA) times, you can gain insight into the overall performance of your contact center:

With Dialpad, you can use heat maps to keep a close eye on call volumes, ASA times, and other important KPIs to optimize customer care.
For instance, if today is Wednesday, you can look back at Wednesday last week to see how your contact center is operating comparatively. Unless something out of the ordinary happens, this is a great way to ensure you're on track and meeting your customer service goals. You'll also be able to identify times where call deflection strategies need to be implemented.
3. Optimize performance with workforce management tools
Great call deflection strategies start with implementing the right workforce management tools to ensure your contact center is always prepared to handle call volumes. Choose a contact center solution that integrates with different workforce management tools to streamline operations.
Dialpad Ai Contact Center, for instance, integrates with Playvox WFM. This advanced workforce management tool empowers your business with real-time agent planning, forecasting, and scheduling.
With Playvox integrated into your Dialpad platform, you can ensure your contact center has the right agents available to best serve your customers. This way, you can create an efficient schedule to handle deflected calls based on priorities and your business KPIs.
This helps ensure businesses will have the right agents available at the right times.
Use integrations if you need to in order to streamline communication channels
Do your customers talk to your agents using a few channels? What if they start a live chat with you, but need to switch to a voice call because the issue is actually more complicated?
In these cases, it would be helpful if agents could switch between calling and messaging easily. Dialpad Ai Contact Center, for example, lets agents provide a seamless support experience across voice calls and live chat messaging.

But not only can you deflect calls to live chat (where agents can typically handle more than one interaction at a time) to help reduce wait times and increase customer satisfaction... you can also easily build chatbot flows to take some of the burden off your live agents.
There's no coding needed, and it takes just a few clicks: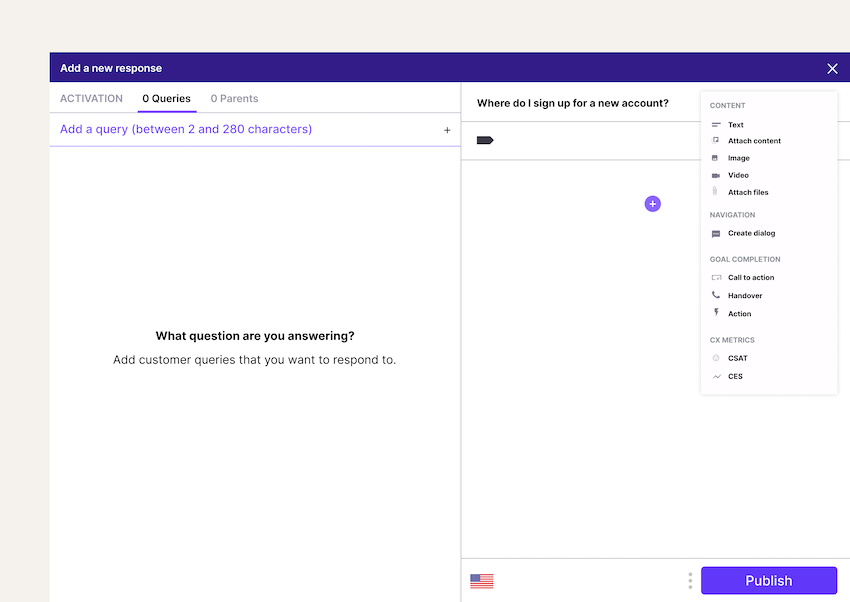 4. Organize an online community where customers can help each other
One way to combine deflecting calls and enhancing brand loyalty is to organize an online community space where customers can support each other. These allow your customers to share real-time information seamlessly.
Whether you create a group on Facebook, LinkedIn, or another social media page, or utilize a community forum, this is a space where people can get answers from one another, reducing the need for them to pick up the phone.
Use call deflection strategically to provide a better customer experience
Often, call deflection is thought of as a strategy aimed at reducing costs for businesses. This is a key benefit of call deflection, but nowadays it's all about creating the best customer experience. It's about empowering agents to handle customer support requests efficiently and effectively, while ensuring customers are satisfied with your service and get the answers they need.
By switching to a robust cloud contact center solution like Dialpad Ai Contact Center, your agents can leverage a variety of tools to implement effective call deflection strategies. With advanced calling features, business app integrations, and unified support across channels, Dialpad streamlines communications so you can provide a support experience customers will rave about.
Deflect more calls with Dialpad Ai Contact Center
Provide a more efficient—and effective—customer experience. Book a demo, or take a self-guided interactive tour of the app first!