Back to Blog
Proactive customer service: What is it and how can you implement it?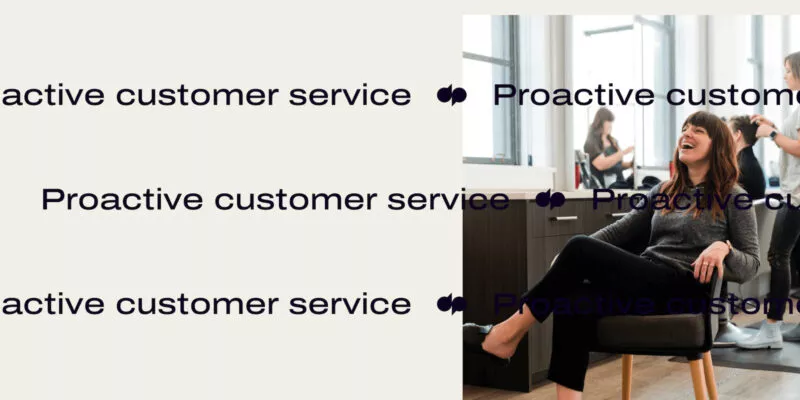 For long-term success, companies have to not only retain, but also grow their customer base. But that's easier said than done.

Today, people want more from their customer experience. They don't want just fast responses to queries—they expect proactive customer support that can resolve issues, ideally before they even have to ask (or if they have to ask, preferably resolved the first time they reach out). It's a tall order.
The best way to be customer-centric, provide proactive customer support, and avoid getting stuck in reactive mode? Have a gameplan for your customer service strategy.
I'll show you how.
What is proactive customer service, anyway?
Simply put, proactive customer service means to help your customers before they reach out to you. We see it all the time in our everyday lives. When a company issues a recall for a faulty product, that's an example of letting your customers know about a problem (and how you're resolving it) before they're affected.
Essentially, you should anticipate customers' needs and preempt any potential problems. Taking a proactive approach helps you maintain customer satisfaction (learn more about metrics to look at), minimize complaints or negative reviews (and get more positive customer reviews), and improve customer retention. Yes, it's very important.
👉 Dialpad tip:
Nowadays, the majority of customer service journeys begin and end online. To be proactive, you need to offer self-service options and be able to provide support through digital communication channels.
And to be able to provide proactive customer service, you need information. What do your customers tend to complain about? What are the most common questions they ask you? If you can gather this information, then you can find ways to give that to them before they ask you. Gaining a top level view of this data across all customers (by using a customer experience scorecard, for example) could also help to identify significant areas of potential proactivity.
We know our agents are taking notes in our cases and logging everything from our interactions—but what if we could add to that systematically and provide more meaningful analytics. What if your contact center software could do that for you? For example, with Dialpad's cloud contact center platform, you get built-in analytics like visual graphs of how often certain keywords come up in customer calls along with other metrics:

You can even filter calls based on specific search terms and easily identify common issues. All without even looking at customer feedback yet.)
The benefits of proactive customer service—why invest in it?
It helps you protect your brand's reputation
You've seen the stats and the research. For many customers, experience is one of the most important considerations when it comes to brand loyalty.
You can't 100% prevent your company from making mistakes, but you can take preemptive action (if you're aware of recurring problems), which will help you avoid negative consumer experiences with your brand—and increase the likelihood of a consumer sticking around.
The earlier you can catch customer issues and be proactive, the better. With information like this you can share internally with your business partners, find repeatable issues and focus on resolving those with product or engineering, or maybe it's even as simple as enhancing your knowledge or customer education centers.
👉 Dialpad tip:
Prioritizing a proactive approach doesn't mean eliminating reactive customer service altogether. You'll still need your best contact center agents on hand because people will inevitably reach out to you—you just want to minimize this. With Dialpad, you can set call routing rules to make sure calls are going to the best agents for the job. (Learn more about different customer service techniques.)
It increases your customer retention rate
It's not news—retaining customers costs businesses significantly less than winning new ones. (And increasing your customer retention rates by just 5% could improve your profits by 25% to 95%.)
In fact, once you have loyal customers, they often become brand advocates and help your company win new business.
Bottom line, keeping the right customers around is valuable, and a proactive customer service approach will help you achieve that.
And fun fact: you can be proactive—even on channels where customers are reaching out to you. For example, if you have customers calling you and waiting a bit on hold, how can you use this as an opportunity to proactively provide other useful information?
If you've called an airline recently and waited on hold, you might've heard a pre-recorded message saying something like, "Did you know that you can change or cancel your flight online? Just go onto our website, enter your flight confirmation number, and you'll see the options to modify your flight or cancel it there." Many airline customers probably saved themselves a ton of time waiting on hold and just changed their flights themselves after hearing that message.
Having a well-designed Interactive Voice Response System (IVR) menu can help your customers get answers to issues in an instant and also route them to the right departments or people. And with Dialpad Ai Contact Center, you can also see which IVR menu options your callers are using most frequently:

This data can help you direct customers to self help, create fast lanes where customers can get to the information they need and avoid hold times. This is really a powerful tool for customer enablement.
👉 Dialpad tip:
For smaller and medium-sized businesses especially, it can be expensive or challenging to provide 24/7 customer support. An IVR system can act as a bridge that helps customers get answers to basic questions at any time of the day (or night).
6 tips for implementing proactive customer service
1. Make the first move
Most companies will agree that being proactive is better than being reactive. But we still see many, many companies stuck in reactive customer support mode and trying to pacify customers who are already dissatisfied with their service or products. Why is that?
It's not like those businesses want to miss out on opportunities to increase customer loyalty, boost retention rates, and engage new customers… right?
Often, it's likely because they just don't have access to the data, or the right automation and communication tools to deliver proactive support. Or you have access to data, but it's not intuitive and you are unable to take action.
It's understandable—replacing existing technology can seem like a lot of work (and time). But you have to get ahead of this in order to successfully move to a proactive approach. It's not easy, but if you've done the prep work, it can be relatively straightforward. It's truly an investment in customer experience.
Here are two simple things to put on your initial checklist:
Find a cost-effective, versatile support system or CRM that lets your agents log customer calls and access data easily so they can be proactive in their conversations

On that note, you need data! Have a contact center platform or software that shows you real-time metrics and call analytics so that you can keep an eye on customer conversations at all times.
If you're looking at e-commerce contact center platforms, remember to look for something that lets your agents customize their caller IDs so they can choose the specific phone number or ID that shows up when they do any proactive outreach to your customers. For example, in Dialpad, you can choose this conveniently from your dialing screen:

2. Anticipate user frustration
One of the main ways to pursue a proactive approach to customer care is to anticipate—and avoid—user frustration.
One way to do this is by providing diverse self-service options. Empower your customers to find their own answers and solve basic issues on their own.
As always, information is key. The more information you have about your customers' pain points and what they want from your service or product, the easier it'll be to foresee their future expectations, preempt issues, and avoid falling down the reactive rabbithole.
It used to be that you could only get customer feedback after the fact. You'd get transcripts or recordings after the calls were done—maybe at the end of the day or week. Because of this lag, it was harder to be proactive. Not anymore.
Now, you can monitor customer sentiment during phone calls and get a deeper understanding of expectations and problems—in real time:

You can also equip your agents with RTA cards (basically cheat sheets for agents that are triggered when keywords are spoken on a call) with notes on how to handle tough questions. This is another proactive approach—though this time it focuses on your agents—in order to ultimately improve your digital customer experience:

As you learn more about your customers' objectives, you can flesh out your existing RTA cards—and create new ones! Learn more about how AI can be used in customer service.)
3. Provide a knowledge base
An online knowledge base is one of the best proactive support tools, and a good self-service knowledge base should have:
Detailed, clearly written articles (Whenever you put out new products or features, consider making a page for it on your Help Center!)

Answers to popular FAQs

Multi-product support

The ability to contact support if a customer can't find the solution to a specific query.
The point of a self-service option isn't to cut off your customers from your support team completely. You should still be accessible—just not always a first line of defence.
And when someone does need to contact your customer support team, the best way to avoid frustration is to reduce hold times. The longer they wait on hold, the lower their level of customer satisfaction. (When you can't avoid putting people on hold, some custom on-hold music might lift their spirits—maybe pick something upbeat.)
In Dialpad, you can choose from a range of default tracks or upload your own tailor-made MP3:

In terms of maintaining and updating your knowledge base, keep an eye on your call recordings or call histories to see what questions and topics customers are bringing up.
In Dialpad, you can track specific keywords using "Custom Moments" to monitor historic trends and track problems to see if they are shared over time by multiple callers:

4. Have a 360-degree view of all your customer touchpoints
Find out where your customers like to engage online and where they interact with you the most—via social media, by email, etc. Breaking down your audience by communication channels can help you better understand the needs of each of your targeted demographics.
Customer engagement software can give you full visibility into different communication channels, allowing your agents to offer support via live chat, messaging, SMS, phone, and more.
(Watch out for chatbots though. They're marketed as customer support tools that let people find answers to questions themselves, but the experience has to be designed well for chatbots to be successful. Otherwise, they might annoy your customers—especially when they really do need to talk to a live person.)
Always keep an eye on your contact center or call center metrics to see if you need to provide more proactive customer service. How would you figure this out?
You could check how frequently agents are missing calls, or the average speed of answer of inbound calls to make sure they aren't being overloaded.
This is really easy to do in the heat maps tab on Dialpad. Here, you can see how long people are waiting on the phones—if these numbers are looking high, then it's probably time to take a more proactive approach:

5. Maintain your sales cycle momentum
Providing good service at every step in the buying journey builds customer relationships because it helps build ongoing positive interactions with your brand.
A proactive approach to customer service is especially advantageous for sales teams. Why? Because this is where you can collect essential data and feedback through surveys, which will help you determine customer wants and needs (and other potential areas of improvement for your business).
👉 Dialpad tip:
Work with your sales team to develop a questionnaire that could uncover valuable insights to your post-sales teams. If you're service-facing, ask specific questions about what your client's business goals are, why they're buying your product, and how your product contributes to achieving their goals.
These surveys provide measurable data that can be tracked over time to assess progress—and in fact, ecommerce giants like Amazon use this very strategy to gauge customer experiences with their products and services. They often reach out via email asking for respondents to complete a 15-minute questionnaire and may offer a gift card as a sign of appreciation. This is an example of proactive customer service at its best.
There's no need to invest in complex and expensive software to conduct customer surveys. You can easily start sending templated emails, and even automatically collect customer feedback after phone calls—if you're using Dialpad's CSAT survey feature:

You can customize your CSAT survey script in just a few clicks, and even give your customers the option of elaborating on the score they gave you. You can customize your surveys with various survey intros, questions, and even a thank you message once a response has been received.
6. Be as honest as you can, even mistakes
As the proverb goes, honesty is the best policy. When it comes to customer service, it's always better to admit to errors and inform clients up front—before they have to discover them for themselves.
Truly proactive support means letting a customer know when issues arise—as soon as you're aware of them—apologizing, and potentially compensating customers for negative impacts. For example, you might offer a full refund on a faulty product and a discount code against future purchases if the quality of a product or service isn't up to snuff.
Customers are demanding, but not always wholly unreasonable. No one realistically expects (well, very few people, maybe) a business to be perfect 100% of the time.
When issues do occur, the key is how you respond. For example, you might consider taking the following steps to minimize the impact on your customer satisfaction:
Investigate what went wrong to make sure it doesn't happen again.

Notify your customers promptly of the issue and apologize.

Offer a refund or another form of compensation.

Let your customers know how you will be avoiding this issue in the future (e.g., extra testing and QA measures).
Boost your business with proactive customer service
Being able to provide proactive customer service can be a competitive differentiator in a crowded market, but your customer service team can't do it all on their own—no matter how hardworking or talented they are. They need detailed and easy-to-access information about your customers!
If you can anticipate questions that your customers may have and have answers ready for them on your website and other communication channels, you'll be well on your way to not only improving your retention rates, but also growing your customer base.
Want to provide proactive customer service...
... But don't have a contact center platform that can help you do that? Book a demo of Dialpad's AI-powered customer engagement platform to see how it can help, or take a self-guided interactive tour of the app on your own first!