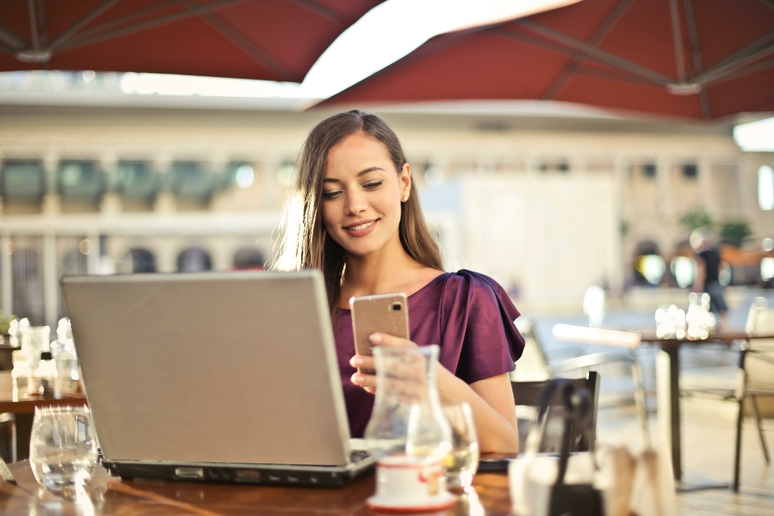 August 29, 2019
If you still have wires emerging from the dusty office phone sitting on your desk, that might be your sign for a change. There's a great opportunity here waiting for you to expand and grow your business—it's called cloud-based VoIP. VoIP stands for "voice-over-internet protocol" and it's probably a term you've heard before. And while it's similar to a traditional landline-connected desk phone, it's also quite a bit different.
So, how is cloud-based VoIP that different from landlines? Let's break it down.
Cost
Most cloud-based systems are less expensive by every measure. Whether it's the cheap monthly payment (about $20), the setup process, maintenance, or training, it's all much more affordable than the cost of a landline. For starters, there's no need to buy any physical, bulky machines to use as a phone system because you can typically use it on your existing office computers and smartphones. It also requires very little (if any, in Dialpad's case) support for installation, adding users, and making sure everything works. So you save a lot in lifetime maintenance and IT costs, too. Calls are made through the internet rather than the traditional PSTN phone network, saving you time, money, and space.
Scalability
It's so much easier to scale a cloud-based VoIP phone system than a landline one. The process of adding a new user to a traditional phone system involves purchasing a new phone, running the cable, assigning numbers, and ensuring that user knows how to use the thing. The process can take weeks—and in the case of new offices—months. With a cloud phone system, all you need is an internet connection. You assign the number, add the user, and—voila—they have their own phone line. The whole process simple and instantaneous.
Features
When it comes to features, VoIP can't be beat. Very simply, a landline has the limitations of a traditional telephone, whereas VoIP's limitations are those of the internet—and virtually limitless. And while some may think they don't need all those extra features, when they see a company leveraging things like mobility, device switching, and integrations in way that's driving productivity and making a tangible positive impact on the business, they tend to shift that opinion. In short, a cloud-based VoIP system can do everything a traditional phone system can, and much more.
Mobility
Perhaps the most compelling benefit of cloud-based business phone systems is mobility. Most VoIP services can be used with any internet-connected device, so you're free to work from your tablet, mobile device, or laptop—in or out of the office. This is especially important for creating a flexible workplace, allowing you to be productive at your very own convenience. With a landline, you're tethered to your desk. Or you're using a separate work sanctioned mobile device with separate number. Or call forwarding on your personal device. And none of those are ideal.
One small caveat
The quality of your VoIP connection relies on one important factor: The quality of your internet connection. If you're located in an area with poor internet connection, then the landline is your lifeline—stick with it for now. The good news is that most internet service providers are constantly improving their infrastructure to make poor connectivity a thing of the past.
The last wire
The landline has been around for some time. But for business, cloud-based VoIP is here, and it's here to stay. Save money, be more productive, and stay connected with the switch. The landline may work for some, but many companies are starting to see the benefits of VoIP and the difference it can make.

To learn more about how VoIP could be the right fit for your company, reach out to our team at Dialpad.