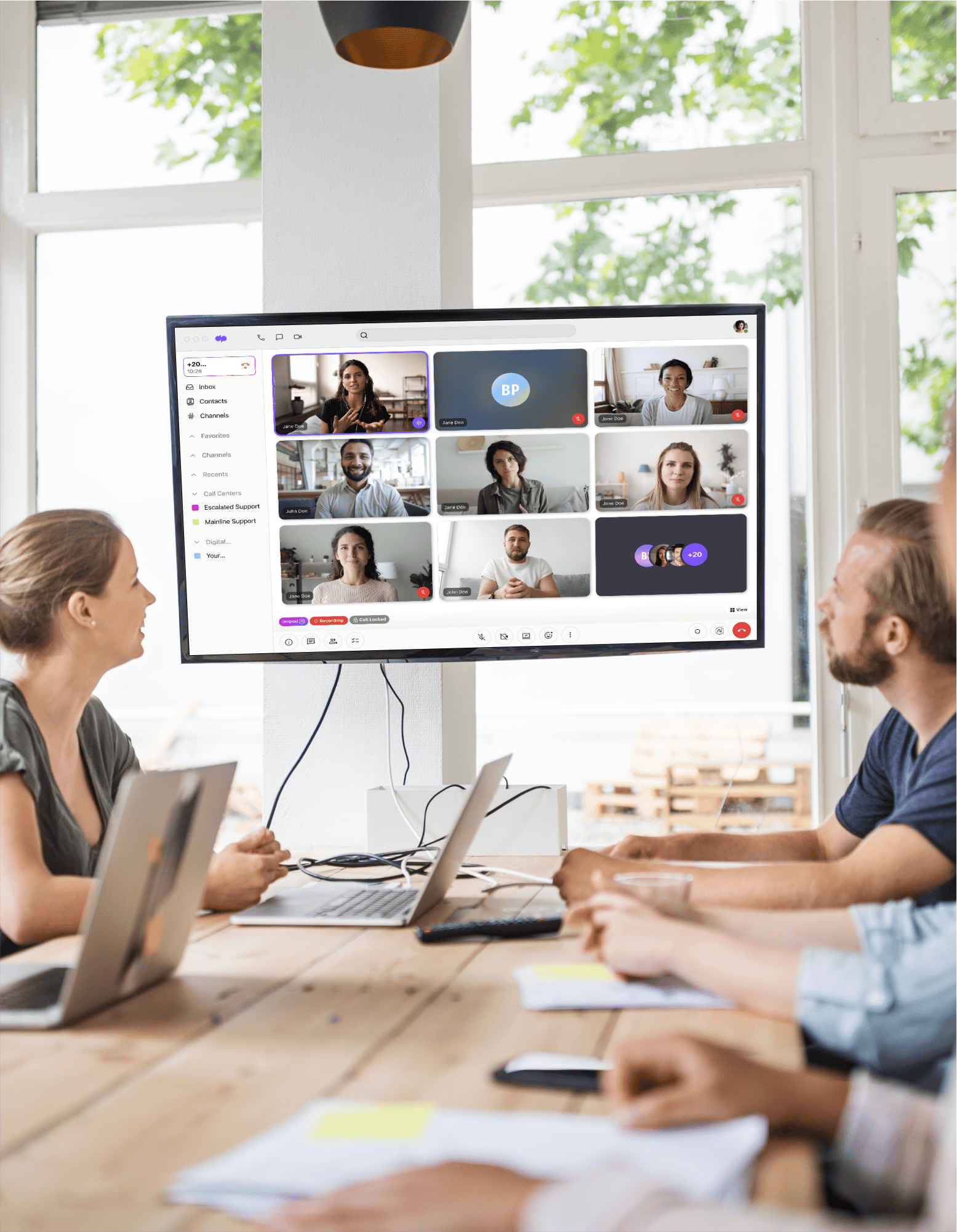 Intuitive + easy to set up
Conference room solutions
Whether your team has daily huddles, monthly board meetings, or regular training sessions, a good conference room setup is a must. Dialpad's AI-powered collaboration platform comes with video conferencing features that are designed for hybrid teams to work from anywhere—and in the office too. Book a product tour to see how easy it is to set up!
What is a conference room? What solutions do you need?
A conference room is basically a workspace that's for having meetings. But while it sounds pretty straightforward, modern conference rooms have had to adapt to the rise of hybrid work. That means they need some very specific functionality that enables in-person and remote participants to communicate and work together in real time.
Not only do they have to be compatible with video conferencing solutions, they also typically need to be equipped with widescreen monitors, conference phones, and high-quality webcams.
Dialpad + Poly: A native room app that's integrated with hardware
Native apps are built for the full conference room experience, which makes life much easier and promotes equality between in-room and remote participants. It's super-simple to connect, with outstanding audio and video across all apps thanks to Poly MeetingAI.
Poly Studio X becomes a Dialpad Ai Meetings room with no PC or Mac required, or you can use USB device mode to connect into multiple cloud service providers through a USB connection.
Essential conference room solution features that you get with Dialpad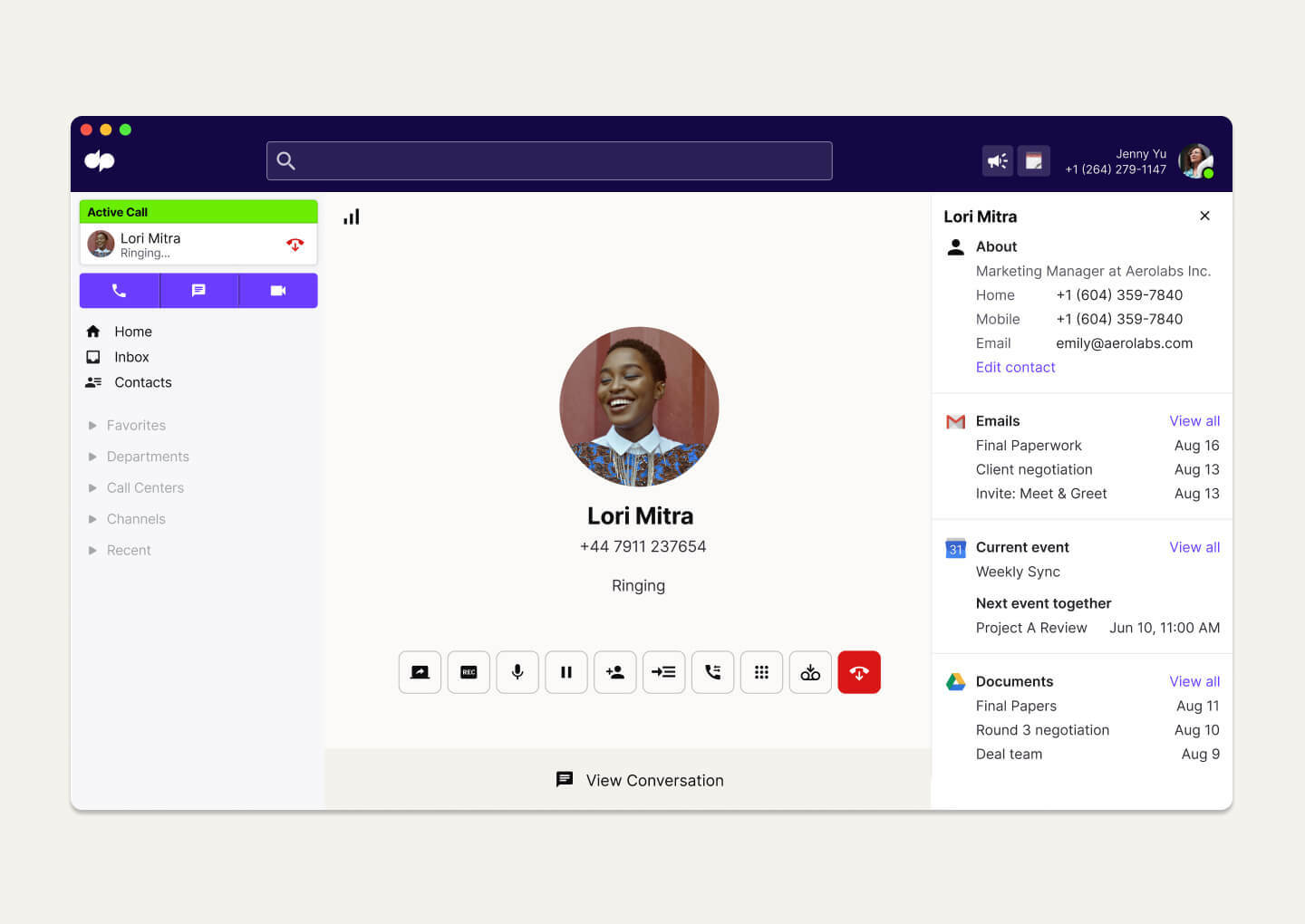 Calendar integrations
You could send invitations to meetings or webinars via email, but they're less likely to go astray if you schedule meetings directly in your team calendars with Outlook or Google Calendar. Dialpad's integrations here will auto-populate information like call details and even dials out to remind guests when it's time to start.

A high-quality video system
Poly's Ultra HD camera has a 120-degree field of view so that every attendee is visible on screen, and there's even an advanced automatic framing and tracking feature. Along with Dialpad's own built-in HD video, you'll get boardroom video performance in a huddle room package.
Digital whiteboarding
Want to have a brainstorming session and whiteboard some ideas with remote teammates? Dialpad's integration with Miro lets you do exactly that: See each other on screen and work on a digital whiteboard together—just as if everyone were in the same conference room.

Different controller options
With the Poly Studio X range, you can control the meeting with a web controller or hardware such as the Poly TC8. The Poly TC8 works pretty much out of the box, since it has the native Dialpad Ai Meetings app built in. Integrate with room calendars for tap-to-join, and control things like mute settings and turning the cameras on or off.

No downloads needed
With Dialpad, you can share your screen and invite other people to video meetings in real time, even if they don't have the app downloaded. It'll automatically send an SMS message with a link that they can open in a web browser!
📹 Fun fact:
The Poly system provides an innovative acoustic chamber design with NoiseBlockAI to reduce unwanted background noise. The X50 beamforming mic array clearly picks up voices even if folks are sitting far away from the mic, while the Acoustic Fence captures only the voices within a defined zone.
Want to upgrade your conference room setup?
Book a demo to see how easy it is to set up conference room solutions for hybrid teams with Dialpad. Or, take a self-guided interactive tour of the app on your own first!
Designed for any type of conference room you can think of

Large conference rooms
The best meeting room solutions can cope with super-sized rooms, since the cameras and mics can pick out the speaker from the crowd. That means you can get the whole company together when needed, but avoid things becoming chaotic. With Dialpad, you can also get international dial-in access for 50+ countries, so that your teammates and clients from around the world can easily join your meetings.
Small conference rooms or huddle rooms
Even small conference rooms and huddle rooms need quality video conferencing equipment. Whether you need to use whiteboards to brainstorm with the Design team or set up a recruitment panel for video interviews, you can do that with Dialpad. And if you're text chatting with a couple of colleagues in the Dialpad app and realize you actually need to meet, you can start a video meeting right from that convo!

Board rooms
Traditional board rooms have largely given way to more organic meeting spaces, but a round-the-table layout is still suited to large group meetings with VIP clients. It's easy to set it up for remote participation by installing screens at both ends and positioning cameras to pick up various angles.
Why invest in a dedicated conference video system anyway?

We'll keep it short—when it comes to it, there are two big reasons to invest in a dedicated system.
It levels up the professionalism of calls with VIPs
Laptops with integrated webcams are fine for quick catch-ups, but if you're meeting with important external folks like clients and prospects, you'll get a much more professional experience with a dedicated video conferencing system.

It's usually easier to set up and use (dongle-free!) compared to a bunch of disparate tools
Conference room systems should be relatively simple to set up, with minimal technical knowledge required. You just need to make sure your peripherals (monitors, cameras, mics) are plugged in correctly—or go wireless instead.
These systems generally include a touch screen interface for starting meetings, presenting, and controlling equipment. In Dialpad, for instance, you can join scheduled meetings, share content, and move video meetings from your mobile device to your conference room TV, all with one tap.

Why choose Dialpad for your conference room solution?
Your video conference software is the heart of your meeting rooms.
With Dialpad Ai Meetings, you get unlimited video meetings—and no downloads required, which makes your meetings more accessible for clients and prospects. Then there are the desktop and mobile apps for Android and iOS, plus seamless integrations with Google Calendar and Outlook.
Try it now!

Take Dialpad's conference room solution for a spin
No need to contact sales, just create your free account and try out Dialpad Ai Meetings. It takes just a few minutes to get started!
FAQs about conference room solutions
What are the fundamental conference room requirements?
One thing that many people forget about is actually one of the most simple things! Make sure you choose a room that's the right size for your needs, then move on to other things like lighting and making sure that your meeting space has enough ports and outlets for all your peripherals and devices.
The size of the room is important because it directly impacts how you can use it. Do you want to fit a large team in there for regular big-team meetings? Or are you mostly just having 1 on 1 meetings?
If you're going to have your equipment hardwired in, don't forget you'll need an HDMI display (with an HDMI cable), an Ethernet cord, and power outlets.

What types of technology should I have in my conference room?
How do I set up integrations for my conference room?
Can I use other devices with Dialpad?
What's the best way to deal with conference room technology issues?