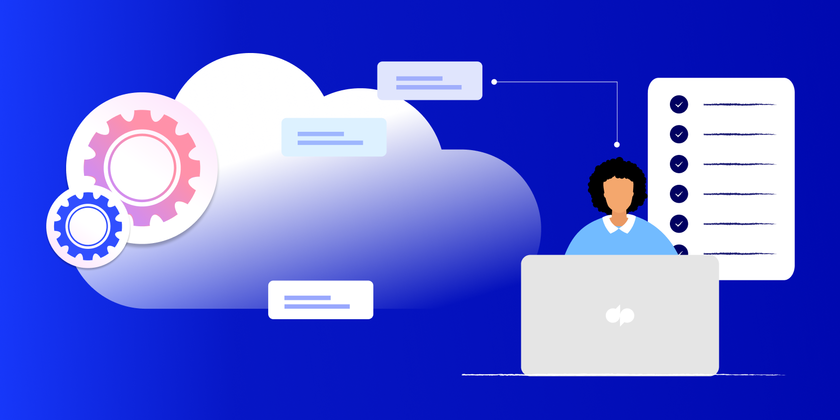 April 15, 2021
Thinking about transitioning your small business' phone system to the cloud? It's not nearly as overwhelming as you may feel. Let's clear up a few things about cloud communications and how you can get started easily.

You already use cloud-based solutions for your small business — from email to file storage to the customer data in a CRM. While business phones used to be landlines with copper wires, your customers now expect faster response times and SMS replies. Using your employees' mobile numbers as business numbers can be both confusing for your customers and a headache for your employees, which negatively impacts the entire business.
A business phone system that runs over the internet, known as Voice Over Internet Protocol (VoIP), lets your team work from anywhere, with your office phone number added as a secondary line on their cellphones through a standalone mobile app. It's simple to set up, uses the devices you already have, and lets you take those valuable customer conversations on the go.
Keeping your communications fast, clear, and accessible from anywhere helps your small business thrive in busy and competitive environments. Missed calls, lost voicemails, and cluttered notes lead to delays, which costs your small business customers. Making sure that you have accessible call records, call transcription, and flexibility to work remotely with a cloud-based business phone system lets you focus on what matters: your customers and growing your small business.
1. Pre Account Set-Up

The Difference Between Desk Phones & Softphones
Now that you've decided to switch to a VoIP provider, you need to make sure you have the right gear so you sound crystal clear on every call.
Why desk phones?
If you're new to the VoIP phone world, a desk phone may be a familiar tool that looks exactly the same as a regular office phone but has powerful features inside that connect back to the virtual phone system. Desk phones can be added to your team members' accounts so they can keep using phones they're comfortable with. You can also place desk phones in high-traffic areas such as reception desks and conference rooms.
Worried about call quality? Since desk phones handle the communication on-device, a slow computer won't interfere.

Why softphones?
A softphone is software on your computer or cell phone that lets you make and receive calls. Softphone features provide busy small business owners with the flexibility to take their communications on the go. Setting up call recording and call transcription means no more missing memos — you can work remotely with ease. For the best audio quality, you're also going to need a headset to answer calls on your computer. On your cell phone, just download the mobile app and log in with your email address to answer business calls and texts from anywhere.
You don't have to choose between desk phones or softphones for your small business as Dialpad supports both.
Deciding on Your Business Number

What will be your new business number?
When transitioning to any cloud-based VoIP system, you'll be provided reliable virtual phone numbers which will allow you to focus on running your small business both in-person and remotely.
You should decide whether you need or want new business numbers, a toll-free number, or to port in your existing business number. All three options are available with Dialpad:
Local Business Number: Each Dialpad license comes with a local business number. Getting a new local number is great for new and small businesses who want to maintain a presence tied to their geographical location. With Dialpad, you're able to choose the area code of your local number, giving you control over your business' Caller ID.
Toll-Free Number: Toll-free or 800 numbers are an add-on for Dialpad licenses. Getting a toll-free number is great for small businesses that do not want to be associated with any specific location. Though it is a more traditional number type, it can seem more credible to customers and will cost customers nothing to call into your business line.

With Dialpad, you also have the ability to choose a vanity number. You'll be able to customize your toll-free number to spell out something on a phone's alphanumeric keypad — think 1-800-FLOWERS or 1-877-Kars4Kids.

Port Existing Numbers: You might also have a longstanding and established business number that you want to keep. You're able to easily port in your existing business number and use it with the Dialpad software. Number porting lets you transfer numbers from an existing provider to a new provider, such as Dialpad. An overview of the porting process will be under the Account Set-up section, or you can keep reading to see how you can transfer your existing numbers into Dialpad.
Users on Your System
How many users need to be on your phone system?

Dialpad charges on a per-user basis. Each individual that needs to log in to your company's Dialpad account and be routed calls should have their own license.
Dialpad is built for small businesses to work from anywhere. Each user license you pay for will come with a local number, and each company account opened will come with a main line. Think of it as an office number and employee extensions, but every number is a fully functioning local number.
Once you decide how many users you want on your phone system, you'll be able to estimate what your monthly or annual cost will be.
2. Setting Up with Dialpad
Sign Up for a Free 14-Day Trial
Getting started with Dialpad is simple: just sign up for the free 14-day trial and get working numbers immediately. You'll be able to add users, set up voicemails, and set business hours as well as configure other settings as needed. The 14 days act as a great period to test out the system, make some calls, and run through the system settings to determine whether you like what you see.
You're always able to cancel within 14 days without being charged.

Pick Your Desired Local Number
Choose the main line number of your small business with a local area code — you will see a list of available numbers. Consider this a temporary working number if you're porting in your own business number later.
Download the Apps on Your Devices
Using Dialpad on your existing devices is simple and straightforward. To download Dialpad on your computer or cell phone, navigate to dialpad.com/download and log in using the email address with a Dialpad account assigned. You can have up to five separate devices on your account.
3. Call Flow
Setting up how you want your calls to come in is easy, too! Dialpad is flexible and allows customers to have full control over call routing and forwarding options.
Use our phone tree template as a guide to setting up a basic phone tree for your small business.
Download — How to Build a Simple Phone Tree

4. Small Business Tech Stack
You've successfully set up your Dialpad account — what's next? There are a number of applications that integrate with Dialpad to help improve your workflow and productivity, from email to customer relationship management tools.
Which do you choose? For small businesses, you have endless options. We've rounded up some of the most popular software used by small businesses in the list below.
Google Workspace (formerly 'G Suite') or Microsoft Office 365
Even Standard account users are able to get connected with either Google Workspace or Microsoft 365. These integrations allow you to use Single Sign-On (SSO), making a more secure login and automatically syncing your contact books so that you're up and ready to go right when you sign-up with Dialpad.
HubSpot
As a small business, you may want to consider setting up a Customer Relationship Management (CRM) platform to manage the full lifecycle of your customer relationships. Selecting one that meets the needs of your business, industry, and target audience can seem overwhelming at first. Even if you're just starting out, a CRM platform can be invaluable as a hub to manage all of your interactions with your current and future customers.
As your small business grows, it's easy for information about your contacts to get lost across spreadsheets, emails, and sticky notes. Dialpad offers a native integration built out with HubSpot (which has both free and paid versions).
Slack
Slack is a popular business messaging platform, and integrating with Dialpad will allow you to seamlessly make calls directly from your Slack platform using Dialpad's calling capabilities.
Zapier
If you're currently using software or a tool that Dialpad doesn't natively integrate with yet, consider the Zapier integration to connect your tool with Dialpad. Zapier helps connect apps to automate sequences and make sure all your applications are connected and working seamlessly together. For example, all voicemails received in Dialpad will automatically generate a new HelpDesk ticket.