Back to Blog
What to look for in a business voicemail service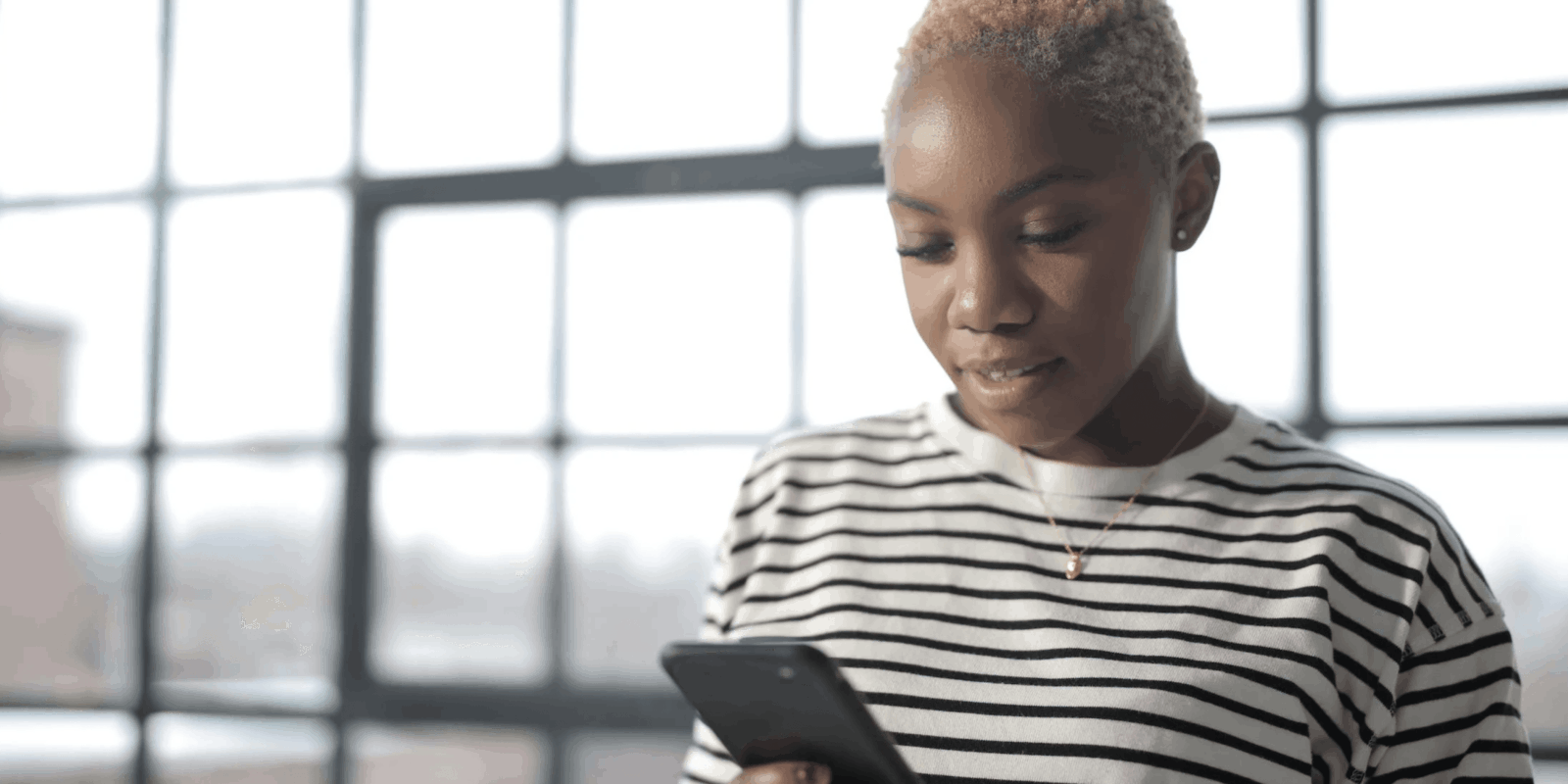 Ah, voicemail. Often overlooked—but still crucial (especially if you're customer-facing or work in sales).

It's not a super complicated or advanced phone system feature, like automated SMS or live chat or anything like that, but every big and small business needs it.
After all, you can't answer every call. Sometimes you're in a meeting, in the middle of something else, or just living life because it's after business hours.
The cool thing about working at Dialpad? I've never even given a second thought to my voicemail. I don't think about it at all. That's because it works so dang well.
I set it up when I first started here, recorded a greeting, and that was it. Now, when I miss calls, I just go to the app (where I'm already messaging my team and having video meetings from) and check if I have any missed voicemails. But more on that later.
First, I'll walk you through some of the biggest differences I've noticed with Dialpad's voicemail compared to almost other company I've worked before, where I've used landline phones other cloud phone systems.
What to look for in a business voicemail service: The biggest things I can't live without now
How easy is it to set up?
Every VoIP phone service or PBX provider will have a voicemail system or feature. That's just a given. The tricky part is figuring out if that voicemail service is actually easy to use.
With Dialpad, for example, you can easily access your voicemail box (and see sender and telephone number information) right from your app (or by logging into your account on a web browser):

And because Dialpad is a unified communications platform, that means all your communication channels are in one place—you can see missed calls, new messages from your team, all your contacts, and more from a single app.
Want to upload a voicemail greeting or record a custom greeting? You can do that too with a few clicks from your online dashboard.
In fact, Curt, the CIO of Proliance Surgeons specifically called out voicemails as a super-important feature for their organization:
When we got our first care center on Dialpad, it opened up so many doors. Even simple things like being able to access voicemails remotely or the voicemail transcription services. The nurses were saying, 'Oh my goodness, do you know how much time you saved us?
Curt Kwak
CIO, Proliance Surgeons
Would I ever go back to the old way of having to enter a PIN to listen to my voicemails? As my high school English teacher once said to us when we asked to take a break from reading Milton: there's not a snowflake's chance in hell.
Do you have to pay for add-ons or pay for it separately?
Today, most unified communications platforms and business phone systems come with a business voicemail feature included along with things like a free phone number. It shouldn't cost you extra.
The benefit here is that you don't have to pay for (or manage) a bunch of disparate tools. With Dialpad, for instance, you pay a monthly or annual fee starting at only $15 per month. (You've got a few pricing plans to choose from.)
Not only do you get unlimited calling in the US, Canada, and your country but you also get:
Oh, and I'll mention this too because I'll never hear the end of it from our sales team if I don't: Another extremely useful voicemail feature in Dialpad is voicemail drop. This is designed especially for sales teams, and lets them drop a pre-recorded voice message into a call as soon as they hit a prospect's voicemail:

For sales teams doing high velocity outreach, this is a game-changer because if you're making hundreds of outbound calls a day, you're probably hitting voicemail most of the time. Instead of having recite the same message every single time, you can just click the voicemail drop button and the voice messages instantly gets dropped in.
It may only seem like a minute or two, but it can really add up over the course of a day or week.
Is there a voicemail transcription feature?
Callers don't stop calling just because you're in a meeting or busy. Some virtual voicemail systems having a visual voicemail or voicemail transcription feature that helps with exactly this.
For example, Dialpad sends you a notification that someone's leaving you a voicemail and transcribes your voicemail messages in real time so that even if you're missing incoming calls, you can still see right away if, say, a potential customer is ready to sign that big contract with you. I can't tell you how many times I've been in back-to-back meetings and missed calls from people, only to watch in awe as the little notification in my app starts transcribing what my caller is saying... in real time. Seriously magical.
Fun fact: Dialpad's transcription is even more accurate than almost all leading competitors out there!

Are there easy sharing options?
What if you want to download or forward the audio file of a voicemail recording to a colleague? Your business phone service should make that easy to do too. In Dialpad, for instance, you can do exactly that:

Does it work on different devices?
Beyond all the cool functionality, a good business voicemail service just has to work on different devices. Not everyone is using iPhones.
It used to be that you could only access a voicemail message from the device that received it. But what if you're away from your desk phone, or your phone ran out of battery so you're working from your computer?
With Dialpad's desktop and mobile app, you can pick up those voice messages on any device, whether it's a Mac, PC, Android, or iOS phone.
Some business voicemail greeting examples to use
Not feeling creative today? Just do what I do and rip off—err, use—voicemail greeting templates. (Hopefully your business voicemail service makes it easy to record and upload custom greetings.) Here are a few good ones.
After-hours greeting example
You can't be expected to answer calls 24/7, whether you work from home or in an office. One thing to make sure you include here is your working hours so that your callers know when they can expect a response from you:
"Hi, you've reached [your name] at [business name]. Our office hours are 9am to 5pm Eastern Time, Monday to Friday. Please leave your contact details and a brief message, and I'll call back as soon as possible. Alternatively, drop me an email at [address]."
Vacation greeting example
Sweet, sweet vacation. Here, you may decide to forward to voicemail or forward calls to a colleague depending on how long you're gone for.
If you're gone for a long time, forwarding to voicemail might be risky in case you do get an important call and that person needs to speak with someone right away.
"Hello, you've reached [name]. I am currently out of office! If you'd like to leave a message, I'll be in touch when I return on [date]. Or if it's urgent, please contact my colleague [name] on [number] or [email]."
Or, if the whole office is closed:
"Hi, you've reached [business name]. The office is now closed for [holiday name], but we'll be back on [day and time]. Please leave us your details and we will get back to you. [Add seasonal greeting]."
(Although this would be pretty rare today for larger companies, since they'd probably have call center agents to cover different time zones. Small businesses, on the other hand, are more likely to be able to get away with being fully shut down temporarily for a holiday.)
Business "away / busy" greeting example
For very small businesses like hair salons or coffee shops that probably don't have staff dedicated to answering the phone, an "away / busy" voicemail greeting is a must-have.
You could also set up an IVR menu that tells callers how long the wait is and where to find FAQs (like business hours or store policies), along with the option to leave a voicemail.
"Hi, you've reached [business name]. We're unable to take your call right now, but leave a message and we'll get back to you ASAP. For our store hours, please press [1]. For our refund policy, please press [2]. etc. etc."
What's the best business voicemail service for you?
Whether you need a voicemail service for a small business or a global organization, generally it's best to find software or an app that's already integrated into a VoIP phone system or UCaaS (Unified Communications as a Service) solution like Dialpad.
This way, you don't have to pay separately for a voicemail feature, and your employees can get notifications and handle all their different communication channels, like text messaging and video meetings, in one place. No landlines, no hardware needed.
In fact, with Dialpad, you get advanced functionality like call transfer, customizable caller ID, integrations with tools like Google Workspace and Microsoft 365, and toll-free number support too. Want to take it for a test drive?
Sign up for a free 14-day trial to try it out yourself!
It takes just a few minutes to get started with Dialpad's unified communications platform, and you'll be set up with a local phone number too. Or, take a self-guided interactive tour to play with the app on your own first!