Back to Blog
How to choose a wireless business phone system for small businesses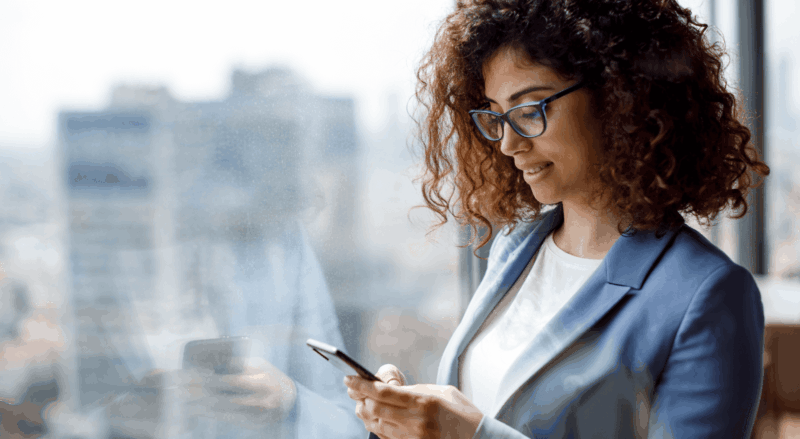 In this day and age, a wireless business phone system isn't a luxury—it's a necessity (and no, we're not talking about a Bluetooth headset).
For many business owners, the typical phone system set-up doesn't always include cordless phones and analog handsets anymore.
It's looking more like an app that lives on your computer or cell phone. And that app doesn't just let you make phone calls either. Some of them come with voicemail, call routing or auto attendant options—and even customer support features.
In other words, if you're thinking about switching away from your analog or PBX system (aka. Private Branch Exchange), it might be time to think a few steps ahead of just "cutting the cord."
But first… Let's clear up one definition real quick.
What is a wireless phone system?
"Wireless business phone system" is typically used in one of two ways. Sometimes, it's used to describe a cordless phone like a Panasonic or VTech phone. (You'd still need a landline and/or a traditional phone line provider like AT&T.)
Other people use it interchangeably with "cloud phone system" or "VoIP phone service," which is something different. (No landlines or even handsets needed, just a Wi-Fi or Internet connection and your cell phone or computer.)
You wouldn't normally use a corded phone with a VoIP phone system (unless you wanted to)—you'd make phone calls through a desktop or mobile app, or a softphone, on your computer or cell phone. For all intents and purposes, this works the same way as a regular phone. The person on the other end of the line has no idea whether you're calling them with a Panasonic handset or a VoIP softphone app.
Some VoIP providers are compatible with IP phones or handsets if you prefer having an actual desk set-up, but it's not essential.
🔎 A deeper dive:
Curious about virtual phone systems, what "VoIP" means, and how the different types of phone services stack up? Our in-house telephony wizard, Max, wrote a guide on the differences between VoIP vs PBX systems. Or, alternatively, you might want to learn more about on-premises vs cloud phone systems.
Going from corded to wireless... To UCaaS? Questions a small business should ask
So, let's say you know that you don't want a corded phone setup anymore. But even though you're going wireless, you still don't think that just having analog handsets is the way to go.
Maybe you're considering going with a VoIP or a UCaaS (Unified Communications as a Service) solution.
❓ What's UCaaS?
UCaaS platforms are like the next evolution of VoIP phone systems. They still let you have conference calls from a desktop or mobile app over an Internet connection. The difference is that UCaaS platforms give you other communications channels too, like video conferencing and SMS/MMS + team messaging. For many small businesses that don't want to manage (and pay for) a huge bloated tech stack, UCaaS solutions are great because they consolidate a bunch of different functions into a single app or software.
But how should you decide whether going with a VoIP phone system or unified communications solution is right for your business? What if you don't want to get too fancy, too quickly with your tech?
Here are a few questions that'll help you figure that out.
Do you (or your employees) want to work remotely?
If so, it's much easier to do that with a UCaaS or VoIP or UCaaS service provider. If you need to take calls or have video meetings on the go, that wireless handset can't leave your office. You'd need your cell phone or a laptop regardless.
Fun fact: With Dialpad's unified communications platform, you can make business calls from your mobile phone while protecting your personal phone number. How? When you make a call, you can choose which phone number shows up on the caller ID. Your business might have a main line, or a customer support line, or even a toll-free line—Dialpad lets you take your pick: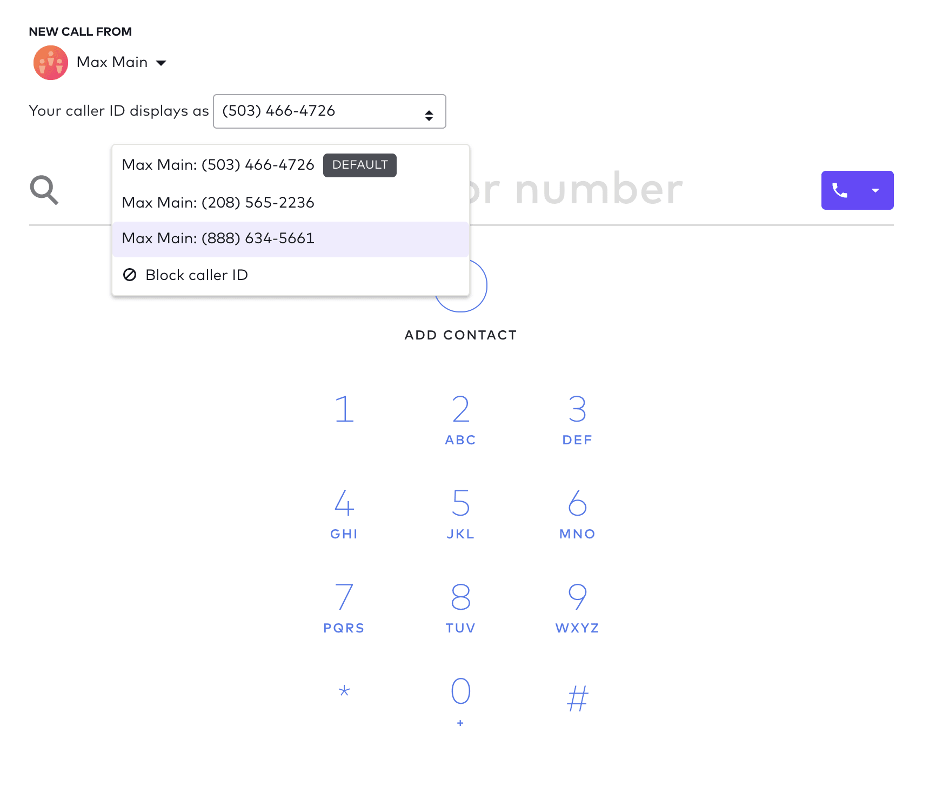 📱 Need an Internet connection upgrade?
T-Mobile and Dialpad have actually teamed up to give you access to T-Mobile's lightning-fast 5G network and Dialpad's unified communications platform together inone cost-effective package. If you want high-quality audio and video calls from anywhere, check it out.
Do you want to not need wireless business phone systems at all?
Again, with UCaaS solutions, you have the option of using cordless VoIP or IP phones if you want that physical handset in the office. But you don't have to. The desktop and mobile apps for most VoIP and UCaaS solutions should work on computers and mobile devices. For example, Dialpad works across iOS, Android, PC, and Mac.
Do you want to be able to integrate your phone system with other software?
If you're using productivity tools like Google Workspace or Microsoft 365—or any other software like a CRM—being able to integrate your phone system with those tools can be very useful.
UCaaS and VoIP solutions will give you that. For example, Dialpad has a wide range of integrations including those tools, and these can do anything from automatically populating a calendar invite with the video conferencing link to embedding a CTI dialer inside your CRM so your sales reps can make calls directly in there without toggling back and forth. Here's how it looks in HubSpot, for instance: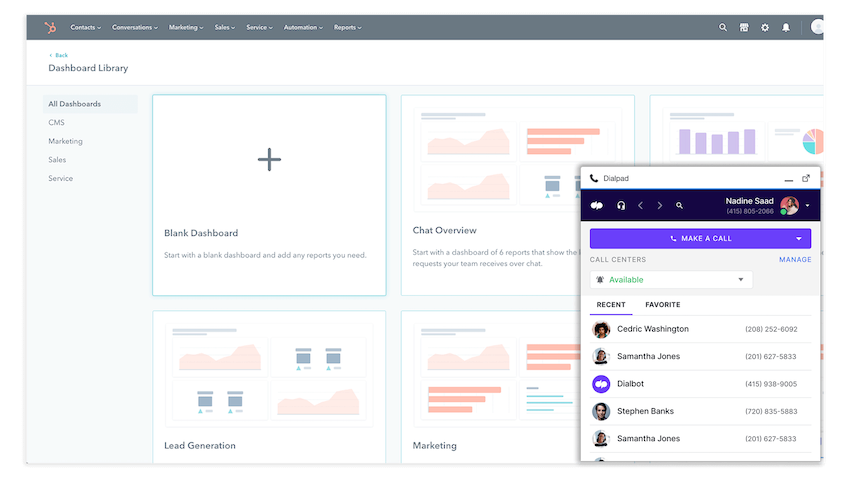 This would be impossible with a traditional telephone system.
👉 Quick sidenote:
Not all UCaaS and VoIP phone services have the same integrations, so if this is important to you, make sure that the software that you want integrations for are included.
Are you paying too much for your current phone service provider?
If cost is a consideration, then there are two big benefits of UCaaS and VoIP solutions you should know. One is that almost all of them have monthly and annual subscription plans, which means you don't have to sink a large investment up front like you would with an on-premises set-up. That subscription covers software upgrades, maintenance, and customer support (usually), which is more affordable and small-business-friendly.
The other is that you don't need expensive hardware or server closets. You can just download the app (or use a web browser if you don't want to download anything) and start making conference calls and sending messages pretty much in minutes.
Would you want to port your phone numbers over to the new provider?
Most small business phone system providers, whether they're VoIP or UCaaS solutions, should be able to help you port your existing phone numbers over.
Dialpad, for example, can help you port both local and toll-free numbers with minimal downtime (and porting local US phone numbers is free).
Which features do you absolutely need?
This one is more of a "just-in-case" checklist, since most VoIP and UCaaS service providers will give you all the features that an old-school business phone system has.
Call transfer, call waiting, auto attendant... These essentials should come included regardless of what solution you end up going with.
For example, Dialpad's plans start at only $15 per month and come with:
Unlimited calling in your country, the US, and Canada,

Unlimited call recording (this is unique because even among other cloud solutions, unlimited call recordings being included in the most basic plan is almost unheard of),

All those features mentioned above, and more
One thing to keep in mind here is that when you're checking off the features on your wishlist, you should also look at how those features work in the VoIP or UCaaS solution you're considering.
Specifically, how easy is it to set up that call forwarding or change that call routing? This is a step that many small businesses miss because it's not something that you can just see on a pricing page on someone's website. You have to try it out yourself, either by signing up for a free trial or getting a demo.
For example, with Dialpad you can set up call forwarding numbers in minutes right from your online dashboard:

In fact, you can pretty much handle all the day-to-day admin tasks from that dashboard, including updating your call routing and auto attendant greetings. For a small business with limited staff or resources, this is especially important—you want to be able to make changes in real time without expensive IT help.
👀 Moving your business to hybrid work?
Grab the Hybrid Work Playbook, which includes real-life case studies and breaks down all things hybrid + remote, from building and sustaining a hybrid workforce to equipping your team for success.
Case study time: How 3 real companies chose their small business phone systems
Viewabo: Choosing a business communications platform that could grow with them
Viewabo is a small startup. The company needed to make sales calls in the US, but had employees working abroad, and those long-distance bills would add up quickly. They needed a business phone system that could support their distributed team—a requirement that was beyond the ability of a cordless handset.
So, they went with a UCaaS solution that gave them that flexible communications solution—along with affordable virtual phone numbers and long-distance dialing. "The desktop app is great, we use it often as our sales reps are usually on their computer making calls all day, says George, Viewabo's founder. "The mobile app is also great. I like that we can also send and receive text messages."
More importantly though, it could grow with them. For many small businesses, that's the trickiest part of choosing a phone system. It has to be easily expandable and scalable as you add more employees in more regions or countries.
"Dialpad is simple enough for a small team like ours to get started with and use, but it has a lot more capabilities that we can use in the future as we grow," says George. "As our company grows in complexity, I believe Dialpad is able to grow with us to help manage it. It seems like it was built specifically for fast-growing companies."
BNAmericas: International call quality was a must-have
Juan is the Chief Revenue Officer at BNamericas. He's also the only US-based employee, though he oversees a team of 50 in Chile.
What that meant was that not only did he need an office phone system, he also needed good call quality internationally. "We wanted to ensure the call quality was going to be good, and we knew Dialpad was good in the States, but would that be applicable in Latin America?" says Juan. "So we ran the pilot for two to three weeks, and we learned that yes, the call quality was fantastic."
On top of that, being a revenue leader, Juan uses a CRM. In his case, Salesforce. Which is an added bonus because Dialpad has a well-designed integration with Salesforce:

"You make a phone call and [the integration] automatically creates tasks in Salesforce... A massive time-saver," says Juan.
Riders Share: So easy, even the CEO can provide customer support
A CEO handling customer service? When you're a small business, sometimes that's what you've got to do.
And for this "Airbnb of motorcycles," that's what Guillermo happily does. They're growing quickly, and with 3,000 incoming calls a month, it's all hands on deck some days.
Which means the business needs an office phone system that makes it easy to do things like route calls and handle voicemails. "It's so easy to run the whole contact center with Dialpad," says Guillermo. "It's very user-friendly— I can run analytics super fast, I can change the queue any time, I can see our call history and transfers, and voicemails get transcribed instantly."
By the way, not only can you easily handle all your voicemails and record greetings in Dialpad, it also transcribes your voicemail messages—in real time, powered by AI (want to learn more about AI for small business?). And you can see those messages along with your call recordings, missed calls, and everything else right in the app:


Dial, message, and meet from anywhere—think bigger than a wireless business phone system
Desk phones. Cordless phones. Headsets.
Today, you don't really need any of these, whether you're working from your home office or the office. All you need is a computer or mobile device, and you can have conference calls, do video conferencing, and keep up with your team chat from an app.
This more modern communication system has also transformed many features that you're used to, like call recordings and call routing—making them much easier to update in real time.
And that's all while still giving you all the functionality that you're used to seeing in traditional office phone systems like speakerphones or digital answering systems.

Get more than just a phone system
If you want to see what a unified communications platform can do for your business, whether it's a small business or quickly scaling organization, try Dialpad with a 14-day free trial! It takes just a few minutes to sign up, and you'll be set up with a virtual phone number too.