Back to Blog
Business phone system installation: Must-knows and the "gotchas" to avoid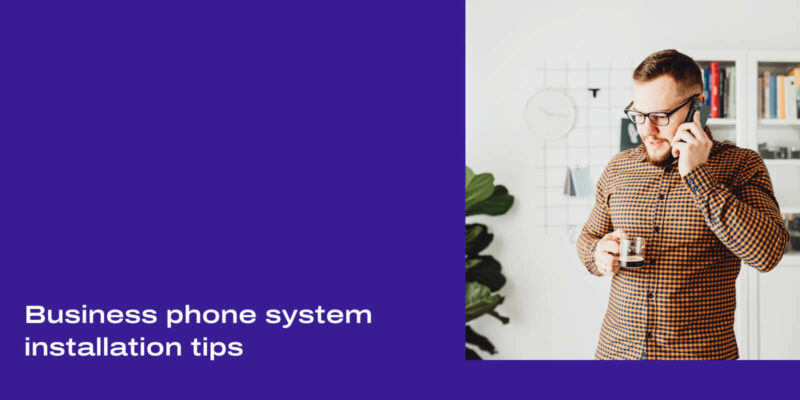 Today, a business phone system installation doesn't have to be a headache for companies anymore. It should be friendly and easy to use by your team and inviting and accessible for your customers.
In fact, there are telephone systems that don't require an "installation" process at all: No hardware, no equipment, no complicated administration to sort out. All you need to do is download a desktop or mobile app and start using it!
I'll walk you through a couple things to consider based on my years of working in telephony and business communications.
4 things you have to do, no matter what type of phone system your business is installing
Whether you're using a traditional PBX (Private Branch Exchange) or a UCaaS (Unified Communications as as Service) solution, there are some key steps you'll have to take regardless.
1. Do your research
First up is the research phase. There are lots of good small business phone systems on the market.
There are a few potential requirements to look for here beyond basic functionality like conference calls, voicemail, call forwarding, which every service provider should include:
Is your business using other tools, like Google Calendar, Microsoft 365, Salesforce, and so on? If so, your new phone system or unified communications platform should have integrations with these tools.

Do you or your employees need to be able to work remotely? If so, you'll want a softphone app that lets you use that wireless phone system on your computer or cell phone. Dialpad, for example, lets you make phone calls from Android, iOS, PC, and Mac devices while protecting your personal number—just choose your business phone number from the dropdown to display it in the caller ID: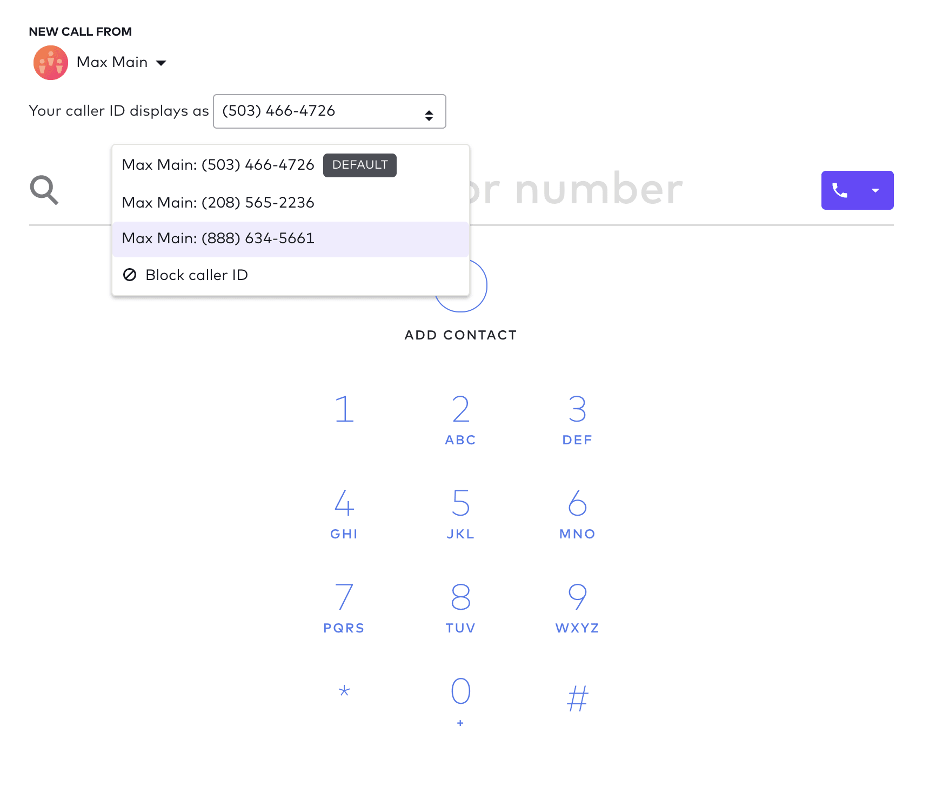 How easy is it to set up voicemail? Is changing an auto attendant a complicated task? A voicemail service, like call routing and auto attendants, is a pretty basic feature that every business phone system should come with. And most do. But not all of them are actually easy to use. For example, can you upload and record a voicemail or auto attendant greeting? What's that process like? What about accessing your missed calls and messages? Is there a transcription for calls and voicemail? These are just a few things to look out for when it comes to a lot of this "basic" functionality. The actual user experience tends to vary widely.
2. Try out a few business communication systems
Most VoIP phone systems (Voice over Internet Protocol) and UCaaS platforms will have free trials that you can sign up for to test drive those solutions. Take advantage of them.
Everyone says they have "advanced features" but the best way to figure out if a business phone system is the right fit for your team is to try it out for yourself. Whether it's through a free trial or a product demo, you've got options depending on how hands-on you want to be.
So, sign up for a few products, make some calls, set up a call flow with an auto attendant and a ring group, then compare that experience with your current system and the other ones you're testing. This is especially important if you have older IP phones and analog phones in your offices.
3. Porting existing phone numbers over
Let's be honest, you already have business phone numbers that your customers are using, and you definitely don't want to change those. Some providers, like Dialpad, will help you port those phone numbers over.
Your existing service provider will also need to cooperate and release those phone numbers without dragging their feet, but generally Dialpad can port both local and toll-free numbers over with minimal downtime. Our Professional Services team are experts at helping you navigate this process, making it as easy as possible.
4. Pay attention to pricing
Beyond the initial price per user, there are a few other considerations and potential "gotchas" to keep in mind.
For example, some virtual phone systems aren't easy to set up—which means you'd need extra IT resources or customer support to onboard your company to the new phone system.
Toll and per-minute charges are often skipped in the sales and quoting process. You need to understand how much you're using and paying for today (on your existing system) and what the cost difference would be with a new provider. Dialpad, for example, can bundle unlimited local calling for each user license.
Each VoIP provider and UCaaS solution is different. Some charge for customer support, others include it for free. Most charge you extra for call recordings, a few will include it at no extra cost. Dialpad, for instance, includes call recordings (along with other business phone essentials like call transfers, routing, and more) in even the most basic plan, and it's super easy to use.
You can turn call recording on and off right from your meeting screen: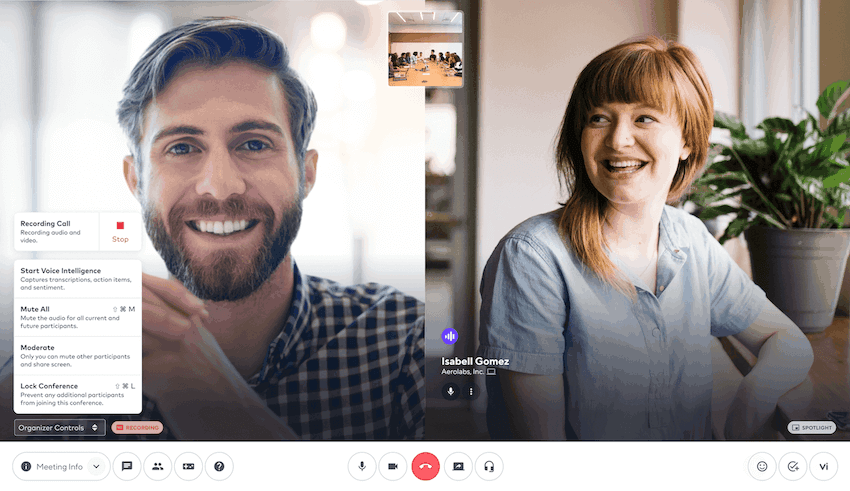 Generally though, the most advanced features will be available in the more expensive pricing packages. One of the benefits of a cloud solution like a VoIP phone system is you don't need hardware or expensive installation services (beyond a Wi-Fi router). Typically, you can just download an app and start working from anywhere.
👀 Moving to hybrid work?
Grab the Hybrid Work Playbook, which includes real-life case studies and breaks down all things hybrid + remote, from building and sustaining a hybrid workforce to equipping your team for success.
Why small businesses should think beyond phone systems
At Dialpad, we've been seeing more and more businesses—especially small business owners—move away from phone systems to their more versatile cousins: unified communications platforms.
And from talking to customers, there seems to be a few reasons for that.
With UCaaS, you get all your business communications in one place
What's important to note here is that even though VoIP business phone systems are more modern and flexible than old PBX systems, they're still arguably a step behind in terms of functionality.
Specifically, with UCaaS, you don't just get phone calls—you can also do video conferencing, SMS/MMS and instant messaging, and more, all on one platform.
From an installation perspective, there's an indirect benefit here: Because you're getting all of this in one app, you only have to get it set up once. You don't have to pay for (and manage) a bunch of disparate tools. For example, Dialpad is designed to do exactly that:

UCaaS is still compatible with regular desk phones
Some offices, for example, have a reception area or huddle rooms and just need to have a phone or two. You can have that flexibility with UCaaS. This is another big advantage of UCaaS compared to traditional business phone services. If you wanted to, you could get rid of all your desk phones—but you don't have to.
Dialpad, for example, allows you to blend desk phones and softphones that work across computers and mobile phones. You can take business calls from any device you want.
You can add on an integrated contact center platform if you want to
This is important—you need to have a communications platform that serves your needs today, but also has enough flexibility to conform to whatever you might throw at it.
If your business has a customer support, sales, or other type of call center team, you might need a cloud contact center platform if they're handling a high volume of calls or messages:

👉 Quick note on call centers vs contact centers:
"Call center" software has mostly evolved to become "contact center" software today, mainly because companies aren't just handling customer calls anymore—people are reaching out through social media channels, live chat, and more. Because of this, many businesses and software have expanded to cover these channels too.
With Dialpad, you can easily add a contact center to your business phone system—and yes, it works on mobile app too so your agents can work from anywhere.
Do you need to add digital engagement? Web chat? Facebook Messenger? Twitter? WhatsApp? UCaaS providers like Dialpad have all of this available to you, when you need it.
With a basic small business phone system, it's usually harder to scale up and add new functionality like this as you grow. And if you anticipate needing to hire a bigger team in a different city or country, this will be even more important to pay attention to.
Dialpad, for instance, lets you onboard new employees and get them set up with a VoIP number—remotely, in minutes. (See how ClassPass does it.)

And with its unique split cloud architecture and global voice network, Dialpad can give you excellent call quality almost anywhere in the world.
You can integrate with other software
Using other software or tools like a CRM or project management tool? Modern UCaaS solutions tend to have lots of integrations that help you minimize repetitive data entry and other low-value tasks.
Dialpad, for instance, also has an API if you want to build a custom integration with a more niche tool.
With UCaaS, you can get more analytics and insights
When you're choosing a new phone system, think about what kind of data will be useful for your team. Do you want to see how many incoming calls you're getting a day? What about missed calls or abandoned calls? Hold times and call volume patterns?
With Dialpad's unified communications platform, you can see all of that data right inside your online dashboard at your fingertips:

You don't have to contact a support team or wait hours or days for them to pull that information for you.
How much does a business phone line installation cost?
Generally, it depends on the service provider. And this is one of the biggest reasons why small businesses especially are moving away from landlines and toward cloud or VoIP services. It's just more cost-effective.
With cloud-based business phone systems and UCaaS solutions, there aren't any "installation" costs (unless you have a very complicated setup or you're a global enterprise with hundreds of offices around the world).
With Dialpad, for instance, there are three pricing plans—Standard, Pro, and Enterprise—starting at a monthly cost of $15 per month.
As long as you have an Internet connection, you're good to go start making phone calls, no need to shell out on a traditional phone line installation.
Here are some of the main costs to consider:
Phone hardware - Does your office still need a desk phone or two? Maybe you work in a healthcare practice or auto shop that needs paging functionality for certain staff, but everyone else in the clinic or business needs only the softphone app for internal communications.

Setup and installation fees - Again, this should be zero for most businesses unless you have an especially complicated setup that needs to be carried over, but these costs can almost always be negotiated.

Your monthly or annual subscription cost - Most UCaaS and VoIP providers will have the option to pay by month or annually, and usually, it'll be cheaper to be on an annual plan.
Rethink business phone system installations
Lucky for us, hardware expenses and hidden fees are mostly a thing of the past.
With many VoIP and UCaaS providers, you can easily add a phone line without needing copper wires and landlines (not to mention get much more advanced features and work-from-anywhere flexibility).
Whether you're working at a small business or a global team, Dialpad can make it easier to handle both internal and external business communications over an Internet connection. Phone calls, video conferencing, messaging—you can do all of it without having to toggle back and forth between different windows and tabs.
Get more than just a business phone system
Sign up for a free 14-day trial to try it out! It takes just a few minutes to get started, and you'll be set up with local business number too. Or, take a self-guided interactive tour of the app first!