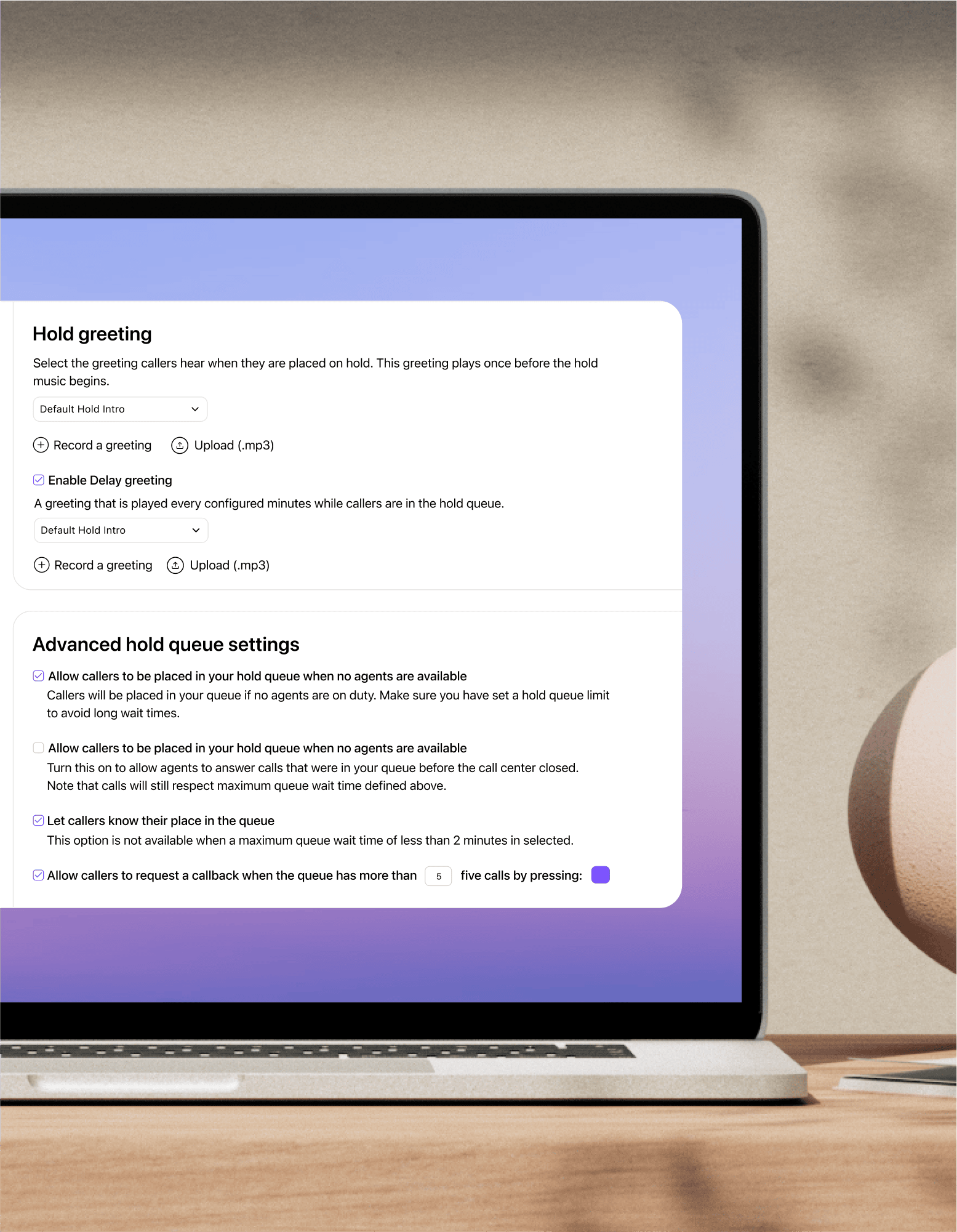 Customer callback
No one likes to wait on hold—so why make your customers wait? With Dialpad's customer callback feature, you can let your customers decide where and when to contact you. Book a product tour to see how it works!
Customer call-back solutions (also known as virtual hold or a virtual queue) give your customers flexibility when contacting your business. Instead of leaving them hanging on the telephone (as pop icon Blondie once put it), they can opt to receive a return call.

How customer callback works with Dialpad
Customer callback—it's right there in the name. If a customer makes an inbound call to your business and there's a wait time, Dialpad lets you give them the option to leave the call queue without losing their spot.

With Dialpad's AI-powered customer engagement platform, your customers enter which number they want to be called back on, which is great if they've called from a landline but need you to ring them on their cell phone. If customers would rather receive a call back later in the day when it's more convenient, they can also specify their callback time.
It's pretty simple. If you have Admin access, you can just go to your Call Routing settings screen. Under Hold Queue, you'll see options for setting up an in-queue callback:


👉 Dialpad tip:
If a callback is placed and the call goes missed or unanswered by an agent, the caller won't lose their place in the queue—they'll still be next in line to receive help.
More than just customer callback software

Fully integrated CCaaS + UCaaS
Get customer callback software and a fully integrated CCaaS + UCaaS in the same omnichannel solution with Dialpad. Get phone calls, video meetings, messaging, and contact center features—all in one app. No more wasted time toggling between windows and tabs.

Call queue
if you have a ton of incoming calls, it's important they go to the right person with minimal wait time. Dialpad's call queue feature lets you incorporate callbacks to improve the customer experience and even set up VIP queues for high-value customers that you want to prioritize.


Flexible call routing
Dialpad's flexible call routing gives you plenty of options to handle different types of calls. Set up call routing options based on whatever criteria you want, like fixed order, longest idle time, skill level, and more. This can help reduce wait times and call abandonment rates, and create a better customer experience overall.
Call recording
Level up your training and onboarding, or just have a record of important customer conversations with call recordings. Activate call recording in Dialpad with just one click by hitting record from your call screen. You'll then have access to calls and their (real-time!) transcriptions. For security, Dialpad's APIs let you pause recording when sensitive information is being viewed or discussed—perfect for healthcare, education, and financial services.

See how Dialpad's customer callback feature works
Book a demo to see how you can provide a better experience for your callers. Or, take a self-guided interactive tour of the app on your own!
Integrations with your favorite tools
Dialpad integrates with a wide range of CRMs and other business software to streamline processes and improve agent productivity. Choose from popular CRM integrations like Salesforce, HubSpot, and Zoho CRM, or build custom integrations with its open API!


Live transcriptions
Taking notes during a meeting? It doesn't help you pay full attention to the conversation. Dialpad Ai gives you a built-in voice transcription tool. This way, managers can see running transcripts for all active calls in real time, keep an eye on potential problems, and jump in to help agents—before customers get super irate. (Dialpad can transcribe voicemails in real time too, just in case you're in back-to-back meetings all day and can't listen to your messages.)

Real-time agent assists
No agent can predict what a customer will ask 100% of the time. Luckily, Dialpad's Real-Time Assist (RTA) cards can help. RTA cards are like flashcards that pop up on an agent's screen when a specific word or phrase is said. You set up the trigger words and phrases in advance. With the answer right in front of them, agents can breeze through difficult questions and provide a fantastic customer experience.

How can customers schedule a callback with Dialpad?
Here's how easy it is for your callers to schedule a callback when they're on hold:

When a caller is in the queue, they'll hear a message offering them a callback.

If they choose that option, they can hit the number or button to trigger the callback.

The caller hears a confirmation message; the call will then end.

The caller's position in the queue is held for them, and once they reach the front of the queue, Dialpad will call them back.

The caller will hear a message prompting them to:

Press 1 to connect to an agent.

Press 2 to cancel the request.

If the caller selects 1, they'll be connected to the next available agent. That's it!
Round out your CX strategy with a customer callback feature
Want to reduce hold times and abandoned calls while boosting customer retention and cuistomer satisfaction? Make sure that every touchpoint along your customer journey is easy and frictionless with a customer service callback feature.

Does your customer experience strategy need a customer callback feature?
Book a product tour to see Dialpad's customer callback, call recording, call forwarding, and RTA cards features in action!
FAQs about customer callback
How can customer callback help manage call volume?
Call volume can fluctuate dramatically throughout the day. Depending on your business hours and agent availability, you may face high call volumes and long wait times in the morning and quieter evening hours or vice versa. Or maybe you're looking at highs and lows sporadically throughout the day.
Whichever your situation, customer callback technology can smooth out the highs and lows and help give your agents a more consistent workday. Providing a callback function allows customers to schedule when they receive their callback. Knowing when calls will come in gives you the chance to schedule agents for spikes in call volume.

Do customers prefer to wait on hold or be called back?