Guide
A Guide to Softphone Systems and How to Set One Up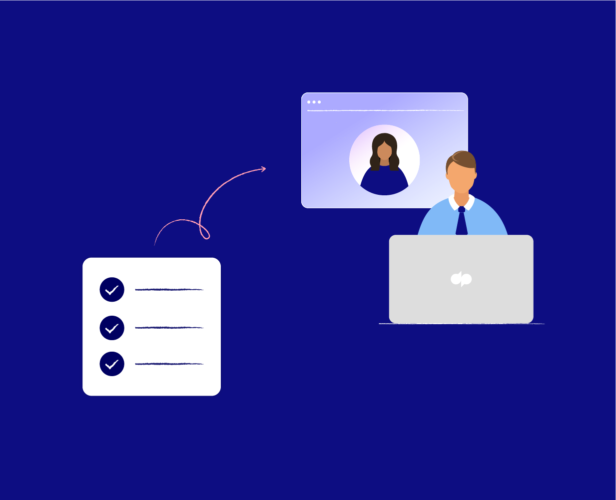 Communications experts believe that a phone conversation connects people more effectively than other options, including videoconferencing. Typing and texting leave you feeling distant, while the social pressure of video can distract you from what another person is saying. Plus, when you're doing business, you need to give people an option they're familiar with.
Therefore, an affordable, effective phone system is still a must for the 21st-century business, but legacy analog systems can add a logistical headache to the increasingly digital workplace. That's where a softphone telephony system comes in.
Softphone systems bring business telephone communications into the future. It lets you dispense with clunky, space-consuming desk phones and makes your whole team more mobile, all without the need to change anything that your customers, vendors, or coworkers have to do to reach you.
What is a Softphone System?
Having a softphone system means that your business no longer needs a separate desk phone. Instead, you make or receive professional calls using software that works through your internet browser or a downloadable app.
You can use softphone services via any compatible internet-enabled device, including laptops and cell phones. There's no physical object that you would point to and say, "This is a softphone" — and that's the beauty of the technology.
How Do Softphone Systems Work?
Softphones work using Voice over Internet Protocol (VoIP) technology. VoIP lets you make voice calls over an internet connection instead of a traditional phone line by converting your voice into a digital signal. It's the same technology that lets you use computer audio for your video conference calls.
You can use VoIP to call another VoIP user or a traditional phone user. If you call a traditional phone line, the technology converts the digital signal back into analog audio on the recipient's end.
Today's VoIP technology is convenient, secure, and professional. Gone are the days when sending voice packets over the internet meant delays and garbled speech. Today's servers and routers have enough bandwidth to handle back-and-forth phone calls with at least as much clarity as you'd get on an analog phone, as long as you use a high-quality softphone system.
What Are the Advantages of Softphones?
Softphone systems are a cloud-based technology. That means it stores all of your data — phone numbers, user data, call analytics, and so on — on servers that the provider maintains. There are many benefits of softphones that legacy phone systems can't provide, including:
1. Hardware Savings
You can add softphone programs to any compatible desktop, laptop, tablet, or smartphone. That means two things:
You don't have to pay for desk phone setups for your team members.
If your setup changes or you need another line, you don't have to pay for installation.
With the money you save, you can keep your existing devices up to date — an investment that will benefit your business in ways far beyond its phone system.

2. Flexible Setup
If you've ever tried to make changes to a traditional business phone system, you know how difficult and time consuming it can be. Someone who understands the system had to come in and make the adjustments, whether that meant adding a new phone number or just changing which phone rang when someone called your main number.
With a softphone system, you can make changes like these yourself in a matter of minutes. If you have a new hire or someone changes roles, you can set them up with a phone number, establish their permissions, and show them how to sync their contacts all through your admin portal. You can even set it up so that they can use their old desk phone to work with the software system.
3. Software Integrations
Traditional phone systems are inevitably disconnected from the rest of your business communication system. You can take notes on what was said during a call, but it's impossible to remember everything. Also, how do you capture the tone of the other person's voice?
With softphone technology, your phone system can record and accurately transcribe your calls and also send those transcripts and recordings wherever they need to go. Imagine being able to automatically save call recordings to your customer relationship management (CRM) software or email the transcript to a coworker, all in a matter of seconds.
This is one of the best features of today's softphone solutions. Softphone systems like Dialpad feature integrations with today's top business tools such as Slack, Zapier, Microsoft Office, and G Suite. You can make a call to a customer on Monday morning and by noon, other members of that customer's account team can know exactly what you talked about.
4. Better Call Outcomes
The more you know about your company's communications, the better. Softphone systems save data from your calls, which you can then review to learn about your relationships with customers, leads, vendors, and more. You can find out things like:
How many customer support calls you receive
What issues people call about most
Which sales reps are making or receiving the most calls
How many of your calls end with a happy customer
Understanding customer sentiment is possible thanks to technology like Dialpad's Voice Intelligence. It uses AI and machine learning to interpret when a customer sounds frustrated or an agent is having troubles solving an issue. You can review this information after the fact or have managers coach difficult calls in real-time.
Real-time monitoring is particularly helpful when you handle a lot of sales or customer service calls. It lets supervisors step in and handle difficult moments or unfamiliar objections, so your team can have more successful calls.
5. Secure Conversations
It's natural to worry about the security of your data when you send it to the cloud. What new softphone users often don't realize, though, is that cloud service providers invest in the kind of security and privacy technology that most individual businesses can't afford.
Softphone providers are in the business of providing you with safe, reliable voice service. That means advanced Secure Real-Time Protocol encryption and Transport Layer Security for every call, every time. That's much more security than you could ever get with a conventional landline phone.
Call recording data gets protected too. At Dialpad, redundant storage and 256-bit Advanced Encryption Standard technology keep your information protected. There's also a dedicated security team in place to monitor for threats 24 hours a day, which wouldn't be feasible for most in-house data storage systems.
How Do You Switch to a Softphone System?
Because softphones work via internet connections, it's easy to make the switch. These steps can help you do so.
Step 1: Check Your Setup
While you can technically use any compatible internet-enabled device as a softphone, some devices will produce better sound quality than others. Find out what specifications your softphone provider recommends, then check them against the specs of the devices that your team members will be using
Internet speed and reliability will make a difference in the call quality for your softphone system. If you're using a WiFi router, stay close to it to prevent delays and refer to these tips to improve call quality.
Also, consider whether you want to invest in headsets for your team. Depending on what microphone and speaker technology you have built into your devices, the sound quality of your softphone calls may be better with headsets designed for VoIP use. Better sound quality means a more professional experience for your callers.
Step 2: Choose or Port Your Phone Numbers
When you sign up for softphone system, you'll usually get an assigned phone number. You can use that as your main number, add more numbers to go to that main line, or port phone numbers that you already have.
If you're planning to import phone numbers, make the process as easy as possible by obtaining your customer service record from your current phone provider. This will give you the information that your softphone provider will need to port your numbers, including:
The account owner's name and address
The list of phone numbers to port
Account numbers and PINs for mobile numbers
Once you've provided this information, the softphone provider will work out the transfer with your existing phone company.
Step 3: Set Up Call Routing
Softphone systems are easy to set up and customize. Using your admin portal, you can direct incoming calls to a specific person and create an automated greeting for after-hours calls. You can set up call waiting, activate call recording, and choose your own hold music. And if you want to change something later, you can easily make adjustments without having to contact IT.
Set Up Your Softphone Now
A phone line is vital to many businesses. It's the best connection you have to your customers, service providers, and more. You shouldn't depend on yesterday's technology to keep it going.
With Dialpad, you get secure and high-quality calling with numerous value-added features, from call recording to customer sentiment analysis. Sign up for a free 14-day trial today and see why companies like WeWork and Motorola have already entrusted their phone systems to Dialpad.