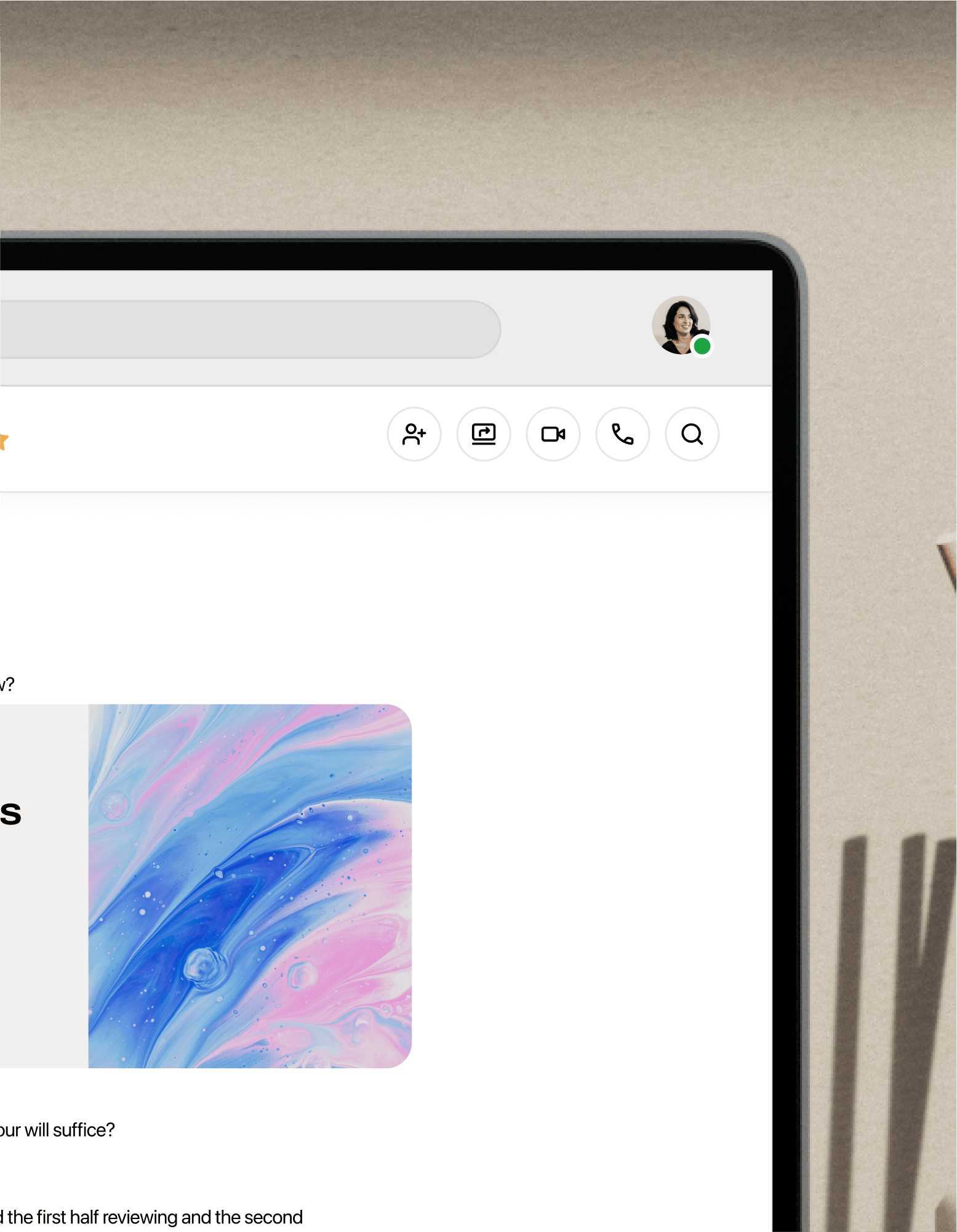 How it works
Phone presence + status
Dialpad presence and status indicators give you a quick way to see if a team member is available, busy, or away before you message or call them. Presence information is automatically updated when you're in a meeting or conference call, and you can also manually add a custom status. Try it for free!
What is a phone presence feature?
The term "phone presence" generally refers to your availability for a phone call or video conference—say your team member is deciding whether to communicate with you through a call or instant messaging.
If they can see that your mobile presence says "DND," for instance, then they'll know not to disturb you at this moment.
Get more than just a phone presence feature
Dialpad's AI-powered collaboration platform comes with...

Truly unified communications
With Dialpad, you can have conference calls and video meetings, and send SMS/MMS or instant messages—all from one beautiful app, over your cellular or Wi-Fi connection. And if you're on a phone call with someone else, your teammates will see that you're busy on a call through your presence status.

Easy setup
Manage your phone lines, add or remove users, or make changes to your account in minutes, right from your online dashboard. Dialpad is so easy to use, you don't need an IT team to handle these basic admin tasks.
Number porting
Want to keep your existing phone numbers? No problem. Dialpad can help you port local US phone numbers for free, with minimum downtime.

Plays nice with any device
Whether you're using a PC, Mac, iOS, Android, or any other desktop or mobile device, Dialpad works across all of them. That means you can work from anywhere, with just your laptop or mobile phone.
Built-in AI
One unique thing about Dialpad is its proprietary AI, Dialpad Ai. Not only can it transcribe your phone conversations in real time, it can also track keywords for you and even send all your meeting attendees a post-call summary email with a searchable transcript, highlights, and more.
Not just a business phone system
With Dialpad, you get a robust, truly unified communications platform that lets you make VoIP calls, have video meetings, send SMS/MMS and instant messages, and more—all from one intuitive app. Try it for free with a 14-day free trial. It takes just a few minutes to sign up!
Business communications, reimagined
Integrated contact center functionality
If you run a customer support or some type of call center team, Dialpad's contact center platform is fully integrated into its unified communications product. That means your agents can message their managers, have video calls, and handle customer communications, all from one cohesive account and platform.

Robust security
Keep your video calls and phone conversations secure, with security and permissions controls that are easily accessible from your call screen. Mute or remove participants, set passwords, pause screen sharing, and more. Say goodbye to meeting-crashers.
Call recording
What if teammates can't make it to your meeting? Or what if you had an insightful call that you want to share with the wider team? With Dialpad, you can easily record calls or video conferences.

Easy call routing
Easily set up and make changes to your call routing from your online account. Plus, Dialpad also has built-in analytics that show you which IVR routing options are being used most (and least) by your callers.

An intuitive voicemail feature
Need to upload or record your voicemail greeting? With Dialpad, you can do that—and also access your recordings—right from the app. Not only that, its AI can also transcribe your voicemails, in real time!

Customizable caller ID
Stop carrying around two phones. Make work calls from your personal cell phone—while protecting your personal phone number. Just choose the caller ID you want to display from the drop-down menu. (For sales teams, this can also reduce the chance of hang-ups since they can choose to display a local area code in the caller ID.)
Need a phone presence feature?
Book a demo to see how Dialpad works, or take a self-guided interactive tour of the app first!
How presence statuses works in Dialpad
Located in the top right-hand corner of the Dialpad desktop or mobile app window beside the user's avatar, the Presence indicator displays several different status notifications:
That's where Dialpad's Presence and custom Status come in. With the Presence indicator automatically tied to your Dialpad line, your team is able to quickly and easily see Presence statuses:
Green means your teammate is available. It's probably okay to reach out to them in a message or give them a call.
Orange means your teammate has a meeting booked in their calendar and shouldn't be disturbed. (This Presence option is available if you've integrated Dialpad with your Google Workspace account.)
Red with a phone icon inside indicates that your teammate is currently on a phone call and shouldn't be disturbed.
Red with strikethrough indicates your teammate has turned on "Do Not Disturb" mode and will not receive any incoming calls. (If you call them, it'll go straight to voicemail.)
Does your business phone come with this?
With Dialpad's custom phone statuses, it's easier for team members to be more thoughtful and considerate when communicating with other remote or distributed teammates, without the fear of cutting into someone's meeting or interrupting an important phone call.
FAQs about phone presence and status
How do I make sure my presence is set while I'm on a call or in meeting?
If you're using Dialpad to make the call or conduct the meeting, your presence will automatically be set to either "on a call" or "in meeting" (if you've hopped on a Dialpad meeting, that'll be noted in the icon as well). If you're calling through a phone number outside of Dialpad, you'll have to set your status manually by clicking "Set your status" by your icon inside Dialpad.
Who can see my presence information?
How do I see other people's custom status?
How many different presence state types are there?
How do I set a custom status?
What happens if I step away, but I don't update my status?
Is this feature available on mobile devices?