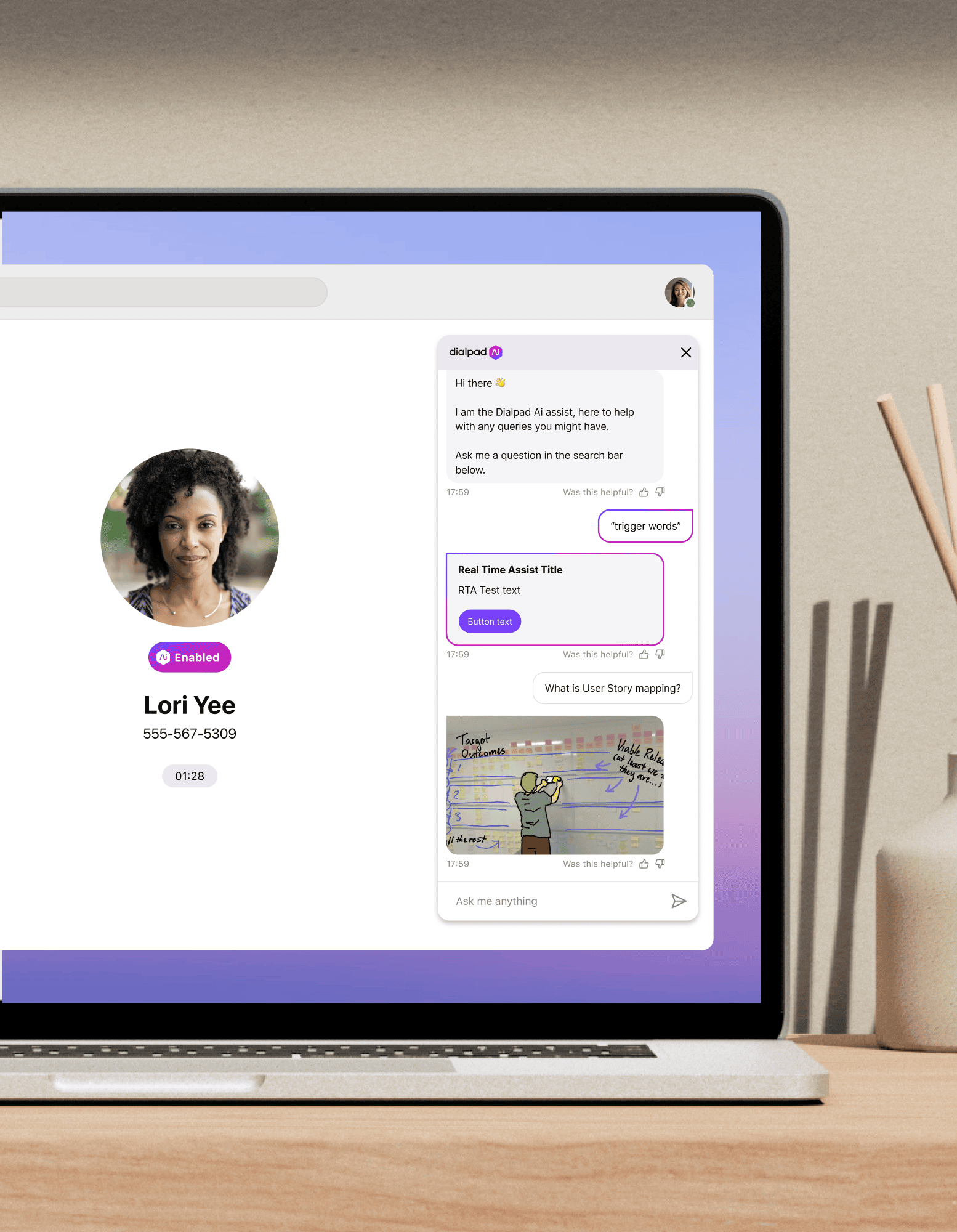 Real-time insights and assistance
AI call center
From transcribing customers calls in real time to providing real-time assists to agents when tricky questions come up, an AI call center solution is crucial for improving the customer experience and uncovering valuable insights. Book a product tour of Dialpad's AI-powered customer engagement platfom to see how it works!
What's the role of AI in call centers and how is it evolving?
In the past, call centers required a lot of manual, repetitive work on the part of agents and supervisors. This includes everything from fielding hundreds or thousands of customer calls a day, to doing QA, to reporting on performance.
But today, artificial intelligence (AI), and more specifically, the development of AI-powered call center solutions, are actually able to automate many tasks traditionally handled by humans.
For example, AI-powered call center solutions can provide real-time coaching to agents as challenging questions come up, deflect calls, suggest dispositions, and more—and the use of AI in call centers has only just begun.
Keep reading to learn how businesses can increase efficiency, reduce costs, and provide a better customer experience with AI call center solutions.
What to look for in the most advanced AI call center software

Live transcriptions
Transcriptions are essential for agent training and service quality assurance. Dialpad Ai Contact Center can transcribe calls—in real time. Not only that, it also delivers a call summary afterward with action items to the agent on the call. And thanks to machine learning, the more you use Dialpad Ai, the more accurate it gets.
Sentiment analysis
What if a supervisor could see customer satisfaction levels for every call their agents are on—in real time? Dialpad Ai can identify whether a call is going positively or poorly and show managers the sentiment of all active calls so they can spot problems quickly and jump in to help agents, before things go south.
Real-time assists
Supervisors don't have time to personally coach every call. Dialpad's Ai Agent Assist feature automatically searches all connected knowledge sources (even unstructured sources like PDFs and past customer calls) to provide help information to agents live as tricky questions come up.

Ai CSAT
Not getting enough responses on your CSAT surveys? Dialpad's industry-first Ai CSAT feature can infer customer satisfaction from conversations without customers having to fill out any surveys! Not only does this give you a more holistic understanding of your true CSAT scores, it also gives you a much larger sample size of feedback to use in agent training.
Speedier QA
Accelerate quality assurance (QA) reviews, reduce compliance risks, and improve agent adherence with Dialpad's Ai Scorecards. Instead of supervisors having to review call recordings manually, Dialpad Ai automatically suggests when QA Scorecard criteria have been met and highlights coaching opportunities.

Smarter than chatbots
Go beyond basic chatbots. With Dialpad, you can design sophisticated conversational flows and even include escalation options, images, and video clips—with just a few clicks.

Help sellers hit every task in their calls
With Dialpad's Ai Playbooks, coaches and supervisors can track rep adherence to sales methodologies like BANT, SPICED, and SPIN more easily. Dialpad Ai can automatically suggest questions and phrases that they need to say during a call (for example, asking about budget or purchase timelines), understand whether the behavior was met, and check the task off the list (or notify managers if this isn't being done).
Looking for call center AI software?
Book a demo to see how easy it is to set up and manage remote agents from anywhere using Dialpad's customer engagement platform. Or, take a self-guided interactive tour of the app on your own!

Truly unified communications
Handle all your internal and external communications in one place. Both agents and supervisors can make phone calls, have video meetings, send SMS/MMS + team messages with teammates and clients from a single, beautiful platform.

An integrated WFM solution
Looking for call center workforce management and optimization features? Dialpad's integration with Playvox gives you a robust contact center platform with all of that built in. From gamification to schedule adherence to forecasting and more, get it all in one place.

Easily scale up and down
Whether you need to hire more agents for the busy season or remove users once the busy season is over, you can do all that easily in your online dashboard. Add phone lines, move agents between call center teams, and more with just a few clicks.

Built-in analytics
Track all your essential KPIs, from call volumes and average handle time, to average speed of answer and CSAT scores, right from your online dashboard.
Integrations with tools you're already using
Whether you use HubSpot, ServiceNow, Zendesk, or Microsoft 365, Dialpad has a wide range of integrations with most popular business tools. These integrations can automatically log calls and activities, allow you to make phone calls from right inside your CRM, and help create a better omnichannel experience.
How to use call center automation and AI to help both agents and customers
Call center automation doesn't just help you provide a better customer experience—it helps agents perform at a higher level too.
you manage large volumes of calls with ease, as well as provide customers with self-service options so they can get the answers they need without having to wait on hold. AI can take things a step further by providing agents with tools to better understand and assist customers.
Automate routine tasks for agents
One of the benefits of call center automation is that AI can improve agent productivity by taking care of routine tasks like call deflection, so agents can focus on the conversations that actually need them.
Let customers self-service
Given the choice, most people prefer to resolve issues on their own instead of waiting on hold or talking to agents. Call center AI can help you provide these self-service options, like intelligent IVR and conversational AI to give customers more ways to find answers easily on their own.
Give agents real-time help
Instead of making agents manually search for information to help customers, use AI call center technology that can identify keywords and pull up recommendations and answers live on calls.
Interested in call center AI software?
With the growing interest in generative AI, businesses that are ahead of the curve when it comes to AI applications in the call center will have an important advantage over competitors in the near future. Dialpad Ai Contact Center comes with a variety of unique AI-powered features to help your agents and supervisors work more efficiently while providing an excellent customer experience.
From Ai CSAT that can infer customer satisfaction accurately without surveys, to real-time Ai Agent Assists and keyword tracking, there are endless possibilities for how you can improve agent performance and uncover insights—all in an automated way, at scale. See how it works now!

Ready for an AI-powered call center solution?
See how AI can help you provide an exceptional customer experience, train agents at scale, and more. Book a demo, or take a self-guided interactive tour of the app on your own!