Back to Blog
The 5 most cost-effective, versatile alternatives to eVoice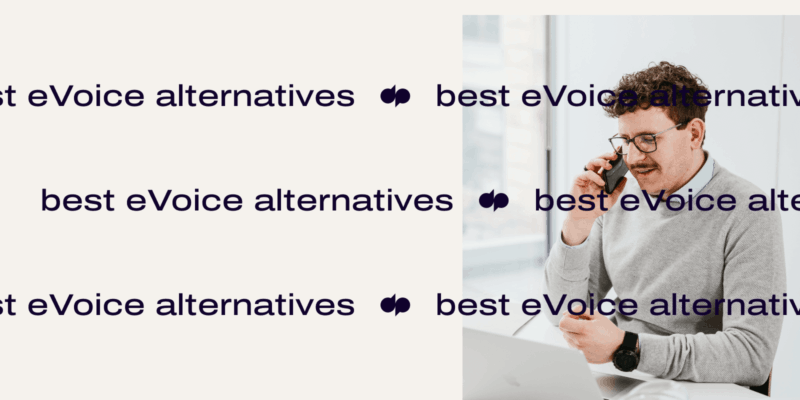 If you're looking for a business phone system alternative to eVoice, then chances are, your business has grown (or is growing) to the point where a basic VoIP provider just isn't enough anymore.
If you need to have video conferences or send instant messages or SMS text messages—or a communications platform that has a proper desktop and mobile app—then you're in the right place.
There are actually lots of really good eVoice alternatives—that are still budget-friendly, and also let you do a lot more than just do VoIP calling over the Internet.
In this guide, I'll walk you through what eVoice can do, what it can't do, and some of the best communications platforms and virtual phone systems out there.
What is eVoice?
eVoice is a business phone service that largely revolves around its built-in virtual receptionist. It offers VoIP-based calling through a desktop web portal or mobile app, and comes with basic features like voicemail, call forwarding, and toll-free numbers or local business phone numbers in each plan.1
If you need a live receptionist feature and you'd prefer to be billed by the minute instead of using unlimited calling, then eVoice might be a good option. What's nice is that they also offer decent customer support through different channels like social media, email, and phone calls, which you don't always get with budget phone service solutions.
But there are a few drawbacks to eVoice:
Why might you look for an eVoice alternative?
As mentioned, there are certain calling features eVoice doesn't offer, as well as areas where eVoice competitors outperform it, such as ease of use. Let's take a look at those and consider some of the reasons why you'd look for alternatives to eVoice.
You want the best value for your money
The cheapest eVoice pricing plan costs $10 per month per user, and includes 30,000 minutes. The pricing is actually quite confusing, with three other plans that are $13, $13.50, and $14 per user per month, respectively.
The main difference between these? The number of users you have on the plan and the number of toll-free or local phone numbers you get.
In contrast, most of the eVoice competitors below have much more straightforward pricing—that also gives you a lot more functionality. For example, Dialpad's least expensive plan starts at $15 per month, which is a little higher than eVoice's, but includes unlimited conference calling in the US, Canada, and your country, and other communication channels like unlimited video meetings and instant messaging: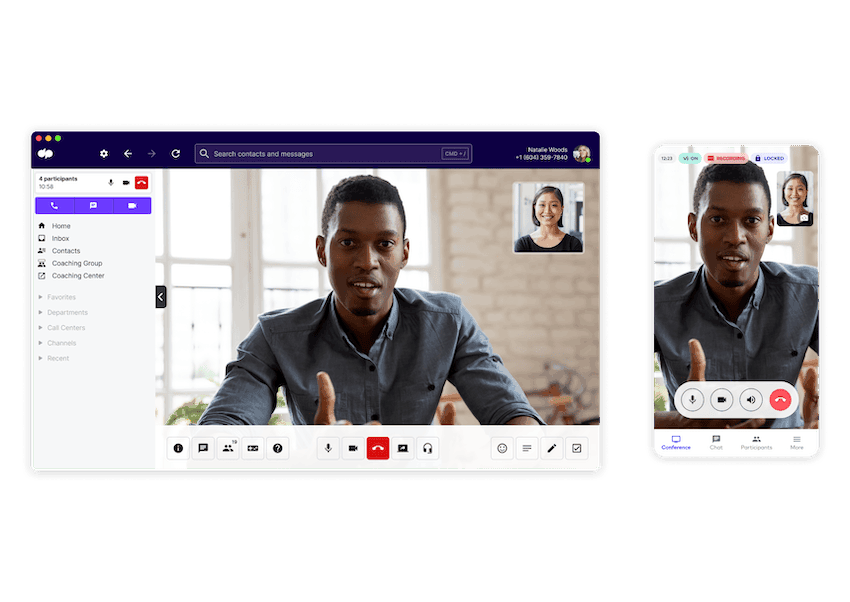 You and your team are using other communication channels
eVoice only lets you make phone calls. That means if you're meeting with clients or prospects using video conferencing, or want to be able to text them or message with them, then it makes sense to go with a more versatile communications platform that lets you do all these things from one desktop or mobile app.
With eVoice, you'd have to pay for (and manage) a bunch of disparate apps to cover all those channels, which can be a drain on both your budget and time.
You want integrations with other software you're using
If you're using other tools like Google Workspace, Microsoft 365, or even a CRM like HubSpot, then it can be very helpful if your business phone system or communications platform integrates with them.
For example, Dialpad integrates with all of these tools to automate a wide range of tasks for you, like populating meeting invites with the URL to join and letting you make phone calls from an embedded dialer right inside your CRM (and also has an API that lets you build custom integrations with niche tools if you want):

eVoice doesn't have any integrations. It likely isn't a deal breaker if you're not using any other software at all, but if you have plans to grow or use other software in the future, integrations are going to be very important.
The 5 best eVoice alternatives, ranked
Now, let's look at some of the most cost-effective, but still robust and versatile, eVoice alternatives.
1. Dialpad: A truly unified, easy-to-use communications platform
If you want a versatile communications platform that lets you communicate with both your teammates and customers or prospects through different channels, then you should try out Dialpad's 14-day free trial.
You can make phone calls, do video conferencing, send SMS/MMS and instant messages, and more—all from an intuitive, beautifully designed desktop or mobile app. And if your client doesn't want to download the app just to join your video call? No problem—they can join your online meeting from a web browser just by clicking a link:

Plans start at only $15 per user per month, and come with a free local number along with a bunch of sophisticated business phone system features.
What makes Dialpad a good eVoice alternative?
Like eVoice, Dialpad comes with a built-in IVR feature that lets you set up custom greetings for people calling your business. But unlike eVoice, Dialpad comes with built-in call analytics that show you how many calls your business is getting (or missing), and also which of your IVR menu options are being used the most, or the least, by callers:

That means you can continuously refine that IVR experience and help your customers and prospective customers route themselves efficiently to the right department or person.
And like eVoice, you can use Dialpad from any device—laptops, tablets, iPhones or other iOS devices, Android phones, softphones, you name it.
But Dialpad is a lot more than just a business phone system.
What you get with Dialpad that you don't get with eVoice
So, what are some of the best functionalities that Dialpad, as an eVoice competitor, offers? Apart from many flexible integrations, including CRM tools and productivity boosters, these are the most useful things you get with Dialpad that eVoice just doesn't offer:
Unified communications
We already mentioned this earlier, but Dialpad gives you all the conferencing, messaging, and calling features you need in one desktop or mobile app (or just a web browser if you like).
Want to make business phone calls from your cell phone, without exposing your personal phone number? Dialpad lets you choose which caller ID to display and shield your number—say goodbye to carrying two phones around: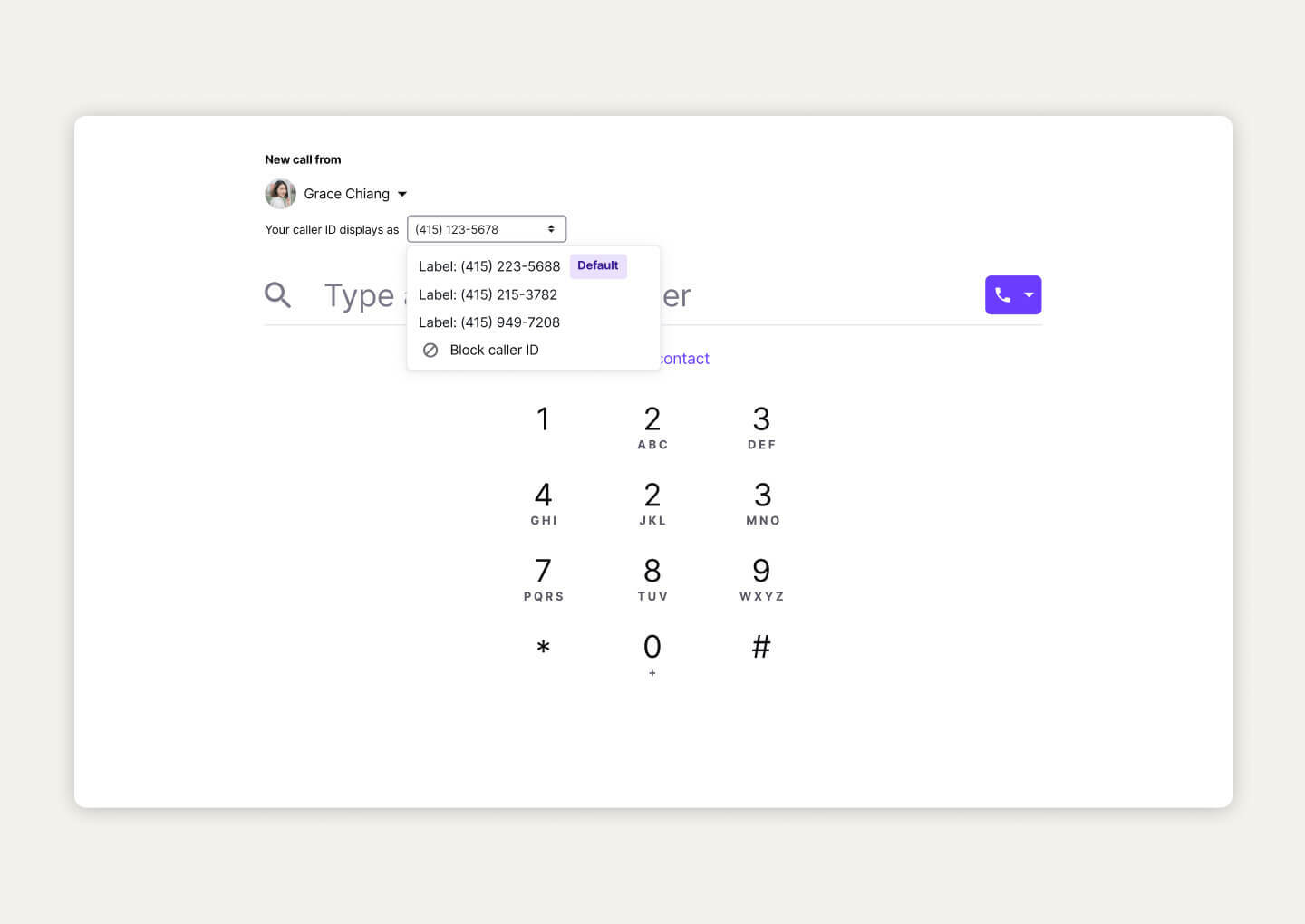 A fully integrated contact center platform if you need it
If you have a call center or contact center team that handles a high volume of inbound or outbound communications, then Dialpad can help you provide a better customer experience too. Its contact center platform is fully integrated into the phone system or communications platform product. That means your agents can manage their communications with teammates and supervisors—and also customers or prospects—from a single platform with one cohesive user interface:
Dialpad also comes with a range of real-time assist and coaching features, and even automatic notifications that ping your contact center's managers when your service levels dip below a certain threshold:

Real-time transcriptions
One of the most unique things about Dialpad is its AI, which is built in-house and incorporated across all of its products. From transcribing calls in real time (and even voicemail transcription!) to sending automated meeting recap emails and providing live sentiment analysis for customer calls, there's a wide range of useful things it can do.
Call recordings
One very useful feature that most business phone systems should have, but that eVoice doesn't come with, is call recording. With Dialpad, you can toggle call recording on and off easily from your call screen, and use your recordings for training and development, or just to have a record of important conversations.
Try Dialpad for yourself!
Take Dialpad for a test drive by signing up for a 14-day free trial! It takes just a few minutes to get started and you'll be set up with a virtual phone number!
2. RingCentral
RingCentral is a communications service provider that's been around for decades (since the days of PBX and landlines). Today, it's in the process of modernizing its product, and comes with standard business phone system features like call routing and an auto attendant.
What makes it a good eVoice alternative?
Like Dialpad, RingCentral gives you more functionality when it comes to other communication channels like video conferencing and messaging, and is a more robust option for companies with big growth plans. Learn more about the best RingCentral alternatives.
Pricing
RingCentral's pricing starts at $19.99 per user per month for its most basic plan.2
3. Grasshopper
Another VoIP service provider, Grasshopper is geared towards very small businesses and comes with basic features like call forwarding and Wi-Fi calling.
What makes it a good eVoice alternative?
Like all the other service providers in this list, Grasshopper has monthly pricing plans, which gives you a little more flexibility and freedom, and it does have a few more features than eVoice, though nowhere near the options at the top of this list.
Another caveat is that Grasshopper is currently only available to users in the US and Canada. Learn more about some better alternatives to Grasshopper.
Pricing
Grasshopper starts at $31 a month per user for one local phone number and three phone line extensions, and goes all the way up to $89 per month for the "Small Business" package.3 That's just one of a few reasons why they're not at the top of this list. (You can get a lot more for a lower price with every other eVoice alternative on this list.)
4. Vonage
Vonage is a VoIP provider that has been around for many years and is pretty well known, in part because it has a big residential side of the business.
For small businesses with more basic needs, it's a decent business phone system that lets you make local and international calls.
What makes it a good eVoice alternative?
Vonage offers some of the unified communications functionalities that eVoice lacks, like team messaging (which you get on the basic plan) and CRM integrations (which you have to pay more for).
Like Dialpad, Vonage says you get free calling included in the basic plan—but unlike Dialpad, it says that "reasonable and acceptable usage applies for unlimited calls and unlimited SMS."4 What does "reasonable and acceptable usage" mean? It's unclear.
Pricing
Vonage's prices start at $19.99 per user per month, and go up to $39.99. Keep in mind, though , that these are starting points and many essential features are paid add-ons, so you'll likely end up paying more depending on your needs.4
5. Ooma
Ooma is another virtual phone system that's marketed toward small businesses. It's quite similar to Vonage in that it also has a home / residential phone service side to the business.
What makes it a good eVoice alternative?
While it doesn't offer the same number of integrations and functionalities as the other unified communications platforms above, Ooma does include some things that eVoice doesn't have, like video conferencing.
Pricing
The most basic pricing plan, Ooma Office, runs at $19.95 per user per month.5 That's notably more than Dialpad, which starts at only $15 per user per month, and comes with a much more functionality.

Try the best eVoice alternative in just a few clicks
All things considered, in terms of how modern the platform is, the amount of functionality you get, and integrations, Dialpad is probably one of the best alternatives to eVoice out there.

If you need to make business calls, with excellent call quality around the world, in addition to doing video conferencing and sending instant messages, Dialpad can give you all of that and more—in one intuitively designed, easy-to-use platform.
Try it now!
Looking for the best eVoice alternative?
See for yourself what sets Dialpad apart from the rest with a 14-day free trial!
1evoice.com/signup/auto/plans-pricing-sales
2ringcentral.com/office/plansandpricing.html#office
3signup.grasshopper.com/plans
4vonage.com/unified-communications/pricing/
5support.ooma.com/office/ooma-office-pricing-chart/