Back to Blog
Meeting transcripts: What's the easiest way to get them?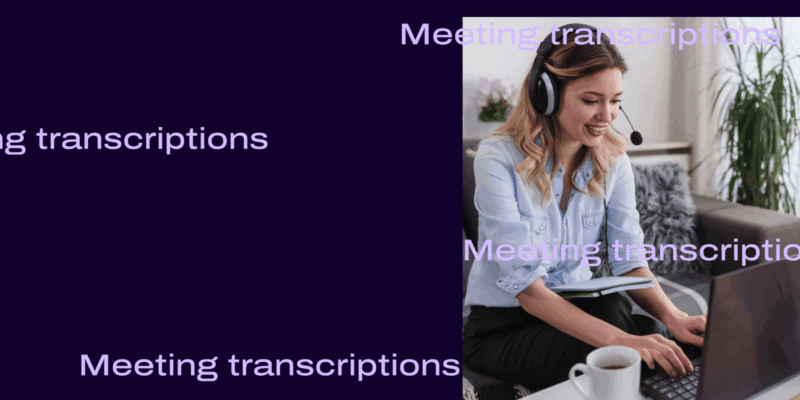 If you have virtual meetings (one-on-one, with clients or prospects, or even with your team) on a daily basis, you've probably needed meeting transcripts at some point.
Not only are they helpful for recapping what happened during the meeting (especially for team members who couldn't make it), they're also great for tutorials or training sessions that new teammates will want to review in the future.
So, the money question: How do you get these meeting transcripts? After all, not all virtual meeting and webinars platforms come with a transcription option. I'll walk you through a few options—and what's probably the easiest way to do this—below.
What is a meeting transcription and how does it work?
Essentially, a meeting transcription is a readable text that shows, literally, what was said in a group meeting. It can be a board meeting, a team meeting, a one-on-one meeting—any kind of meeting.
It's not quite the same thing as meeting notes, which are more like summaries and may include the notetaker's interpretation of certain events that happened during the meeting. A meeting transcription is just a record of what was said by the attendees.
Generally, there are two main types of audio transcription: real-time transcription, and post-meeting transcription. Traditionally, most transcription services gave you post-meeting transcriptions. That is, someone (or a tool) listened to that call or the meeting recording, and then transcribed it. Today, there are AI-powered meeting transcription tools that can transcribe calls and meetings in real time.
For example, that's exactly what Dialpad's unified communications platform does—the functionality is built right in (no third-party add-ons or downloads needed). Here's how it looks:


How Dialpad's meeting transcription functionality works:
Dialpad Ai, our proprietary artificial intelligence technology, uses NLP (natural language processing) and machine learning to transcribe calls—and what's unique about Dialpad is its transcription, which is more accurate than almost all leading competitors. It can do this in real time, as the conversation is happening, and can even distinguish between different meeting participants who are speaking and include timestamps as well. (Learn more about AI transcription accuracy and why it can be so challenging.)
After the meeting, it automatically generates a call summary with a short recap in friendly, natural language:


All the attendees will get an email with this summary along with a searchable transcript, the recording, and any action items that it logged too.
It's like a helpful AI meeting assistant who's taking notes for you in the background of every call!
2 ways to get automatic meeting transcripts
Whether you run a small business with a tight budget or a global enterprise, there are two main ways you'd get meeting transcription functionality.
1. Use a meeting platform that includes transcription
The best (and easiest) way to get transcriptions is to just use a video meetings platform that has transcription included as a feature!
Dialpad is one of the few video conferencing software or unified communications platforms that has built-in transcription, thanks to Dialpad Ai. The desktop and mobile app works across iOS, Android, Mac, and PC, so you can make sure it's transcribing your meetings no matter what device you're using.
The benefit of this is that you don't have to add another integration or upgrade to an exorbitant pricing plan to get the transcription feature.
It comes included in even the least expensive paid plan at only $15 per user per month—which also includes SMS/MMS messaging and unlimited calling in the US and Canada, unlimited video meetings, and even unlimited cloud recordings!
When you're in a video meeting or call, just tap the Ai icon from the call screen to start or pause recording.
That's it!

👉 Fun fact:
If your company has a contact center or support team that needs to stay compliant while recording customer calls, Dialpad is designed to help with that too, with APIs that automatically pause recording when sensitive information (like credit card details) are being shared on a call.
2. The less convenient way: Use a third-party app
Alternatively, you can use a third-party meeting transcription service. Typically, these are integrations that need to be added onto your video conferencing tool—pricing will vary depending on which tools you're using.
(For example, Zoom integrates with Otter.ai to provide transcriptions, but you get a limited number of minutes of meeting transcriptions included. If you want more, you'll need to pay extra. Zoom also doesn't have meeting transcriptions in its basic plan—you'd have to go up to the Zoom's Business Plan pricing to get the transcription feature.)
There are other meeting recording and meeting transcription tools as well, but are not always designed well. For example, some of them will add an extra "attendee" to your meeting—which is really just the software (not a person) that will transcribe the meeting. It's a bit of a strange user experience, especially if you have clients or prospects on a sales call who aren't expecting to have another "person" on the call...
Other things to look for in meeting transcription software
Call recordings
For most businesses, you'll want the option to have call recordings because transcripts (even the most accurate solutions) will sometimes make mistakes, and it's always good to have the original source of the conversation available to dig into if needed.
With Dialpad, this comes in handy for me when I'm interviewing customers to write case studies, for example. Instead of taking notes in Google Docs during the meeting, I can focus on actually engaging with the customer and getting the best story possible out of the conversation. I just have to remember to hit record—and ask for their consent!—at the beginning of the call.


(I imagine the same goes for board meetings and other types of customer calls where you might want a record of what was discussed.)
Dialpad also integrates with tools like Microsoft Teams and Salesforce to let you record calls and turn on the transcription feature—without leaving those platforms—which makes things a lot more convenient for sales reps and support agents: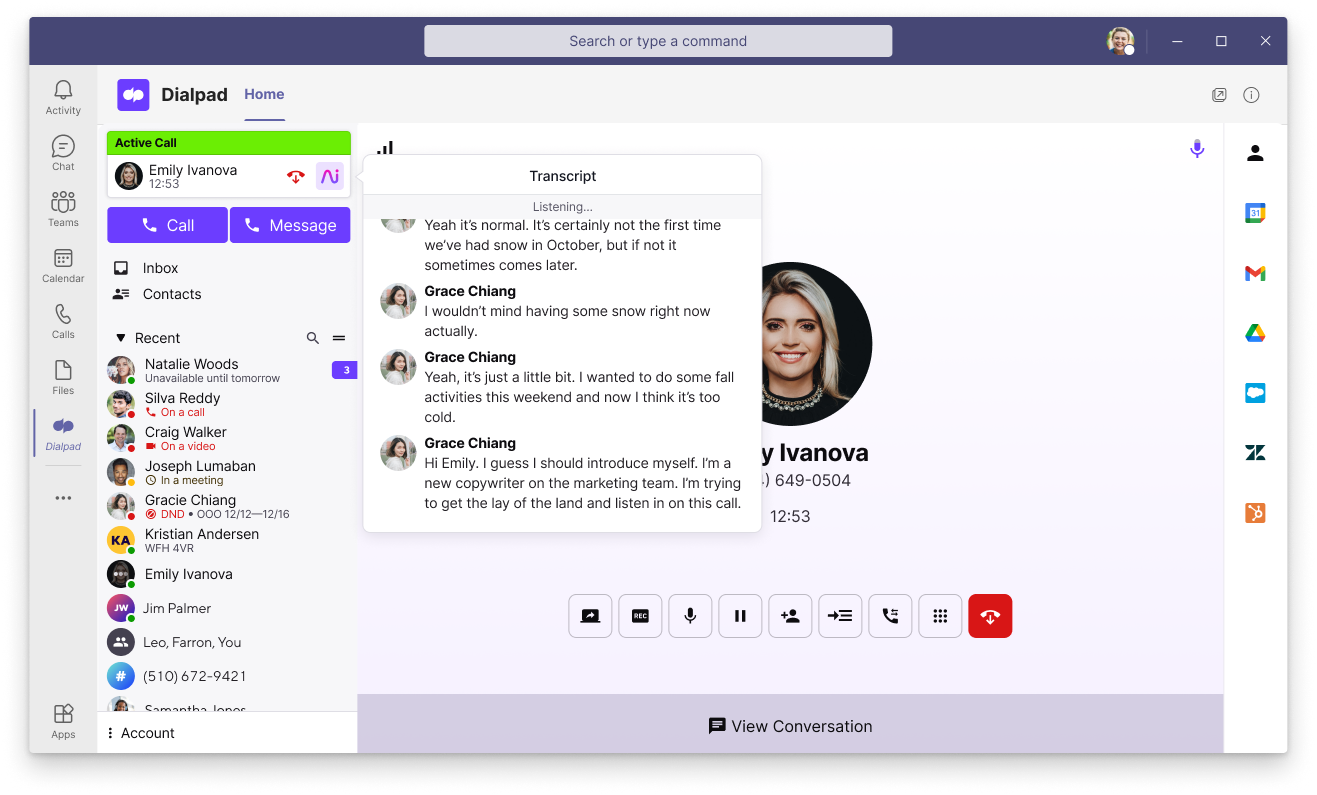 On/off toggle for compliance (more for audio calls with customers)
This one is mostly for customer-facing teams who have to deal with PCI and compliance—but ideally, your transcription software will have a manual option to pause recording, and also an automation that pauses it for agents in case they forget.

Real-time transcription (as opposed to transcriptions being made available only after the call)
This is a big one—some meeting transcription services won't send you the transcript until a few hours after your call has ended. This may not be a dealbreaker for everyone, but it's something to keep in mind.
A Customer Support team, for instance, would find real-time call center transcriptions extremely helpful because a supervisor would be able to pull up a live transcript for a call to get more context before deciding whether or not they need to barge the call to help out an agent:

How to start transcribing meeting minutes on Dialpad
To get started with Dialpad's meeting transcription feature, it's pretty simple. This feature comes included in Dialpad's video conferencing (if you only need video meetings) or unified communications pricing plans, which start at only $15 per user per month.
1. To choose a plan, just head over to dialpad.com/pricing and select the one you're interested in. Signup takes just a few minutes.
2. Once you're in, just download the app or log in on a web browser—Dialpad is fully browser-based, which means anyone can join or host video meetings on a web browser, with full functionality, if they don't want to download the app! (Learn more about how to join a video meeting.)


3. Start a video call or voice call by clicking the video or phone icon in your app.
4. Hit the Ai icon from your call screen to start transcription. You'll hear a voice recording saying "This call is now being recorded" (for compliance)!
Need meeting transcripts?
Why not try out Dialpad? Its built-in AI transcription feature can transcribe your meetings and calls accurately—without you having to manually take notes—and comes built into its truly integrated collaboration and customer engagement platform.
No need to pay for an extra voice transcription tool, no need to add an AI attendee to a client call, it's all included in one intuitively designed interface.
Try it now!

Try Dialpad's meeting transcripts feature
Book a demo with our team, or take a self-guided interactive tour of the app on your own!
Why are meeting transcripts important?
There are several reasons why meeting notes are important. First, they can help you keep track of what was discussed during the meeting—especially helpful if the meeting was long or if there were multiple topics covered.
Second, meeting notes can help attendees remember important details that they might otherwise forget. Finally, you can share the transcript with people who weren't able to attend the meeting. All of these things happen pretty often, so we'd say transcripts are quite useful.
Does my business need meeting transcription services?
What is the best meeting transcription app?
How do you transcribe meetings to text?