Back to Blog
A guide to building a customer service scorecard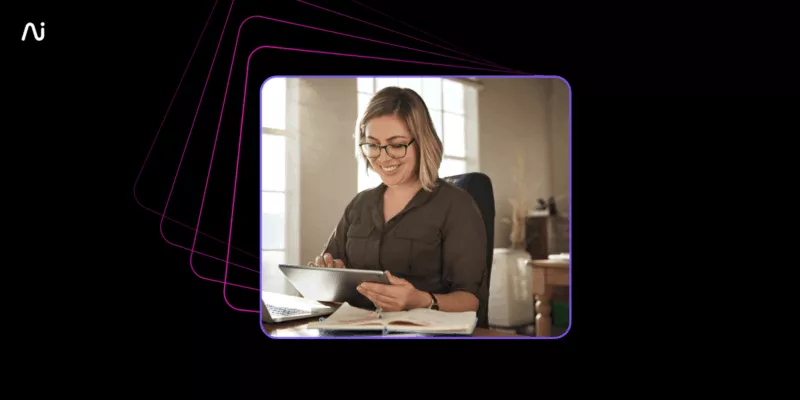 Any contact center leader, whether you're a customer support leader or sales manager, needs to be able to do contact center or call center quality monitoring in an efficient and reliable way. This is essential for providing a high level of customer experience, and for measuring the performance of your agents or reps.
In customer support, you'd do this using a customer service scorecard. Below, I'll walk you through what that is, how it's different from a QA scorecard, and how to put together a good support scorecard that works for your organization.
What is a customer service scorecard?
A customer service scorecard is essentially a list of tasks or behaviors that outline what a contact center agent needs to do in order to:

Provide a high level of customer service

Do their job well, as their manager will typically be using this scorecard to measure their performance
One important thing to remember here is that a customer service scorecard is not the same as a QA scorecard or quality assurance scorecard. A QA scorecard specifically measures contact center quality assurance tasks—a customer service scorecard is more comprehensive. It can contain a QA scorecard as a portion of the overall customer service scoring, but they're not the same thing.
How to build a customer service scorecard for your call center
Now, let's look at how to start building a customer service scorecard for your support organization.
1. Determine your goal(s)
First, you need to determine the primary goal of your contact center.
For example, your primary goal of your contact center might be to drive a positive customer experience that promotes customer satisfaction and fosters long-term relationships.
2. Know what KPIs will support those goals
Then, you need to know the KPIs, or Key Performance Indicators, that you want to hold your team to. Customer satisfaction (CSAT) is the most important KPI for our business objectives, as it directly reflects the level of satisfaction our customers have with our support team and their interactions.
3. Reverse-engineer your actions and outcomes
Now, you can sort of reverse-engineer your scorecard tasks by considering what supporting actions and outcomes will help you achieve those KPIs and your primary goal.
If you run an omnichannel contact center, you should consider that some metrics will be dependent on the channel that you're measuring.
For example, it's not enough to say "we will provide quick responses to customers." You need to set goals for response time across different contact channels, such as phone, chat, and email. Measure Average Speed of Answer (ASA) for live channels (like live chat) and average first response time for your non-live channels (if you provide customer support over email, for instance) to ensure timely responses to customer inquiries.
Not every measurement has to be totally quantitative either—you may want to make sure that agents are friendly and knowledgeable. How can you "measure" that?
To do this, you could develop a QA strategy to measure agent tone, empathy, product knowledge, consistency, and adherence to processes. Use QA scoring to evaluate agent performance against these requirements ("did the agent greet the customer and ask how their day is going?") and provide feedback for improvement.
This can be challenging if you run a large contact center or if your supervisors are overseeing large teams of agents, but there are contact center AI features that are really helpful for this.
For example, we use Dialpad's AI-powered QA scorecards to automate scoring and analysis, which empowers our leaders to provide more consistent and focused coaching to agents:


How it works: During call reviews, Dialpad Ai will analyze the conversation and automatically suggest if the agent has fulfilled the tasks as listed in your scorecard, and a supervisor just has to verify if those are correct.
It's pretty easy to create an Ai Scorecard from your dashboard—it takes just a few clicks to fill out the items you want Dialpad Ai to pick up on and score your agents against:


Regularly track and analyze these KPIs on a weekly, monthly, quarterly, and yearly basis to monitor performance, drive improvements, and ensure a consistent focus on delivering a positive customer experience.
What should a customer service scorecard include?
Your customer service scorecard should include a few key elements:
1. Your required tasks
These are the actions or behaviors that agents have to execute when they're interacting with customers. (For example, greeting the customer at the beginning of the conversation, did the agent follow proper troubleshooting procedures, fast responses to your customers, consistent follow-up, quick resolution.)
2. Your KPIs
These will be the metrics that you'll use to measure success against this set of behaviors. For example, CSAT scores, QA scores, ASA, SLO adherence, and MTTR. (More details on these metrics below.)
3. Your targets for those KPIs
Make sure you define your targets for each of those KPIs and research industry benchmarks (if you're able to dig those up) to make sure you and your team know what "good" actually looks like.
A call center scorecard template to follow
Every contact center will have different elements on their scorecard, but here's a generic call center scorecard template that you can use as a starting point.
| | | | | | | |
| --- | --- | --- | --- | --- | --- | --- |
| KPI | January results | February results | March results | Q1 results | Targets | Status |
| CSAT | (x)% | (x)% | (x)% | (x)% | =>(x)% | 🟢 |
| Ai CSAT | (x)% | (x)% | (x)% | (x)% | =>(x)% | 🟡 |
| QA score | (x)% | (x)% | (x)% | (x)% | =>(x)% | 🟢 |
| MTTR | (x)hrs | (x)hrs | (x)hrs | (x)hrs | =<(x)hrs | 🟢 |
| Service level: Phone | (x)sec | (x)sec | (x)sec | (x)sec | <(x)sec | 🔴 |
| Service level: Chat | (x)sec | (x)sec | (x)sec | (x)sec | <(x)sec | 🟢 |
| SLO adherence | (x)% | (x)% | (x)% | (x)% | =>(x)% | 🔴 |
Using a customer service scorecard + metrics to optimize your call center
Now, let's look at some contact center KPIs and metrics that you can include in your customer service scorecard.
Customer satisfaction (CSAT)
One of the biggest challenges with collecting customer feedback is that the vast majority of customers don't bother responding to these surveys. On top of that, typically only the angriest and happiest customers take the time to provide feedback, which further skews your results and makes them less representative of how your overall customer base actually feels.
So, how can you capture more reliable insights on interactions without explicitly given customer feedback? Yes, it is possible. We do it by leveraging Dialpad's Ai CSAT feature across support channels.
What's neat about Dialpad Ai is that not only can it transcribe calls, track recurring topics or keywords, and pop up agent assists in real time—it can also infer customer satisfaction from conversations!
This is what the Ai CSAT feature does, and what that means is it gives us a more holistic view of customer satisfaction, even when customers don't fill out CSAT surveys (which is often):

One-touch resolution percentage and Mean Time to Resolve (MTTR)
One-touch resolution is similar to first contact resolution, and you can use it together with MTTR to measure how well your contact center is doing when it comes to efficiently resolving customer interactions.
Service level objectives (SLO)
To measure if your agents are consistently following up, establish Service Level Objective (SLO) targets for initial response and follow-up frequency.
Measuring your SLO adherence percentage will help you ensure consistent communication with customers until their issues are resolved. I'd recommend measuring the percentage of SLO achievement for both initial response and follow-up frequency to gauge responsiveness and customer satisfaction.
QA score
This one is pretty self-explanatory—as I touched on earlier, this measures whether your agents successfully executed the quality assurance tasks as laid out in the scorecard.
These are typically simple yes/no questions, ranging from general "did the agent ask the customer if there was anything else they could help with before hanging up," to "did they follow the new Medicare call recording regulations."
ASA for voice and chat
Another key metric for customer support contact centers is ASA, since it tells you, on average, how quickly agents are getting to customers on different channels like phone calls and live chat.

💡 Quick tip:
Create customer service scorecards at both the agent and team level to measure overall performance, identify top performers and areas needing additional support, and monitor trends that are impacting your customer experience.
Make customer service scorecards a part of QA in your call center
By now, you should have a good idea of how to create and use customer service scorecards to not only improve your contact center performance management, but also empower your agents and supervisors to excel in their day-to-day work.
If you haven't already, it's a good time to start thinking about how customer support AI tools can help you and your team reduce repetitive work, speed up your QA process, and work more efficiently.
See how our own customer support team is using Dialpad Ai to do this!

See how to incorporate AI into customer service scorecards
Book a demo to see how our own support team does this, or take a self-guided interactive tour of the app first!
FAQs about customer service scorecards
Why is a customer service scorecard important?
Customer service scorecards are important because they're a powerful tool for contact center leaders to track and measure the performance of their agents. By helping track key customer service metrics such as customer satisfaction, average call handle time, and resolution rate, they can make it easier to quickly identify areas of excellence and areas that need improvement.
They also give you a way to compare agent performance across multiple departments or teams, empowering supervisors to identify trends and patterns in agent behavior and coach them to be better equipped to address particular issues or problems customers may be having with their products or services.
How is a customer service scorecard different from tracking KPIs and metrics?
How can a customer service scorecard help improve customer satisfaction?
What are some common challenges in implementing customer service scorecards?