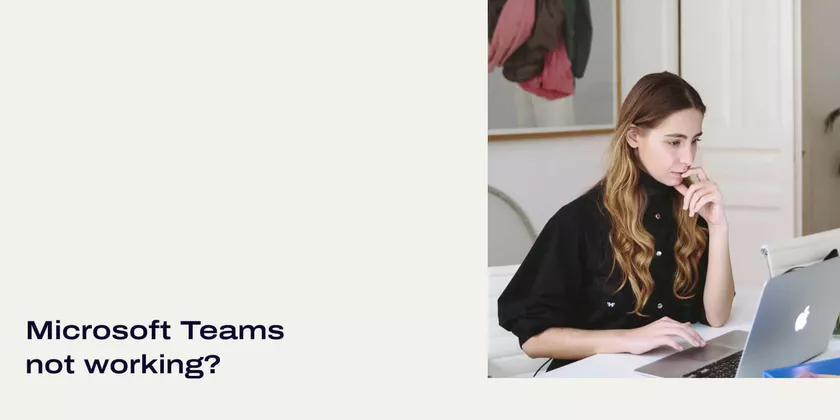 January 23, 2020
Picture the scene.
A repeated chorus is heard resounding across the office (and/or your team messaging channels): "Why is Microsoft Teams not working?"
Connectivity issues are no fun. The thing is, no matter what software or application you're using or how great it is, glitches do crop up on occasion. When using Microsoft Teams, you will notice issues like chat notifications not working or the video or audio not connecting, tips that will be mentioned below might help.
(The Good news: The vast majority of these fixes for Microsoft Teams thankfully don't require a task manager or control panel-style uninstall and reinstall. Phew.)
Skip ahead if you like. How to troubleshoot the 7 most common issues with Microsoft Teams:
The 7 most common Microsoft Teams issues and how to solve them
1. I'm unable to establish a connection to Microsoft Teams
When your user accounts are trying to join an audio or video meeting, connection problems may arise and the Microsoft Teams app would stop working.
No need to ctrl, alt, delete, and end task. Here's how to troubleshoot this one.
The solution
For Microsoft Teams connection problems, first ensure that your device can access other networks or online content. If you have a stable internet connection that zooms through other content but is still unable to connect to Microsoft Teams, check out the Microsoft Support page to verify the Microsoft Teams service status.
Then, close all other apps and programs running in the background in case they're interfering with your Microsoft Teams connection status.
2. My audio isn't working
Your mic not working? If you've double-checked that you're definitely not muted, and you still can't pick up audio during Microsoft Teams calls, here's what you can do:
The solution
If you're having trouble hearing sound from your microphone, first make sure you have the latest Windows update or Mac OS update (or equivalents if using Android or Apple devices and the mobile app) and Microsoft Teams app version installed.
To check for updates in Microsoft Teams, navigate to your profile picture in the upper-right of the Microsoft Teams app and select Check For Updates. Updates typically install in the background if they're available.
If all the updates are current, changing one of your privacy settings is useful. To do this, open Settings, and under Privacy, select Microphone. Make sure the setting for Microphone access for this device is turned On. If the setting is already turned on, turn the setting off then back on again. Then go ahead and close all applications before restarting your device.
3. My video or camera isn't working

If you are wondering why your camera is not working in Microsoft Teams, check first if your hardware is plugged in correctly.
The solution
Once you've checked that, double-check that your microphone and webcam are enabled during a Microsoft Teams meeting. There are toggle switches for these options when you join a new Microsoft Teams call.
4. My notifications aren't working
If you find your Microsoft Teams sound notification not working, try this first:
The solution
Navigate to Settings > Notifications to check that your notifications are turned on for the type of notification that you're missing. If they aren't turned on, adjust your settings by clicking the drop down menu and selecting your preferable type of notification.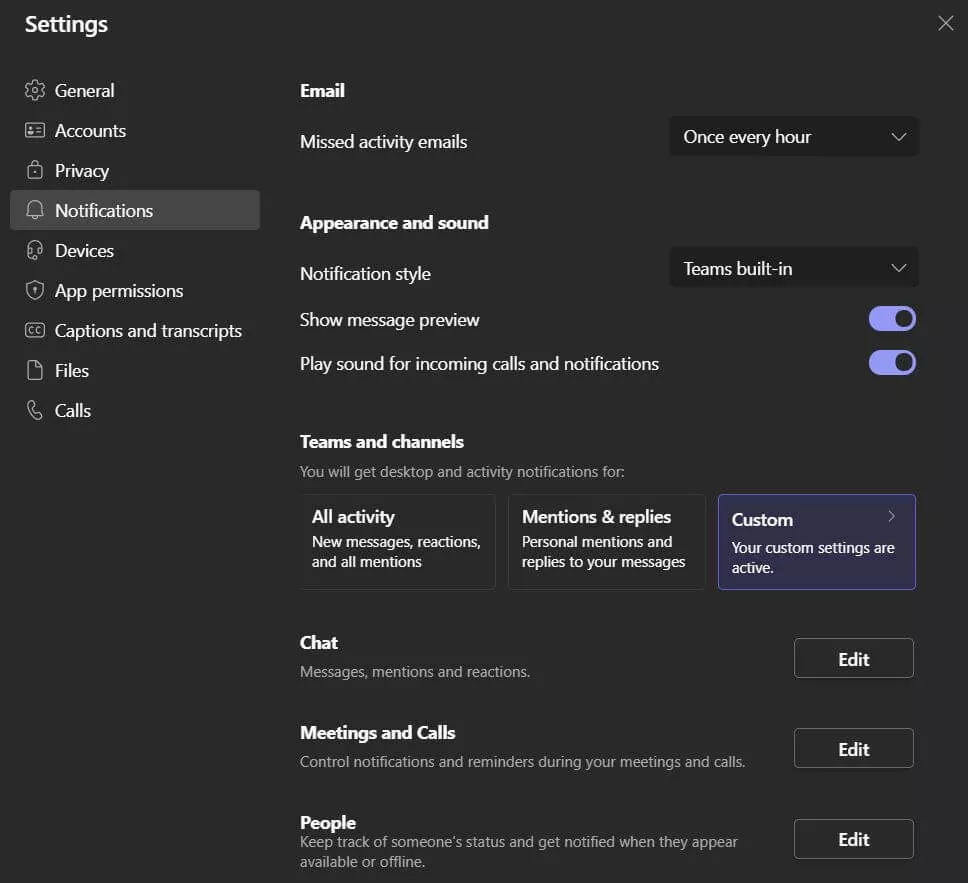 If this doesn't fix Microsoft Teams notifications, check to make sure your application is actually running in the background.
For Windows 10 and Windows 11 instructions, locate the System Tray in the bottom toolbar of your desktop. Click the Up arrow and confirm the Teams icon is in the tray. If it's not there, the application is not running in the background.
For Mac instructions, locate your Dock on your desktop's search bar to confirm that the Teams icon is in the Dock displaying a dot, which indicates that it is running. If there is no dot under the Teams icon, your Microsoft Teams app is not running in the background.
Go ahead and sign out and log back in to check that all is well.
5. My recent messages or threads aren't showing up
Sometimes, you aren't able to see your latest messages or threads during a Microsoft Teams call. This often requires rebooting everything manually.
The solution
Navigate to the MS Teams icon on the taskbar, then right click and choose Quit. This forces the Microsoft Teams app to restart, and you should be able to view your messages again. If this approach doesn't fix it, try connecting via the Microsoft Teams web app instead of using the desktop app.
6. I can't log in to Microsoft Teams
If you can't log in to Microsoft Teams, begin by making sure that you're entering the right login information and not making any typos. If that's not the issue, then...
The solution
These are some common error codes if you're entering the accurate information but are still being denied access. In this instance, get in touch with your IT department with the error code, because the issue will likely need to be addressed by your system administrator, who might need to contact Microsoft.com:
0xCAA20003: Authorization problem

0xCAA82EE2: Request timed out

0xCAA82EE7: Server not resolved

0xCAA20004: Request requires approval

0xCAA90018: Incorrect credentials
7. I can't share my screen
Are you video conferencing but can't share your screen? When this issue occurs, typically you'll see a black screen of doom instead of your regular desktop (often accompanied by comments like "Can you see my screen?" on repeat).
The solution
You may be experiencing browser issues if you're trying to run Microsoft Teams on any browser other than the latest version of Google Chrome, Microsoft Edge, or Firefox. These browsers all have expansive application cache and bandwidth capacity.
Alternatively, you may have a corrupted or full cache that's hampering the operating system. These are the first things to check. Finally, make sure you have the latest Microsoft Teams runtime patches to support screen sharing.
8. **Bonus: Want to give Microsoft Teams telephony superpowers? Integrate with Dialpad
If your business requires more enterprise-based needs, it might be time to consider a fully integrated calling experience. For example, Microsoft Teams direct routing with Dialpad gives you phone calls, video chats, and call forwarding functionalities—all within the familiar Microsoft Teams interface.
Fun fact: Dialpad comes with more advanced phone features, low international calling rates, and even a built-in AI to level up the functionalities of Microsoft Teams to a new level. For example, you can get real-time transcripts—right inside Microsoft Teams: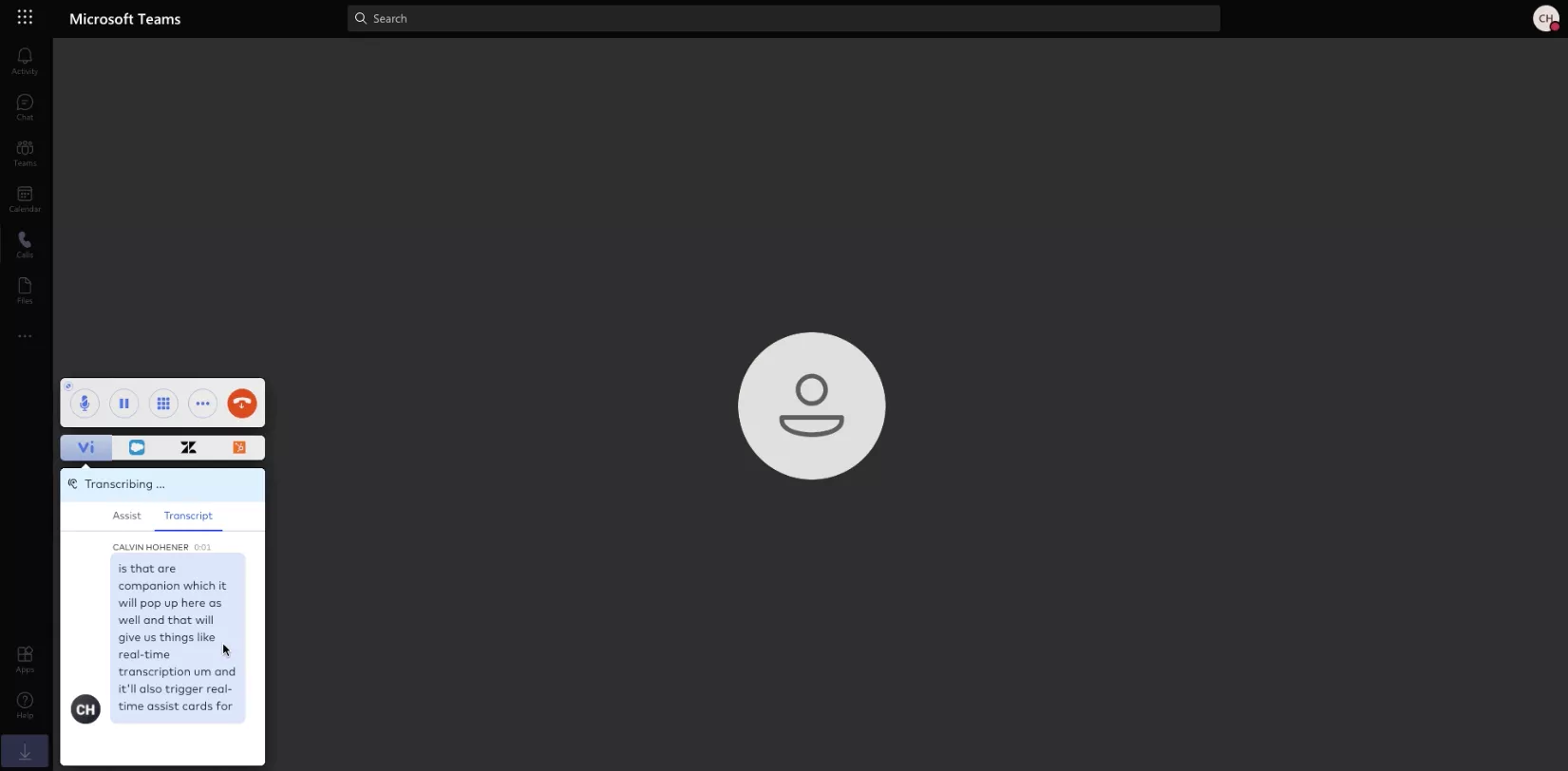 If your business is already very familiar with Microsoft Teams, there's no reason to drop it. You can have the best of both worlds. Dialpad is one integration that makes your team's lives easier by providing full integration with telephony dialer features.
Oh, and you can even add a cloud contact center platform to Microsoft Teams with Dialpad. What's unique about Dialpad is that both its UCaaS (Unified Communications as a Service) and CCaaS (Contact Center as a Service) products are fully built in house, meaning you don't have to go through multiple different service providers to add a cloud phone system or contact center functionality to Microsoft Teams. Dialpad can give you both, with one cohesive user interface, one login, and one account.
No need to pay for multiple disparate tools, and your IT team doesn't need to spend so much time on admin and management.
Want to give Microsoft Teams telephony superpowers?
Whether you're just troubleshooting a glitch or looking to expand its functionality, there's actually a lot you can do with your Microsoft Teams application by combining it with compatible software like Dialpad. See how it can work for your business with a personalized product tour!