Back to Blog
The 31 best, budget-friendly video conferencing software for 2023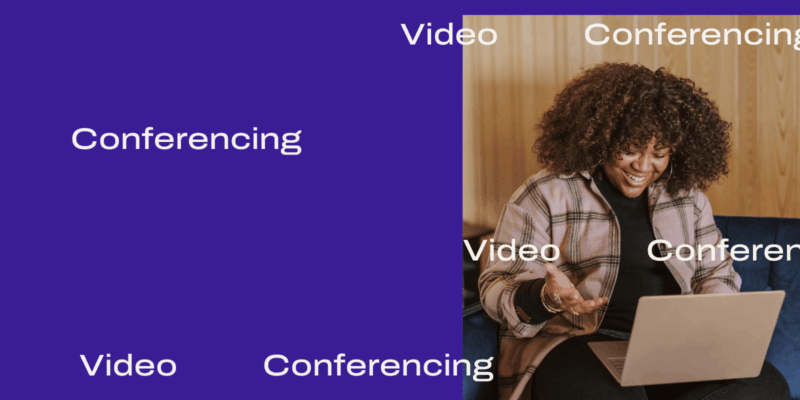 If you need video calling software—or are looking for an upgrade—you've come to the right place.

Not only will this list break down the best video conferencing solutions out there (at every budget), we'll also walk you through what features to look for as you're shopping.
You may not need every single one of these features to have good video meetings, but it'll be helpful to at least be aware of them (especially the ones that can help you beat Zoom fatigue.
So, let's dive in.
What is video conferencing software? What can businesses get out of it anyway?
Video conferencing software for small business is basically technology that allows businesses to hold meetings online instead of in person. We all remember audio conference calls, when everyone spoke on the phone together—but video gives you the option of a face-to-face meeting, no matter where all the participants are located.
Video conferences used to involve expensive, bulky in-house room systems. Now, cloud-based tech means you can hold a virtual meeting without investing in meeting rooms full of hardware. And depending on how good your software is, most online meeting solutions have great audio and video quality.
Many video conferencing services are also "all-in-one," which usually means they include different communication channels in one app—phone calls, video meetings, messaging, and more.
Long story short, video calling software is often essential to helping businesses move to a remote or distributed working model… Which is why it's important to choose the right one.
Features to consider in video conferencing software
Some businesses just need certain features more than others in a video conferencing app. You may think HD video is overkill, but if you have video meetings with clients, then having super-pixelated or blurry video quality may not set a great impression
What do your team and your clients or prospects need? Here are a few ideas.
Screen sharing (and recording)
Humans process visual information more easily than text, which basically means that we remember images better than written documents. Video is already good for this, but using a screen sharing app makes it even better.
If you're trying to explain a concept, sometimes you need a little visual help—especially with complex figures or design imagery.
With Dialpad, you can share your screen, or just a specific tab or window in real time: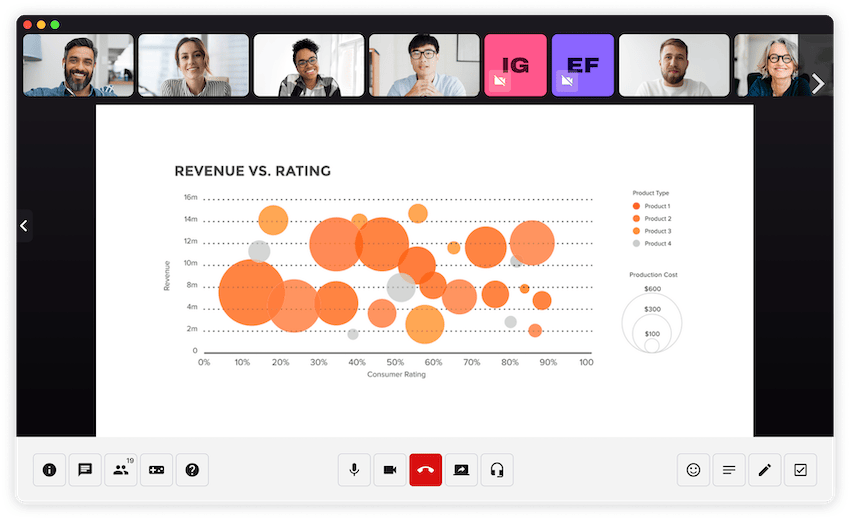 👉Dialpad tip:
If you have teammates in other time zones or do training sessions online, then being able to record meetings is also hugely beneficial, since it allows people who couldn't attend the meeting to watch the recordings later.
Multi-device support
If you're working with colleagues in global locations or external stakeholders like clients, freelancers, and prospects, not all of them will use the same phones and computers.
It's best to choose a video conferencing system that supports multiple devices and operating systems, from Mac and iPhone to Windows and Android. And if participants can switch between devices mid-call (like with Dialpad), the more likely it is that everyone will be free to join:
In-browser accessibility
On a related note, some video conferencing tools go beyond the app and allow you to join and make calls from a browser.
That means you and your clients or other guests won't have to download an app to join your video conference—they can just open the meeting link in a browser.
For example, Dialpad is a browser-based video conferencing platform, which means you can not only join, but also host a meeting from your browser—with all the functionality you'd have in the app:
Security and encryption
You don't need us to tell you security is important. So, make sure that's one of the boxes you check when you're looking at video conferencing software.
For example, Dialpad has in-meeting controls that let you keep your video conference secure. You can lock a meeting after everyone has joined to prevent unwanted intruders from crashing the party: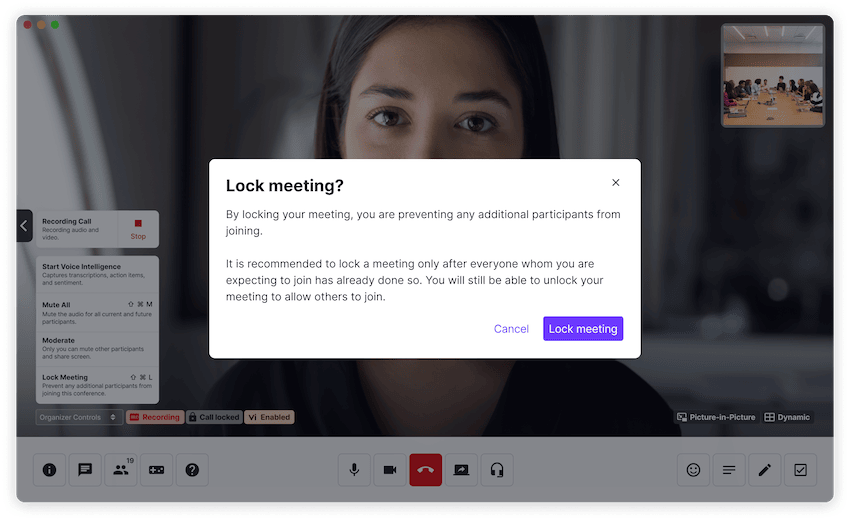 You can also set your meetings to require PIN codes to enter, remove attendees if necessary, and more.
As a rule of thumb, make sure you check out the provider's security standards and general privacy measures.
Integrations with other tools you already use
Although video solutions tend to come with lots of built-in features, it's worth checking that your new software plays nice with your existing tech stack.
Many conferencing systems have an app gallery or integrations page, with pre-built plugins designed for particular platforms. This lets you pair video conferencing with all the other tools you need for smooth communication.
Call transcriptions
This one is more of a "nice-to-have," but if you have meetings where normally you have to take notes or record things (like customer calls and team training sessions), then having real-time call transcriptions might be useful.
For example, Dialpad Ai transcribes your meetings in real time, highlights action items, and just makes it feel like you have a secretary taking notes for you during your meetings: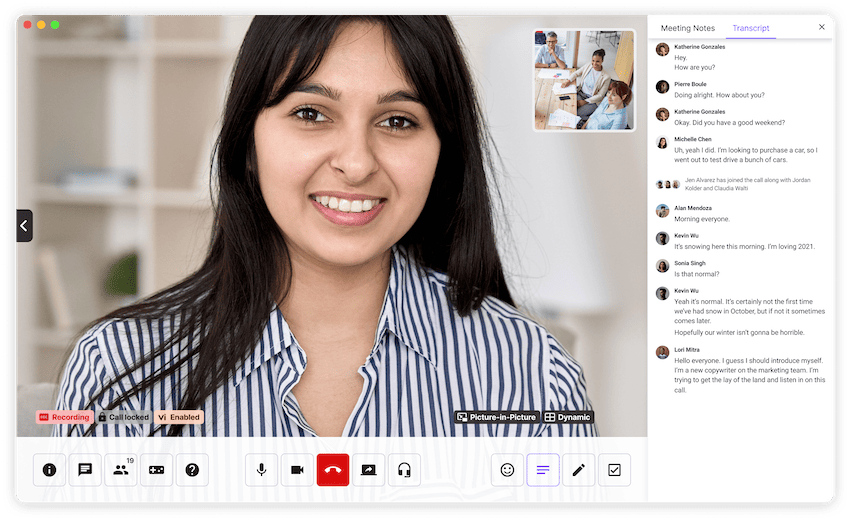 Calendar and scheduling
Not everyone can have ad hoc face-to-face meetings, and most of the time, you'll need to schedule in advance. If you use Microsoft Outlook or Google Calendar, then you might want to look for a video conferencing platform that integrates with them.
This type of integration will typically automatically create a meeting link in your calendar invite so your guests can just click that to join the meeting. For example, here's how it looks with Dialpad's Google Calendar integration: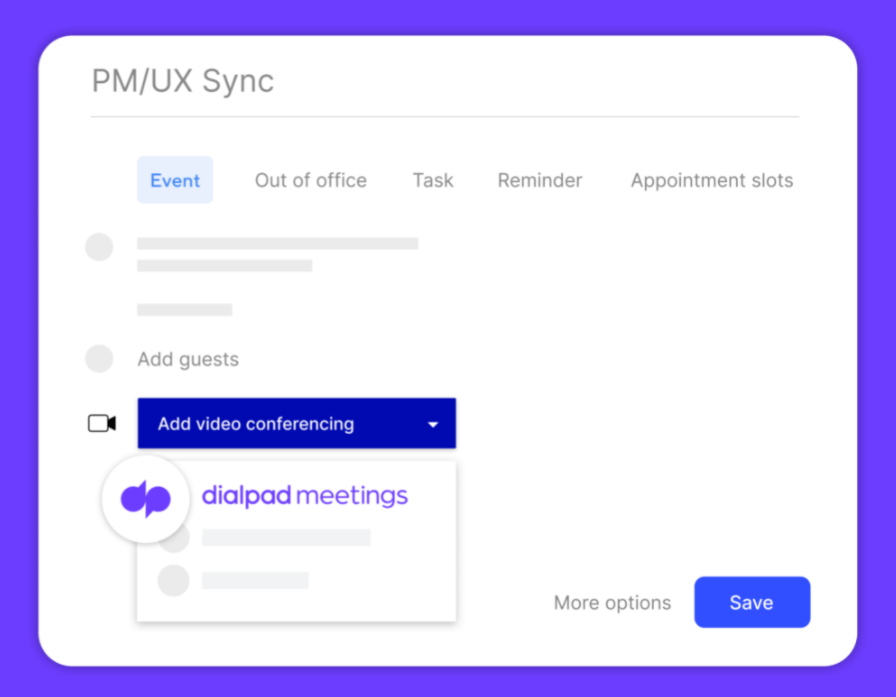 Tips for choosing the right video conferencing software
But with so many great video communication options for businesses, how can you make the right choice? Here are a few tips.
If cost and budget are issues, consider those first
Let's be honest, budget is one of the biggest factors that'll inform the kind of solution you go for, sometimes, even before you decide on functionality and which features are essential and which are "nice-to-haves."
Sometimes, you might want to try something for free, see if your team likes it, then upgrade later.
Check how the pricing works—will you be paying monthly or annually, per company or per user? What about setup costs? (This doesn't often come up, but just make sure it's not a surprise if it does.)
Factor in the long-term and hidden costs
When we say "hidden costs," we don't mean the sneaky fees that some providers try to hide in their invoices (though you should be aware of those too).
We're talking about the costs that most people don't think of off the bat: the time it takes to train your team to use a new software (this is why ease of use is important), the ongoing maintenance costs and resourcing required if you need an IT person to manage the tool, and so on.
Decide on the features that you can and cannot sacrifice
As we've mentioned, you should take time to work out which features are must-haves. You'll probably need screen sharing and messaging, while automated transcription might be something to add in the future. Or vice versa.
Consult your team about their needs, and chat with customers and stakeholders to find out which tools would make them love interacting with your business more.
31 best video conferencing software—features, pricing, and perks
Now that we know which features to consider and how to decide on a tool, let's look at some of the best video conferencing software around.

Top 3 video conferencing software
1. Dialpad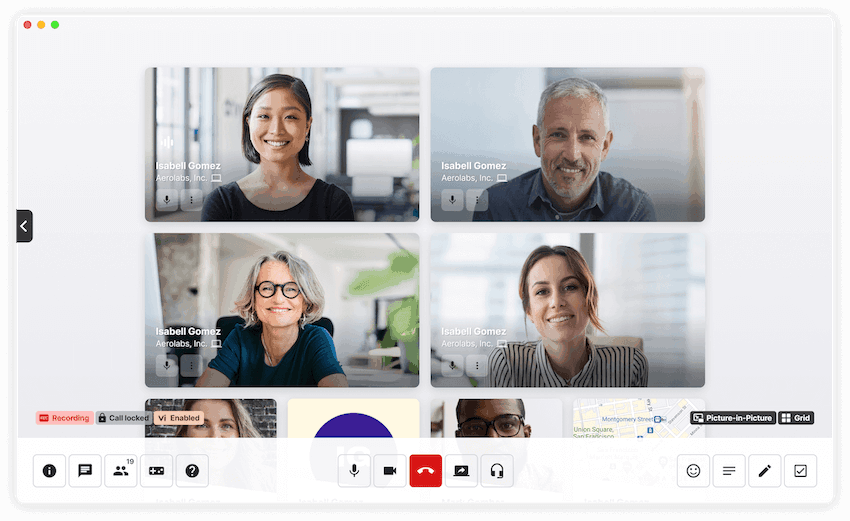 Okay, we might be a bit biased, but hear us out. There's a good reason why Dialpad is our top pick.
HD video aside, Dialpad is incredibly flexible. You can host and join meetings from a browser with no downloads—and yes, there's a mobile and desktop app too for iOS, Android, Mac, and PC.
For added security, you can have participants wait in a virtual meeting room before being admitted by the host:
You can switch your video meeting from your phone to your computer (or vice versa) if you need to take your meeting on the road, and you get screen sharing, in-meeting chat, HD video, and unlimited call recordings—for free.
Pricing: Free, or $15 per user per month for more advanced features and larger meeting sizes—sign up and get started with free, unlimited video conferencing
Try Dialpad's video conferencing software for free
It takes just a few minutes to get started. If you do need phone calls and instant + SMS/MMS messaging too, then you can also try Dialpad's unified communications platform free for 14 days!
2. FreeConferenceCall
The clue's in the name with FreeConferenceCall, which gives you plenty of features for no charge. Interestingly, it operates a "pay what you can" scheme, but it's entirely up to you whether you make a donation or not.
It's simple to use—you can sign up in seconds and access an online portal. The downside of the free version is that you'll get ads on calls and invitations. If you want, you can add a virtual phone plan for toll-free and international calling, plus add-ons like customization and extra cloud storage.
FreeConferenceCall does have a paid plan called StartMeeting (it's the same company, despite having a different website). This costs $9.95/user/month (up to 10 users), or you can get in touch for customized packages.
3. Google Meet
Previously called Google Hangouts Meet, this is another budget-conscious option. It's easy to use, and free for up to 100 participants and unlimited meetings (with a Google account).
It's on the basic side—there's no transcription feature or virtual meeting assistant, and you'll have to pay for cloud recording or storage. But you do get speech-to-text captioning and noise cancellation, which is a bonus if your kid starts screaming in the background!
Google Meet is designed to work in Google Chrome, and has mobile apps for iOS and Android.
The features you'll get depend on which version of G Suite you have. Your best bet is to use it as part of Workspace, where you get up to 150 meeting participants for $8/month. You can contact Google to customize an Enterprise plan.
Other affordably-priced video conferencing options
1. Whereby
Whereby is a Norwegian video conferencing tool that has a great aesthetic. Beyond that, it has some nice features too.
Like with Dialpad, there's no need to download an app or create an account to join a meeting.
A free version is available, which gives you up to 100 participants for 45 minutes max, plus unlimited 1:1 meetings. It also features screen sharing, chat, emojis, and moderator controls including lockable rooms where guests can "knock" for approved entry.
The Pro tier costs $6.99/license/month, or it's $9.99 for the Business version which includes priority support.
Both paid tiers still only accommodate 100 participants, but you can at least record meetings and choose a personalized URL.
2. Fuze
Fuze has a simple, streamlined user interface, so it's good for businesses who are new to video conferencing—but it's not just for small teams, as meetings can accommodate up to 1,000 participants.
Because it's a unified communications platform like Dialpad, the video element integrates with the other channels. You can launch ad hoc meetings from a messaging thread, and you can also schedule meetings from your Google or Microsoft calendar.
There's no free plan, but packages start at $20 per user per month.
3. Cisco Webex
Cisco Webex Meetings is pretty easy to use, and Cisco has been a well-known name in business for a long time.
Like many of the other options on this list, it's compatible with all devices (desktop and mobile apps as well as a web browser client) and comes with a range of integrations.
The free plan has enough features for most small businesses (including screen sharing, whiteboarding, and cloud recording), but it doesn't have unlimited recordings.
Paid tiers start at $13.50/month for the Starter level, which enables up to 50 hosts, 150 participants, and 24-hour meetings (plus 5GB cloud storage). The Business tier gives you 100 hosts, 200 attendees, and 10GB cloud storage.
If you have the budget, the Enterprise plan offers the most goodies: A digital assistant to take notes, compile meeting highlights, and create recap emails, plus unlimited hosts, 100,000 attendees, and unlimited cloud storage for recorded video. That particular plan, though, doesn't sit as easily in a list of "affordably-priced" options.
4. GoToMeeting
GoToMeeting is quick and easy to set up, and has a decent range of features. It supports all major platforms, and participants can join meetings by answering a call rather than via passwords or PINs.
There's no free plan, but the Professional tier starts at $12/month for 150 participants and has HD video, screen sharing, your own dial-in conference line, and no time limits on meetings.
If you want to access the real good stuff, you'll need the Business tier at $16/month. This gives you 250 attendees, a whiteboard and shared drawing tools, and unlimited cloud recordings.
Finally, there is an Enterprise tier (custom pricing), for up to 3,000 meeting attendees, smart meeting rooms, and white-glove customer support.
5. Cyberlink U Meeting
U Meeting has a straightforward set-up (you do need to create an account though) with apps for Windows, Mac, Android, and iOS, alongside browser-based entry. You can sync meetings with Google Calendar and Outlook.
It has encryption and password protection, and there's a comprehensive support center—but you have to pay extra for phone support.
The free plan gives you 30 minutes per meeting, with a maximum of 25 people. The Pro 50 plan costs $9.99/month for up to 50 people and 24 hours, or the Pro 100 plan ($14.99/month) increases the number to 100. (There are bespoke plans, too.)
6. Zoho Meeting
This no-frills solution is a better fit for smaller businesses, although larger ones may find they need more advanced features like virtual whiteboards. All plans have screen sharing and chat, and unlimited audio recording (but not video).
Attendees can dial-in to a meeting over the phone as well as over the internet. Meetings also have moderator controls such as meeting locks, and webinar organizers can add Q&A sessions.
Speaking of webinars, Zoho—somewhat inconveniently—classes any meeting with over 100 attendees as a webinar—for which you'll need the separate product, Zoho Webinar. For smaller meetings, there are several choices, all with the same features (the price difference is based on the number of participants).
The free plan is for just two attendees. After that, you'll have to pay for Meeting-10, which starts at $2.50/month for 10 attendees. The other paid tiers are Meeting-25 ($5/month), Meeting-50 ($7.50/month), and Meeting-100 ($10/month), with their titles reflecting the max number of participants.
7. MaestroConference
If breakout rooms are your jam, you'll enjoy using MaestroConference, which claims to be "the only platform to provide host-less, guided, and recorded breakouts."
Hosts can "walk the room" and listen in on breakout sessions, or set up a private pre-meeting huddle.
It's also suitable for large conferences, accommodating up to 5,000 participants, and allows live audio streaming of virtual events to unlimited guests.
The plans don't come cheap ($67/month for Regular, $100 for Advanced), but they do have screen sharing, registration options, call recording, and custom branding. There are more than 700 app integrations, including Facebook.
8. Apple FaceTime
The good news is that FaceTime is free. The bad news is, it doesn't have many features for businesses, so it's best for very small and informal companies. That said, it does let you chat with up to 32 users at a time, and there are no time constraints.
If you have an iPhone, you'll have FaceTime (you can also use it on a Mac). Non-Apple users have previously been left out in the cold, but it looks like FaceTime will soon be available on the web, so users can call in from Android and Windows.
It's very simple to use, and you can turn an audio call into a video chat with one tap. New features include a grid view option, a voice isolation feature, and the option to blur your background.
And SharePlay lets a group of people watch or listen to the same thing—which is the closest you'll get to screen sharing.
9. FreeConference
This is another "free forever" option, which offers a handful of features like screen sharing, text chat, and moderator controls. It's quick to set up, and is accessible via a browser with no downloads required (alongside mobile and desktop apps).
You can host up to 100 participants for free, schedule calls in advance, and send invitations and reminders. There's a whiteboard function, meeting chat, and optional PINless entry.
The Starter plan will set you back $9.99/month, with access to audio recording, international and toll-free dial-in, meeting summaries, and breakout rooms. The Pro tier, at $34.99/month, adds video recording, transcription, and YouTube streaming.
The paid plans also mention "higher security," which makes us wonder what it's like for the free plan.
10. Flock Connect
Flock is all about helping you get organized, with a variety of productivity tools alongside video conferencing like file sharing and project management tools. You can also create channels for text conversation, send voice notes, and create polls.
The free plan is limited to 1:1 video chats, so most businesses would want to upgrade in order to access group calls for up to 20 people. The Pro tier is $6/month, which gets you audio conferencing and screen sharing as well, and extra admin controls. File storage goes up from 5GB to 10GB, and you'll receive priority support.
A custom-priced Enterprise level adds single-sign on and 20GB storage—but group video calls still top out at a stingy 20 participants.
Premium-priced video conferencing options
1. Microsoft Teams
If your company already uses Microsoft products, this could be a good fit for you. It has plenty of other integrations, but it may take time to familiarize yourself with the Microsoft-centric setup. On mobile devices, you have to install the Teams app to join a call.
Teams has a basic free plan (which does require an overall Microsoft account). This replaced Skype for Business, and includes file share, screen sharing, text chat, and custom backgrounds. Meetings can include up to 100 participants for 60 minutes (this was boosted to 24 hours for a limited time, before July 1, 2021).
If you have a Microsoft 365 Business or Enterprise account, the app is included. You can have up to 300 people in a video call, while features include meeting recording, 1TB of storage, and 24/7 support. Prices start at $5/month.

2. AnyMeeting
With an easy-to-use interface and an array of features, AnyMeeting is a popular choice for small businesses. While its free plan is limited to only four meeting participants, it does support a phone conference bridge, a choice of video layouts and virtual backgrounds, and guaranteed 99.999% uptime SLA.
There's an AI-powered smart assistant, unlimited recording, storage and sharing, and a whiteboard with annotations. It works on desktop and mobile apps, and you can set up custom meeting URLs.
In the paid tiers, you get integrations with the likes of Outlook, Workspace (formerly, G Suite, and Slack. Security settings include lockable meetings, password protection, and the removal of participants, though the platform is comparatively pricey.
The Lite version is $9.99/month for up to 10 participants, but to get more features you'll need the Pro tier at $12.99. It enables 100 participants, the full suite of tools, and 24/7 support, plus custom branding. The Enterprise tier is $17.99/month, with up to 200 web participants, meeting transcripts, and international dial-in.
3. Lifesize
The major selling point of Lifesize is its 4K video conferencing, which lends a real air of professionalism to any business. But if you have teams where not everyone can access video chats, there's also the ability to add audio dial-in options for more than 60 countries.
The Lifesize app is user-friendly for desktop and mobile with a simple download, and the layout is easy to navigate.
Cons include the fact that Lifesize doesn't manage its own data centers. And the 99.9% uptime SLA is only provided to customers who buy the Extreme Support package.
The free plan offers standard features such as call recording, screen sharing, and one-click meetings, plus integrations with programs like Microsoft Teams and Slack. You get 40-minute meetings for up to 10 participants.
The Standard plan costs $12.50/month for 100 participants, unlimited meeting length, SSO, and a centralized management console. Then there's the Plus tier at $14.95, which takes you up to 300 participants and adds Microsoft 365 integration, and cloud storage for recordings. A customized Enterprise package is also available.
4. Amazon Chime
If you use video conferencing on a daily basis, you'll probably need something more robust than Amazon Chime—but for small companies who only use it occasionally, this could be the option for you.
The big draw is the pay-as-you-go pricing, which means you only pay for the features you use when you use them. No more worrying about upfront investment or contracts. It's easy to switch between Basic features, which are free, and Pro features, which are chargeable ($3/user/day up to $15/user/month).
Meetings can accommodate up to 16 people on your desktop, or eight people on mobile devices, so again it's better suited to small teams. You can instantly go from a chat to a call, and Amazon Chime will call all your devices before a meeting begins (no more excuses for being late!)
Screen sharing, meeting recordings, team chat, and phone calls are all available, and the platform also integrates with Alexa, if you haven't had enough of her at home.
5. Join.Me
If you go to the Join.Me website, you'll see that it is now part of the GoTo stable (as in GoToMeeting). There doesn't appear to any longer be a Join.Me package available, so head back to the earlier GoToMeeting section to read all about it!
6. BigBlueButton
This platform is intended for online learning, and it's a free, open-source solution for educational institutions. Open-source, if you're wondering, means the software's original source code is designed to be publicly accessible and customizable (thanks, Wikipedia).
BigBlueButton integrates well with most major learning management systems, and its features are designed for remote classroom learning—that's because it was actually developed in a school, with real teachers contributing.
Web conferencing functions include real-time sharing of audio, video, and screen, as well as a multi-user whiteboard, breakout rooms, and easy group polling. You can upload documents, start a chat, and take feedback in the form of emojis.
The drawback is the rather complicated setup, and the fact that it needs to be hosted on a server—the software itself is free, but you'll probably have to pay an expert web hosting company to manage it for you.
7. ClickMeeting
ClickMeeting isn't a unified comms platform, so its pricing seems a little steep. On the plus side, it's very user-friendly, with step-by-step guidance for setting up meetings and other tasks. And you can have a 30-day free trial without entering credit card details.
It's especially suitable for webinars, with custom branding, invitations, and a waiting page. Video meetings can be viewed in various modes, including Presenter, Q&A, Discussion, and Drawing. However, if you want to share your desktop, you have to download a separate app.
You can view data such as meeting length and attendee numbers, and there's an integration with Google Analytics—and also with YouTube for sharing videos. There are handy keyboard shortcuts for things like muting, and you can lock and customize meetings.
The Live plan is $25/month for 25 attendees, which is actually the max number you'll get with any plan. It also gives you six hours of recording and 1GB file storage. Next up is the Automated tier at $35/month (10 hours and 2GB, same as in the custom-priced Enterprise tier).
8. TeamViewer
Alongside remote access for maintenance of computers and other devices, TeamViewer enables online meetings on almost every desktop and mobile platform. It's good on security, with AES-256-bit encryption and two-factor authentication.
Features include instant messaging, drag-and-drop file transfer, a whiteboard, and meeting recordings, plus 4k screen sharing and HD video.
There's a free plan, accommodating five people only but giving you most of the functions. In terms of paid plans, Meeting-50 gives you up to 50 participants for $6/month, Meeting 100 ($14/month) boosts that to 100, while Company ($19/month) enables up to 300 attendees.
All paid plans have 50+ local dial-in numbers free, and include meeting recordings and reports as well as a remote-control function for collaboration.
9. Glance
Glance scores well for businesses who offer a lot of customer support, as it allows service reps to see the customer's screen via co-browsing, or screen-share to explain or present. There's also a remote camera-share feature for tech support, and it integrates seamlessly with many CRM platforms.
However, it doesn't have many features for internal communication—it lacks team chat, polling function, or whiteboards. Meetings can be set up on an ad hoc basis, but there's no scheduling feature. Participants can attend online meetings through a browser, although this limits some of the available functions.
The Lite package is $19/month, giving you most features apart from viewing a guest's screen. Upgrade to Professional for $35/month for the full set, including up to 100 guests in a session.
10. ConnectWise Control
ConnectWise Control is a good choice for IT support teams, giving your team access to a shared toolbox. You can support clients on attended and unattended devices, host online meetings and webinars, and capture video, take screenshots, and make annotations.
It's fast and efficient, with strong security measures and cross-platform compatibility (a few of the desktop features don't translate to the mobile versions). It has the benefit of being highly customizable, but the downside is that you might need more advanced knowledge to take advantage of this.
Pricing starts at $19/month for One, with a single user license but plenty of features. The Standard ($35/month) and Premium ($45/month) tiers increase the number of sessions and agents and add extra features like mobile app support and remote dashboards.
11. GlobalMeet Collaboration
This keeps things simple, giving instant access to meetings with no download required—and a centralized control bar that allows you to turn on your webcam, share content, or record meetings. It's easy to share comments, text, files, and screens, or turn a chat into a video call.
The VoIP audio brings vocal clarity and background noise suppression, while there's support for users with reduced bandwidth. Security looks good, with a waiting room function and various host controls. GlobalMeet also integrates with Workspace and Outlook.
The website shows no prices (ominous!), but the Basic package includes HD video, web conferencing, screen sharing, and unlimited meetings for up to 125 people. Plans with more advanced features like global local dial-in, whiteboarding, remote desktop control, and 24/7 support are available.
12. MediaPlatform
Designed for webcasting and broadcasting, MediaPlatform is good for large meetings and live streaming events. It comes with flexible webcast templates that let you customize layouts, and offers interactive features such as sentiment voting icons, surveys, and Q&A options.
There's also an analytics function, to see who joined your event and what they thought of it. MediaPlatform can even deploy A/V production teams, or provide a producer for your webinar or webcast.
The solution is available as a cloud, on-premises, or hybrid deployment, and the company promises optimal video delivery regardless of bandwidth, location, device, or format. You have to get in touch with them for pricing.
13. Blackboard Collaborate
Blackboard Collaborate is designed for online education, but could also be used for browser-based web conferencing. It integrates with most learning management systems, and offers a range of classroom tools such as attendance reports and mobile-friendly lesson material.
With nothing to install, everyone has easy access. There's HD audio and video, automated attendance tracking and automatic posting of recordings. Instructors can pause, rewind, or fast-forward lessons, modify permissions, monitor chats, and extend guest access.
It's $3,000/year for a classroom license, which gives you up to 500 attendees, 1M minutes of usage, and 500GB of storage. Custom plans are available.
14. Blue Jeans
BlueJeans is aimed at businesses that run large interactive events such as company-wide meetings or educational livestreams, as it has the capacity for a huge number of participants—up to 50,000 attendees.
Even in the Standard tier ($9.99/host/month for up to 100 participants), there are no time limits on meetings. You also get five hours of recording per host, and dial-in numbers are included alongside moderator tools and breakout sessions.
Upgrade to Pro ($13.99/host/month) and get up to 150 attendees, plus 25 hours of meeting recordings and command center analytics. The Enterprise tier is $16.66/host/month and includes brand customization, or you could go the whole hog and get a customized quote for Plus.
15. Zoom
Zoom is so well-known that it's become a byword for video conferencing—we say "Zoom" even if we're using another platform (that must be super-annoying for its competitors). Unfortunately, "Zoom-bombing" also hit the headlines, although security has been tightened up now (some may say it shouldn't have taken global bad publicity!).
The platform is popular for its free-forever service, which is suited to smaller businesses who don't mind the 40-minute meeting limit. You still get up to 100 participants, and handy functions like background noise suppression, screen sharing, and recording.
You can schedule meetings from Outlook, Gmail, or iCal, and access reactions, polls, hand raising, and filters—but you'll need another app for team messaging and file sharing. Larger organizations will probably want to upgrade, but it's quite a leap to $149.90 per year for the Pro version, $199.90 for Business, or $240 for Enterprise.
16. RingCentral
RingCentral Video is a decent choice for businesses who want an all-in-one solution, and offers plenty of features and integrates with the company's other products and third-party apps.
There's an in-browser option, but you'll need to download the RingCentral app for screen share or advanced participant controls.
It's good for collaboration, with virtual whiteboards, file sharing, and team messaging. There's dial-in support for all plans, and attendees can also join audio-only. If you download RingCentral's free meetings app you'll get extra collaboration tools plus calendars and task management.
You can start a video meeting right from the messaging thread, and flip live meetings between devices. Recording is only available as an offline function, so you can only record video meetings to a local hard disk.
The free plan comes with unlimited meetings for 100 participants, team messaging, and file sharing. Video Pro ($11.99/user/month) gives you 200 attendees, extra cloud storage, and SSO options. You can also get video conferencing as part of RingCentral MVP, which includes telephony services too.
17. ProfiConf
The name might sound overly educational, but ProfiConf is suitable for various types of video conferencing. It's quick and simple to set up virtual meeting rooms and invite participants, with no downloads or sign-ins needed.
The platform features high-quality video and audio, with adaptive technology to cater for poor connections. You also get screen sharing and whiteboarding, file sharing, slide presentation sharing, and HD recording.
ProfiConf's free plan gives you unlimited meeting time, but for only five participants—so it's best suited to small teams. The Pro tier ($12/month) boosts that to 100 attendees, or 250 in the Premium plan ($25/month). Both have advanced features like permanent rooms, participant management, and extra storage.
18. Slack
Slack is well-known for team messaging, and it's also good for integrations with a long list of collaboration and office tools. Video and audio calls do have plenty of features (screen sharing, dark mode, customization options), but are limited in terms of attendee numbers.
Slack has a free version, but audio and video calls can only take place between two people. There's 5GB of file storage for uploads across the entire team, and integrations with up to ten apps.
The Standard plan ($8 per user per month) gives you group calls with up to 15 people—which is the maximum number even in the higher tiers. You also get unlimited integrations, 10GB file storage per person, advanced usage statistics, and priority support.
Upgrade to Plus ($15 per user per month) for 20GB storage per person and 24/7 support with four-hour response time. Slack Enterprise Grid allows very large organizations to have multiple Slack workspaces; you have to contact them for a quote.
4 benefits of using video conferencing software
Now totally sold on video conferencing yet? Here are a few reasons why it's helpful for businesses.
1. It makes it easier to collaborate as a team
Video calls are generally for better collaboration, especially if you have remote or distributed team members.
Look for software solutions that include collaboration tools like screen sharing, instant messaging, file sharing, and real-time document editing, which lets everyone get involved in providing feedback in real time—it's the next best thing to doing this in a conference room on a giant notepad.

Often, if you're reviewing visual work, having a quick video meeting with screen sharing is much faster than typing things out or having a voice-only call.
👉 Quick tip:
Remote workers can often feel isolated, and video calls and one-to-one sessions can help alleviate that.
2. Everyone saves time and travel costs
Online meetings are a huge time-saver. Participants can join from anywhere, and no one has to travel.
Of course, the best video conferencing solutions give you those extra little things like meeting recordings and transcriptions—which are important if not everyone can make all your meetings.
If you have people in different time zones, that can be a regular occurrence. So give them alternative ways to review what you discuss in meetings.
3. It increases employee engagement
One big challenge with remote work and possibly the biggest gripe that many people have with video conferencing is the fact that it's hard to keep attendees engaged. You're not all sitting in a room together physically, and when you're behind a screen, it's tempting to check your phone or what's happening on social media.
Video meetings are more engaging than voice-only calls because you can see each other face to face, but don't get us wrong, it's still not quite the same as being next to your team members.
(This is where incorporating fun elements like whiteboard games can come in handy.)
4. There are more opportunities to build better relationships with teammates and clients internationally
As well as boosting collaboration within your own local team, a video call helps you connect with colleagues and clients across the world. Sure, you could use email or phone, but it's much more helpful to put a face to the name.

Whether it's closing a deal or dealing with a customer complaint, being able to use video conferencing software to talk face to face is often crucial for businesses. It's not just a team collaboration tool!
Video conferencing designed to help your teams excel
Choosing the right meeting software isn't easy. You have way more options than anyone really needs, that all seem to have similar functionality and different pricing plans.
Try the free trials or free versions, and test them out for yourself.
That's really the best way to tell which software is best for your business.
Looking for a good video conferencing software for your business?
Dialpad Ai Meetings has both a free and paid plan to choose from. Try it for free now!