Back to Blog
Talkdesk alternatives: Which contact center platforms are best for remote teams?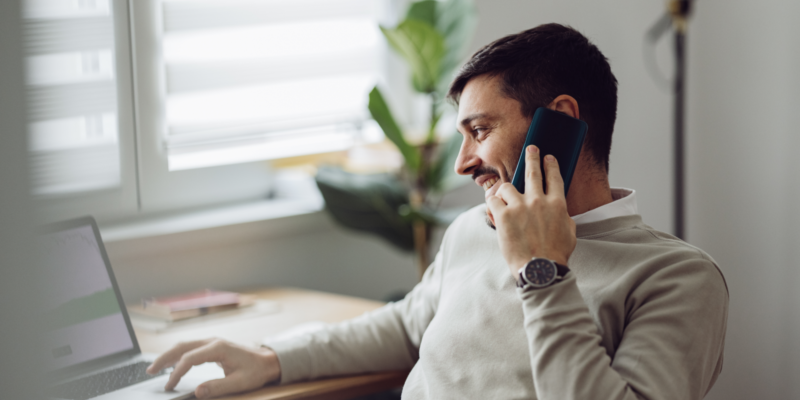 If you're in the market for a contact center platform, then Talkdesk's name will likely have come up. This Portuguese company has been in operation for over a decade, and has customers in industries ranging from financial services to healthcare and everything in between.
Talkdesk is a capable product with a broad set of features, and it's a contact center solution that comes up pretty often when businesses are looking for ways to empower their support teams.

I've worked for years in product marketing at some of the leading contact center providers in the space, and so I have a deep understanding of what makes a good CCaaS platform. I'll leverage that knowledge to dive into five popular Talkdesk alternatives and break them down based on what we've learned from our own research and talking to our own contact center customers. So whether you're looking for a cheaper option or a more feature-rich alternative to Talkdesk, we've got you covered.
What is Talkdesk?
Talkdesk is a cloud-based contact center software that helps businesses manage customer interactions. It offers basic features including call routing, automatic call distribution, and call monitoring. Talkdesk also provides an API that allows businesses to integrate the software with their existing systems.
Why consider a Talkdesk alternative
No software is 100% perfect, and there are certain situations where you might need a different solution than Talkdesk. For instance:
You want a communication platform for the rest of your organization
Talkdesk is tightly focused on call centers, but offers very limited UCaaS capabilities, if any, and relies heavily on partners to fill those gaps.1 What about communications for the rest of the company?
Talkdesk is strictly a contact center platform, which means you'll have to invest in additional technologies—something for team messaging, something for video meetings, something for more robust telephony options—and challenging integrations for each service. That will have a significant impact on budget, employee and agent workflows, and will require a ton of IT intervention.
And then you have the hassle of setting up, onboarding, managing, integrating, and training users on all of the platforms across your entire organization.
The answer? Find a truly unified communications solution that can accommodate the needs of both your customer-facing and non-customer-facing employees.
Integrations are important to your workflow
I mentioned integrations briefly above, in the context of building a Unified Communications stack that will work for your business. But what about other services that drive productivity across your entire organization? Robust integrations are a highly effective way of unifying your tech stack and streamlining operations. They allow you to be flexible with the software and tools you use and ensure consistency of data across platforms.
While Talkdesk does offer a healthy collection of integrations, it is missing a few key ones like Microsoft 365 and Google Workspace. (They do have Google Contacts and Microsoft Teams integrations, but those aren't quite the same.)1

You want more value for your money
A unified UCaaS and CCaaS environment reduces costs from both a vendor consolidation perspective, as well as a reduction of IT costs and constraints. Because of this, if you're looking for the best value, a standalone CX offering like Talkdesk might not be the best choice.
When you consider the fact that most competitors at a similar price point offer talk, messaging, meetings, and better contact center functionality, the Talkdesk offering seems lacking in comparison.
But let's talk value in terms of contact center features—with Talkdesk's Basic plan, you gain access to "Starter" versions of their best features like Agent Assist and Guardian, which essentially acts like an in-app demo. As you'll see below, a few of the top competitors will give you full access to Ai-powered features in every contact center pricing tier.
✨ Looking for a contact center solution?
Grab the Contact Center RFP guide, which breaks down everything you need to know about putting together a Request for Proposal that you can send to CCaaS vendors.
5 Talkdesk alternatives and how they measure up
Now let's take a closer look at some of the best Talkdesk alternatives.
1. Dialpad Ai Contact Center: Robust cloud communications with powerful AI capabilities
What makes Dialpad a great alternative to Talkdesk?
Yes, we might be a bit biased, but hear me out.
Dialpad Ai Contact Center provides everything you need in a single communications platform and a single, beautiful application. From voice and video calling, messaging, call handling capabilities to contact center functions like IVR routing and logging call dispositions, Dialpad includes pretty much everything and the kitchen sink:

You can get set up with Dialpad in as little as two minutes (yes, really). It only takes a few clicks to add a new phone number in Dialpad, and your team can simply download the app onto their phone or desktop (or even just use their browser) to start using it—no IT support required:
And of course, Dialpad comes with essential contact center features like click-to-call, speech analytics, real-time transcriptions, QA Scorecards, and more:

The unique thing about Dialpad's Ai Scorecards is that it helps customer service teams scale QA reviews and coaching. Often, it's not possible for supervisors to listen to every single call, but we still need to provide meaningful feedback to our agents as often as we can.
With Ai Scorecards, supervisors and admins can create an objective scoring criteria across all customer calls. As the agent behavior is observed by Dialpad Ai, it's automatically checked off—so when the supervisor reviews the call later, they can easily see whether the agent is doing what they are supposed to. This makes it easy for supervisors to grade calls without listening to an entire call recording or reading a transcript, and gives them the ability to evaluate far more calls in far less time. In turn, this means a higher volume of effective coaching for contact center staff.
On an unrelated note, one of the most common things Dialpad customers say when they come to us from Talkdesk is how much they appreciate the reliability and quality of our calls. (Dialpad offers 100% SLA uptime for our Enterprise plan customers.)

Quality of support is also a big deal to them, as they appreciate being able to get help at any hour of the day (which is important when you're running a global contact center) and through multiple support channels. With Dialpad, you get 24/7 support across live chat and phone on all our contact center plans, while 24/7 support is only available in Talkdesk if you buy one of the additional support packages.

What you get with Dialpad
A truly unified communications solution
Of all the platforms on this list, Dialpad is the only one that can be considered a truly unified solution. That's not just marketing talk—Dialpad TrueCaaS combines UCaaS, and CCaaS on a unified platform powered by AI, to provide a seamless and cohesive user experience in a single application.
For instance, a customer support agent talking to a customer on live chat or on a phone call might need assistance. Using Dialpad, they can send a message to their supervisor or to an expert in any other part of the business without having to open a different application.
Talkdesk doesn't have its own unified communications platform, which means agents would need to constantly bounce back and forth between the contact center app and a separate messaging or video conferencing tool to communicate with teammates while they're on a customer call.
Real-time assistance (RTA) cards & Ai Agent Assist
The most challenging and expensive part of any contact center environment is the agents—there's always high turnover, so you likely have to train and ramp agents constantly, and supervisors can't listen or coach every single call.
Dialpad's Real-Time Assist (RTA) cards and Ai Agent Assist help agents through difficult conversations and significantly reduce training constraints. With RTA cards, our advanced Dialpad Ai is always standing by, ready to help. Whenever a customer mentions a predefined keyword (such as the name of a competitor), the Ai pops up helpful notes for the agent:
Ai Agent Assist takes this concept a step further, by using the technology developed for our Digital Self Service capabilities on the agent side. Even if a supervisor hasn't created an RTA card for a certain topic, Dialpad Ai can automatically scrape every connected knowledge source in real time to pop up useful resources for agents:

This way, agents can access the information they need while they're talking to customers—without needing a supervisor to help coach every call. Our customers currently using Ai Agent Assist have seen a 3x lift in agent productivity, and a significant drop in training and hiring needs!
Live sentiment analysis
Agents will sometimes encounter customers in a high emotional state, or have calls that don't go as smoothly as expected. They need help in these situations, but it may not be practical to pause the call and ask for assistance from their managers.
Dialpad's live sentiment analysis feature helps remedy this situation. Dialpad Ai can analyze a conversation for keywords that signal positive or negative emotions, and display the results on a dashboard for all currently active calls:

If the manager sees a call with a negative sentiment rating, they can choose to quietly enter the call and listen in to get a sense of how it's going (while also reading the live transcript to quickly catch up). From there, they can either message the agent, whisper suggestions to the agent, or barge the call.
Predictive Ai CSAT
CSAT surveys are valuable feedback tools that can tell you a lot about what customers think of your services, and how your operations can be improved—if people would just fill them out, that is. Talkdesk does have a survey feature (they call it a sentiment or mood survey), but it still requires customers to fill it out.
Unfortunately, CSAT survey engagement numbers tend to be rather low, and even then the customers who bother responding are either extremely happy or extremely unhappy, creating a skewed view of the data.
Dialpad's Ai CSAT changes that. Not only can Dialpad Ai transcribe calls in real time, it can also infer CSAT from the transcript and use it to predict a highly accurate CSAT score—even if the customer didn't fill out the survey. Your supervisors can dig into call recordings and transcripts to understand why certain agents are getting low CSAT scores and even identify coaching opportunities and the specific behaviors that need to change:


Discover why Dialpad is the best Talkdesk alternative
Book a demo, or take a self-guided interactive tour of the app on your own!
2. RingCentral (/ NICE)
What makes it a good alternative to Talkdesk?
RingCentral is a cloud-based telephone system that provides both UCaaS and CCaaS capabilities. That means it delivers voice calls just like Talkdesk, but also provides video calls and messaging capabilities.
One thing to note about RingCentral's contact center platform, however, is that while they market themselves as a "UC+CC" product, it's not really the case. They are currently whitelabelling NICE's contact center product2, which is why their contact center app looks totally different from the rest of their communications platform.
Through their partnership with NICE, RingCentral can provide features like real-time agent coaching, advanced call analytics, and integrations to a wide variety of enterprise and contact center applications.
One of main drawbacks of the RingCentral whitelabeling NICE's contact center software is the implication for their product development roadmap and troubleshooting, as well as potential hidden professional services and support costs. Since NICE is the one in control of their contact center product, it could mean that RingCentral has less control over the CC product roadmap and support issues.
Pricing
RingCentral Contact Center is available in four tiers: Essentials, Standard, Premium, and Ultimate. Prices are not listed on the website—you have to contact sales for an actual quote3.

What makes it a good alternative to Talkdesk?
Genesys is a brand that has been around for a while (over three decades), with its roots in on-premises PBX networks.
As with Talkdesk, Genesys Cloud CX offers contact center capabilities to its customers, but also lacks any UCaaS technology and partners with CCaaS competitor, 8x8. Genesys is capable of providing an omnichannel customer experience through voice, SMS, and social media for businesses of any size.
Its contact center features include automatic call distribution (ACD), IVR routing options, and workforce engagement management (WEM). Genesys does indicate in their marketing materials that they use AI, but it's unclear how good it is, nor how extensively it's used in their product.
Pricing
Genesys prices are divided into the following tiers: Genesys Cloud CX 1, Genesys Cloud CX 2, Genesys Cloud CX 3, and Genesys DX. Genesys Cloud CX 1 is $75 per user/month, Genesys Cloud CX 2 is $110 per user/month, Genesys Cloud CX 3 is $150 per user/month, and the prices for the highest tier must be provided by the sales agent4.

What makes it a good alternative to Talkdesk?
Aircall brands itself as "call center software for customer-centric teams." And while it does do that, it's pretty much all it does. It doesn't provide UCaaS capabilities such as video calls and internal chat functionality like most of the other options on this list.
That said, it does offer some basic features to contact centers, such as call whispering, so that managers can offer agents advice during a call, and call analytics (although those are locked to higher tiers).
Other Aircall features include toll-free numbers, inbound call queueing, CRM software integrations, power dialers, and call monitoring.
As of this writing, Aircall doesn't have any sort of AI capabilities, meaning there is no real-time transcription or sentiment analysis like what Dialpad offers (although you could pay an extra fee for post-call transcriptions by a third-party service).5 Aircall also seems to be lacking a voicemail drop feature, which is an important convenience for sales reps who have to do high-volume prospecting and leave lots of voicemails a day.
Pricing
Aircall is available in three tiers: Essentials, Professional, and Custom. Essentials costs $30 per user/month, Professional costs $50 per user/month, and Custom requires a conversation with sales6.

What makes it a good alternative to Talkdesk?
Cloudtalk is a digital VoIP service provider that is a good budget alternative to Talkdesk for companies with relatively simple needs. It features a predictive dialer for the convenience of your agents, as well as call monitoring features so that supervisors can provide live agent coaching.
Pricing
Cloudtalk has five pricing options7: Starter, Essential, Expert, and Custom. Starter is $25 per user per month, Essential is $30 per user per month, Expert is $50 per user per month, and you can get a custom quote by contacting their Sales team.
What's the best Talkdesk competitor for your business?
As you can see, each option has a range of pros and cons, and how important they are depends on your needs.
However, if you want to equip your enterprise contact center with a CCaaS platform that provides the most value for money and gives you a truly unified communications platform, we'd recommend checking out Dialpad at the very least with a product demo to really get a feel for the ease of use and unique AI features.
Check out one of the best Talkdesk alternatives
Book a demo of Dialpad Ai Contact Center, or take a self-guided interactive tour of the app on your own first!
1 talkdesk.com/contact-center-platform/integrations/
2 ringcentral.com/whyringcentral/company/pressreleases/ringcentral-and-nice-expand-and-extend-partnership.html
3 ringcentral.com/ca/en/office/plansandpricing.html#cc
4 genesys.com/pricing
5, 6 aircall.io/pricing/
7 cloudtalk.io/pricing/